Hi-van is supported by its audience. When you purchase using our links, we may earn an affiliate commission (no added cost to you). Learn more
In most cases, you don't need a 4×4 camper van to participate in the van life movement. However, the conditions you're going to drive in and the terrain you plan to trek may make 4wd necessary.
You do not need a 4×4 for van life, but whether you get one or not depends on where you drive and if you plan on going off-road. The conditions that you travel in, such as extremely muddy ground or rugged terrain can cause a normal van to have problems. You'll need good tires and recovery gear.
I'll go into further detail below of each factor you need to consider when making your decision. I'll also recommend helpful items to have on hand, should you choose to stick with a 2WD vehicle.
---
1. Consider the Conditions You'll Travel In
The only time a 4WD is necessary is if you'll be on extremely rugged terrain, muddy grounds, or in wintery conditions like ice and snowstorms. However, there are some vehicles with 2WD that can withstand rough terrain.
Four-wheel Drive or All-wheel Drive works best on slippery surfaces, as your vehicle's front and rear end can match speeds without binding. Depending on the conditions you're planning to drive in and the terrain of your mapped-out plan, three different drive settings will work: 
What is Four-Wheel Drive (4WD)?
Generally, four-wheel drive is the preferred method for offroading as it gives you extra traction while moving across bumpy terrain. Some vehicles may come with more than one 4wd setting: 4WD Auto, 4WD High, and 4WD Low.
4WD auto: It's generally suitable for everyday use as it can automatically keep you on course in the event of a downpour. However, keeping 4WD Auto on all the time may cause wear and tear to your front-wheel-drive over time.
4WD high: It's good to use when offroading in narrow areas. However, it isn't ideal for snowy or icy conditions because it locks your front and back wheels together, making it more difficult to make turns when necessary.
4WD low: It's primarily suitable for places with deep terrains like mud or sand. Low is preferred in those cases because it uses torque multiplication to spin out of sticky spots. 
What is Two-Wheel Drive (2WD)?
With 2WD, the engine powers two of the vehicle's wheels at a time. These cars and vans are either front or rear-wheel-drive, indicating which two tires receive the engine power. Although these aren't ideal for extremely rugged terrain, vans with 2WD are still acceptable as much of the country has paved roads.
What is All-Wheel Drive (AWD)?
All-wheel Drive is best for slippery conditions as it allows all four wheels to spin. When all four wheels can spin, a vehicle has much better traction. AWD is also convenient for rugged and sticky terrain as it's easier to rotate the tires out of these situations when all four can spin simultaneously.
Be Smart About Where You're Going
Always make sure to have a good idea of any terrain you're going to be driving through. If you take the time to plan, you'll be able to decide whether or not you should go with a 4×4 for your van life adventure.
---
2. Why is it important to Invest in Good Tires
Regardless of your van's drive system, the tires are the most critical part of your vehicle. 
A tire's importance especially shows when offroading with your van. If that's the case, then you're going to want to invest in a really good set of all-terrain tires. 
Unlike all-season tires, all-terrain tires have more robust features that allow them to safely endure slippery and wet road conditions and rugged offroad terrain. All-terrain tires have a stronger bead, tougher plies, and a thick rubber tread than other tires.
Goodyear Tires WRANGLER TRAILRUNNER
Engineered for real-life performance on real-life roads.
Premium quality tires from a trusted brand
The actual Tread Pattern for your specific tire may vary slightly from the displayed images based on the size and/or width of the actual tire ordered.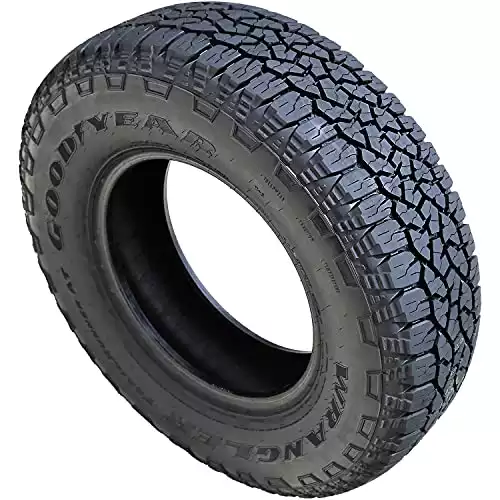 If you make a purchase, you support Hi-van.com by allowing us to earn an affiliate commission (no added cost for you).
These Goodyear tires, found on Amazon.com, are engineered for real-life performance on the road and are popular among customers because they have a great tread. Along with that, they're also more affordable than other options, which is excellent for anyone on a budget.
Falken Wildpeak AT3W All Terrain
All-terrain, any-weather rugged capability
Heat diffuser technology in the lower sidewall dissipates heat to protect the internal tire components.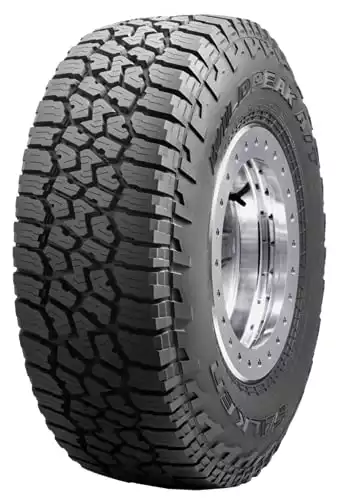 If you make a purchase, you support Hi-van.com by allowing us to earn an affiliate commission (no added cost for you).
These tires from Amazon.com are slightly more expensive than others. However, they come with heat diffuser technology that protects the inner workings of the tire, and it has specific technology to protect itself from high torque situations. 
Customers highly recommend this one because of its treading ability and how well it withstands harsh weather conditions.
---
3. Good Recovery Gears you Need to Have with your 4×4
Even with 4WD, you may still end up stuck somewhere in the mud or with a popped tire. In that case, it's always wise to keep the necessary recovery gear on hand. This way, you don't need to put yourself in possible danger by relying on strangers to get you out of the situation. 
A complete van recovery kit should include the following items:
A shovel: Shovels are an essential item for sandy and snowy terrain. When your wheels get stuck, sometimes the only option is to shovel your tires out and give them more area to get moving again.
Recovery boards: Recovery boards are helpful when you're stuck in sand or mud. You lay the boards in front of the vehicle, and it gives the wheels something their traction can grip.
A satellite communication device: When you're in the middle of nowhere and cell service is spotty, using a GPS satellite communication device ensures you're still able to call for help if you need it.
Adequate supplies for tire maintenance: Having a tire repair kit, spares, a jack, tire deflators, and a tire pressure gauge will help make sure you can change the tires out when necessary.
---
4. Consider Your Overall Budget
Last but not least, your budget is an essential factor in this decision, which is that 4×4 vans are more pricey than other options, primarily because of all the extra offroad features they give you. 
If you can swing it and want to invest, it's worth it to go for the 4×4.
However, with the rate technology evolves, vans with 2wd are becoming more adaptable to different conditions. If you don't feel you can take on a significant investment, plenty of other vans out there will work just as well. 
---
Conclusion
Beginning the journey into van life can feel overwhelming and it's easy to feel like you need to have the best of the best for everything. Although having a good vehicle to travel in is important, a 4×4 van isn't necessarily required for living on the road.
As long as you think about where you're traveling and have a well-stocked recovery kit, you can take just about any full-sized van on your adventure.
Find this content useful 🙂 ?
Subscribe to our Newsletter and get a free Solar Electric Diagram + shopping list.