Hi-van is supported by its audience. When you purchase through links on my site, I may earn an affiliate commission. Learn more
Down sleeping bags offer superior warmth, lightweight designs, and all-around better comfort than most synthetic fabrics. They're quite affordable and easy to maintain, but nobody wants to toss a sleeping bag that still has a couple of years left in it. Most brands don't provide guidelines regarding how long they last, but we do!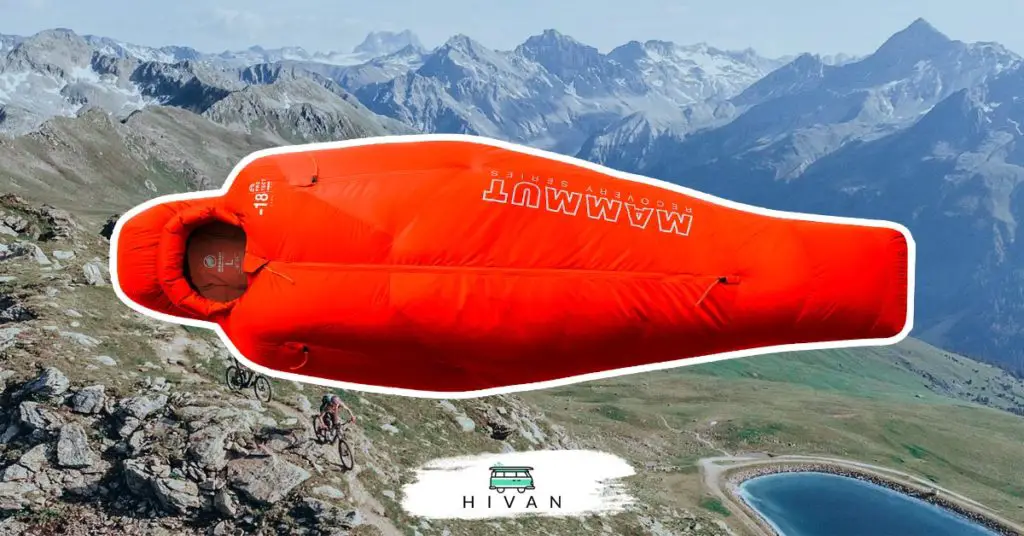 Down sleeping bags last up to 10 years, depending on how often you use them and how they're stored. Some down sleeping bags can last a couple of decades if you roll them correctly and store them in a dry, room temperature environment. Washing the sleeping bag can make it last longer.
In this post, we'll show you how to know when it's time to replace your down sleeping bag, how long they typically last, and what you can do to make it last longer. We'll also talk about a few variables that affect how long your sleeping bag stays in good condition.
---
How Often Should You Replace Your Down Sleeping Bag?
You should replace your down sleeping bag every decade or when the seams, down, and other fabrics are falling apart. Some people don't have any issues using a worn sleeping bag, especially if they camp in mild temperatures. If you camp in extremely warm or cold weather, it's best to replace the bag when the down starts to clump.
According to Gear Junkie, you should be able to get at least ten years out of your down sleeping bag. The densely woven material provides excellent insulation and padding, especially when compared to synthetic materials. However, it's not resistant to time and natural wear and tear.
This estimate is a general guideline, but improper care can greatly shorten the lifespan. In the following sections, we'll show you when you should replace it and how to make the sleeping bag last longer!
---
Signs That It's Time to Get a New Sleeping Bag
Signs that it's time to get a new sleeping bag include damaged edges, broken zippers, clumped filling, and torn fabric. All of these issues can prevent the sleeping bag from providing temperature protection and comfort. High-end sleeping bags last much longer than low-quality ones, so your investment can go a long way.
Here's a list of signs that you might want to switch your sleeping bag to a new one:
Torn seams are a major sign it's time to get a new down sleeping bag. They slowly unravel, turning the sleeping bag into a blanket. The seams provide protection from the elements while holding it together, but they also prevent the inner filling from shifting.
Misplaced or loose filling prevents insulation and padding. Popular Mechanics explains loose inner down, cotton, or polyester can make you shiver during cold nights. This is a common symptom of a sleeping bag with bunched fluff. To avoid this common issue, toss a dryer ball into the laundry machine with the bag.
A ripped zipper that can't be reattached either needs to be sewn or replaced. The zipper closes the sleeping bag to aid in the insulation process while keeping the bugs out of it. Zippers also provide a bit of privacy if you camp with other people. You can't keep your belongings in a sleeping bag that's always unzipped!
Constant, irremovable odors are signs of mold, mildew, and fabric damage. Improper storage or sleeping in the rain can soak the down material, which eventually leads to mold. Unfortunately, it's very difficult to reverse the damage since mold breaks down the fabric.
Related Articles:
How To Keep Morning Dew off Your Sleeping Bag
Do All Sleeping Bags Zip Together?
How to Pack a Sleeping Bag Without a Stuff Sack
Why Do Some Sleeping Bags Have a Cancer Warning?
---
How to Make a Down Sleeping Bag Last Longer
To make a down sleeping bag last longer, follow this step-by-step process:
Roll the sleeping bag tightly enough to prevent it from opening but loose enough to not stretch the seams. The tightness can put a lot of stress on the zippers, seams, and fabric. While it might be convenient to take up less space, you'll end up regretting the decision when you need to get a new sleeping bag too soon.
Keep the sleeping bag in an airtight container to stop bugs, moisture, and debris from touching it. Most people leave their sleeping bags in a plastic container with a lid. This provides more than enough protection for the issues mentioned above, prolonging your sleeping bag's longevity.
Let the sleeping bag air dry if it gets wet. Extreme wetness should be washed and dried in a laundry machine, but most moisture can be removed with sunshine or fans. Never store any sleeping bag when it's wet, regardless of the material. It'll smell gross and potentially ruin the fabric and filling.
Wash your down sleeping bag every camping season or once per year, depending on how often you camp with it. Sea to Summit shows you don't need to wash your sleeping bag after every camping trip, despite what you might've heard. In fact, annual washing cycles are often enough.
Use a mesh carrying bag to promote optimal airflow through the sleeping bag. For example, the OmniCore Designs Mesh Sleeping Bag Sack keeps your sleeping bag snugly stored while letting the airflow through it to prevent mold and mildew. It also compresses in a backpack.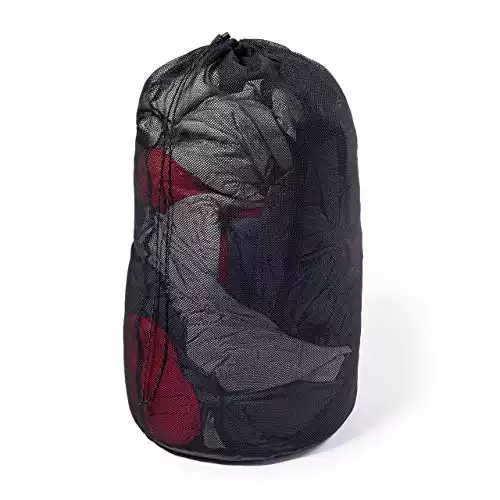 If you make a purchase, you support Hi-van.com by allowing me to earn an affiliate commission (no added cost for you).

While almost all sleeping bags have to be replaced within a handful of years, there's no reason you can't take the aforementioned precautions to get the most out of them.
Some campers are lucky enough to keep their down sleeping bag for a lifetime. The key is to get a high-quality sleeping bag, store it loosely, and wash it once per year. Following these tips will save time and money while keeping you with your favorite camping gear for longer.
---
Conclusion
Now that you know how long your sleeping bag can last, it's time to shift your focus to new, improved storage and care options. We've detailed everything you need to know about making a down sleeping bag push well over a decade, but it's up to you to stick with the routine maintenance and care schedule. Good luck!
Find this content useful 🙂 ?
Subscribe to our Newsletter and get a free electric diagram + shopping list.