Hi-van is supported by its audience. When you purchase through links on my site, I may earn an affiliate commission. Learn more
For many, after a busy day in class or at the office, spending time to get out and enjoy nature offers a great reprieve from the business of modern life. Going out on a cool evening, figuring out how to keep both you and your partner warm can be somewhat difficult. There's a quick and simple solution to this: zip your sleeping bags together!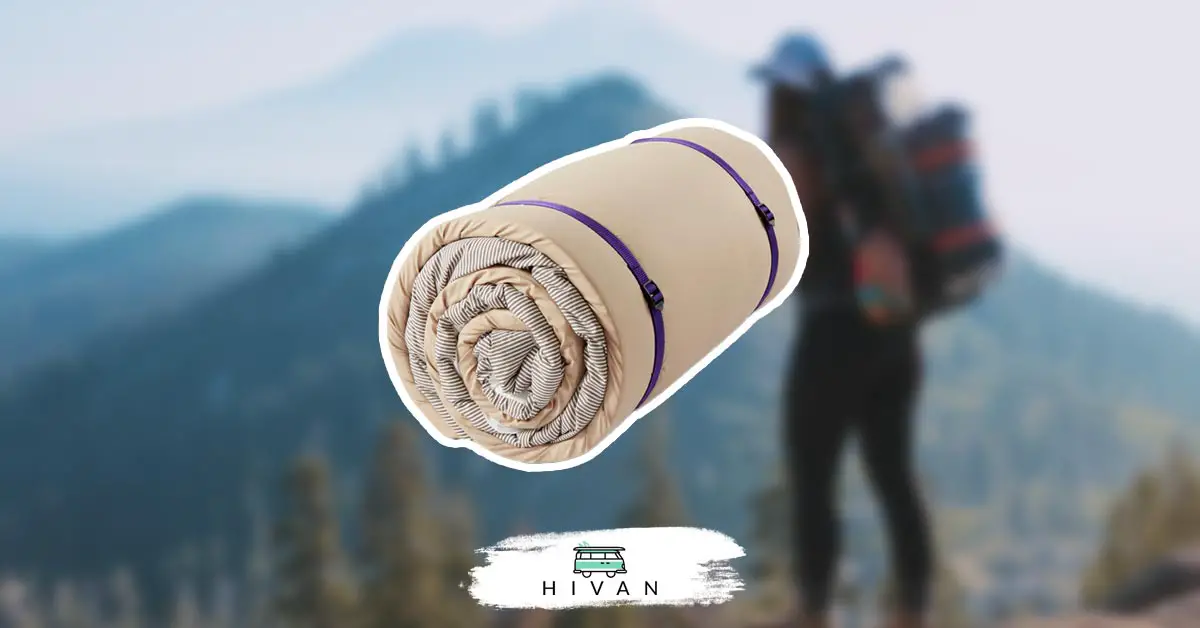 Many sleeping bags, though not all, will zip together. To zip together, sleeping bags need to have zippers that match and the zippers must be on opposite sides of the bag itself. This means if you have a bag that zips from the left and another that zips from the right they might be able to join.
Camping, especially with sleeping bags, can be an incredibly fun event. Read on to learn more about how to zip sleeping bags together, why you might want to, and other fun and helpful facts!
---
How Sleeping Bags Keep You Warm
Despite what many people think, sleeping bags themselves don't actually create heat. Similar to a drysuit, a sleeping bag traps the air surrounding one's body inside of the bag. The air, then trapped inside of the bag, heats up from your body temperature casting heat into the reflective materials. 
After a while, the air trapped inside of the bag will heat up so much that you, the person inside of the bag, will actually start to get warm and will stay warm throughout the night even when your body is creating less heat. If you get too warm, you'll simply move within the bag, this will cause the warm air trapped inside to be released and allow cool air in, thus regulating the temperature.
The insulating materials inside of the sleeping bag, however, aren't necessarily able to preserve heat in every instance. When the sleeping bag gets wet, for example, the material loses much of its capability to trap heat. When this capability is lost, the bag is unable to stay warm, effectively becoming useless.
The other instance in which the sleeping bag may be unable to preserve heat is if the temperature outside is simply too cold. If the temperature outside, for example, is 0°F (-17.78°C), and your sleeping bag's insulating material is only rated for 30°F (-1.11°C), then the insulating material isn't able to effectively preserve heat at that temperature. 
While it may keep you somewhat warmer, it won't keep you comfortably warm!
HiHiker Mummy Bag
Your head needs support when you sleep, that's why we have included a soft travel pillow in the camping mummy bag set. This pillow allows you to sleep on the ground and feel as if you're lying in your bed. Thanks to its lightweight and packable design, the travel pillow is very easy to carry around when you travel or hike.
If you make a purchase, you support Hi-van.com by allowing me to earn an affiliate commission (no added cost for you).
If you're interested in keeping warm in all sorts of weather, I recommend the HiHiker Mummy Bag (available on Amazon.com). Rated for 20°F (-6.67°C), this sleeping bag will keep you warm no matter the conditions and serves as a light and comfortable sleeping space.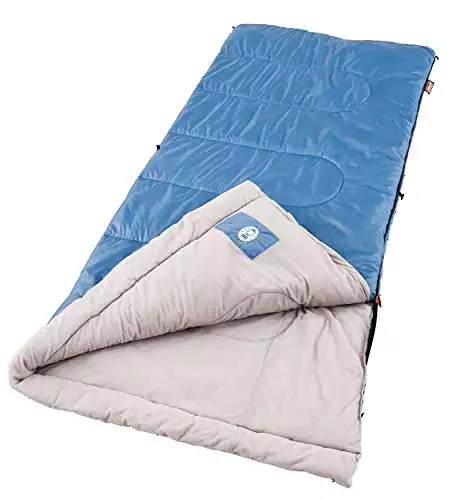 If you make a purchase, you support Hi-van.com by allowing me to earn an affiliate commission (no added cost for you).
If you're looking for something to help in warmer weather but won't make you sweat, I recommend the Coleman Warm Weather Sleeping Bag (available on Amazon.com).
Related Articles:
How To Keep Morning Dew off Your Sleeping Bag
Can Bed Bugs Get into Sleeping Bags While Camping?
Why Do Some Sleeping Bags Have a Cancer Warning?
How to Pack a Sleeping Bag Without a Stuff Sack
---
How To Tell if Your Sleeping Bags Can Be Zipped Together
While many sleeping bags do zip together, it's important to note that not every sleeping bag is compatible with every other sleeping bag. Most sleeping bags are situated with the zipper on the left side of the body to make it easier for right-handed people to unzip the bag. 
Many sleeping bags, however, come with zippers on both sides to make them convenient for the user, especially if trying to attach sleeping bags.
If you decide to zip two bags together, the two most important criteria are making sure that the zippers are compatible and that the location of the zipper is compatible. Below is a quick depiction of each requirement.
Type of Zipper
When I say that it's important to make sure that the zipper is compatible, I don't necessarily mean that the size of the zipper itself is that important. Though it's true that some zippers operate with different size teeth, most sleeping bags have zippers of the same size. 
Making sure that your sleeping bag zippers are compatible simply means that you have the two necessary components, a pin, and a retaining box.
Zipper Side Compatibility
The other important factor to consider when trying to zip two sleeping bags together is that the sides are compatible. If, for example, you had two left side zip sleeping bags, attaching them would be difficult, as one would need to be turned upside down. 
Depending on the sleeping bag, this has no major drawbacks. On others, such as those with a head pouch, this would be incredibly difficult. Making sure your sleeping bags are "side compatible" is important.
---
A Warning When Zipping Sleeping Bags Together
Though zipping two or more sleeping bags together does have some benefits, there are a number of drawbacks you should consider when deciding whether or not to zip sleeping bags together. Below are a few concerns you might face.
Heat Loss
When zipping two sleeping bags together, you're creating more space that needs to be filled in order for the sleeping bag to work effectively. Sleeping bags rely on having only a relatively small amount of air that needs to be heated. 
By creating more space, more air needs to be heated. This is possible, but takes more time, making your body burn more energy.
Non-Heat Compatibility
The other issue you may face when zipping two sleeping bags together is that the sleeping bags may be rated for different temperatures. 
Let's say, for example, that you were to zip a 0°F (-17.78°C) bag with a 40°F (4.44°C) bag. That "combined bag" would not be suitable for 0°F (-17.78°C) because half of the bag would release any stored heat. Ensuring that zipped bags are rated for the same temperature can mitigate this issue.
---
Final Thoughts
When zipping two sleeping bags together, ensure that they're compatible in terms of zipper type and zipper position. If these two aspects are compatible, then zipping together two sleeping bags is possible. 
It's important to note, however, that just because you can zip together two sleeping bags doesn't mean you necessarily should. Be sure to take in other considerations when deciding your sleeping bag.
Find this content useful 🙂 ?
Subscribe to our Newsletter and get a free electric diagram + shopping list.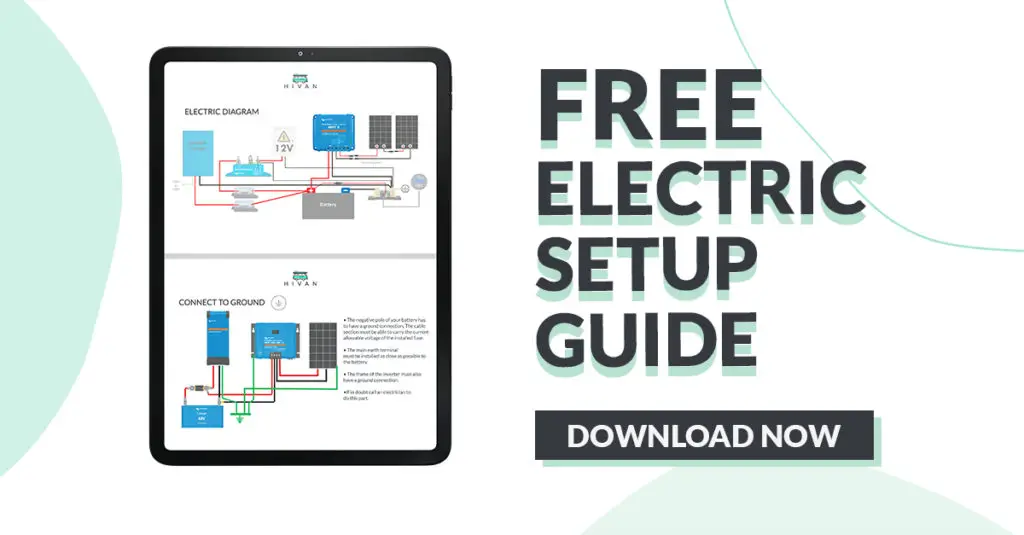 Here are some of my favorite van life essentials:
Thank you for reading this article. I hope you found it helpful as you're experiencing your life on the road. Here are some tools and gadgets I use on a daily basis that made my van life a lot easier. I hope you'll also find them as useful as me. These are affiliate links, so if you do decide to purchase any of them, I'll earn a commission.
But in all honesty, these are the exact tools that I use and recommend to everyone, even my closest friends and family.
Kitchen: I'm cooking a lot and I've finally found my perfect cookware set: The Magma Cookware 10 Pcs that you can nests and store in less than 1/2 cubic foot of cabinet space is really handy. Since I'm also spending a lot of time working at my desk, I use my favorite coffee mug from Yeti. For more, check my list of kitchen accessories I can't live without.
Outdoor: Even though I'm spending a lot of time in my van working, I do enjoy getting out and explore my ever-changing neighborhood. This sometimes requires me to take my portable solar battery with me. And when I just want to chill outside and take a nap, I use the Winner Outfitters Hammock.
Clean/Tidy: Space is precious and therefore I used these heavy-duty storage bins from Homs to store my material. They're robust and you can stack them together. Regarding showering, I like to use this portable solar shower from Advanced Elements when it's hot outside.
To see all of my most up-to-date recommendations about van life, check out this resource that I made for you!