Hi-van is supported by its audience. When you purchase using our links, we may earn an affiliate commission (no added cost to you). Learn more
Backpacks these days are becoming more compact and sturdier with added functionalities. Perhaps you may have come across a plastic or metal D-shaped appendage on your bag and don't know how to use it. It's called a D-ring and serves many functions.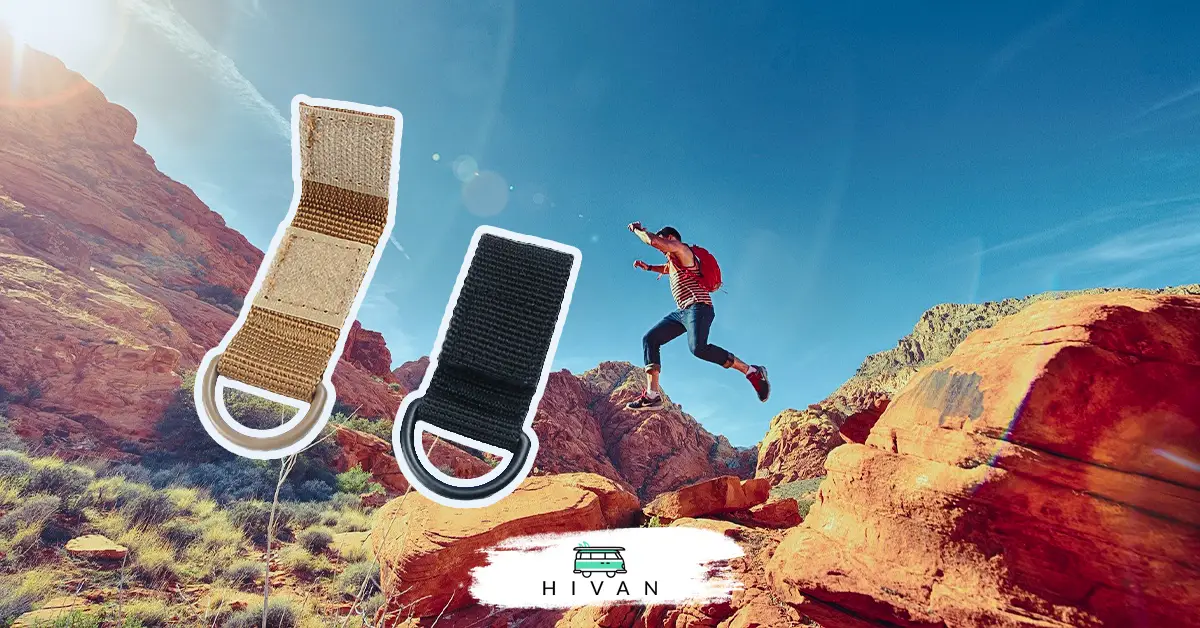 Some backpacks – especially those used for outdoor sports like climbing and camping – have D-rings that allow you to attach many things to the bag's exterior, such as carabiners and small pouches, to secure the hydration hose in place, or to make the bag straps adjustable.
D-rings can be found in various points on a backpack. Depending on the location and position, they may have a particular function. If you want to have some ideas on how to make use of the D-ring on your backpack, check out the details below.
---
Location and Position of a D-Ring
As discussed, the function of a D-ring depends on its location and position on a bag. D-rings are usually attached to a piece of sturdy fabric sewn tightly into the exterior of the backpack. It's best to remember that its position will determine where the pulling force should come from.
If the D-ring lies above the fabric, the pull direction must be upwards. If it lies below, then the pull direction must be downwards. The fabric sewn directly into the bag's exterior is meant to support the weight. 
Imagine pulling a piece of sticky note off the pad. If you pull it downwards, the glue on top will help resist the force. However, if you pull it in the opposite direction, the glue will have little power to oppose the force, and the piece of sticky note will come off.
Some D-rings attached to backpack straps have supporting fabric above and below. In such a case, the weight of the pull can come from either direction. Some have a swivel attachment that allows the D-rings to support the weight from more than one direction.
---
Functions of a D-Ring
Now that you've an idea about how the position and location of D-rings affect their function, let's take a look at their possible uses:
Hold Extra Stuff Outside of the Bag
An avid traveler uses D-rings for bulky gear that won't otherwise fit inside the bag. D-rings are made of plastic or metal, making them sturdy attachment points for bulky accessories, such as a camera bag. They can also hold fragile items that you can't put inside your bag, such as sunglasses.
D-rings attached to the shoulder straps keep the attachments within reach and safe if you want to keep an eye on expensive gear. You may also hang some light and necessary objects like a cap or your mobile phone pouch on the ring if you want to keep your hands free.
If you like hiking, camping, or climbing, you may also attach some safety gear on the D-rings on your bag's shoulder straps, such as a whistle or a compass, to make them more accessible. Some people also hang umbrellas or water bottles on their D-rings.
You may think of more objects you can hang on your D-rings, but it's best to remember that they have a weight limit. Plastic ones naturally have a lower weight capacity than metal ones. It can also be troublesome or even dangerous to have plenty of loose objects hanging on your D-rings.
Many school backpacks have a diamond-shaped patch in front with two vertical slits where students riding on a bike can attach safety lights to protect them from motorists at night. However, some bags have D-rings instead of the patch.
Seakcoik LED Safety Light
Slim, lightweight, compact, and super bright set of safety lights with 3 eye-catching lighting modes: steady, slow flash (aka strobe), fast flash. Can be easily seen from hundreds of feet away. Ideal for use as navigational, signal, or safety lights.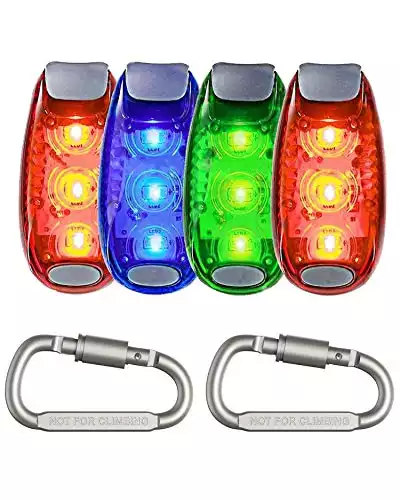 If you make a purchase, you support Hi-van.com by allowing us to earn an affiliate commission (no added cost for you).
The rings may not be the most suitable attachment point for clip-on safety lights, but they can work. Check out this Seakcoik Safety Light (available on Amazon.com). It has Velcro and carabiner attachments that can be conveniently connected to the D-ring on your backpack.
Attach to a Carabiner To Help Pull the Bag Up
Rock climbing is a pretty challenging sport. Your backpack's weight will affect your balance and can be dangerous. When you climb, you have to leave your heavy bag below to focus on your weight. But of course, once you reach the top, you'll need your supplies with you. That's where the D-rings help.
Some climbers go up with a smaller and lighter backpack and clip a carabiner to the D-rings or the handle of the bigger and heavier one to pull it up later. Hiking or climbing backpacks usually have multiple D-rings from top to bottom that allow numerous attachment points to help distribute the weight.
Secure the Hydration Hose
Many hiking or outdoor backpacks have a hydration compartment, where you can place your drinking water container to keep you hydrated. There's a drinking hose connected to it that usually runs the length of the shoulder strap.
A D-ring can keep the hose firmly in place so that it can be accessible when you need it and secure enough not to cause any problem during the hike. The ring's shape is ideal because it's not so tight for the hose, and the water can flow smoothly.
Adjust Straps To Spread the Bag's Weight Equally
A sternum strap is attached to the shoulder straps and locks in front of your chest, keeping the backpack stable against your upper torso. Many bags have sternum straps with buckles that double as a whistle in case of an emergency.
Some bags, however, use D-rings to adjust and secure the sternum strap that helps distribute the backpack's weight evenly. The D-rings can also serve as an attachment point for a separate whistle.
---
Final Thoughts
Whether it's for school, regular use, or adventure, there are bags that'll definitely suit your needs. Many people don't fully utilize a backpack's features because they don't know what they're for. 
It helps to understand the anatomy of a backpack. However, there are no fixed rules about how to use the added features. Whatever works and makes things more convenient for you, feel free to use it the way you want.
Find this content useful 🙂 ?
Subscribe to our Newsletter and get a free electric diagram + shopping list.