Hi-van is supported by its audience. When you purchase through links on my site, I may earn an affiliate commission. Learn more
Stuff sacks allow you to quickly and easily pack a sleeping bag before you head out on a backpacking trip. They're some of the most convenient items to bring along for the journey, but not everyone has one with them. The good news is that you can pack your sleeping bag without anything extra.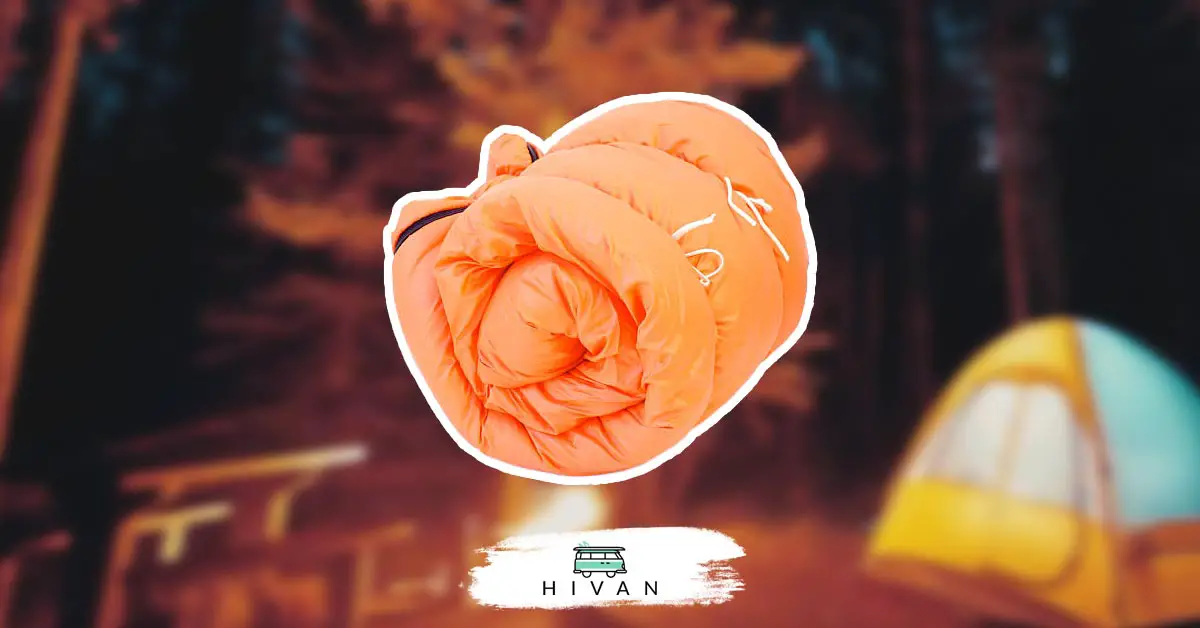 To pack a sleeping bag without a stuff sack, try these suggestions:
Roll the sleeping bag and tie it with strings
Flip it inside out and roll or stuff it
Mount the sleeping bag to your pack
Stuff it into the bottom of your backpack
Use the sleeping bag as a compression sack
Keep the sleeping bag loose when it's stored
In this post, we'll show you the six ways to pack a sleeping bag without a compression sack or stuff sack. We'll also dive into the details of how proper storage techniques prevent long-term damage to your sleeping bag and other camping gear.
---
Roll the Sleeping Bag With Shoe Strings
Rolling a sleeping bag is one of the most common ways to store it without using compression sacks or stuff bags. The process is quite simple, so let's go through the steps below.
Zip the sleeping bag closed and lay it out as flat as possible.
Fold the sleeping bag in half longways (also known as hotdog style).
Grab the bottom of the sleeping bag and tightly roll it toward yourself until it's fully rolled.
Place two shoe strings under the rolled sleeping bag, with each of them sitting about five inches from the edge.
Wrap the strings around the top of the sleeping bag and tie them as tightly as possible.
This process is easier once you do it a few times. It's close to the effectiveness of a stuff sack because you compress it with the strings. Backpacking Blueprint recommends pushing down on the sleeping bag while you roll it to compress it even more.
---
Turn the Sleeping Bag Inside Out
Have you been having a difficult time trying to compress or stuff your sleeping bag without a sack? Fortunately, there's a little trick you can try to make it much easier. Outdoors suggests flipping your sleeping bag inside out.
So, why does turning it inside out make a difference?
Most sleeping bags have multiple layers, with the toughest and thickest layer sitting on the outside. This placement allows you to sleep and move around without tearing the fabric on rocks, twigs, weeds, and other debris.
However, the outer layers make the sleeping bag harder to roll or stuff into your backpack. Flipping the outer layers inside compresses them and helps you roll it much easier. Once you have it reversed, follow the aforementioned rolling process for the best results.
Related Articles:
Why Do Some Sleeping Bags Have a Cancer Warning?
How Long Do Down Sleeping Bags Last? 
Why Do Some Sleeping Bags Have a Cancer Warning?
---
Mount It to Your Backpack's Frame
Once you've turned the sleeping bag around and rolled it, you can tie it to the backpack's outer frame. If your backpack has metal bars on the outside, it's called an external frame pack. On the other hand, backpacks with frames on the inside are known as internal frame backpacks.
You can tie a thin rope or another shoestring inside of the strings used to roll the sleeping bag. Some sleeping bags have carrying bags with D-rings that are perfect for mounting to an external frame backpack. Slide the ropes or strings through the sleeping bag and tie them to the outer frame of the pack.
Some backpacks have rings and straps around the bottom. You can use this area to tie your sleeping bag. Keep in mind that this will add more weight to the lower portion of your bag, which means you should balance it with more weight at the top.
---
Stuff It into Your Pack
Another overlooked, efficient way to pack a sleeping bag without a stuff sack is to simply stuff it into the backpack. This might seem sloppy or ridiculous, but it's actually quite effective. In fact, some of the most avid backpackers in the world recommend this solution.
Stuffing your sleeping bag at the bottom of your backpack lets you pile everything else on top of it. Instead of occupying a cylindrical shape inside of the pack, the sleeping bag will fill the gaps between your gear. The result is a much less bumpy, bulky backpack. It's also easier because you don't have the added weight of the compression sack, strings, rings, and so on.
The only downside of stuffing your sleeping bag into the bottom of a backpack is that it can ruin the seams if you have a lot of jagged items inside. Your cookware should be protected or wrapped to prevent the forks and knives from poking the sleeping bag. Furthermore, you'll have to dig through the backpack to retrieve the sleeping bag at the bottom.
Related Article:
What to Do When a Sleeping Bag is Too Big for a Backpack
---
Use the Sleeping Bag as a Stuff Sack
If you enjoyed the last suggestion but don't want to compress the sleeping bag at awkward angles, you can fill it with the rest of your gear. Think of the sleeping bag as a backpack liner. Everything you bring on your backpacking trip can fit inside of the bag, letting you get the most out of it.
This lesser-known technique is great for those hiking in rainy areas. If your sleeping bag is waterproof, it'll prevent the rest of your equipment from getting wet if the rain gets through the backpack.
---
Store the Sleeping Bag Loosely
According to Trail Sense, loose storage is crucial for a sleeping bag. Whether you have a synthetic or natural sleeping bag, the filling can get too compressed after long-term storage. This will eventually result in improper insulation, ripped seams, and many other issues with the bag.
Instead, unroll the sleeping bag and toss it into a bucket, box, or tub that's breathable and wide. Move the sleeping bag once every few weeks to ensure even weight distribution. These small tips can make a massive difference in how long your sleeping bag lasts.
Stuff sacks are effective and useful, but they can have adverse effects for long-term storage.
Find this content useful 🙂 ?
Subscribe to our Newsletter and get a free electric diagram + shopping list.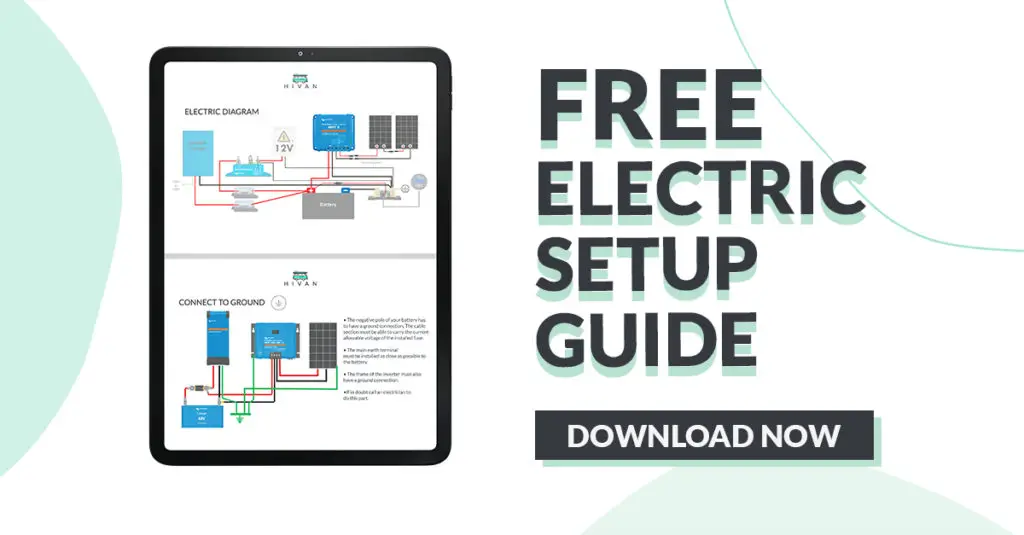 Here are some of my favorite van life essentials:
Thank you for reading this article. I hope you found it helpful as you're experiencing your life on the road. Here are some tools and gadgets I use on a daily basis that made my van life a lot easier. I hope you'll also find them as useful as me. These are affiliate links, so if you do decide to purchase any of them, I'll earn a commission.
But in all honesty, these are the exact tools that I use and recommend to everyone, even my closest friends and family.
Kitchen: I'm cooking a lot and I've finally found my perfect cookware set: The Magma Cookware 10 Pcs that you can nests and store in less than 1/2 cubic foot of cabinet space is really handy. Since I'm also spending a lot of time working at my desk, I use my favorite coffee mug from Yeti. For more, check my list of kitchen accessories I can't live without.
Outdoor: Even though I'm spending a lot of time in my van working, I do enjoy getting out and explore my ever-changing neighborhood. This sometimes requires me to take my portable solar battery with me. And when I just want to chill outside and take a nap, I use the Winner Outfitters Hammock.
Clean/Tidy: Space is precious and therefore I used these heavy-duty storage bins from Homs to store my material. They're robust and you can stack them together. Regarding showering, I like to use this portable solar shower from Advanced Elements when it's hot outside.
To see all of my most up-to-date recommendations about van life, check out this resource that I made for you!