Hi-van is supported by its audience. When you purchase using our links, we may earn an affiliate commission (no added cost to you). Learn more
A backpack is a perfect bag for just about every outdoor activity due to its safety and versatility. You can carry anything inside it, including your foodstuff and drinking water. However, when it's time to sleep after a long day of hiking, how can you keep your backpack off the ground so that you don't have to worry about pests or insects crawling inside and getting to your food?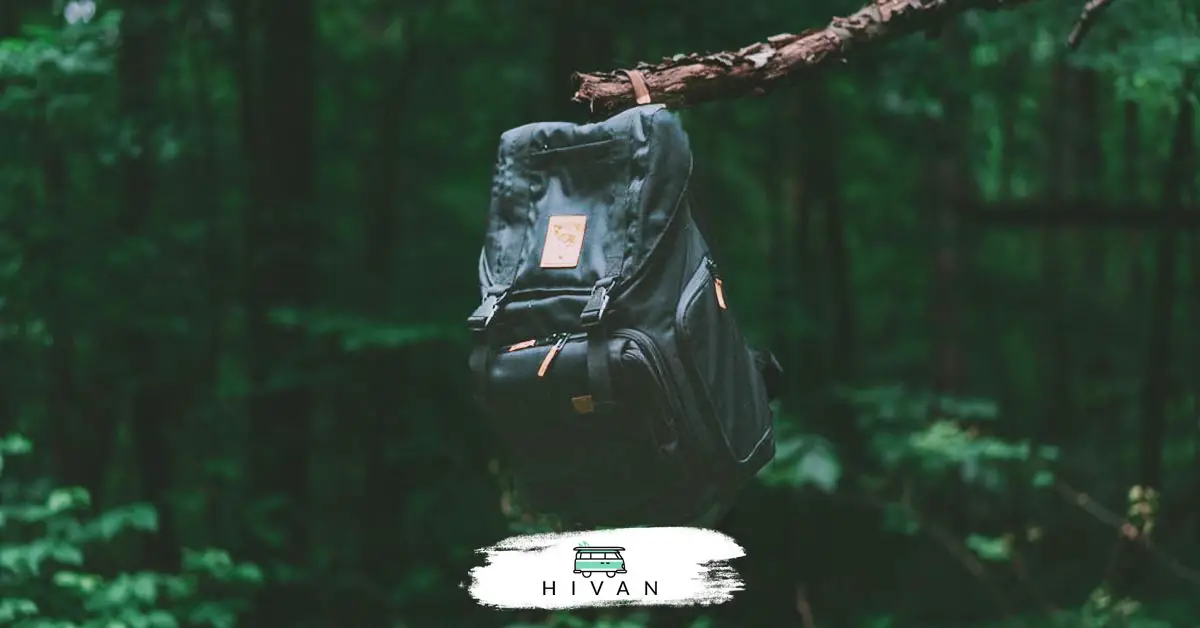 Here are 5 ways to keep your backpack off the ground while you're sleeping:
Hang your backpack on a tree outside your tent.
Hang your backpack on the tent trekking pole.
Hang it on the gear loft loop attached to the tent's roof.
Place it on a picnic table or bench outside your tent.
Hang your bag on the hammock suspension lines.
The rest of this article will help you learn some incredible tips on where to place your pack at night during your camping trips.
---
1. Hang Your Backpack on a Tree Outside Your Tent
Many campers prefer hanging their packs outside their tents. If your tent is in a wooded area, a tree branch will come in handy when you want a firm place to keep your items.
Hanging your bag on a tree is one of the best methods to use to keep your bag from moisture from the ground that might filter through the base. It can also keep your pack protected from insects that are common on the forest floor.
Here are two methods you can implement to hang your bag outside:
Method 1: Hang Your Pack From a Tree Trunk Using the Backpack's Shoulder Straps
Here are the steps:
Find a stick that is 2 feet (0.61 m) long and a tree with a decent size close to your tent.
Tie the 2-foot (0.61 m) long twig to the tree trunk parallel with the ground (the center of the pole should be in line with that of the tree trunk, like a plus (+) sign.
Place each shoulder strap of your pack over the end of the stick.
Method 2: Hang Your Backpack From a Tree Branch Bear Bag Style
Here are the steps:
To achieve this, you'll need a rope. 
Begin by tying a rock or any other heavy object to one end of your rope.
Using a heavy object will keep it from falling on the edge due to its weight (on the other end of the tree branch).
Now, throw the end that has a heavy weight over the tree branch carefully. You should ensure to keep some distance from the trunk of the tree.
Tie up your backpack as you suspend it in the air.
---
2. Hang Your Backpack on the Tent Trekking Pole
Hanging your backpack around your tents is a great way to keep them off the ground and easily accessible. It's a convenient option for anyone who wants to keep their packs within reach. 
However, you should always ensure that your backpack doesn't have any scented food or items inside that may attract the local insects and wildlife.
It's also advisable to have a water-repellent backpack or one with a rain cover to keep your items dry. The Deuter Futura Vario (available on Amazon.com) is an example of a great water-repellent backpack. It's also lightweight and has an ergonomic design which makes it easy to carry around.
 Here's how you can hang your backpack on a tent trekking pole:
Find a sturdy stick outside your tent and break it to the size of your thumb.
Slide the twig through the loop of the trekking pole.
Hang your backpack on the loop using the pack's loop. You'll slide it on one side first and then flip it on the other side.
Here's a short, step-by-step YouTube video that explains how you can hang your pack on your tent's trekking pole while camping:
---
3. Hang It on the Gear Loft Loop Attached to the Tent's Roof
Most large tents that can accommodate several people have larger gear lofts, and many backpackers use them to keep their things organized. This is done by hanging your pack on the loops holding the gear loft to keep it off the ground.
Here's how to do it:
Attach a carabiner (metal loop) to the back handle of your pack.
Then, take the pack and suspend it on one side of the loop that attaches the gear loft to the tent. Do this carefully while holding the base of your backpack to avoid swinging.
Before hanging your backpack on the gear loft, make sure it can withstand the weight of your pack. Ideally, you should only use the gear loft to store a lightweight pack or an empty one.
---
4. Place It on a Picnic Table or Bench Outside Your Tent
If there's a picnic table or bench around, you can place your backpack on it without worrying about the wet ground or crawling insects.
However, you'll need to cover it with a rain cover or place it inside a dry polythene bag (a bin bag would be the best option in this case), especially if there's a risk of rain. Once you wrap your backpack in the trash bag, place it on the bench (or picnic table) near your tent.
You can also use two garbage bags for better results. These bags will keep rainwater or moisture from soaking into your pack and damaging your food and clothes.
---
5. Hang Your Bag on the Hammock Suspension Lines
If you're sleeping in a hammock, you can hang your backpack on the hammock's suspension lines and have a peaceful night's sleep without worrying about the safety of your pack.
To do this, hook your pack and hang it from the straps you are using to suspend your hammock. That said, keep in mind that this is only possible if your hammock's straps have loops. If they don't, you can also tie a loop and use a carabiner to hang your pack from the rope.
Check out this YouTube video on how you can hang your pack on your hammock using a stick:
---
Key Takeaways
A backpack is one of the essentials to take with you during your trip or hiking adventure. Your pack plays a significant role as it carries everything you'd need while camping. If you don't want to keep your backpack on the ground while sleeping, you can hang it on a tree, on your tent trekking pole, or on your hammock.
Related Articles:
Are Laptop Backpacks Good for Hiking?
How to Stop Backpacking Straps from Loosening
Find this content useful 🙂 ?
Subscribe to our Newsletter and get a free Solar Electric Diagram + shopping list.