Hi-van is supported by its audience. When you purchase using our links, we may earn an affiliate commission (no added cost to you). Learn more
When you're in the market for a new backpack, it can be tempting to reach for a good, all-purpose one that's suitable for many different activities. But what if you're an avid hiker and someone who carries around a laptop all the time? Can you use the same backpack for your laptop-carrying needs and hiking experiences?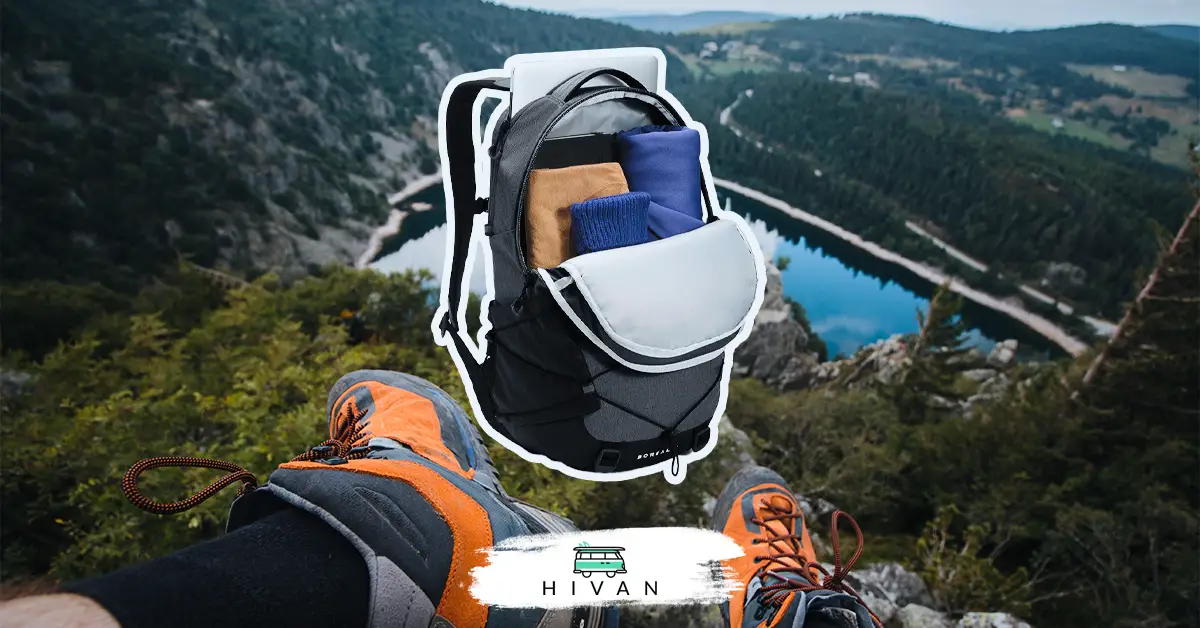 Laptop backpacks may not be the best choice for hardcore hikers. However, there are a few packs on the market designed for hiking that have a dedicated laptop sleeve. Also, if you are a casual day hiker and happen to have only a laptop backpack, it will serve you as well as any other.
Here are some things to consider if you want to use a backpack with a laptop sleeve on an outdoor adventure.
---
Can You Use Laptop Backpacks When Hiking?
Hikers tend to hit the outdoors to get away from technology, not pack it with them. But a laptop comes in handy for working on a project while camping. Other times, considering a laptop backpack is not about bringing a computer; it's simply the pack you already have.
For shorter hikes, laptop backpacks can carry guide books, water, and snacks like other packs. Many also have multiple pockets of different sizes so you can sort your items. The main drawback is that they do not disperse weight efficiently. 
All the carrying weight will sit on your neck and shoulders. Backpacks designed for hiking will have side support so that you can buckle extra straps around your waist, in effect distributing the weight.
Some laptop backpacks have buckles as well but are not as good as the hiking versions. If your laptop pack does have these straps, make use of them.
If you choose to take a laptop with you, you will want one with good padding or pack a long-sleeved shirt to add padding. The protection should go against your back and the bottom of the laptop. Laptops are too flat and large to fit your back comfortably on their own. 
With that slight compensation, laptop or none, the backpack can serve on a day hike just fine.
---
Components of a Good Hiking Laptop Backpack
Finding a hiking backpack that also has a specialized sleeve compartment for a laptop is hard. There are travel, commuter, and school laptop packs, but look for hiking laptop backpacks in a search engine, and you will struggle to find what you want. 
You could also buy a separate sleeve and place that in your backpack with your laptop.
Gear-Up Hiking has tried packs and interviewed hikers to create a comprehensive list if you want to do some shopping.
But if you want to know what makes some laptop backpacks better or worse for hiking than others, here are the components:
Back panels: Because laptop backpacks focus on padding between you and your computer, the back panel is thick and does not ventilate. In other words, these packs will make your back extra sweaty on a hike.
Weight distribution: Laptop backpacks do not have a harness-like suspension to distribute weight off your shoulders. Coat hanger pains will likely plague you if the pack is heavy or you are on a longer hike. Hiking packs often have belts for the sternum and the hips.
Storage volume and organization: A lot of the question, "Are laptop backpacks good for hiking?" comes down to your purpose. Smaller packs under 35 liters (7.69 gallon) work well for shorter hikes, and it will not matter if you have a hiking or a laptop backpack.
Each of these points matters the least on hikes with fewer supplies, on easier terrain, for just a few hours. Whereas the more you pack, the more rigorous the terrain, and the longer the hike, the more you will want a backpack designed for hiking instead of laptops.
---
Components of a Good Laptop Sleeve
You want a padded sleeve in your backpack. Some laptop packs do not have a padded sleeve or have less padding than others, so it is a detail worth noting.
On the other hand, some hiking packs have a sleeve that would seem to be good for a laptop. But they are designed for water bladders, and so they often do not have padding.
Keep these points in mind:
You can always buy a separate padded sleeve.
You can wrap shirts around and at the bottom of the laptop. 
But you cannot add volume to your backpack. So if you have to choose, pick the option that fits your hiking needs and has a sleeve, padding, or not.
Also, you will find that laptop backpacks tend to have 15.6-inch (39.62-cm) sleeves. However, you still have extra room between the top of the sleeve and the roof of the pack. So if you have a 17-inch (43.18-cm) laptop, it will likely still fit in the backpack, but it will be taller than the sleeve.
---
Popular Laptop Backpacks for Hiking
If you decide to buy a hiking backpack with a padded sleeve for a laptop, then there are a few choices that make gear lists.
The most referenced in the Gear-Up Hiking article is the Kelty Redwing 50 Backpack. 
It meets the needs of the long-distance hiker. For instance, if you are a backpacker recording your journey and want to work on editing photos and footage at night, the Kelty is one of the better options. It has it all, including: 
Suspension
Organization
Laptop support
Good ratings
Affordability
The North Face Borealis
Our much-loved Borealis pack has been reimagined and upgraded. It now features easy-access organization, a super-comfy FlexVent suspension and a proud endorsement from the American Chiropractic Association.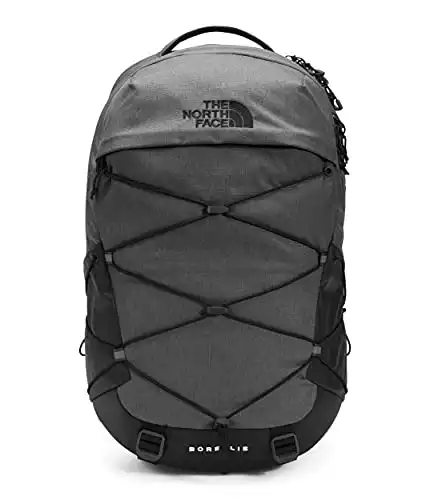 If you make a purchase, you support Hi-van.com by allowing us to earn an affiliate commission (no added cost for you).
Another repeated contender at the top of gear lists for laptop backpacks is the North Face Borealis from Amazon.com. It is suitable for day hiking and has extra straps and back panel ventilation like the Kelty.
MYSTERY RANCH 2 Day Assault Backpack
27L pack loaded with features for travel or everyday carry; comes equipped with dual water bottle pockets, front compression straps, MOLLE webbing & an adjustable harness.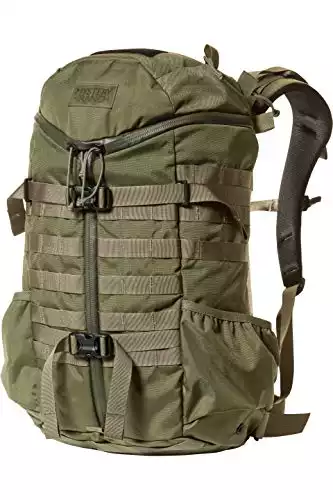 If you make a purchase, you support Hi-van.com by allowing us to earn an affiliate commission (no added cost for you).
Mystery Ranch 2 Day Assault from Amazon.com deserves an honorable mention. It is like the others and is a hiking backpack with a padded laptop sleeve. It's also an extra durable pack as a whole.
---
Final Thoughts
Hopefully, this article has given you enough information to know if a laptop backpack will work for hiking. What matters is how serious of a hike you will be embarking on, if you intend to use a pack designed for laptops, or if you will be carrying the computer as well. 
Once you know your purpose, you can make adjustments as needed, like wrapping the computer in a long-sleeved shirt.
Find this content useful 🙂 ?
Subscribe to our Newsletter and get a free Solar Electric Diagram + shopping list.