Hi-van is supported by its audience. When you purchase using our links, we may earn an affiliate commission (no added cost to you). Learn more
Camping is an exciting way to experience the outdoors, and many use it as a chance to get away from their everyday busy lives. Unfortunately, we can't all unplug entirely and often need access to certain electronics, like our phones and laptops. But how do you keep these devices charged out in the wilderness?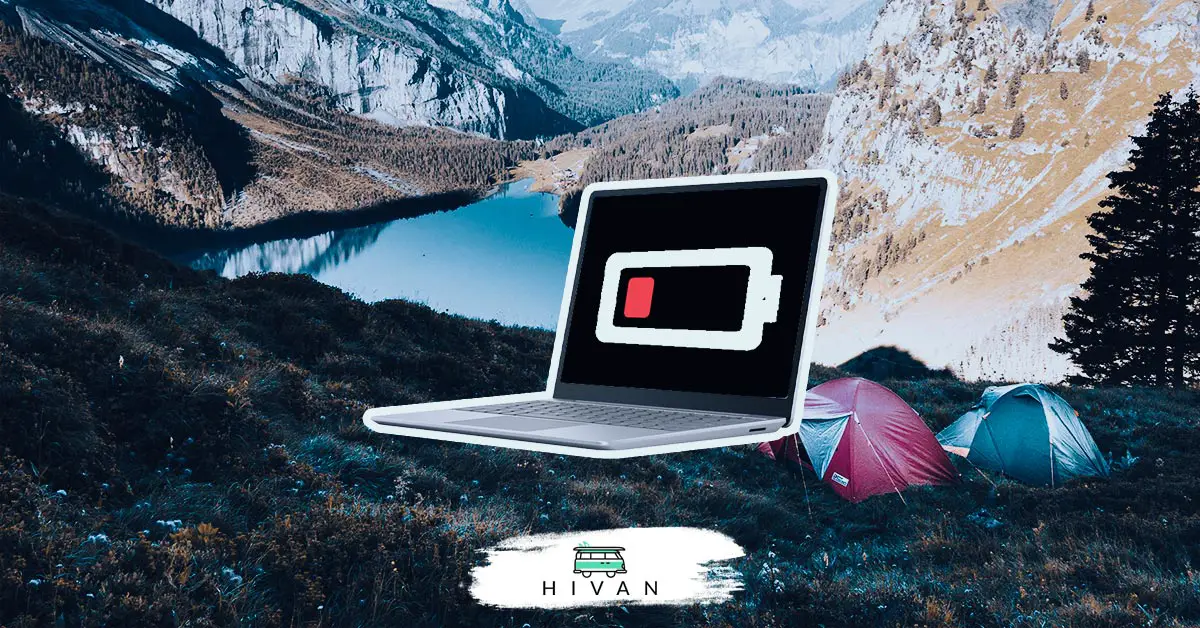 Here are 6 ways to charge your laptop while camping:
Use compact portable battery packs.
Use a solar-powered charger.
Get a portable generator.
Purchase a power inverter.
Rely on your RV's battery bank.
Use a wind or water turbine.
Going camping doesn't have to mean forgoing your electronic gadgets. Read on to learn how to keep your laptop charged throughout the camping period.
---
1. Use Compact Portable Battery Packs
Did you know you can charge your laptop with a power bank? Power banks and battery packs are essentially the same, and though they're usually used for cell phones, it is possible to find some that are strong enough to charge a laptop too. 
But first, you need to figure out your laptop's charging ratio since you'll need a power bank with similar or higher power output. 
A lower supply might fail to charge your laptop, or it might end up draining out your device's battery. You also need compatible charging ports and adaptors.
Consider the power bank's battery capacity as this determines the number of times it'll charge your laptop, and look for a heavy-duty power bank if you intend to use your device for entertainment. 
Once you have all this information, you'll find that portable battery packs are an excellent way to power your laptop while outdoors. 
They're small enough to fit into your laptop bag, making it easy and convenient to carry them around. What's more, lithium-ion batteries can keep your machine running for a few days. In addition, they usually feature USB ports and standard 120-volt electrical charging outlets, so charging them up is a breeze. 
88.8Wh Portable Laptop Battery Bank
Remarkably Compact & Power: One of the smallest and lightest 24000mAh 88.8Wh portable power bank with 110V/65W AC outlet, a great solution to AC power supply. Provides enough power to most of your devices such as smartphones, tablets, and laptops. It's perfect for your travel and business trip.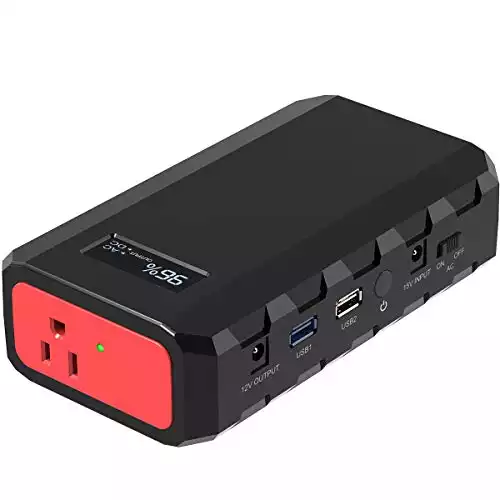 If you make a purchase, you support Hi-van.com by allowing us to earn an affiliate commission (no added cost for you).
Some portable battery packs, such as the SinKeu 88.8Wh Portable Laptop Battery Bank (available on Amazon.com), provide enough juice to keep most laptops, including most MacBook models, charged for some days. The battery bank also offers two quick-charge USB ports for when you need juice fast.
---
2. Use a Solar-Powered Charger
Solar is ideal for camping because, provided it doesn't rain, you'll never run out of juice to keep the charger going. Even if the sun isn't shining, you'll still be able to juice up the charger through the clouds.
[Upgraded] BigBlue 3 USB Ports 28W Solar Charger
Upgraded Triple USB-A Ports: Each maximum output is 5V/2.4A and the total maximum current is 5V/4.8A. BigBlue 28w solar charger allows you to charge multiple devices at once. It comes with smart charge technology which can recognize your device smartly and then provide optimal charging speed vary with different devices. BigBlue ensures 100% safe charging with overcharging, overheating, and short circuit protection.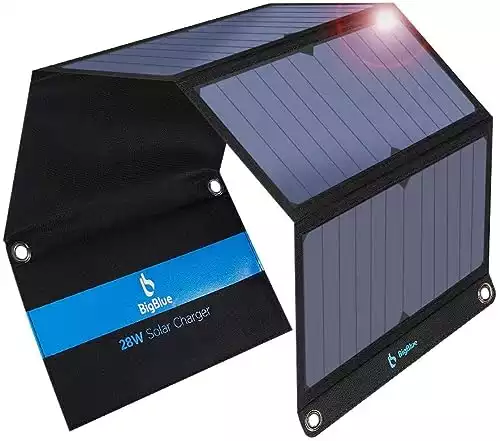 If you make a purchase, you support Hi-van.com by allowing us to earn an affiliate commission (no added cost for you).
Not only is it eco-friendly, but it's also easy to bring along. This 28W Solar Charger from BigBlue is foldable, so you'll save space in your bag. Plus, it has a kickstand for better access and can charge multiple devices at once. Finally, it comes with a battery pack so you can store all that power for later use. 
If you opt for a solar charger that doesn't come with a battery pack, look for one that features an attachment that allows you to recharge it from your car. In this case, consider using an inverter when charging the power pack to avoid damaging your car battery.
Though the initial investment is steep, a solar power kit will be:
Ultra-lightweight
Portable
Long-lasting
Easy to set up
Needs minimal maintenance 
Quality solar chargers will charge your laptop 2-3 times in one recharge, plus they're excellent at keeping your device safe from high voltage. Go for a rugged, waterproof, and lightweight kit, as this is most suitable for the outdoors.
Related Articles:
How many solar panels do I need for my van?
How many batteries does a campervan need?
---
3. Get a Portable Generator
If you usually drive to a campground and stay put, you might want to consider a portable generator. Of course, this wouldn't work if you plan to move around and hike, but for those who stick to one camping spot, they're ideal for powering everything from laptops and phones to lights and camping stoves. 
Most portable generators use gasoline, making it easy to access or even carry extra supplies. They're also compact, so you can transport and deploy them easily and quickly. Then, you only need to turn a switch and pull the starter cord to produce power. 
Unfortunately, they tend to get rather noisy, and some campgrounds could limit their usage.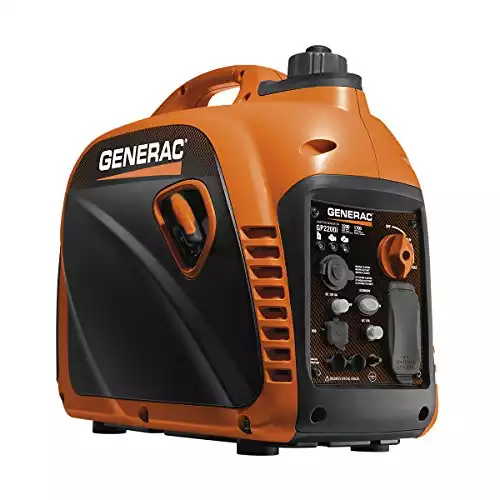 If you make a purchase, you support Hi-van.com by allowing us to earn an affiliate commission (no added cost for you).
Look no further than the Generac Portable Inverter Generator (available on Amazon.com) for dependable on-demand power that works in any climate. This compact power solution is noiseless and powerful. It's ideal for use when you need to access power throughout the day or plan to camp for an extended period of work or pleasure. 
Related Article:
Camper generator size: How big should you go?
---
4. Purchase a Power Inverter
Car camping is a fun way to experience the great outdoors without worrying about sleeping in the dirt with the bugs. 
It's also much easier to keep your laptop alive since you can turn your vehicle's cigarette lighter into a power outlet. 
All you need is an inverter. 
This remarkable device safely converts direct current (DC) to alternating current (AC), useful for powering electronic devices. It plugs into your vehicle's DC outlet, connects directly to the battery, and converts the power into useful power that can charge multiple electronic devices. 
BESTEK 400W Car Power Inverter
Provides 400W continuous DC to AC power and 1000 watts of peak power.

Dual 110V household electrical outlets provide enough power for your laptop, digital camera, TV, fan, refrigerator, game console, DVD/Blu-Ray player, GPS, lamps, and more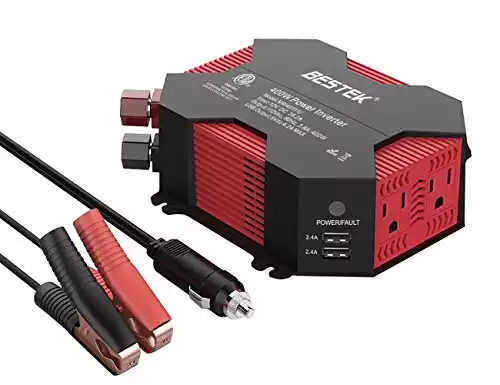 If you make a purchase, you support Hi-van.com by allowing us to earn an affiliate commission (no added cost for you).
A great option here is the Bestek 400W Car Power Inverter. It comes with two standard 110V AC outlets and sports four fast-charging USB ports. It's best to use the power inverter when the car is running to avoid depleting the car battery.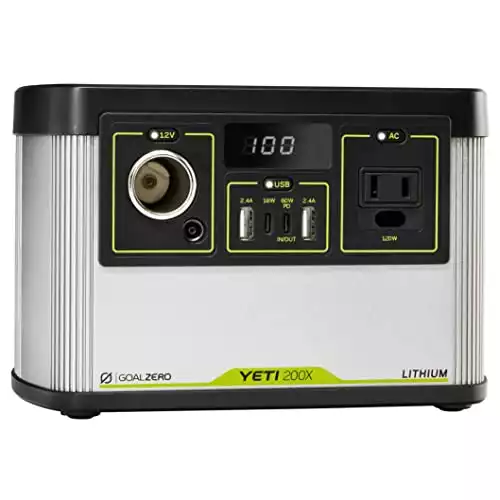 If you make a purchase, you support Hi-van.com by allowing us to earn an affiliate commission (no added cost for you).
If, for some reason, you can't use your car battery, go for a portable charging device like Goal Zero Yeti 200X Portable Power Station. It's conveniently small, weighs a mere 5 pounds (2.27 kg) but can charge your laptop on high-speed up to 4x on a single charge.
Related Article:
This is why your RV inverter beeping
---
5. Rely on Your RV's Battery Bank
If using an RV for your camping adventure, then you can use the vehicle's battery bank to keep your laptop charged. Apart from the car battery, RVs come with a 12-volt battery separate from the car battery and are powerful enough to power your laptop. 
You can recharge the 'house battery' using solar panels or an electrical hookup at the campground. 
It also charges automatically whenever the motorhome is running. So one easy way to ensure your laptop will be charged for use later is to plug it in while on the road.
Related Article:
How to extend the life of your van solar battery system
---
6. Use a Wind or Water Turbine
When solar power use isn't practical or reliable, a great alternative is to opt for wind or water-powered turbines such as this DIY 12V Charger Wind Turbine Generator from Amazon.com. It's easy to set up and will offer a charge whenever you have enough wind to power the blade. 
Another great option would be the WaterLily Turbine (available on Amazon.com). This device produces electricity from either wind or water power and has a maximum power output of 15W. In addition, it has two 5V USB ports for charging your tablet or other gadgets. 
At the time of writing, this device is out of stock, but since you can produce power just by dunking it into a stream, it's worth checking back in the future. 
---
Conclusion
While being outdoors usually calls for a digital detox, sometimes you might want to go camping and still get some work done or enjoy some digital entertainment. 
With the charging options listed here, you can have the best of both worlds; experience a relaxing camping adventure along with some creature comforts!