Hi-van is supported by its audience. When you purchase using our links, we may earn an affiliate commission (no added cost to you). Learn more
Going camping doesn't have to mean going without all of your electronics. Thanks to power inverters, you can still use your favorite electronic devices as long as you're camping near your car. A power inverter takes electricity from your car, and it allows you to plug in your laptop, phone charger, fan, and almost any other basic household device.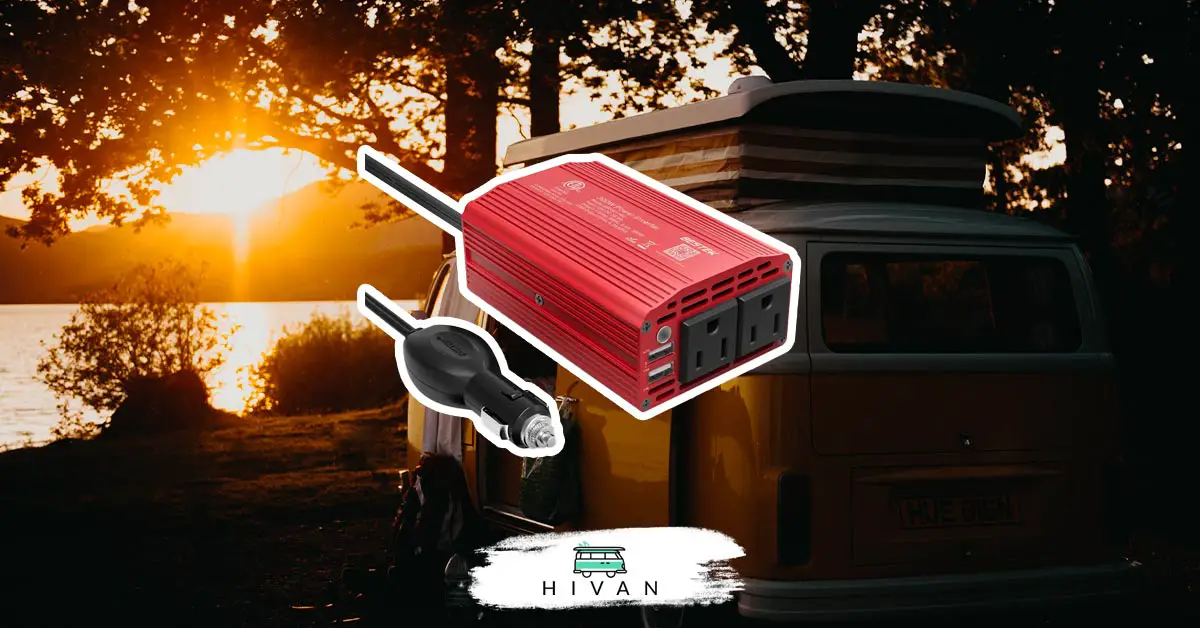 Here are the basics everyone should know about using a power inverter while camping: 
Choose an inverter that can handle all your electronics.
Connect your power inverter to your car.
Use power from your car.
Err on the side of caution.
With the right power inverter, you'll be able to experience some of the conveniences from home while you camp. Keep reading if you're ready to learn how to find the right power inverter and how to make the most of it while camping.
---
1. Choose an Inverter That Can Handle All Your Electronics
There are several factors you need to consider when buying a power inverter. For example, you'll have to consider how many outlets it has and how many devices you plan on running at once. Other questions to ask include how much wattage can the inverter handle? Does the inverter have built-in safety features, such as a cooling fan or surge protector?
If you only plan on using a power inverter to charge your phone or laptop, you don't need a high-wattage inverter. Campers who want to use an inverter to run a coffee maker, air compressor, or other household appliance will need an inverter that can handle thousands of watts.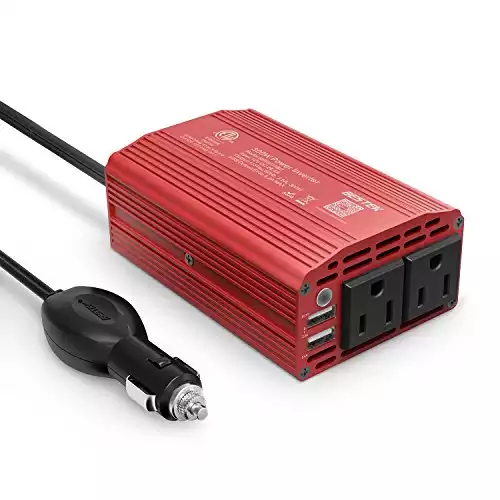 If you make a purchase, you support Hi-van.com by allowing us to earn an affiliate commission (no added cost for you).
If you're looking for an affordable inverter to use with your personal electronics, I recommend the BESTEK 300W Power Inverter (available on Amazon.com). It has two AC outlets and two USB ports, so you can charge multiple devices simultaneously, as long as they don't total over 300 watts. This inverter has a quiet cooling fan built into it and several safety mechanisms to prevent electrical accidents.
However, small inverters like the FOVAL are best used in your car while the engine is running. You can use them to charge your laptop or phone while idling or driving around your campsite. 
However, there are occasions when you'll need more power on your camping trip. This includes if you want to run your coffee maker, hairdryer, or the pump for an air mattress. 
If you're looking for a more powerful option, the BESTEK 2000W Power Inverter (available on Amazon.com) is a good choice. It has four attached clamps to connect the inverter to your car's battery, turn on your car, and power devices with up to 2000 watts. It also has three AC outlets, allowing you to run multiple appliances at once.
If that's not enough power for you, you can also try the GoWise Power Inverter (available on Amazon.com). It can run 3000 watts continuously or 6000 surge watts. You connect it directly to your car's battery, and you should only turn the inverter on while the car is running. It has three AC outlets and a USB port, so you can run multiple devices. 
---
2. Connect Your Power Inverter to Your Car
Your car's battery runs on DC or direct current. Devices like your laptop use alternating current or AC. An inverter changes the DC power to AC, allowing you to plug in your electronics when you're on the road.
However, in order to do its job, a power inverter needs to be constantly connected to your car's battery. It also needs your car to be running, so you don't drain the battery.
Smaller, budget-friendly inverters like the FOVAL connect to your car through the cigarette lighter. These inverters typically have short cables (like the FOVAL's 30-inch cable), so they're best used inside your vehicle. Smaller inverters are great for charging a phone or laptop from your car, but they aren't the best for camping.
If you've opted for a larger inverter, such as the BESTEK or GoWise, you'll need to start by popping your car's hood so you can access the battery. Following the instructions on your inverter, connect the inverter to the battery with the included clamps or cables.
It's important to only connect one inverter to one battery. Even if your inverter has more than two cables, you should only connect them to one battery. 
Don't turn the inverter on until after your car is on. Running the inverter without the engine running can drain your car's battery. The last thing you want is for your car to not start because you were powering your coffee maker. 
If you want to use electricity while camping without running your car simultaneously, you need more than an inverter. You will also need a power station, a portable, rechargeable battery. 
Some people confuse power stations with inverters because they can run electronic devices with power taken from your car's battery. However, the similarities end there.
Jackery Portable Power Station Explorer 240
This entry-level portable power station is equipped with a 240Wh lithium-ion battery pack, weighing only at 6.6 pounds. The solid handle makes it easy to carry around for outdoor adventures such as Tent Camping, Road Trip, Backyard Camping, etc.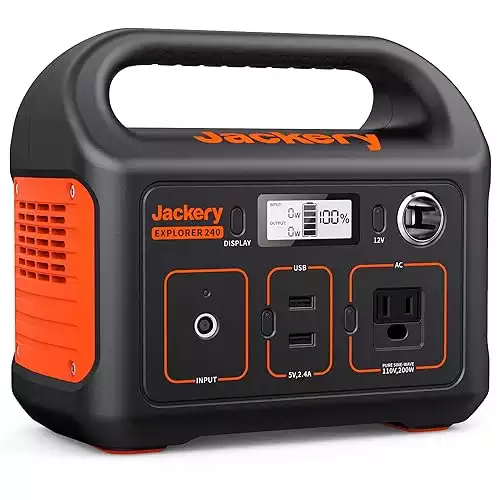 If you make a purchase, you support Hi-van.com by allowing us to earn an affiliate commission (no added cost for you).
The Jackery Portable Power Station (available on Amazon.com) is one of the best-reviewed power stations on the market. You can charge the Jackery power station with a wall outlet, car battery, or solar panels. It has a max of 200 watts, so while it can't run your hairdryer, it can charge your laptop with no problems.
Related Article:
A guide to the best batteries for on the go solar
---
3. Use Power From Your Car
The ways you choose to use your power inverter are only limited by the inverter's max wattage and your imagination. 
You can enjoy movies under the stars with a TV or laptop, or surprise your whole campsite with fresh coffee in the morning. You can even charge your digital camera for a photo shoot in nature. The possibilities are practically endless.
Be sure to check how many watts your devices use before you plug them into the inverter. You can typically find the wattage listed on the appliance. In general, devices that produce more heat require more power.
---
4. Err on the Side of Caution
You can take several steps to make sure your camping experience is as safe as possible when using a power inverter. 
When deciding the wattage of your inverter, it's best to choose an inverter with 20% more power than you need. You're less likely to overload your inverter if you follow that rule.
Make sure you're looking at the continuous watts of your inverter, not the surge watts. The inverter can't sustain the surge watts for very long, and you should only use that amount for starting an appliance. 
For continual use, refer to your inverter's continuous watts (if your inverter doesn't specify which wattage is which, the continuous watts are usually the smaller number). 
Finally, don't run your inverter without your car's engine running. The inverter won't drain your car's battery immediately, but it's best to err on the side of caution and not risk it. If you absolutely must use your inverter with your car off, LifeWire has a handy formula for measuring how long you can run it without damaging your battery.
---
Final Thoughts
Power inverters make camping more convenient and comfortable. They allow you to run household appliances and charge your electronics, and the only limit you have to worry about is your inverter's maximum watt output. Your camping experience doesn't have to be technology-free if you don't want it to. Just make sure to double-check your watt usage, and you can start camping in luxury.
Find this content useful 🙂 ?
Subscribe to our Newsletter and get a free Solar Electric Diagram + shopping list.