Hi-van is supported by its audience. When you purchase using our links, we may earn an affiliate commission (no added cost to you). Learn more
RV surge protectors serve as a crucial shield for your camper, providing protection against various electrical threats that may arise when connecting to shore power at different locations. Damages to your RV's electrical system and other sensitive components can be costly, and prevention is key. A reliable surge protector can save you from such risks, preserving the lifespan of your valuable appliances and devices.
In search of the best RV surge protector available, we have examined numerous options on the market. Although the Hughes Power Watchdog emerges as our top recommendation due to its superior features and capabilities, we understand that individual preferences and budget requirements differ. Therefore, we have also curated a list of alternative choices, which include high-quality, budget-friendly, and compact options to suit your specific needs.
Key Takeaways
The Hughes Power Watchdog is our top pick for overall best RV surge protector.
A variety of alternatives are reviewed to accommodate diverse preferences and budgets.
The buyer's guide will assist you in understanding the important aspects of selecting an RV surge protector.
Our Picks For The Top RV Surge Protectors
Hughes Power Watchdog: Premier RV Surge Protector Choice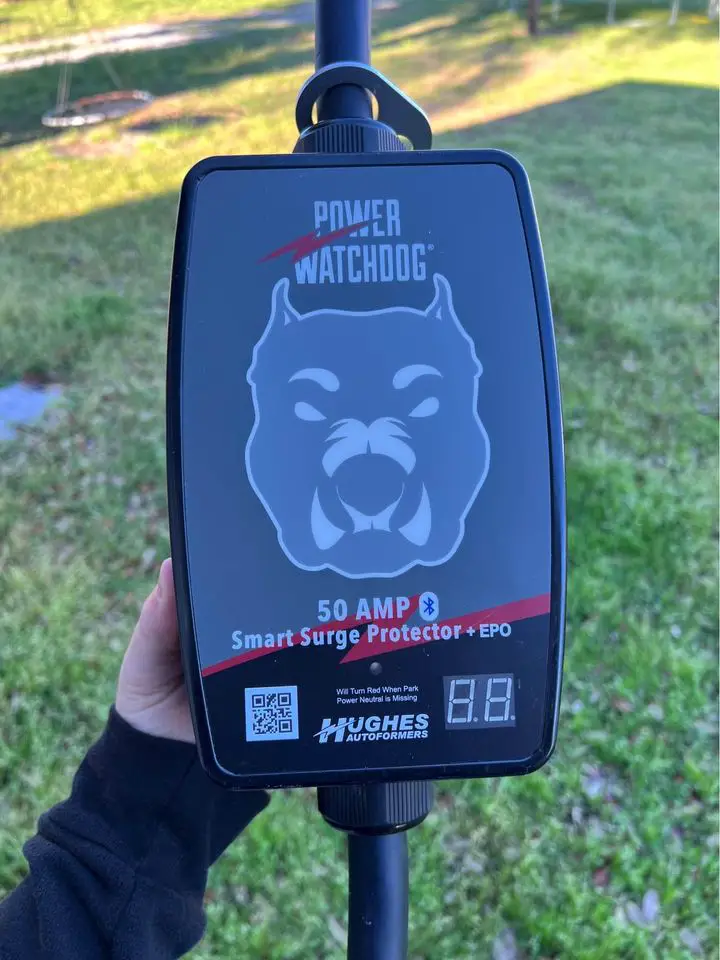 Quick Overview:
🔌 Bluetooth surge protector with auto shutoff.
📲 Real-time monitoring of voltage, amperage, and wattage via a free mobile app.
⚡ 6100 Joules of surge protection and has a replaceable surge/spike module.
🕒 Quick 4-second power-on analysis and a 90-second power-on delay after detecting faults.
🛠️ Heavy-duty construction suitable for regular use at campsites.
🌐 Designed for use in the US; international use may require an adapter or converter.
The Hughes Power Watchdog earns its spot as our top RV surge protector overall due to its best-in-class technology and protection at a competitive price.
Safeguard your RV adventures with the Power Watchdog PWD50EPO, a Bluetooth-enabled Surge Protector designed for the modern traveler. Built to handle a robust 50 Amps, this portable device is more than just a surge protector; it's peace of mind on wheels.
With its advanced 6100 Joules of surge protection, rest easy knowing your RV's electrical systems are shielded from unpredictable voltage spikes.
What sets the Power Watchdog apart is its Bluetooth connectivity. Seamlessly monitor voltage, amperage, and wattage on your smartphone in real-time, giving you unparalleled control and insight into your RV's power consumption. The quick Plug-n-Play setup means you're protected in seconds, not minutes, ensuring your journey remains uninterrupted.
Designed for durability, the Power Watchdog withstands the rigors of road travel. Additionally, its replaceable surge module means a single large spike won't render your protector obsolete.
---
Progressive Industries EMS Surge Protector: Ultimate in Quality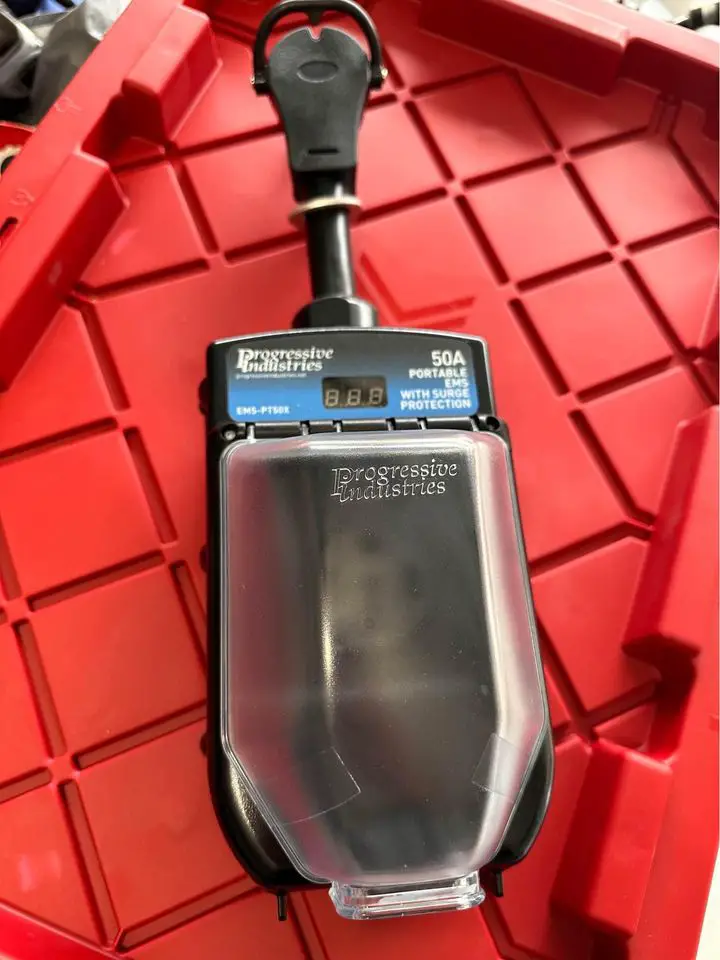 Quick Overview:
⚡3580 joules of protection and a maximum current spike rating of 88,000 Amps.
🔍 Equipped with a high-performing fault detector for over/under voltage protection, open ground, open neutral, and reverse polarity detection.
🤝 Offers peace of mind with a lifetime warranty, showcasing Progressive Industries' commitment to high-quality electrical solutions.
🌐 Available in various configurations, including both 30 and 50 Amp versions, with options for integrated or remote displays.
The Progressive Industries EMS is the ultimate safeguard for your RV's electrical system. With extensive protection against surges up to 3580 joules and a capacity to handle 12,000 watts, it's designed for the safety-conscious RV enthusiast.
Featuring advanced diagnostics, it can detect a range of electrical issues (over/under voltage protection, open ground, open neutral, and reverse polarity detection), ensuring your RV's system is always in top condition.
Built to endure, it thrives in outdoor conditions, offering robust protection wherever your travels take you. With easy installation, a handy locking bracket, and a rugged pull handle, it's a breeze to use.
Backed by a lifetime warranty, this portable surge protector is a must-have for any RV adventure.
---
Southwire Surge Guard: Best for Budget Shoppers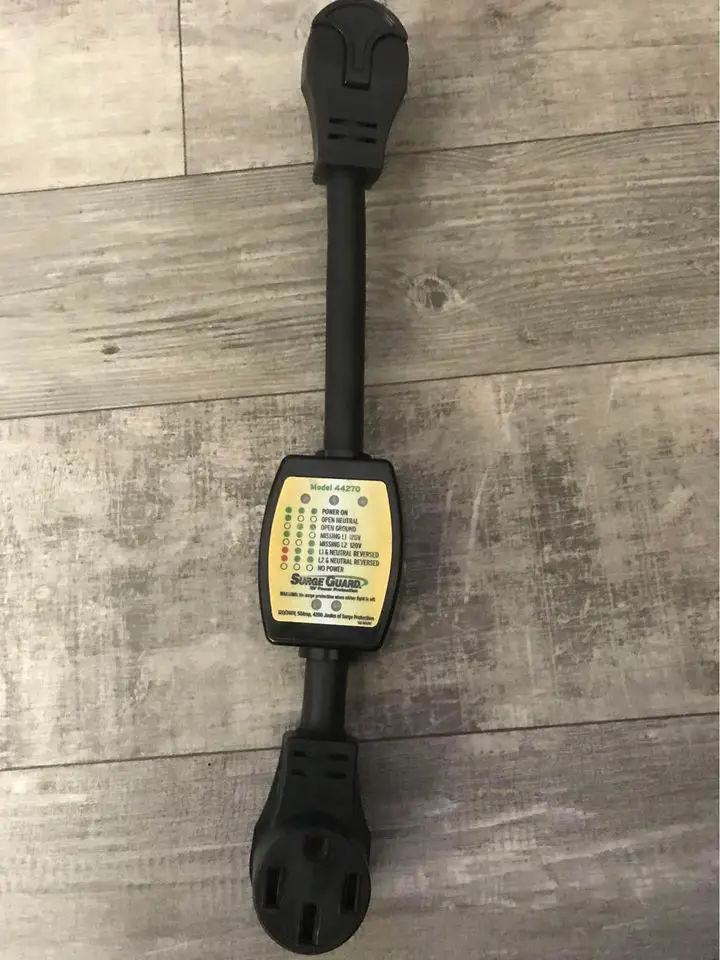 Quick Overview:
⚡ 50 Amp and is suitable for use with 120/240V systems. Can handle 4200 joules.
🔌 It offers surge protection, identifies faulty park power, and analyzes circuits.
💡 Indicators illuminate to show power status, and it features easy-T-Pull handles for convenience.
If premium EMS systems aren't in your budget, the Southwire Surge Guard is a fantastic choice.
Known as a common sight in campgrounds, this budget-friendly surge protector provides 4,200 joules of protection and is available for both 50 and 30 Amp systems.
It's reliable and well-built, boasting folding T-handles, heat-managing brass fittings, and a robust weather-resistant treatment. However, keep in mind that it's a non-EMS system and needs to be manually reset if a surge occurs.
---
Progressive Industries Portable: Ideal for Small RVs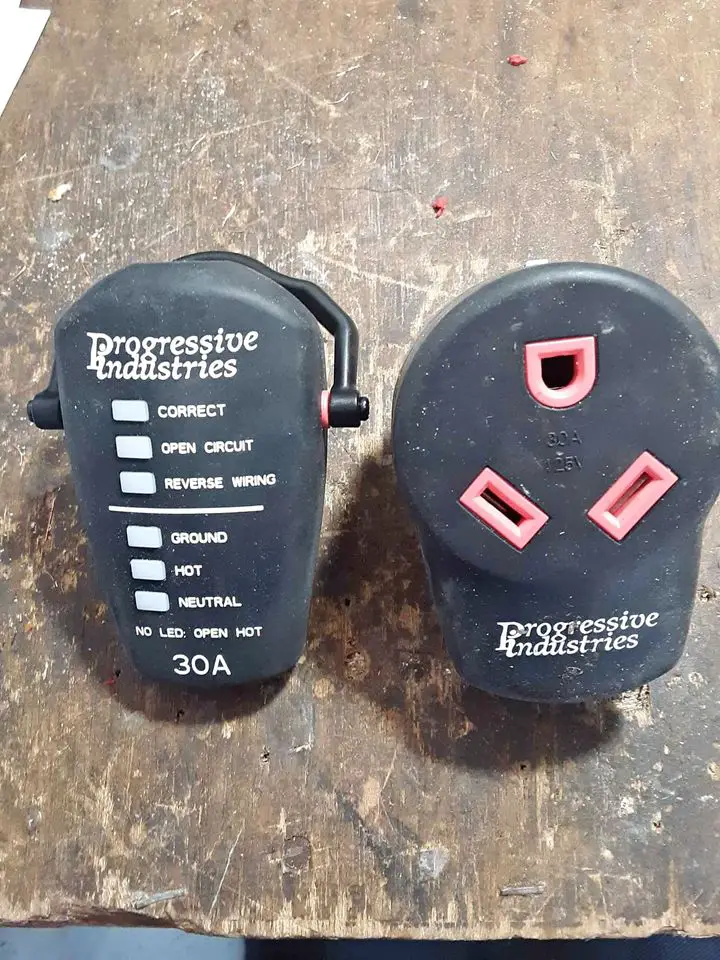 Quick Overview:
⚡ Maximum spike of 22,500A and 1,100 joules for the 30A version, ensuring robust protection against power surges.
🧪 The kit features a separate receptacle tester to detect various electrical faults, enhancing safety and reliability.
💡 Indicators on the surge module alert users when surge protection is depleted, enabling timely maintenance or replacement.
The Progressive Industries Portable surge protector is our top recommendation for small RVs.
It is is not a complete EMS system, but it works excellently for quick checks of the land lines, and its added surge protection is a significant improvement over having no protection at all.
The truth about RV surge protectors is that they have their limitations. Even the most robust systems can only absorb a certain amount of electricity before becoming ineffective. Surge protectors are often referred to as "sacrificial" because they are designed to sacrifice themselves when faced with extreme conditions to protect your electrical system. The Progressive Industries Portable takes this approach to the extreme, as it's designed to handle a single major surge.
Opting for a "single-use" surge protector might seem like an unusual choice, but there are actually several advantages to this system. Firstly, the price: it is under $50, and includes both a surge protector and a separate testing module.
By separating these two components, you significantly reduce the cost of replacement. Replacement Progressive Portable protectors are only about $35 each, making it accessible for anyone to keep a spare on hand in case of a large power surge.
Repairing the Progressive Portable is as easy as swapping out the plug, allowing you to quickly restore power to your RV.
Additionally, this compact system fits neatly under your standard hookup box awning, making it less conspicuous and reducing the risk of theft. While it may not have the longevity of larger, more robust systems, the Progressive Portable offers a cost-effective solution for budget-conscious RV enthusiasts.
---
Tripp Lite Isobar Ultrablok: For Campervans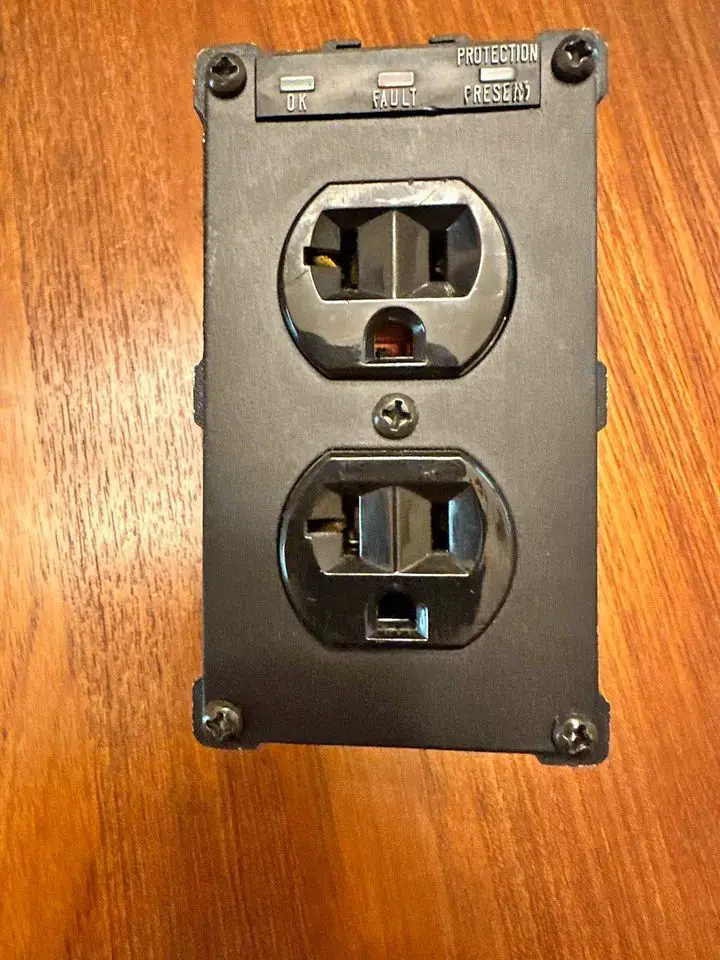 Quick Overview:
🏭 Durable metal housing and two NEMA 5-15R outlets, 1410 joules of protection per outlet.
📊 Complying with UL 1449 safety standards, and includes a 15A circuit breaker for enhanced safety.
💡 Diagnostic LEDs provide visual confirmation of power, protection, and line fault status.
For owners of smaller campervans like Westfalias or Sprinters using standard 20/15Amp plugs, typical RV surge protectors may not be suitable.
Although possible, using them with adaptors isn't ideal for basic electronic protection. Instead, the Tripp Lite Isobar Ultrablok is a more straightforward choice.
The Isobar Ultrablok plugs directly into your van's existing outlets, offering 1410 joules of protection per outlet. In the event of an overload, its automatic shutoff feature cuts power in less than a nanosecond, protecting your devices from high currents.
Its compact design and ease of use make it well-suited for both occasional and full-time van users. The Ultrablok features diagnostic LEDs for easy monitoring and an internal circuit breaker that resets automatically under safe conditions.
However, the Ultrablok is not designed for outdoor use, so it can't be connected directly to a hookup box. You'll need one unit for each outlet you want to protect. It's also important to note that devices connected directly to shore power remain surge-vulnerable.
Despite these limitations, the Ultrablok is an effective solution for safeguarding valuable equipment like refrigerators, water pumps, laptops, and smartphones in your van.
---
Buyer's Guide for Top RV Surge Protectors
Why You Should Have an RV Surge Protector
Owning an RV is a significant investment, and its electrical system is a complex and costly component.
Protecting it from potential damage caused by power surges is vital. RV surge protectors act as buffers between your RV and the electric hookups at RV parks and campgrounds, intercepting any damaging fluctuations in power and safeguarding your RV's sensitive electronics.
This is particularly important at locations where multiple RVs may strain the power supply, causing low voltage situations that can damage your appliances.
---
Utilizing a Surge Protector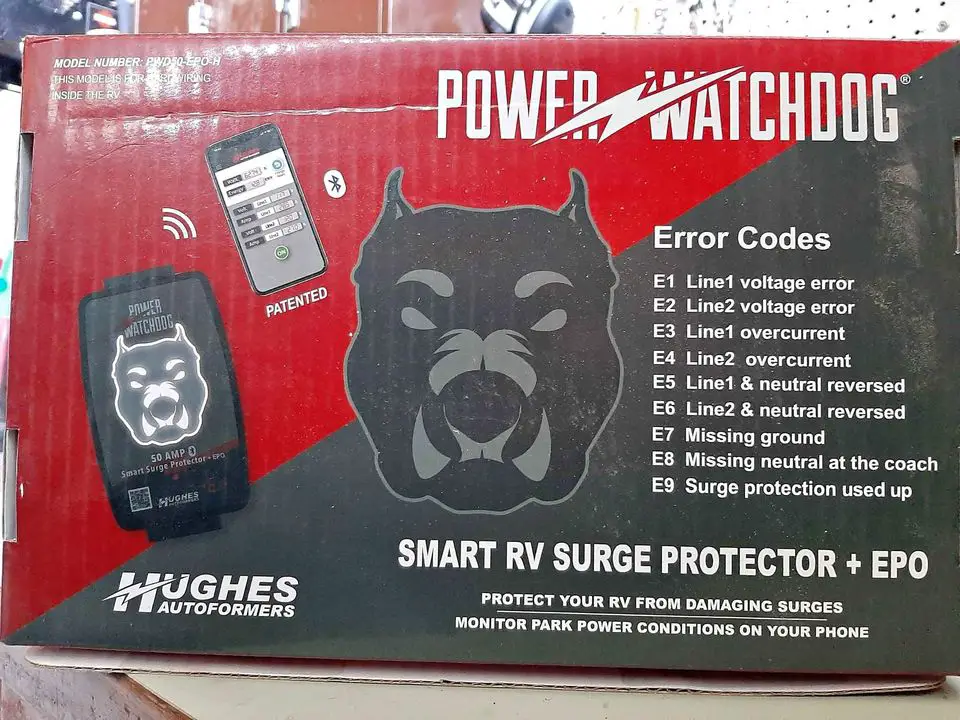 RV surge protectors are easy to use. Simply connect your RV's power cord to the surge protector, plug the surge protector into the power pedestal, and turn on the power. The surge protector will then intercept any issues and protect your RV from any damaging swings in power.
Here are the types of electrical events it can protect your RV from:
Voltage Surges: Sudden increases in voltage, often due to lightning strikes or power grid issues. Surge protectors prevent damage to your RV's electrical appliances and systems.
Voltage Spikes: Brief, intense increases in voltage. These can be caused by nearby lightning strikes or power outages. Surge protectors absorb these spikes, protecting your electrical devices.
Low Voltage (Brownouts): Occur when the voltage drops below the normal level. This can harm sensitive electronics. Surge protectors disconnect power in such situations to protect your appliances.
High Voltage: The opposite of brownouts, where voltage rises above a safe threshold. Surge protectors disconnect the power supply in these cases to prevent damage.
Reverse Polarity: Happens when the hot and neutral wires are reversed in the campground's wiring. This can pose a serious risk of shock or appliance damage. Surge protectors detect this and prevent power from flowing to your RV.
Open Ground: A situation where the ground wire is not properly connected. This can lead to a risk of electric shock. Surge protectors can detect this issue and prevent electricity from entering your RV.
Open Neutral: Occurs when the neutral connection is broken, leading to unstable voltage levels which can damage sensitive electronic equipment. Surge protectors detect open neutral situations and disconnect power.
Faulty Wiring: Includes various wiring issues like open ground, open neutral, or reverse polarity. Surge protectors detect and protect against these hazards.
Power Fluctuations: Regular fluctuations in the power supply can wear down electrical components. Surge protectors help stabilize the power supply to your RV.
Frequency Variations: Some advanced protectors also safeguard against frequency variations, though this is less common in typical RV scenarios.
By using an surge protector, you're adding an essential layer of protection to your mobile home, ensuring your adventures aren't interrupted by electrical mishaps. Just remember, it's also important to regularly check and maintain your RV's electrical system alongside using a surge protector.
---
Understanding Joule Ratings
The protection level of an RV surge protector is measured in joules, the unit of measurement for energy. The higher the joule rating, the better protection it provides.
With at least 2,000 joules of protection, your RV surge protector will have a longer lifespan and protect your RV more effectively.
---
30-Amp or 50-amp?
RV surge protectors come in 30-amp and 50-amp ratings. You can determine what your RV needs by examining its electrical plug. A three-prong plug is for 30-amp systems, while a four-prong plug is for 50-amp systems.
To choose the right surge protector for your RV, it's important to determine if your RV uses a 30-amp or 50-amp power service. Most mid-sized RVs use one of these two, but smaller RVs might use a 15/20-amp connection, similar to a regular home plug.
If you're unsure about your RV's power setup, simply check your power cord.
---
Portable vs. Hardwired
A hard-wired surge protector is fixed into your RV's electrical system and might need a professional to install it.
For a portable surge protector, just plug it between your RV's power cord and the power source at your campsite.
Portable RV surge protectors offer the benefits of simplicity and portability but can be easily stolen. Hardwired protectors require professional installation but are more secure and protected from the elements.
---
The Importance of EMS
The best RV surge protectors feature Electric Management System (EMS) technology, which intelligently monitors incoming electricity to your RV. They automatically restore power to your RV when energy levels stabilize after a surge, ensuring your appliances are operational when you return.
---
Our Verdict
The Hughes Power Watchdog stands out as our top pick for the best RV surge protector overall. Its easily replaceable surge module and affordable price already make this unit a prime choice. Moreover, its automatic EMS monitoring and Bluetooth control features elevate it beyond its competitors.
However, if you don't require a high-tech solution, the Progressive Industries EMS is another excellent option for RV owners. It offers exceptional durability and safeguards against electrical issues and harsh weather. Its lifetime warranty also ensures peace of mind.
For those seeking reliable protection without needing an EMS system, both the Southwire Surge Guard and the Progressive Industries Portable provide great quality and value.
---
Frequently Asked Questions
What are the best 30 and 50 amp RV surge protectors?
We're highlighting three top brands of 30 amp and 50 amp RV surge protectors that are excellent for protecting your RV's electronics.
Our top choice is Hughes. In our 20 years of RV living, we've tried many surge protectors. But once we started using Hughes, we stuck with it.
We believe Hughes is the best out there, and we always use it. We use the 50-amp model for our RV, but they also have 30-amp models.
We're really pleased with our Hughes gear. In fact, we've teamed up with Hughes to give RVgeeks readers a special discount. Read on for all the details!
How can I pick the right RV surge protector for my needs?
When choosing an RV surge protector, consider the following factors:
Compatibility: Ensure the surge protector is compatible with your RV's power levels (30 or 50 amps)
Joules rating: Higher joules ratings offer better protection
Durability: Look for a unit with a rugged design and a solid warranty
Display: Clear and easy-to-read displays improve user-friendliness
Extra features: Advanced features like automatic shutoff and EMS systems offer added protection
What are some standout features of Progressive Industries RV Surge Protectors?
Progressive Industries RV surge protectors, such as the SSP-30XL, are known for their outdoor-use readiness, portable designs, and built-in testers.
They also offer lifetime warranties and are thermally protected for enhanced safety and reliability.
What is the recommended joule rating for RV surge protectors?
A higher joules rating indicates better protection of your RV's electrical system. Aim for a surge protector with a minimum rating of 2,000 joules to ensure adequate protection. However, the higher the joules rating, the better.
What distinguishes an RV EMS from a standard surge protector?
An RV Electrical Management System (EMS) not only provides surge protection, but also monitors voltage, current, frequency, and the overall electrical health of your RV. Unlike a basic surge protector, an EMS identifies and addresses a wider range of electrical issues, thereby offering more comprehensive protection.
Is it worth investing in high-priced RV surge protectors?
Investing in a high-priced RV surge protector can be very worthwhile, especially considering the value of the electronics and appliances in your RV. Here are some key points to consider:
Protection Quality: Higher-priced surge protectors often provide superior protection against a wider range of electrical issues, including high/low voltage, open ground, open neutral, reverse polarity, and voltage spikes.
Advanced Features: More expensive models may include additional features like real-time voltage monitoring, built-in circuit analyzers, and emergency shut-off capabilities, which can be crucial for preventing damage to your RV's electrical system.
Durability: Higher-quality surge protectors are generally more durable and weather-resistant, which is important for devices that will be used outdoors and in various weather conditions.
Warranty and Customer Support: Expensive surge protectors often come with longer warranties and better customer support, offering more peace of mind.
Long-Term Savings: While the upfront cost is higher, a quality surge protector can prevent costly repairs or replacements of your RV's electrical system and appliances, saving money in the long run.
Safety: High-quality surge protectors provide a higher level of safety for you and your RV, which is a crucial consideration.
However, it's important to balance cost with need. If you typically camp in well-maintained campgrounds with stable electrical supplies, you might not need the most expensive model. On the other hand, if you often travel to places with uncertain electrical services, or if your RV is equipped with sensitive electronics, a higher-end surge protector would be a wise investment.
Ultimately, the decision should be based on your specific RVing habits, the value of the electronics in your RV, and your budget. Even if you decide not to go for the most expensive option, choosing a reliable surge protector within your budget is still a smart move.