Hi-van is supported by its audience. When you purchase using our links, we may earn an affiliate commission (no added cost to you). Learn more
Many campers place tent footprints or tarps under their tents to prevent debris from poking through. Tent tarps also add a barrier between your body and the ground, retaining its natural heat and keeping you comfortable during the night. However, choosing the proper thickness will make a significant difference.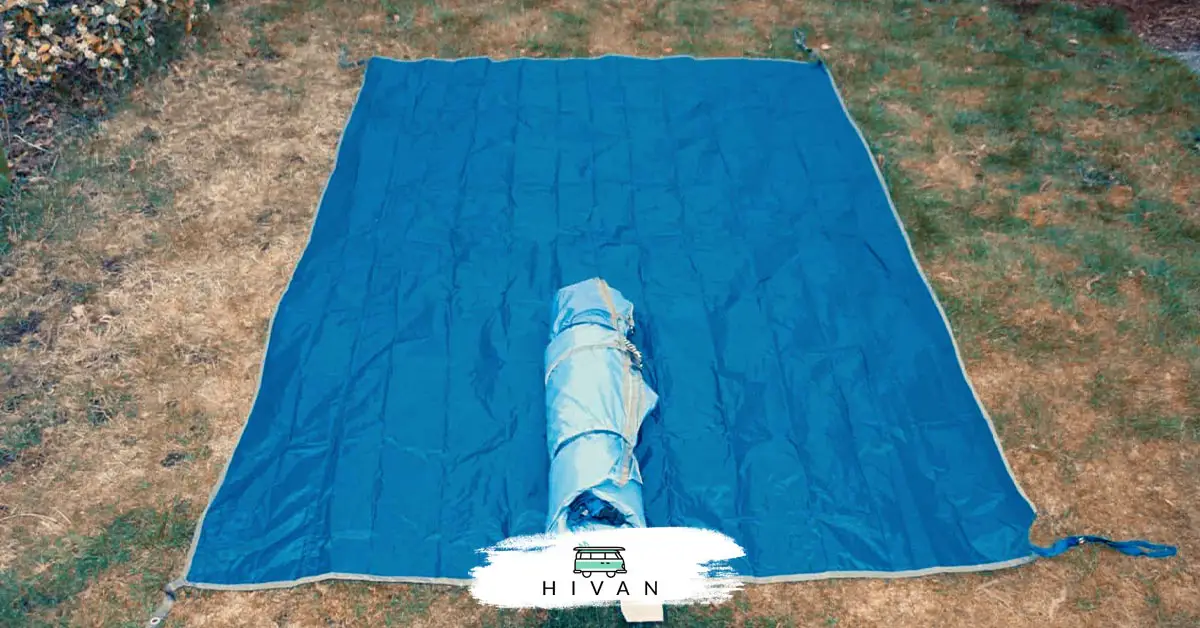 A tarp under a tent should be at least 2mm thick to stop bugs, sticks, and rocks from damaging your tent. If there's no barrier, walking inside your tent will cause wear and tear. A tent tarp also prevents you from losing body heat while sleeping. Tarps made for tents are called footprints.
In this post, we'll discuss your tent tarp's measurements, why the thickness matters, and what the purpose of a tarp is in the camping industry. We'll also break down the type of tarp you should bring and what to look for. Enjoy!
---
What Should a Tent's Tarp Dimensions Be?
A tent's tarp dimensions should be no thinner than 2mm and a few inches wider than the tent's furthest edges. Fold the outer edges under the tent to slightly elevate the fabric, keeping water out during a rainy day. Never get a tarp that's smaller than the tent because you'll leave the edges exposed to potential fabric tears.
Keep these factors in mind when choosing a tent tarp:
According to Outforia, your tent's tarp should be about 2mm thick or more. This thickness provides enough durability and protection from everything under the tent without making it too heavy to carry. It also limits the amount of fraying since the fibers won't be as susceptible to wear and tear.
Choose a tarp that's slightly wider than your tent on all sides. The goal is to have about half of a foot extended beyond the tent's borders. Fold the excess tarp over itself and under the tent. This method creates a moat that won't let water inside of the tent if it's rainy or humid outside.
Opt for a waterproof tent tarp. While most tarps are designed to handle quite a bit of rain, not all of them are waterproof. You can spray waterproof spray on your tarp to wick away moisture, too. Pooling can lead to mildew and mold, both of which can destroy your tent's tarp long before its time is up.
Your tent tarp plays a major role in how long your tent lasts. While it's best tucked and unseen, it'll make or break your camping gear. Choosing a tarp that's too small won't provide maximum protection, whereas picking an oversized tarp will send all of the water it collects onto your tent.
You might be wondering why having a tent tarp is so important. After all, plenty of campers have gone years without packing tarp. Proceed to the next section to find out if you should add one to your camping loadout.
---
What Does a Tent Tarp Do?
A tent tarp protects your tent from being damaged by everything below it. While your camping gear is safe inside the tent, jagged rocks and sharp sticks can quickly become problematic. If you step on a rock through your tent's fabric, it'll poke through. The good news is a tarp can keep your tent safe from these unwanted damages.
Here are the primary functions of a tent tarp:
A tent tarp can keep the underside of your tent as dry as possible. Whether you're dealing with rain, morning dew, or tree sap, you likely don't want any of it inside the tent. Using a tarp will help your tent stay in good condition, especially since moisture can get trapped between the ground and the tent.
Trail and Summit explains tent tarps add a protective barrier between your tent's polyester, nylon, or canvas fabric. Sharp objects will have no problem ruining your tent, so it's up to you to add another layer. You can get a tarp that's twice the size of your tent and fold it over itself for extra protection.
Many campers use tarps to keep their tents stable. If you're using a pop-up tent without stakes, it can slide around. Many tarps come with stakes that don't shake, which can help to keep your tent in the right place. They're also a great option for bottomless tents when you're camping on dirt or grass.
There's nothing like buying a high-end tent only to have it ruined by a couple of rocks or twigs. Instead, you can use a tarp that costs less than $20 to keep your several-hundred-dollar tent looking and feeling as good as new.
That being said, not all tarps are fit for the job. Let's explore the right type of tarp below.
---
What Kind of Tarp Should I Put Under My Tent?
You should put a tarp called a tent footprint under your tent. Footprints are designed to fit the average tent and extend outside of its borders. This added layer of protection and padding won't fray or rip apart like a traditional tarp. Most camping brands make tent footprints lightweight, durable, and comfortable.
All Outdoors Guide shows tent footprints provide much better edge protection compared to a regular tarp.
If you're looking for the best tent footprint or tarp for your tent, try the REDCAMP Tent Footprint. This high-quality tarp is double-layered and adds a bit of padding for maximum comfort. It's also waterproof to keep moisture out of your tent and comes with a handy carrying bag.
Although footprints are better than tarps, a cheap tarp is better than nothing at all. It's the least you could do for a tent that provides endless fun in the great outdoors!
---
Conclusion
Tent tarps are often an irreplaceable part of camping. If you want your tent to last well over a decade, getting a tarp or footprint can be the first step in the right direction. Remember, the tarp should extend a few inches on all sides beyond the tent to fold under the fabric and lift it to stop morning dew and rain from getting into the tent.
Find this content useful 🙂 ?
Subscribe to our Newsletter and get a free electric diagram + shopping list.