Hi-van is supported by its audience. When you purchase using our links, we may earn an affiliate commission (no added cost to you). Learn more
Preparing hot meals while you're camping can be a challenge. Luckily, using a camping stove is easier and quicker than struggling to light a campfire on a rainy night. Camping stoves are convenient, portable, and produce a regular amount of heat that you can control, but can you use your camping stove on grass?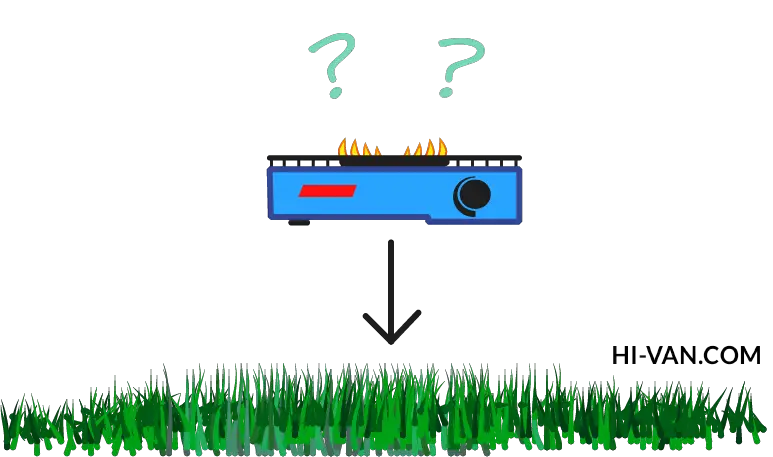 You can use a camping stove on grass, but you shouldn't. Grass catches fire easily, which could spread to the surrounding area when there's wind. You should set your stove on a flat, even, uncluttered space free of rocks, long grass, bushes, or vegetation that could act as a fire hazard.
Purchasing a camping stove is an excellent idea if you enjoy the outdoors. In this article, you'll find more information on using your camping stove safely and effectively when out camping. Keep reading.
---
Set Your Camping Stove on a Flat, Uncluttered Surface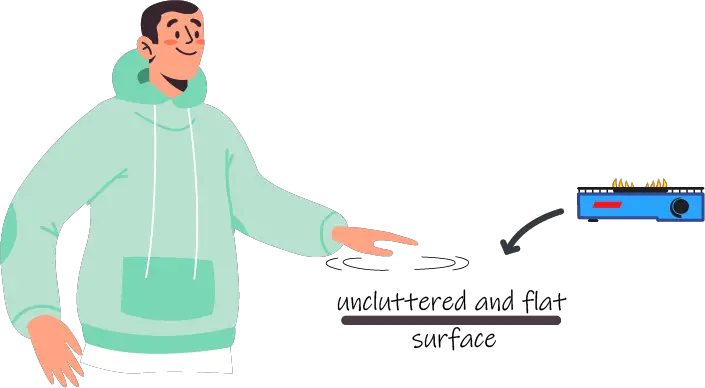 You can find several types of camping stoves available on the market, such as liquid fuel, solid fuel, or canister gas stoves. But no matter your type of camping stove, setting it up on a flat, even, and clear area while cooking is essential. 
If the surface is uneven, there's a high risk of the camping stove toppling over due to a strong gust of wind. You could also stumble over a rock lying idly next to the stove. This can be pretty inconvenient, wasteful — your dinner would get ruined — and even dangerous.
If you're using your camping stove on the ground and find the surface somewhat uneven, dig out some earth and pile it up to form a flatter space. Additionally, you want to make sure that the surface you're cooking on is sturdy and stable. 
You shouldn't set your camping stove on grass, either, because there's always a risk of fire. A windy day can easily ruin your cooking experience with a camping stove on grass.
---
Can You Place Your Cooking Stove on a Plastic Table?
You can place your cooking stove on a plastic table, as most stoves come with an inbuilt burner shield base. But while a camping stove won't get hot enough to melt your plastic table, use a material that's safe and convenient. So, when using a plastic table, add a safety mat for extra security.
Camping stoves generally use kerosene, butane, or propane for fuel and could reach a high-temperature level when in use. While the burner shield base provides your tabletop with an added layer of protection, every burner is unique. Therefore, you'll want to be as careful as possible during usage.  
The items below from Amazon.com are ideal for placing beneath your camping stove when cooking, making it safer and more comfortable for you:
GRIDMANN Pro Silicone Baking Mat
Premium quality design: Made from durable, flexible, food-grade silicone that is oven-safe to 480 degrees F, this two-pack set of baking mats provides the ultimate convenient and healthy way to upgrade baking and roasting.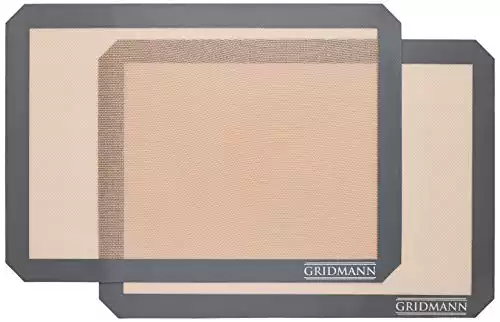 If you make a purchase, you support Hi-van.com by allowing us to earn an affiliate commission (no added cost for you).
Gridman Pro Silicone Mat. These silicone mats can hold heat up to 480°F (248.8°C). They're easy to roll up and pack in your camping bag. You can use these mats when baking, ideal for camping. They're also non-stick, hence easy to clean.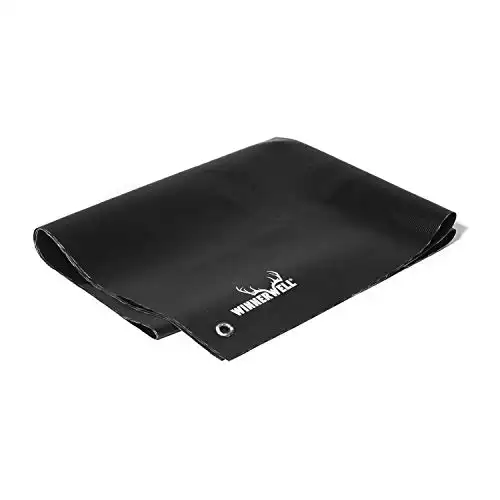 If you make a purchase, you support Hi-van.com by allowing us to earn an affiliate commission (no added cost for you).
Winnerwell Fireproof Mat. Perfect for camping, this mat is ideal when using a wood camping stove, which tends to get extremely hot. Made with fiberglass, it features a silicone coating. Though pricey, the mat is highly durable.
Coleman Pack-Away Portable Kitchen
Portable camp kitchen offers a stable cooking surface and ample storage space
31.5 x 21.3-inch food prep area ideal for chopping ingredients
27.8 x 20.5-inch side table accommodates most Coleman stoves and coolers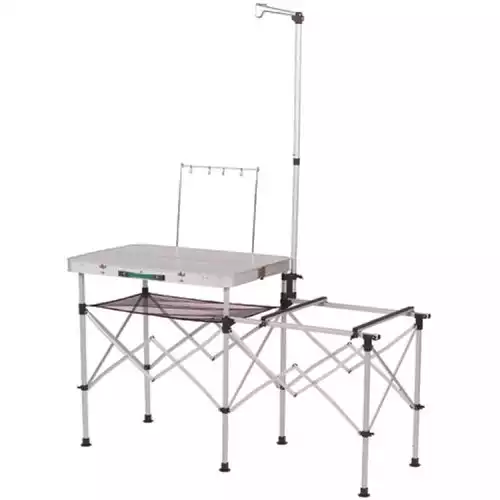 If you make a purchase, you support Hi-van.com by allowing us to earn an affiliate commission (no added cost for you).
Coleman Pack-Away Portable Kitchen. Safe for use with most stoves, this aluminum frame and fiberboard top kitchen set is a complete camping table that's available at an affordable price point. It conveniently folds up into a suitcase, making it easy to carry. 
---
How To Use Your Camping Stove Safely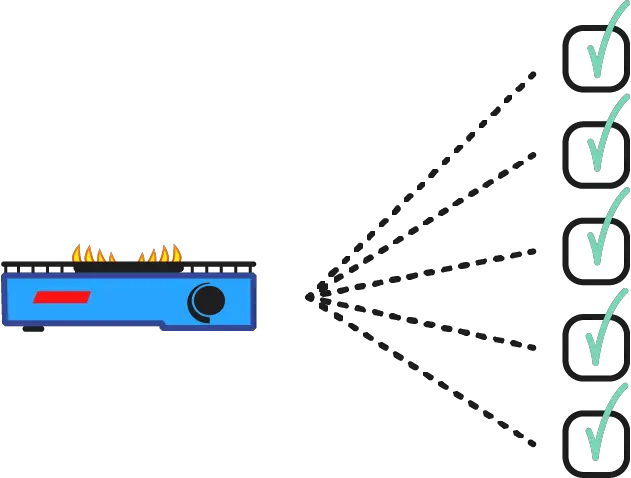 To ensure your safety and comfort when using a camping stove, follow the below recommendations:
Don't Place Your Stove Directly on the Ground
You want to avoid putting your stove directly on the ground or a picnic table because doing so can hamper air circulation. The surface can also turn into a fire hazard. It's best to prop your cooking stove on a stand. 
Avoid placing your metal stand on the icy ground during winter because the stand can melt the frozen ground, causing your camping stove to fall.
Avoid Using the Camping Stove Inside Your Tent
Cooking inside your tent might seem like a great idea, especially if the weather takes a turn for the worse. However, a cooking stove in use requires a well-ventilated area, so don't give in to the idea, no matter how tempting. 
While good-quality tents and sleeping bags are typically treated with fire retardants, their material is intrinsically flammable. Therefore, they could still catch fire. Besides, since the tent material isn't exactly breathable, there's a high risk of carbon monoxide poisoning.
So, to avoid potentially destroying your entire camping equipment or inhaling lethal fumes, always cook outside your tent. Also, ensure to place the stove several feet away from the tent. If the weather is unfriendly, keep the cooking stove under a tarp or underneath a large, well-ventilated screen house. The tarp should hang way above the stove's burners.  
Don't Leave the Camping Stove Unattended
Once you start cooking, make sure not to leave the stove unattended, as anything could happen when you're out of sight. For instance, your camping stove might get knocked over accidentally, particularly if you're camping with kids. Also, remember to switch off the stove after cooking your meal.  
Here are additional tips on using your cooking stove safely:
Store your camping stove and gas canister safely away from direct sunlight or extreme heat.  
Keep it clean by removing leftover food, oil, and grease that might clog up the burner or act as a fire hazard. Doing this will keep your camping stove functioning properly.
Allow the cooking stove to cool down completely before you pack it away.
Avoid positioning two camping stoves close together when using two stoves since doing this can cause them to overheat.
Check for leaks or damage before using your cooking stove, and avoid using a stove that appears damaged.
Avoid buying a light camping stove and instead, choose a strong tabletop stove if you typically camp with your kids or pets.
Store your propane canister upright in a well-ventilated area always, far from any campfire.
Use foil to protect your cooking surface if in a pinch; fold it a couple of times and place it underneath your stove.
---
Conclusion
A camping stove is pretty convenient when cooking outdoors, but your safety is paramount. Always use your camping stove in a well-ventilated area and ensure to keep a watchful eye on it the entire time. Camping should be fun, and a hot meal on a cold rainy night can take your experience from dull to exciting.
Find this content useful 🙂 ?
Subscribe to our Newsletter and get a free electric diagram + shopping list.