Hi-van is supported by its audience. When you purchase using our links, we may earn an affiliate commission (no added cost to you). Learn more
Big sleeping bags are almost always more comfortable, but they're not the easiest solution for backpacking. If you want to fit your sleeping bag into a backpack but you're having trouble, it can be frustrating and overwhelming. Today, you'll learn how to pair almost any sleeping bag with your backpack.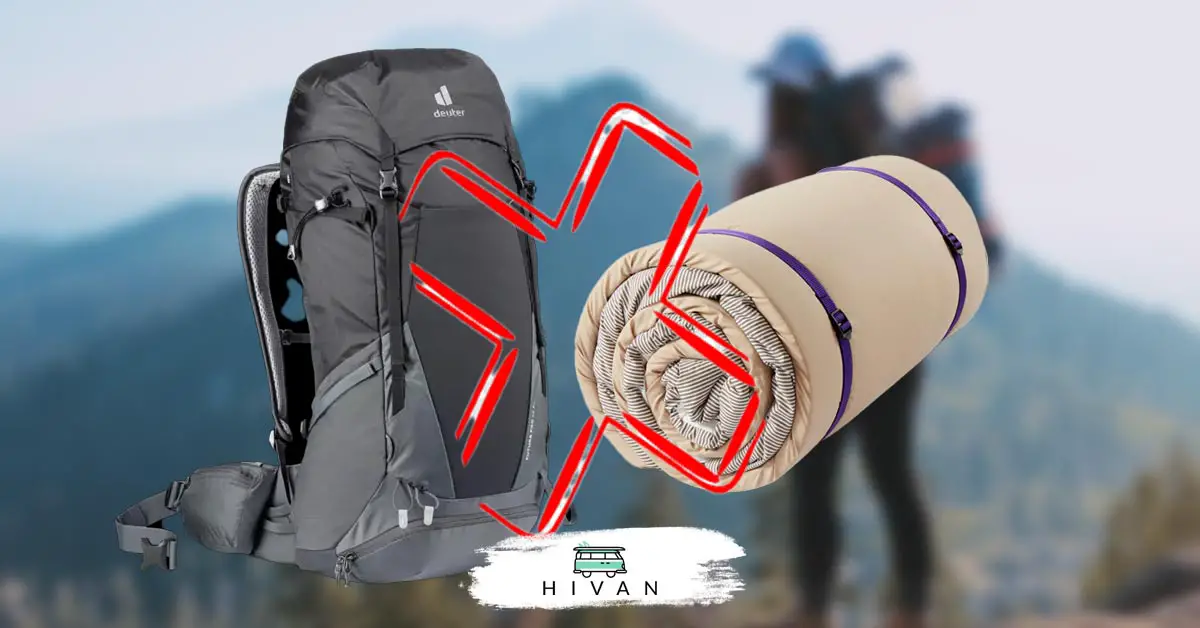 When a sleeping bag is too big for a backpack, you should put it into a compression sack and pull the drawstring to shrink the sleeping bag. If it's still too big for the backpack, use a paracord or camping string to mount the sleeping bag on the outside of the backpack.
Throughout this article, we'll list several solutions to put your sleeping bag in or on your backpack, how you can attach it without falling off, and tips to compress a sleeping bag. We'll also compare a few materials and backpack sizes to make it easier.
---
Where Do You Put Your Sleeping Bag in a Backpack?
You put your sleeping bag in a backpack's main compartment near the bottom, in the lower compartment, or strapped to the outside of the backpack. Many ultra-lightweight backpackers prefer to stuff their sleeping bag into their backpack without using the straps, strings, or bags that come with it to save space.
Here's a list of where you can put your sleeping bag if it's a bit big for the backpack:
Place the sleeping bag in a stuff sack to compress it as much as possible. Pure Hiker recommends using a compression sack for your sleeping bag, even if it's small enough to comfortably fit in the backpack. Compression sacks (also known as stuff sacks) help to save a lot of space.
Mount your sleeping bag to your backpack's external frame system. External frame backpacks have bars on the outside. They're the classic looking backpack you've probably seen in movies. If your backpack has a frame on the outside, you can quickly and easily tie the sleeping bag to it.
Strap the sleeping bag under your backpack to balance the weight. You'll need heavy straps to hang your sleeping bag under the pack since you don't want it to fall off. However, this method is excellent for many backpackers because it takes the weight off of their upper back. Note: Some campers use belts in a pinch.
Don't roll your sleeping bag; Stuff it loosely into your backpack. Your sleeping bag doesn't have to be perfectly rolled to fit in your pack. Instead, load it into the backpack and pile everything on top. The sleeping bag will fit in all the holes and open portions between the rest of the equipment.
If your sleeping bag is still too big for your backpack after trying these four suggestions, you should either downsize the sleeping bag or upgrade your backpack. There are plenty of lightweight, insulated, large sleeping bags that are thin and easy to roll for backpacks. If you want to mount yours on the outside of your pack, try the tips in the following section.
---
How Do You Attach a Big Sleeping Bag to a Backpack?
To attach a big sleeping bag to a backpack, follow this step-by-step process:
Roll your sleeping bag as tightly as possible to compress it. According to Big Outdoor Adventure, you shouldn't compress your sleeping bag for more than a couple of days at the most. However, it's fine if you're unrolling it and using it to sleep every night since it can fluff a bit.
Use a paracord or other rugged string to tie the sleeping bag to the upper frame of your backpack. Any durable, thin rope will do the trick. Tie a rope around both ends of your sleeping bag to prevent it from loosening. Next, tie more paracords through the ropes or loops and attach them to the backpack's frame.
Joy Walker Backpack Rain Cover Waterproof
UPGRADED BUCKLE STRAP: Keep backpack rain cover in position, Prevent backpack cover from sliding off. FOR 15-25L BACKPACK: Length(9.8-12.9"), Width(5.9-7.8"), Height(13.7-17.7")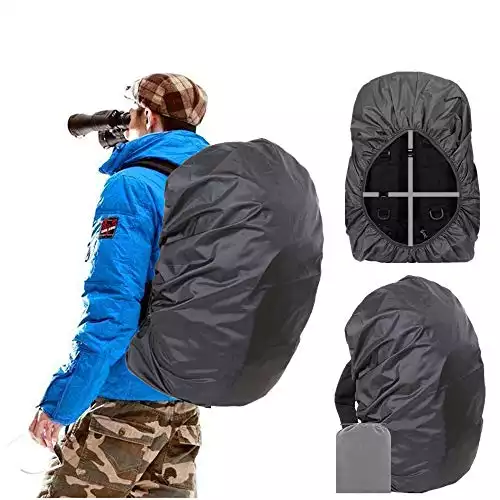 If you make a purchase, you support Hi-van.com by allowing us to earn an affiliate commission (no added cost for you).
Place a rainproof cover over the sleeping bag and backpack to keep them dry and prevent them from loosening. The Joy Walker Backpack Rain Cover is big enough to cover a 90L backpack, but you can use a smaller backpack and fit it over your mounted, strapped sleeping bag for extra protection.
This simple method usually does the trick, but it can be a bit too overwhelming if you have a small backpack. Unfortunately, the only other solution is to get a bigger backpack or smaller sleeping bag, as mentioned earlier in the post.
---
Can I Compress My Down Sleeping Bag?
You can compress your down sleeping bag by rolling it, placing it in a stuff sack, and pulling the drawstring while squeezing the bag. Down sleeping bags compress much easier than synthetic sleeping bags because there's a lot more room for air. However, they provide excellent insulation, making them the best of both worlds.
Valley Proud takes it up a notch by suggesting the use of compression buckles. These tools are used to secure compression sacks, backpacks, and other outdoor gear to prevent them from loosening or falling off of your backpack.
Whether you use compression sacks, buckles, or anything else, keep in mind that down and cotton compress much better than nylon and polyester. They're quite fluffed, which means there's a lot of room for them to squish into your backpack.
ALPS Mountaineering Compression Stuff Sack
Zippered pocket reverses to become storage pouch
Bottom webbing grab handles with d-rings allows easy carrying and multiple attachment options
Lightweight polyester ripstiop with bartacked stress points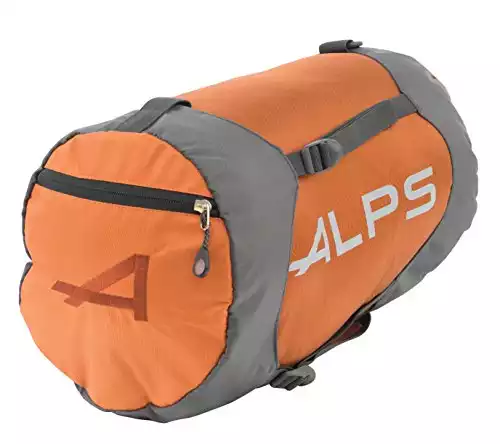 If you make a purchase, you support Hi-van.com by allowing us to earn an affiliate commission (no added cost for you).
If you're looking for a compression bag, try the ALPS Mountaineering Stuff Sack. It just might be the best compression sack on the market because it has enough room for your sleeping bag and camping pillow, and it also includes D-rings for easy mounting. You can strap it to your backpack's frame with paracords or leave it inside the pack.
Big sleeping bags might be a hassle, but they're not enough to ruin your backpacking trip!
---
Conclusion
Fitting your favorite sleeping bag into your camping setup doesn't have to be a chore. If you choose one of the previously mentioned suggestions, you'll have no problem camping with nearly any sleeping bag. Remember to use a rain cover if you strap your sleeping bag to the outside of your backpack.
Find this content useful 🙂 ?
Subscribe to our Newsletter and get a free Solar Electric Diagram + shopping list.