Hi-van is supported by its audience. When you purchase through links on my site, I may earn an affiliate commission. Learn more
Camping pillows might seem unnecessary, especially if you already have a perfectly fine pillow at home. But why do so many people purchase these small pillows if they're the same as a regular one? The truth is that backpacking pillows have countless advantages over traditional pillows when it comes to camping.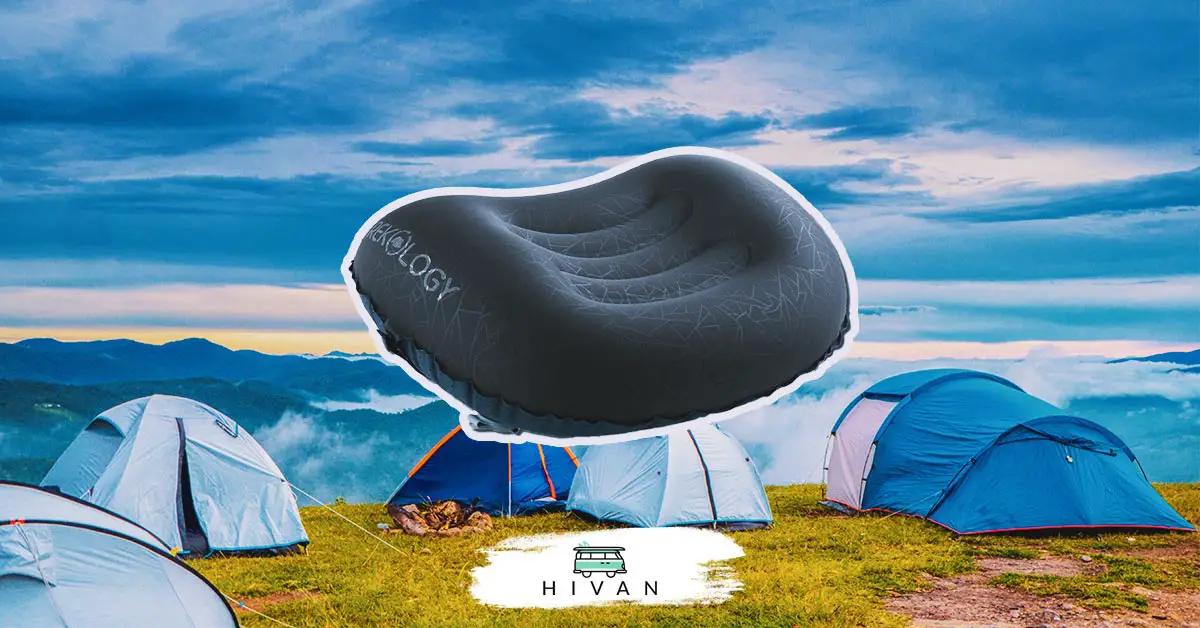 Camping pillows are worth it because they're lightweight, compact, and affordable. You can also use them to pad your gear or sit on the pillow when you're resting on a hike. The only time you shouldn't choose a camping pillow while sleeping outdoors is if you're car camping or driving to the spot.
In this article, we'll show you several reasons why camping pillows are worth it, what kind of camping pillow you should bring, and how they stack up against your pillow back at home. We'll also discuss a couple of alternatives to camping pillows.
---
Is a Camping Pillow Necessary?
Camping pillows are necessary for most backpackers because they're small enough to fit in a backpack without taking up too much space. Using a traditional bed pillow for a camping trip would be far too much to handle. You wouldn't have any space left in the pack, which is one of many reasons people get camping pillows.
Here's a list of reasons why most campers believe camping pillows are necessary:
They're compact enough to fit in any backpack. Regardless of which camping pillow style you choose, you'll undoubtedly save a lot of space in your backpack. They're specifically designed to let you store more items in the pack, especially if you have a stuff sack with a drawstring.
You can use a camping pillow without getting your home pillow dirty. Nobody wants to get mud, sticks, leaves, grass, and other debris on their bed pillow. When you get back from the camping trip, all you have to do is spray off the camping pillow or toss it into the washer to keep it clean.
Camping pillows are ultra-lightweight compared to most other pillows. According to Decide Outside, the primary reason most people bring camping pillows on a backpacking trip is that they don't weigh very much. You'll save your back and legs by drastically reducing the backpack's weight.
You can get a high-end camping pillow for less than most high-quality pillows. Camping pillows are known for costing a fraction of the price of most top-shelf bed pillows. Considering most backpacking gear is expensive, it's nice to find a product that is reliability more affordable.
As you can see, there are many reasons to consider getting a camping pillow. That being said, there are a few variants to look at. If you're unsure of which one you want or what's available, head to the next section for more details.
---
What Kind of Pillow Should I Bring Camping?
You should bring an inflatable or rollable pillow camping since they both are compact enough to not take up too much space. There are many options to look through, all of which save time, space, and energy stuffing them into your backpack. Not only that, but you can use them as sitting pads, too.
Thermarest explains there are two types of camping pillows you can choose from:
Trekology Ultralight Inflatable Camping Travel Pillow
Small in Size - Big on Comfort! This is the most compact & lightweight inflatable camp pillow on the market – folds down to 5x2 inches, smaller than a soda can! Inflates to a comfortable pillow for head or lumbar support.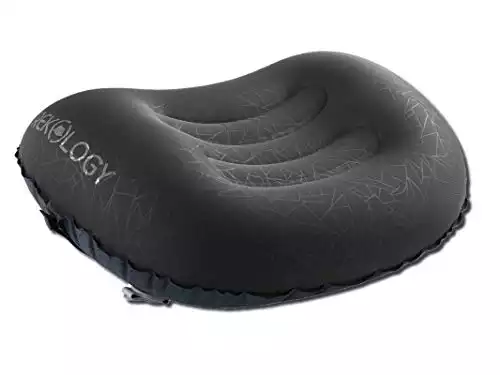 If you make a purchase, you support Hi-van.com by allowing me to earn an affiliate commission (no added cost for you).
Inflatable camping pillows are typically made of rubber or plastic and require an air pump and a pillowcase. The Trekology Inflatable Camping Pillow is a great example of an inflatable pillow that keeps your neck supported throughout the night. You can inflate it with up to five breaths, letting you get to sleep right away.
Wise Owl Outfitters Camping Travel Pillow
Versatile: Whether you're sleeping on a hammock, a plane, a beach, in a car, RV, or under a tent, our hammock pillow will give you a great night's sleep wherever you lay your head.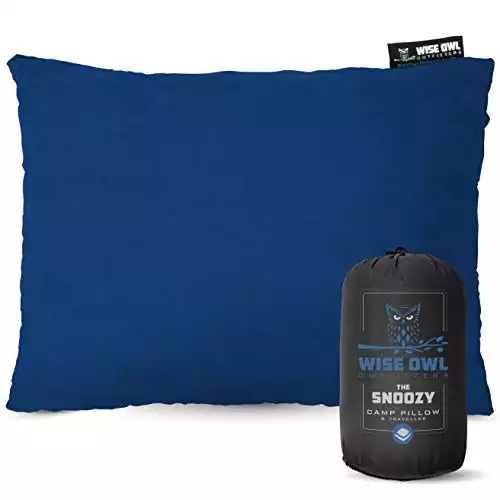 If you make a purchase, you support Hi-van.com by allowing me to earn an affiliate commission (no added cost for you).
Rolled, cotton-filled camping pillows fit in a stuff sack and take up a little more room than an inflatable pillow (they're usually more comfortable, though). If you prefer a cotton pillow, try the Wise Owl Outfitters Camping Pillow. It comes in multiple colors and includes a stuff sack to compact it down into your backpack to take less space.
Whether you choose a cotton or inflatable pillow, you're almost guaranteed to have better results than bringing a massive bed pillow. That being said, some people want to save even more space. Those looking for alternatives or multipurpose solutions should review our suggestions below.
---
What Else Can You Use as a Pillow When Camping?
You can use a stuff sack filled with clothes, a soft backpack, a sweater, or a rolled blanket as a pillow when camping. If you don't want to bring a camping pillow, another option would be to purchase a sleeping bag with a built-in headrest. While it might take up a little more space in your backpack, it's well worth the comfort.
Pack Your Tent recommends one of the best alternatives to camping pillows is to toss a few soft items into a stuff sack. Stuff sacks are an essential part of lightweight backpacking. You can store almost anything in them, pull the drawstring, and instantly reduce how much room it takes up.
If you want to use a stuff sack, we suggest laying your softest clothes in the sack but don't roll them. You don't want the makeshift pillow to feel too dense. Instead, lay them loosely in the stuff sack and pull the drawstring as tight as possible. Test the pillow and adjust the items until they support your neck and head.
If you don't want to use a stuff sack or you don't have one, you could always use your backpack as a pillow. It might not sound too comfortable, but there's a trick to it: Remove everything from the pack except your clothes. Flip the backpack over and rest your head on the padded backside. In short, you're using the backpack as a large stuff sack, but without the extra weight.
---
Conclusion
Now that you know all about camping pillows, you can decide if they're a good choice for your outdoor setup. Many people love their camping pillows because they make it much easier to save space and weight without sacrificing high-quality sleep. That being said, car campers can bring their pillows from home.