Hi-van is supported by its audience. When you purchase using our links, we may earn an affiliate commission (no added cost to you). Learn more
Camping can mean something different to everyone; some people go on camping trips to disconnect from technology, get some fresh air, or reconnect with nature. For years, many campers have defaulted to pitching tents. However, a new trend has emerged with increasing popularity in which people enjoy the friendly night stars by floating over the ground with hammocks.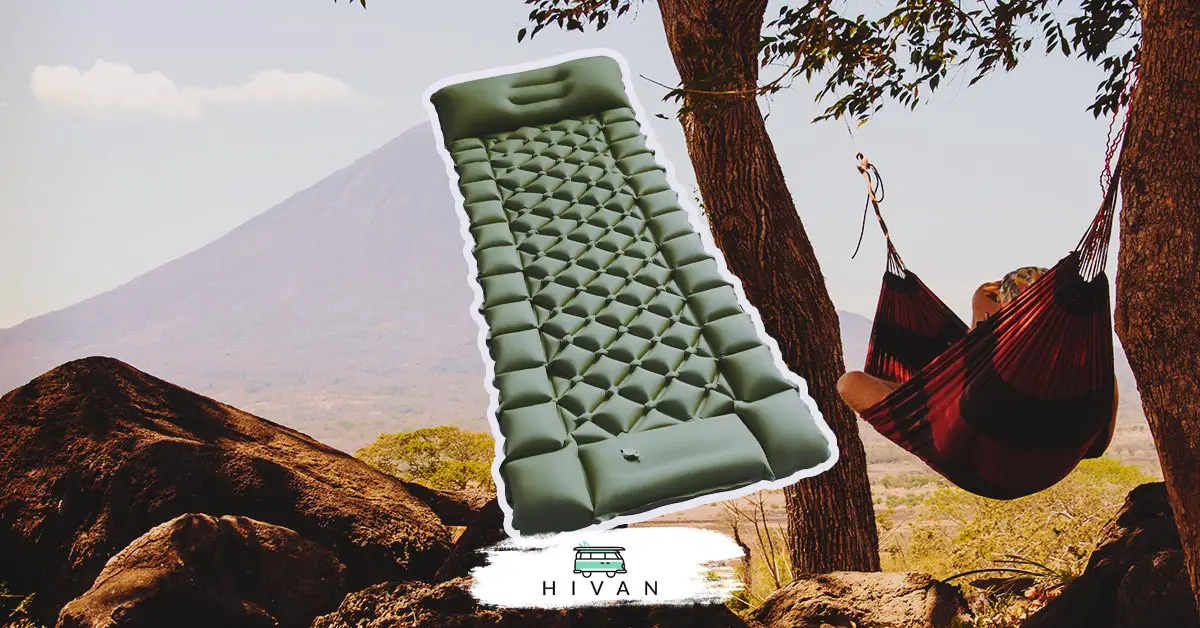 Sleeping pads are essential when sleeping in a hammock. These pads are a mini compact mattress for your resting needs during camping. They can provide insulation and comfort when you're in the outdoor elements, so be sure to add one to your pack when preparing for your trip.  
The rest of this article will explain a few topics related to this question in great detail, including defining the allure of hammock camping, the benefits of a sleeping pad, and choosing the correct sleeping pad for your hammock. 
---
The Allure of Hammock Camping
Camping is a rising trend. According to a recent study, 21% of the 48 million households who camped at least once in 2020 were first-time camp goers. This percentage is a significant increase compared to 4% in 2019. However, camping has evolved from just sleeping bags and pitching a tent. People want comfort and style, and that's where hammock camping comes to play.
Hammock camping is sleeping in a hammock that hangs above the ground rather than in a tent or other campsite lodging technique. Hammock camping isn't new, but it's a competitive alternative to tent campers. Hammocks can provide the following benefits:
The rocking of a hammock can encourage deeper sleep: Hammocks are incredibly comfortable and a restorative sleep mechanism. There's something about the shape of a hammock that not only cradles you but has lower pressure points and gives you high head placement. Recent studies have shown that sleeping in a hammock allows you to sway gently as you rest, causing people to fall asleep faster and get a deeper sleep. 
Less accessible to bugs, dirt, and rocks: Not only do hammocks get you off the ground, but they also save you time from having to clear your camping area from stones, sticks, or roots that can cause pain to your back as you're resting off the ground! Furthermore, it also keeps you away from bugs, snakes, or other critters as you gently sway in comfort. 
Easy to set up: your resting spot is easy to pull together, has less equipment than a tent, and ensures you have a rope, a sleeping pad, and a heavy-duty tarp to protect you from the natural elements. All you have to do is find an appropriate spot with robust trees. Just ensure that any trees you choose don't have signs of nests or other creatures making their homes, as you don't want to disturb wildlife. 
Takes limited space and is easy to carry: If you worry about weight capacity, it's good to know that hammocks are much lighter than tents, and family hammocks are capable of holding multiple adults and children. 
Suitable for many outdoor environments: With a hammock, the options are endless when you're outdoors. When you sleep in the tent, your only option is to find a flat spot, as any place with a dip can make it uncomfortable. Once you're in the air, a hammock allows you not to be at the mercy of searching for the perfect group spot. 
Wise Owl Outfitters Hammock for Camping
🏕️ Comfortable and durable camping hammock for outdoor and indoor use.
🎒 Lightweight and compact, easy to carry in a backpack.
🌳 Easy setup with two 9ft long tree straps and carabiners.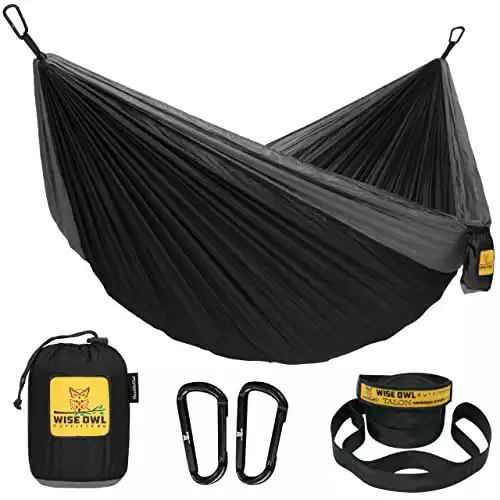 If you make a purchase, you support Hi-van.com by allowing us to earn an affiliate commission (no added cost for you).
To make your camping experience a great one, it's essential to pick the right hammock for you. Check out the best-selling Wise Owl Outfitters Camping Hammock (available on Amazon.com). It's compact, lightweight, and convenient. 
---
The Benefits of Adding a Sleeping Pad to Your Hammock
Although hammocks are portable, easy to set up, and much lighter than a tent, you must add a sleeping pad for additional benefits, contributing to your camping experience. Sleeping pads can provide: 
A level of comfort: Sleeping pads provide an extra cushion and durability as you're getting some well-deserved rest from your day's adventure. It can also give your hammock more structure when you sleep on your side rather than on your back.
A level of warmth: Sleeping pads are vital in keeping campers warm as they don't always come insulated. The sleeping pad can provide an insulating barrier between the cold weather and the trailer. Sleeping pads come in a variety of levels of thicknesses. The thicker the cushion, the more insulation it can provide the user.
Ultralight 14.5 OZ, Best Sleeping Pads for Camping
2" THICK SLEEP SUPPORT - you will love this sleeping pad! Want to sleep comfortably anywhere? No need to suffer from a cheap flimsy short outdoor sleeping pad! This quality portable camping mat pad is perfect. Super sturdy and extremely comfortable. Great for any sleep position.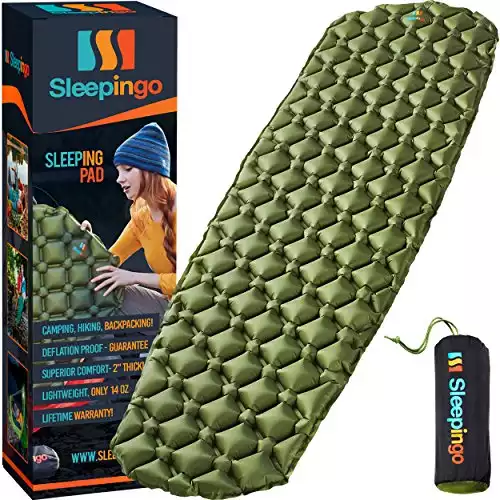 If you make a purchase, you support Hi-van.com by allowing us to earn an affiliate commission (no added cost for you).
Cheaper than tents: Sleeping pads are an inexpensive piece of camping gear. You can purchase decent affordable inflatable sleeping pads such as the Sleepingo Camping Sleeping Pad (available on Amazon.com). It can insulate cold ground and protect you from hard rocks.
---
Choosing the Correct Sleeping Pad for Your Hammock
Understanding how to choose a sleeping pad is critical to getting a decent night's rest. When selecting your sleeping pad, it's essential to know the types of sleeping pads and the functionality you require for your next camping experience. 
All sleeping pads have specific uses, and it's up to you to determine which one is best for your needs. It's essential to:
Pick a sleeping pad that benefits your use case: Depending on your day at camp, you may want to choose a sleeping pad with the least amount of time to set up, or you may need to head out early the next day and want something that can deflate quickly. If that's the case, then choose a foam pad you can roll or unroll for your needs. The self-inflating and air mats may take slightly longer to blow up or deflate. 
Shape needed for your hammock: Sleeping pads come in different sizes and shapes. You want to make sure you choose the correct size that fits your hammock by taking note of the length and width of your hammock.
Warmth level of your sleeping pad: As mentioned earlier, sleeping pads' insulation is vital to a warm night's sleep. However, each sleeping pad is created with a different R-value that measures its thermal resistance. In other words, manufacturers can measure the warmth a pad can give the user. Make sure to consider the season, weather, and the clothes you're wearing to determine the R-value required. 
Determine how much you can carry:  Dependent on how much you want to take, you can bring a sleeping pad based on your size and weight requirements. If you're going hammock camping, chances are you want a lightweight sleeping pad to stash away easily and carry around. 
Understand the Different Type of Sleeping Pads
Here are three types of sleeping pads to consider: 
Foam sleeping pads: They are lightweight, durable, hard to rip, and don't need any set-up as all you have to do is unfold it, and it's ready to use. Foam pads such as the Zermätte Camping Mattress (available on Amazon.com) are compact and easy to roll-up.
Self inflating sleeping pads: These are thick and bulky but are very warm and comfortable. They don't require you to blow them up manually, as you have to open a valve for the pad to inflate on its own. Self-inflating pads such as the Powelix Sleeping Pad (available on Amazon.com) are durable and ideal for up to three seasons.
Air pads: Lightweight and easy to carry, these require you to inflate them before you sleep. Some need you to blow them up manually with your mouth, while others have integrated built-in pumps. Air pads such as the Wellax Sleeping Bag (available on Amazon.com) are ultralight and compact.
---
The Verdict
Overall, it's beneficial to have a sleeping pad while hammock camping. Not only will the sleeping pad provide you comfort and insulation at night, but it's also easy to carry. Next time you go camping, consider taking a hammock and your sleeping pad on your adventure.
Find this content useful 🙂 ?
Subscribe to our Newsletter and get a free Solar Electric Diagram + shopping list.