Hi-van is supported by its audience. When you purchase using our links, we may earn an affiliate commission (no added cost to you). Learn more
If you're on a road trip or living a nomadic lifestyle, you may find yourself in need of a place to park for the night in the middle of a city.
While quiet residential streets may seem like a good option, can you sleep in your campervan on a residential street?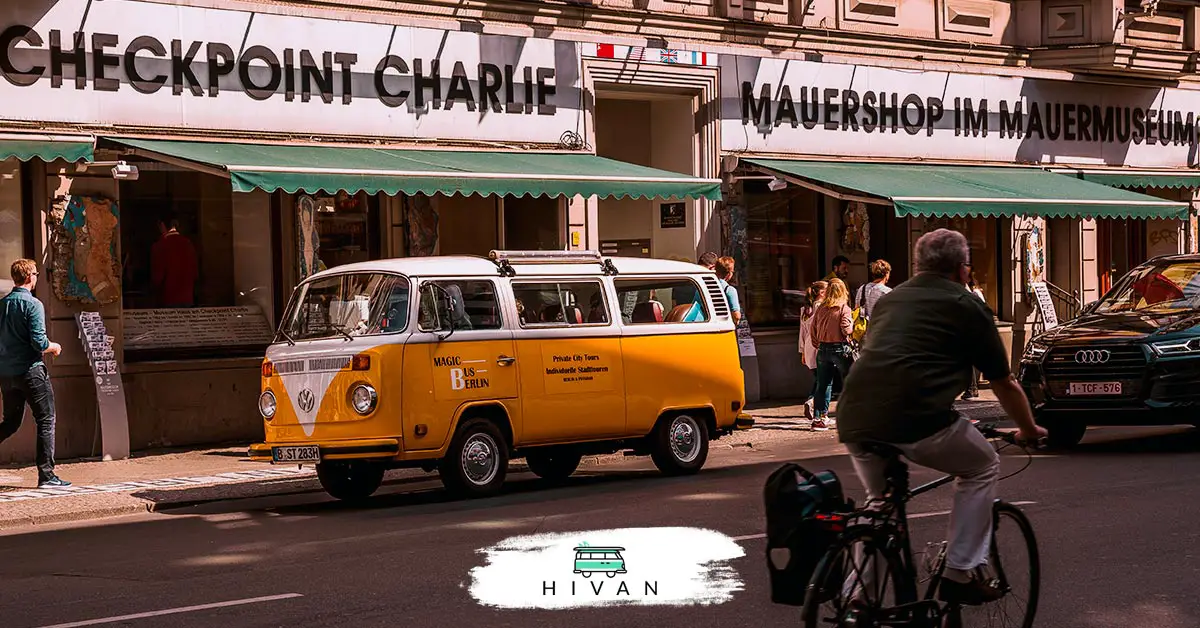 The legality of sleeping in a camper on a residential street depends on local laws, which can vary.
In some cities, it is legal, while in others it is illegal or ambiguous. Drinking and sleeping in a camper can also have legal implications, as it may be considered being drunk in charge of a motor vehicle.
However, enforcement of these laws is often lax, and stealth camping is a viable option for those who wish to sleep in their campers undetected.
Whether or not you can camp on a residential street depends on the city you're in and the particular neighborhood where you want to park.
Cities that are popular tourist destinations often have laws prohibiting overnight parking in certain areas.
In this article, I'll go over best practices for deciding where to sleep in your campervan, so let's get started.
---
Learn About Local Regulations
When figuring out where to park, the first thing you should do is to conduct an internet search for "overnight parking laws in the city that you're in." 
If there's a strict law against overnight parking, it'll usually show up on the city government website.
Travel forums are an excellent place to read about other peoples' experiences or ask questions about overnight parking if you're unsure about a specific area.

Personal tips:
– Parkopedia helps you locate nearby parking, find out the cost, and check availability, so you can say goodbye to endless searching for a spot!
– SpotAngels: This app provides real-time information on parking rules and restrictions, as well as alerts for street cleaning and other parking-related events.
Pay Attention to Street Signs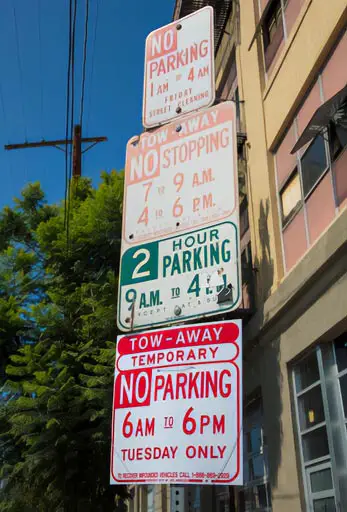 At the very least, it's best to avoid parking your campervan in areas that specifically have "no overnight parking" signs. 
Police likely patrol these areas regularly, so it's probably not worth risking it. While you might think that "no camping" doesn't apply to you, these days, "camping" generally includes sleeping in your vehicle as well as in a tent.
Watch out for posted street cleaning hours and abide by them. Residents will likely get upset if you block off the street cleaning service, and you might also get a ticket.
---
Guidelines for Sleeping on Residential Streets
The video offers several tips for sleeping in a van in residential areas:
Assess the Neighborhood: When parking in residential areas, it's a good idea to assess the neighborhood before deciding where to sleep in your van.
Use Location Solely for Sleeping: Only sleep in residential areas, don't cook or make noise in the morning.
Van Appearance Not Important: You don't need a stealthy-looking van to sleep stealthily; just ensure your van's interior activities are not visible to outsiders.
Avoid Frequenting the Same Area: Don't park your van in the same area or block often to avoid drawing attention and potential problems from residents.
Trust Your Instincts: Trust your instincts and develop a feel for safe parking spots; it may feel daunting at first, but practice and experience help build confidence.
If the city you're in doesn't have strict parking ordinances and you decide to sleep on a residential street, there are a few things to keep in mind.
Even if overnight parking is legal, residents may still call the cops if you're disrespectful or become a nuisance.
Park Late and Leave Early
The less time people have to notice you, the better. Try to find a parking spot after dark and don't linger too long the next day. Avoid rummaging around in your vehicle or cooking out in the open. 
Don't stay for multiple days unless you're familiar with the residents and they tell you that it's acceptable.
Keep Things Quiet
This might be a no-brainer, but you should refrain from playing loud music or running your generator. Residents will get annoyed if they can't sleep or are being disturbed during their nightly routine. 
Wear headphones if you're going to watch TV and keep conversations relatively low volume.
Pay Attention to Your Lights
If you've got curtains or blinds in your campervan, make sure they're shut and try not to leave your interior lights on too late. Lights will draw attention to the fact that you're sleeping there, and people will quickly realize that you probably don't live in the neighborhood.
---
Alternatives to Parking on Residential Streets
If you're in a dense urban area or a town that has strict laws against overnight parking on public streets, there are a few alternative options you should consider. Let's take a closer look at these options now.
Large Parking Lots
Most Wal-Mart locations allow RVs, campervans, and other vehicles to park overnight.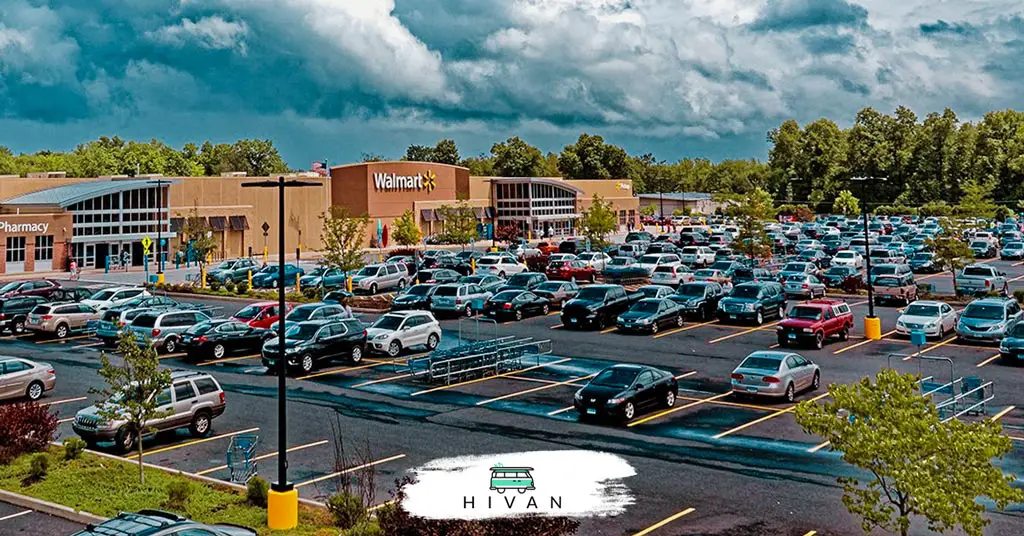 Truck stops also allow car campers to sleep there. Both of these locations are often brightly lit and loud, so be sure to have earplugs, thick curtains, and an eye mask.
Other big-box stores with large parking lots typically don't care or notice when people park there overnight, but every place is slightly different. If you see other people doing it, it's probably alright. Follow the guidelines above and be respectful of those around you.
Discreet Side Roads
In more rural areas, pulling off on a dirt road is often better than trying to park on a residential street. Residents in tight-knit communities are more likely to notice a mysterious new car than those in bigger cities.
The Forest Service and Bureau of Land Management (BLM) allow visitors to disperse camp for free for up to 14 days unless otherwise noted. Areas that see heavy recreational use might have a ban on dispersed camping on public land, so do your research before you go.
---
Resources for Free Camping Spots
There are a handful of sites out there that are extremely helpful for finding free camping. These are:
FreeCampsites.net: This is a great free camping resource that has both public land campsites and urban boondocking sites. Users of the website can also leave reviews and descriptions about road conditions, noise levels, etc. 
Boondockers Welcome: This is a network of private hosts that are willing to let you park on their property for free.
Campendium: This site is an extensive resource of both free campsites and RV parks across the country.
---
Final Thoughts
Do your research and use your best judgment when deciding whether to park on a residential street for the night. Some cities are more strict than others regarding overnight parking, and enforcement also depends on the specific neighborhood. 
Neighborhoods sometimes have their own housing authority regulations, and it's not easy to know where these are in place. Keep a low profile and be as discreet as possible, and you should not have any major problems.
Find this content useful 🙂 ?
Subscribe to our Newsletter and get a free Solar Electric Diagram + shopping list.