If you love living outdoors but need amenities like a working shower and toilet on hand, camper vans may be exactly what you need. Fortunately, there are several different types of shower and toilet combo units for camper vans (more about van build here). Each of these has unique advantages and drawbacks and is best suited to different types of van lives. 
Some of the best camper van shower toilet combo units around are:
A portable toilet stored in the shower.
A combo toilet and shower wet bath. 
Pull-out shower with portable toilet. 
No toilet or shower.
In this article, I'll discuss the pros and cons of each type of camper van bathroom setup to help you decide the best shower-toilet combo for your particular circumstances. I'll also share some of the best equipment you need to create these bathrooms in your camper van and some great setup inspirations.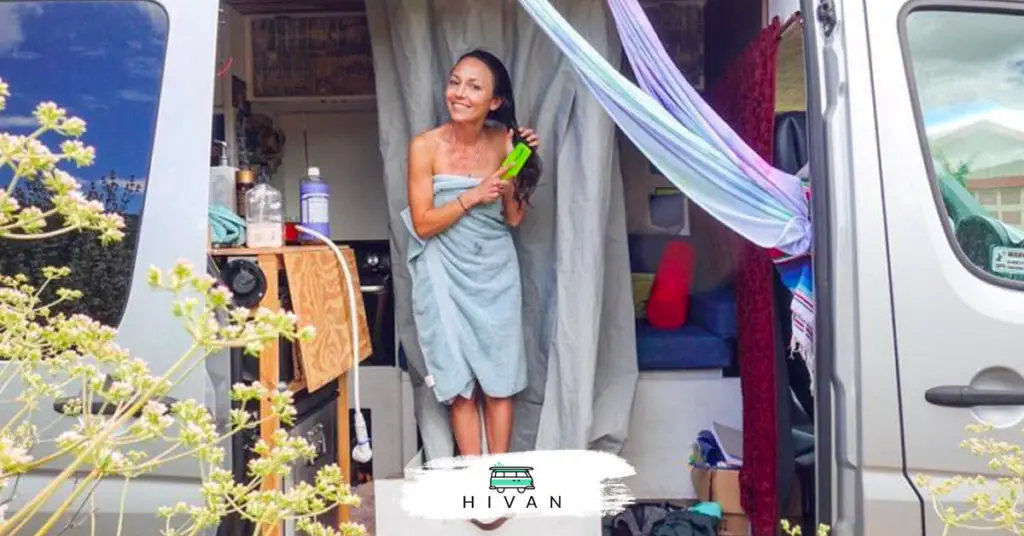 ---
---
1. A Portable Toilet Stored in the Shower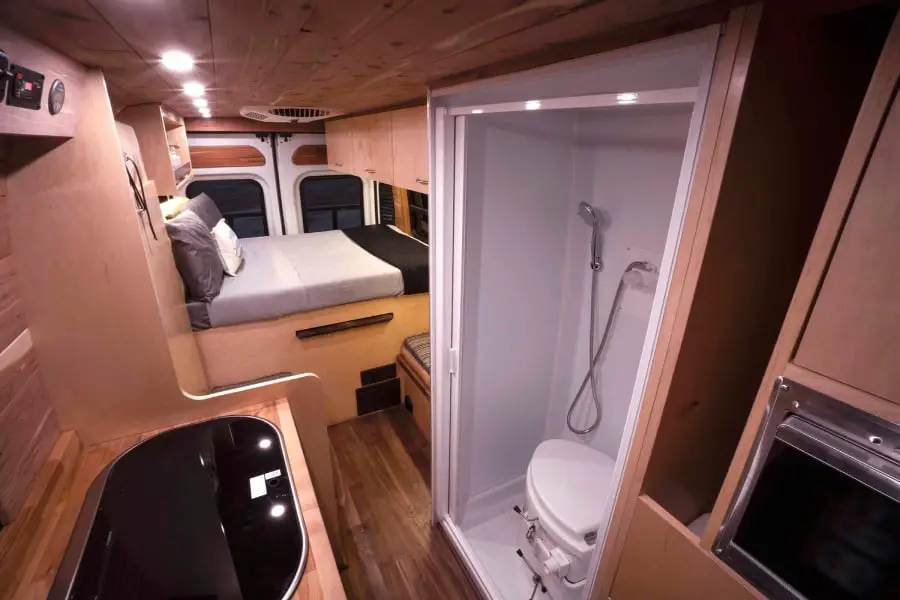 One of the most popular bathroom combos is a shower stall with a portable toilet stored inside it. For this model, the camper van will have a built-in shower stall. Then, a portable toilet is stored in the shower stall for easy access.
When campers are using the shower, they take the portable toilet out of the shower. 
Pros 
There are several advantages of the portable toilet in the shower model:
Can be set up anywhere in or outside of the van. 
Privacy and comfort are guaranteed by the shower stall.
Toilet and the shower can be used at the same time. 
Waterproof door protects the rest of your van from potential water damage. 
Cons 
Some of the cons of storing the portable toilet in the shower model are:
It's sometimes cumbersome to move around.
It must be stored properly when the van is in motion; otherwise, it will move around, causing noise and potential damage. 
You may need professional help to build a shower stall in your camper van if it doesn't already have a pre-installed one. 
Related Articles:
– This Is Where To Empty Campervan Toilets (& Other Essentials)
– These Campervan Toilet Ideas Will Blow Your Mind
– Top 5 Best Cassette Toilets
– This Is How Portable Toilet Works
---
---
2. A Combo Toilet and Shower Wet Bath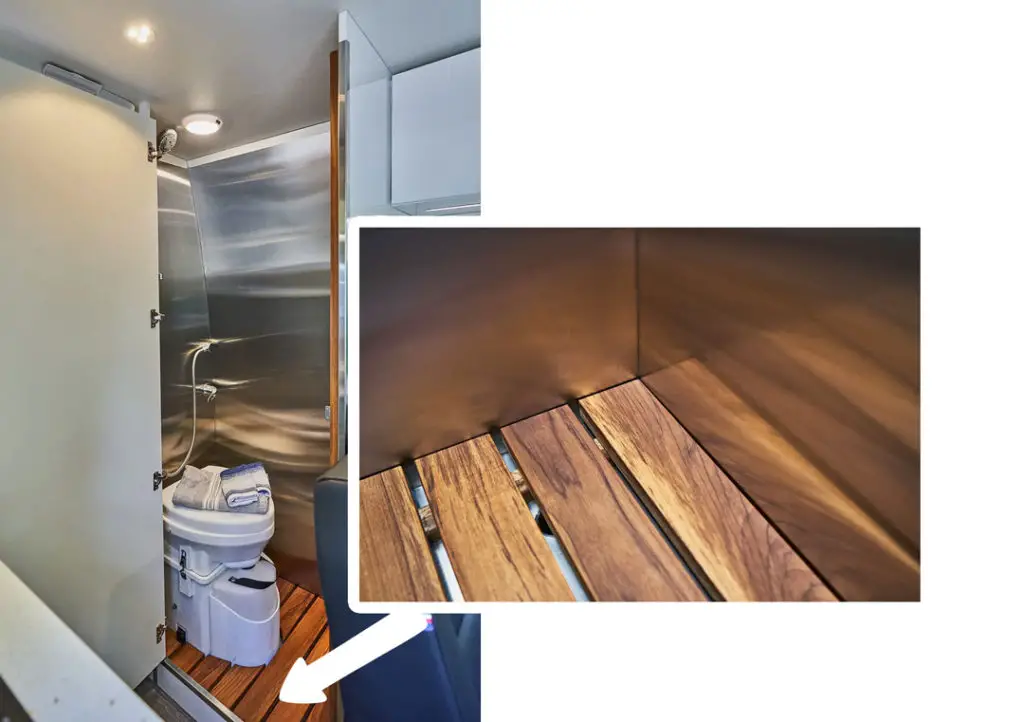 In the camper van world, wet baths have a built-in shower, toilet, and even a sink. Some wet baths may even have a towel holder and a mirror. Wet baths are designed to have wet surfaces and are an excellent choice if you want all the comforts of a home in your van. 
Pros 
Having access to all amenities in one place. 
Privacy similar to your bathroom at home. 
Perfect for an extended stay in your camper van.
No need to constantly move a portable toilet. 
Cons 
They take up a large amount of space. 
More expensive to install.
Require additional plumbing and a range of equipment. 
Equipment is heavy and can put added strain on your vehicle. 
---
---
3. Pull-Out Shower With Portable Toilet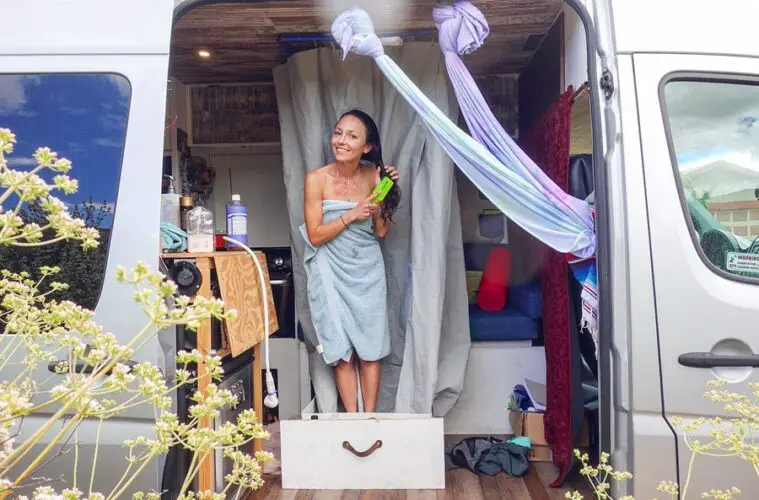 One of the more innovative shower and toilet combos is having a pull-out shower and a portable toilet. A shower is made out of a utility sink in this combo and placed in a pull-out drawer. When not in use, the shower basin is pushed back into the cabinet. When in use, it is pulled out, and a portable shower head is attached to a nearby tap.
A makeshift shower curtain is placed around the sink for privacy and water control. 
A portable toilet can be stored near the pull-out shower or anywhere else you have space in your camper van. 
Pros 
It takes very little space. Your shower can essentially be stored away in a drawer when you're not using it. 
It's cheaper than installing a full-fledged shower stall or a wet bath. 
Doesn't add much overall weight to your camper van. 
Cons 
There's very little privacy. While you can have a makeshift curtain around your 'shower,' privacy is not assured.
It's not extremely comfortable. Basically, you have a shower in a sink, so you will not have space to move around. 
It's technical. This is more of an informal, makeshift bathroom combo, and you will have to be innovative to ensure it fits well within your particular camper van. 
The shower and toilet are separate. The shower is stored in a cabinet, while the toilet is stored somewhere else in your camper van. While this enhances the space and flexibility, it does not make for a cohesive bathroom.
---
---
4. No Toilet and Shower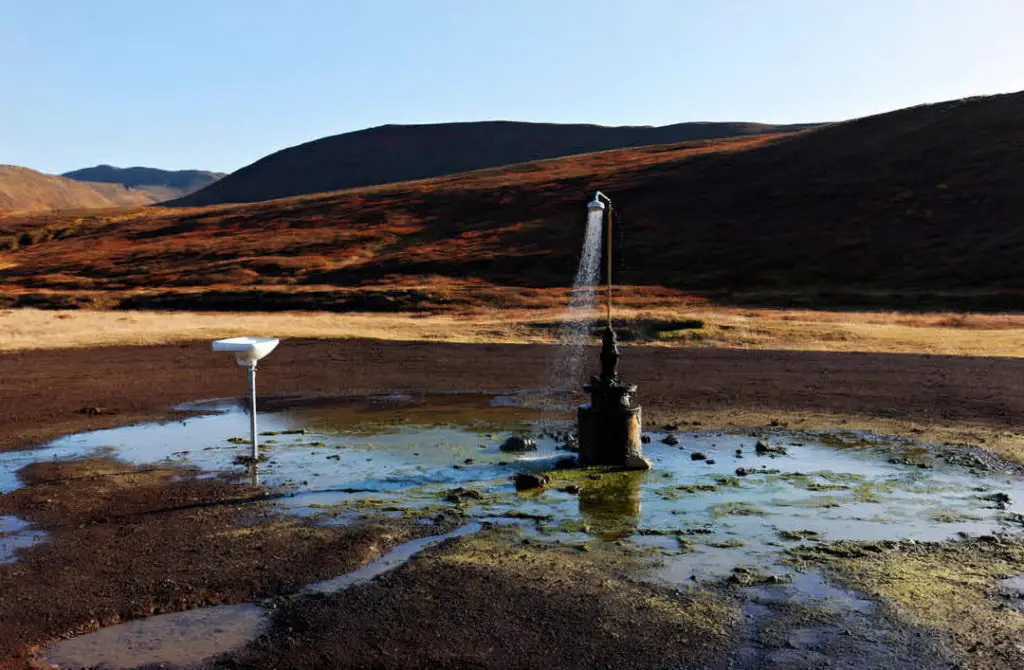 Sometimes, if you're heading out into the wild, it's better to rely on the great outdoors for your toileting and showering needs. When you don't have a shower in your van you save a lot of money and space during your campervan conversion.
But please, if you choose this option, respect the environment and keep the place as clean as you found it. I'm seeing so many people throwing their toilet papers in the middle of nature. Lastly, if you're taking a showing in nature, use natural soap only. Don't damage our beautiful planet, please 🙂
Pros 
It's one of the cheapest options. The overall cost of maintaining your RV will reduce. 
It allows you to travel off track without worrying about where and how you will dispose of waste. 
It saves a significant amount of space – you don't have to worry about storing a portable toilet. 
Cons 
Convenience and comfort. It can be inconvenient having to go outdoors every time you need to use the toilet. It is exceptionally uncomfortable if it is cold or raining. 
Cleanliness. You will likely have showers less frequently if you don't have a shower in your camper van. This may affect your hygiene and make you more vulnerable to infections. 
---
RV Shower Toilet Combo Examples
Browse through our selection of functional and stylish units that provide the ultimate convenience on the road. From compact designs to spacious layouts, find the perfect solution for your next adventure.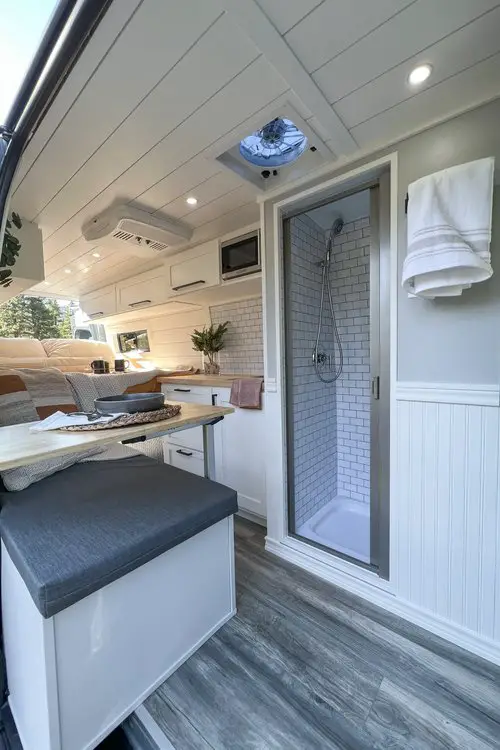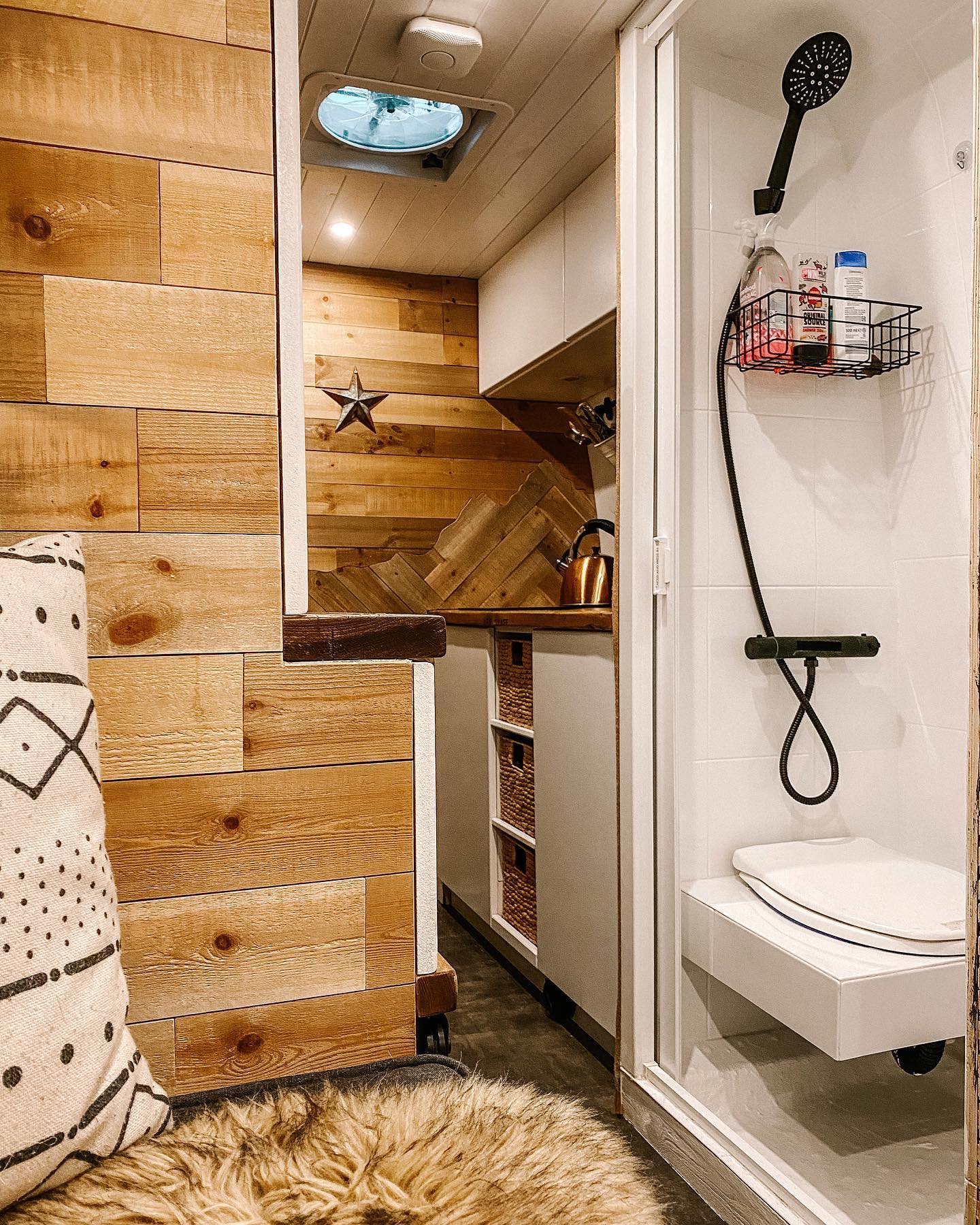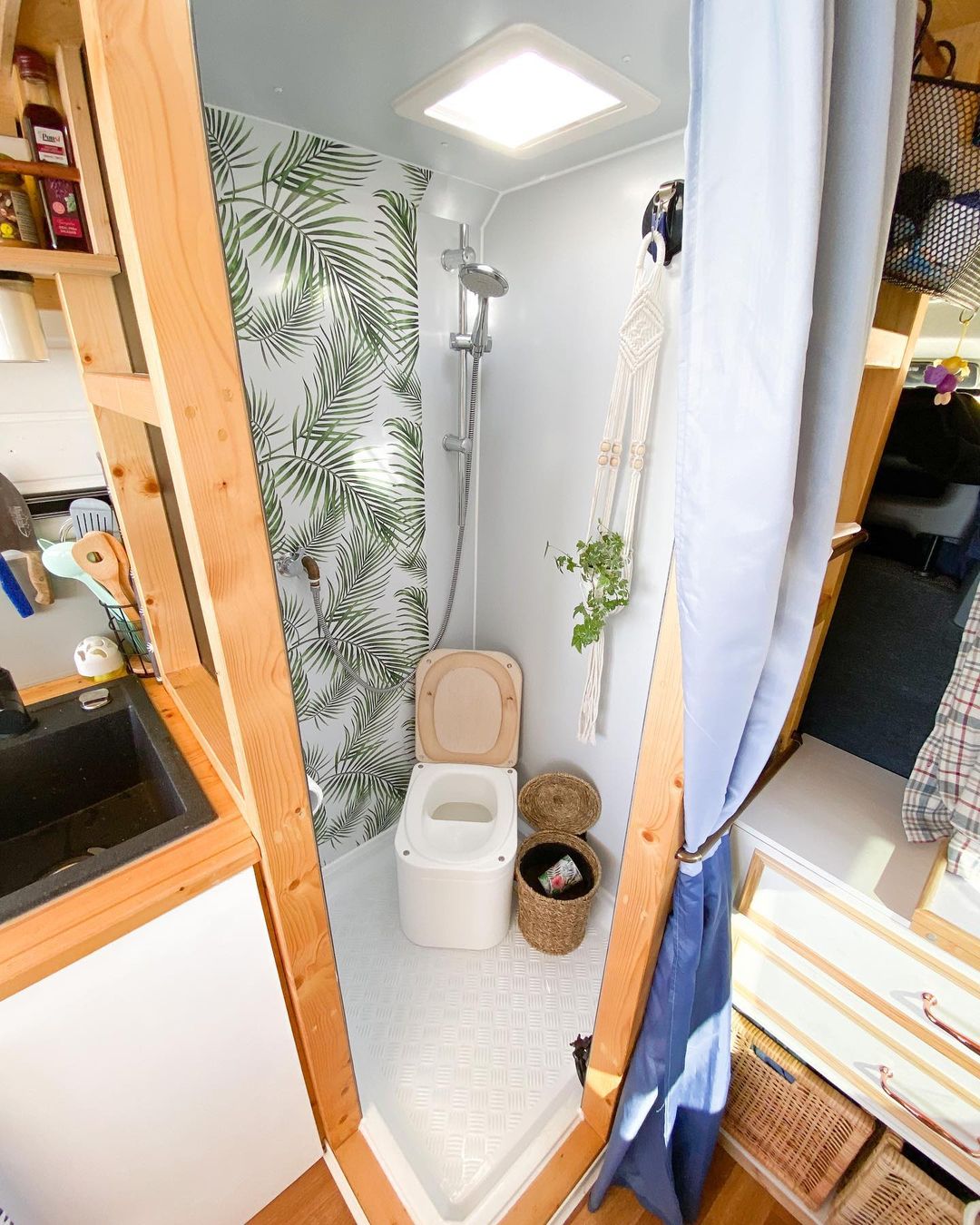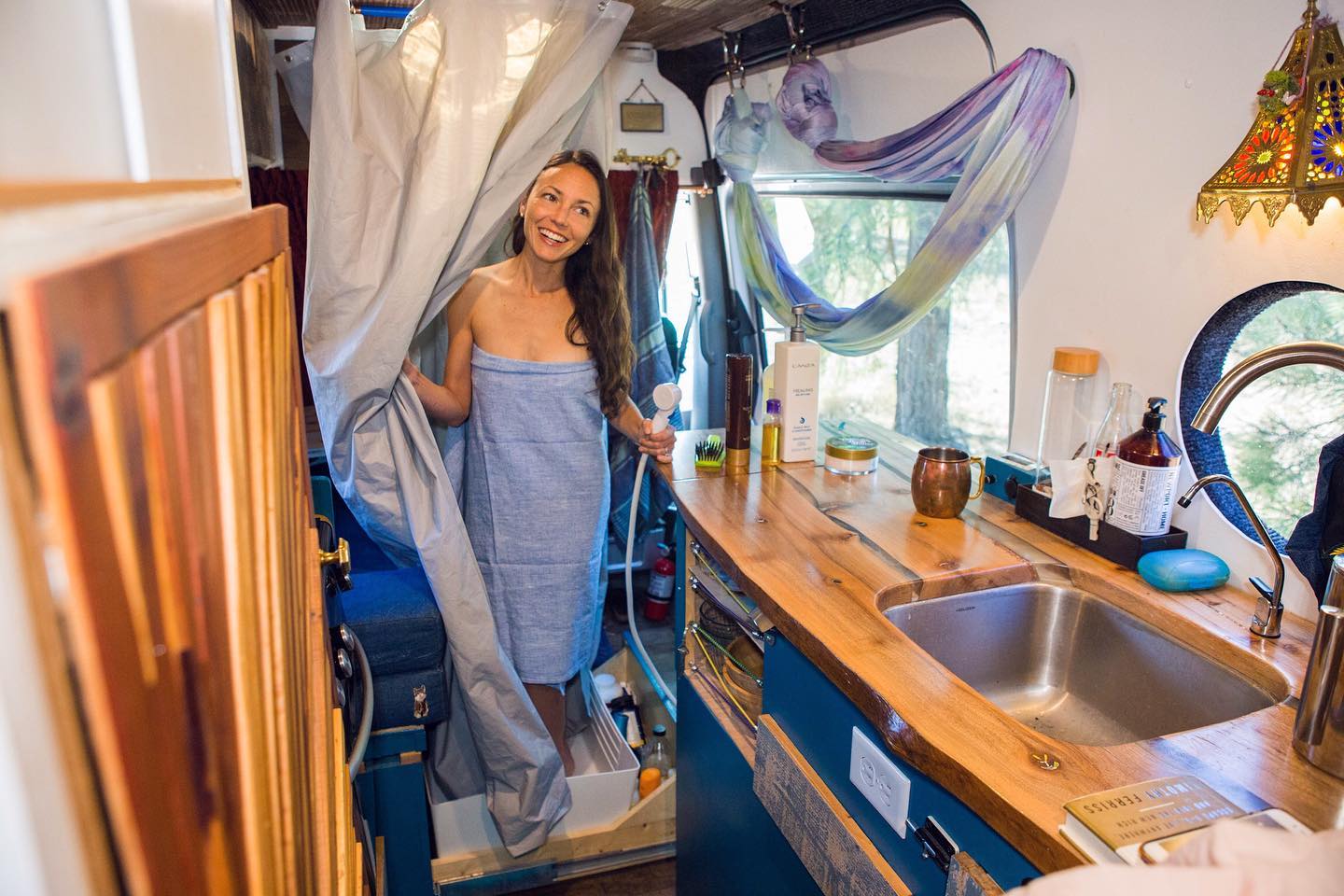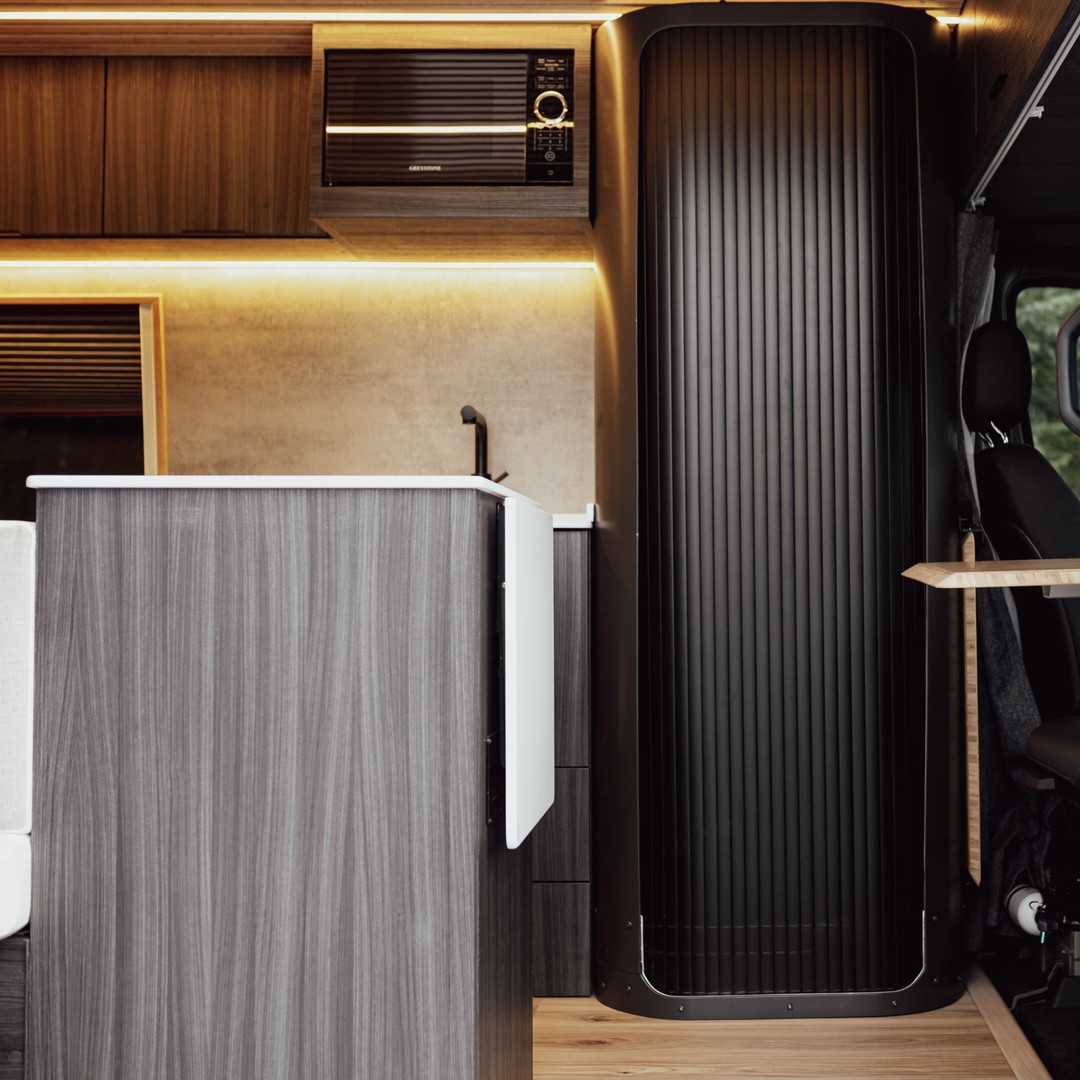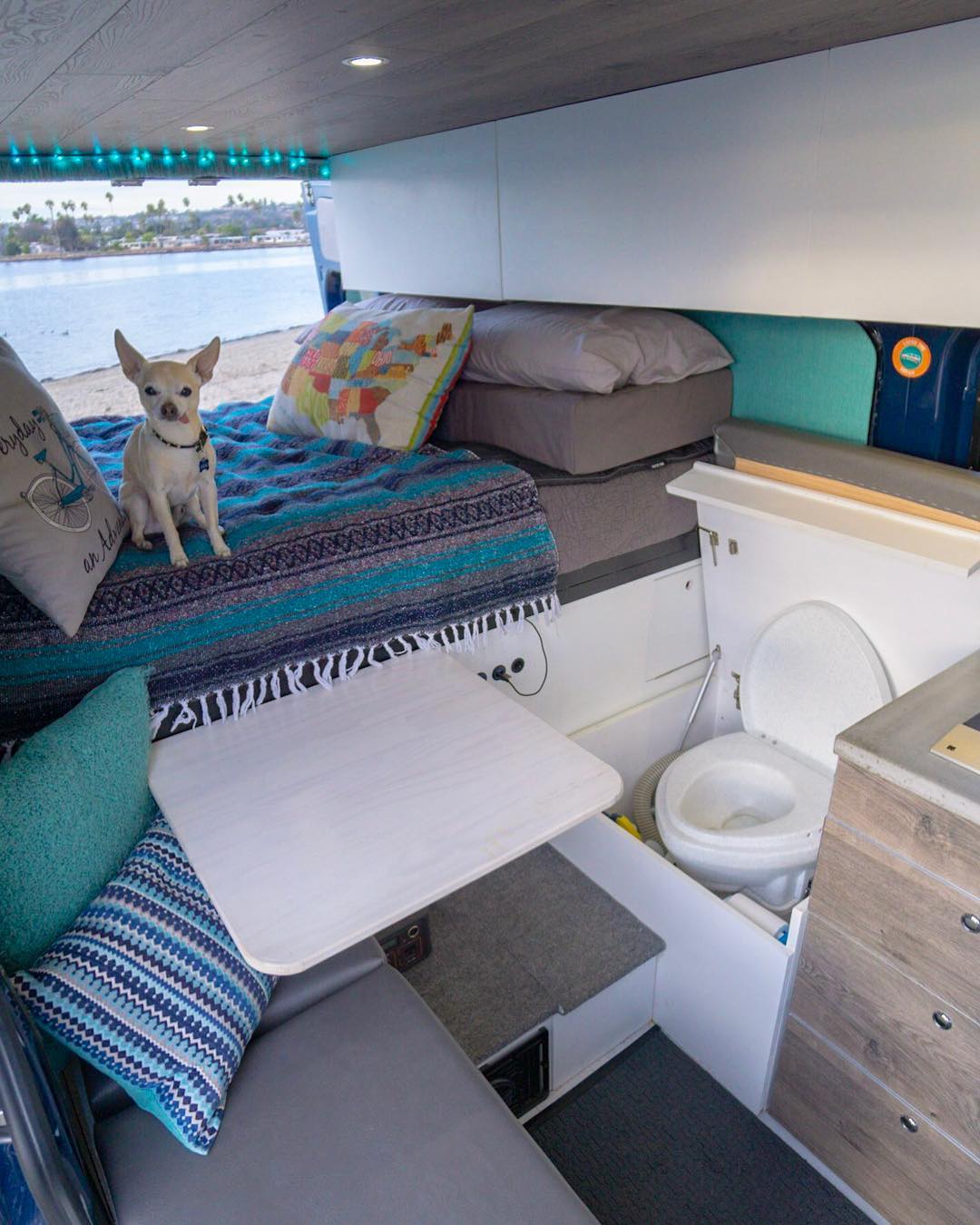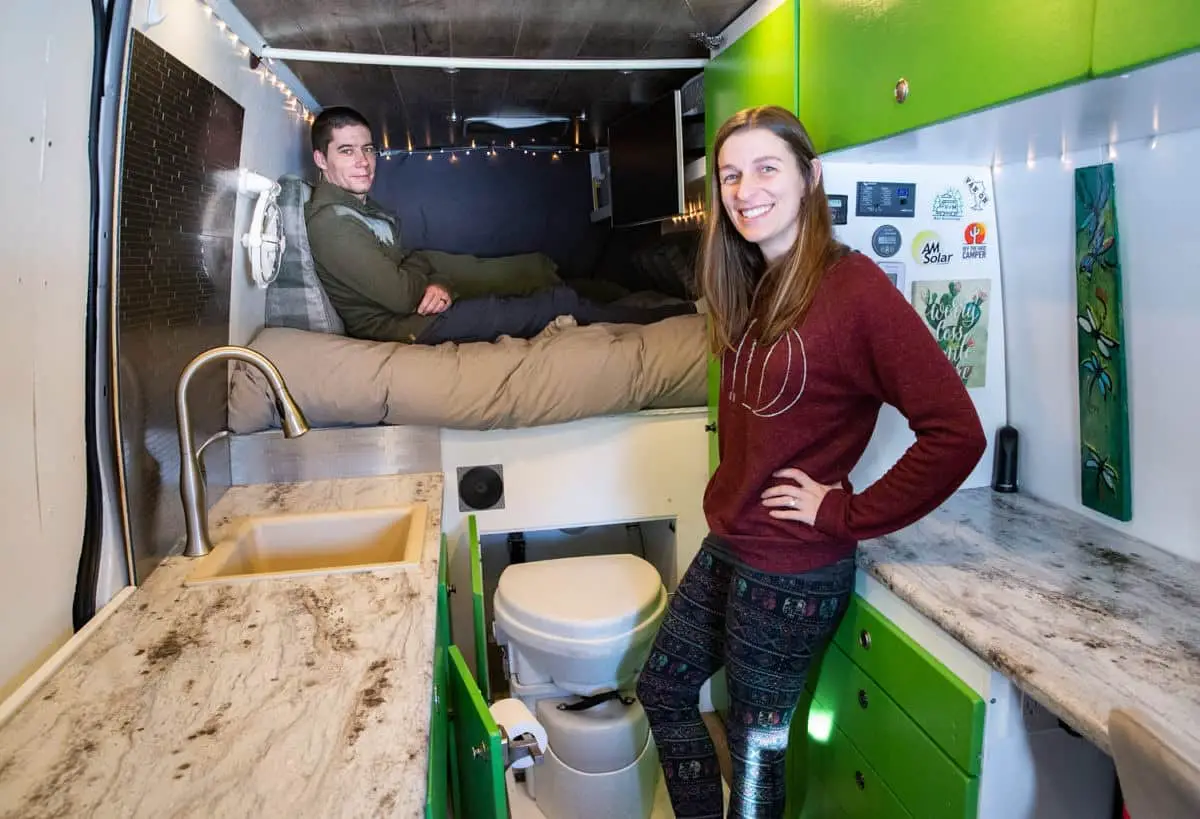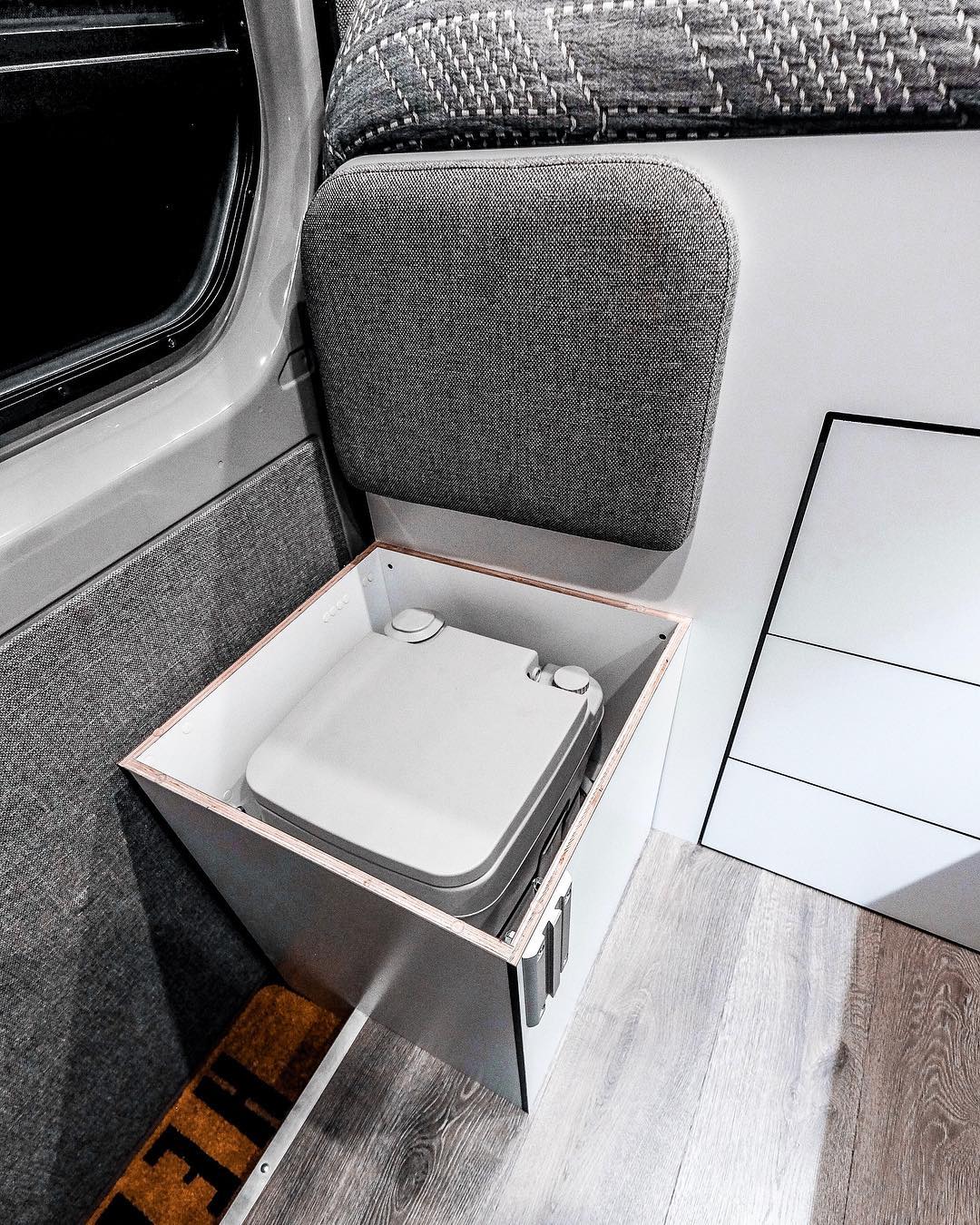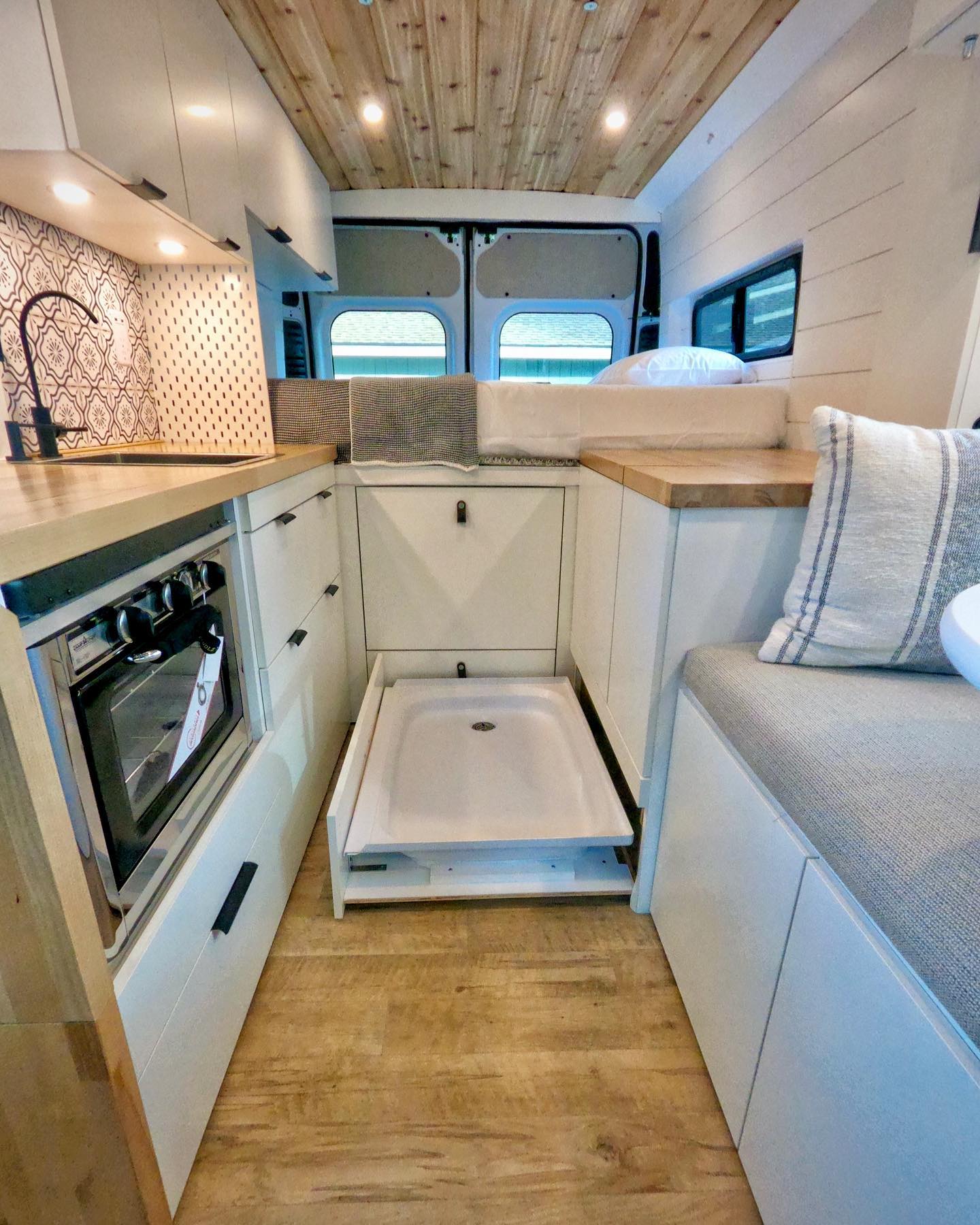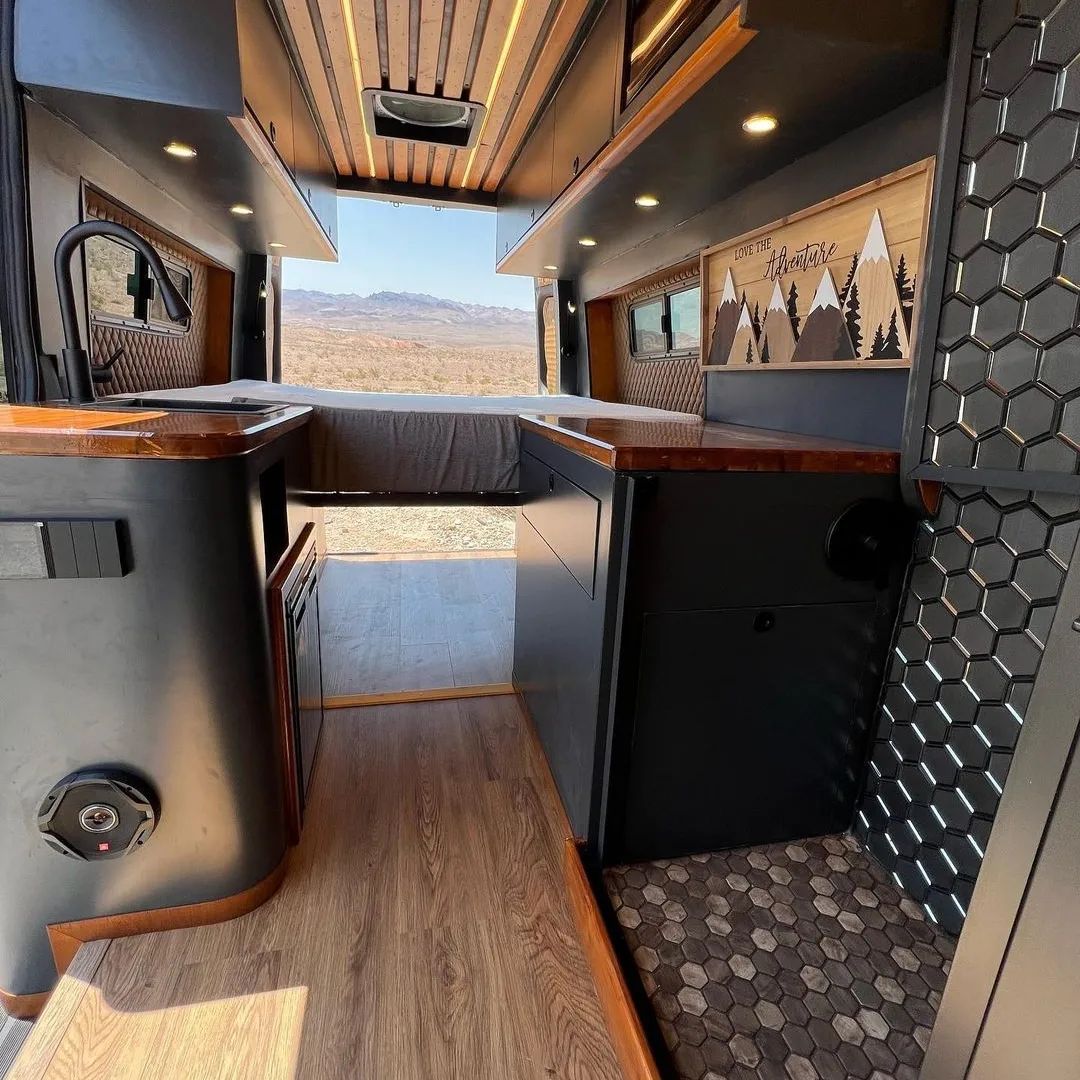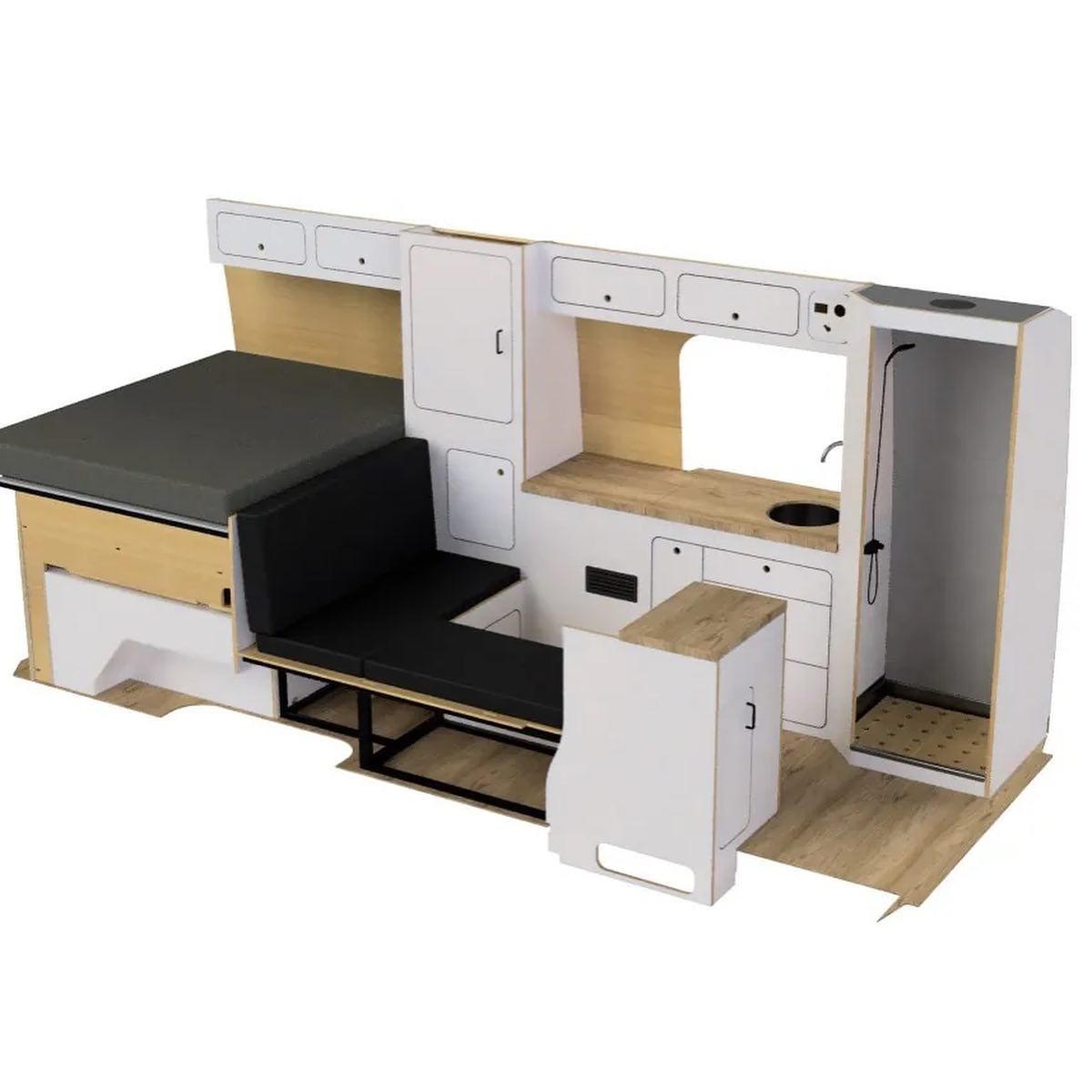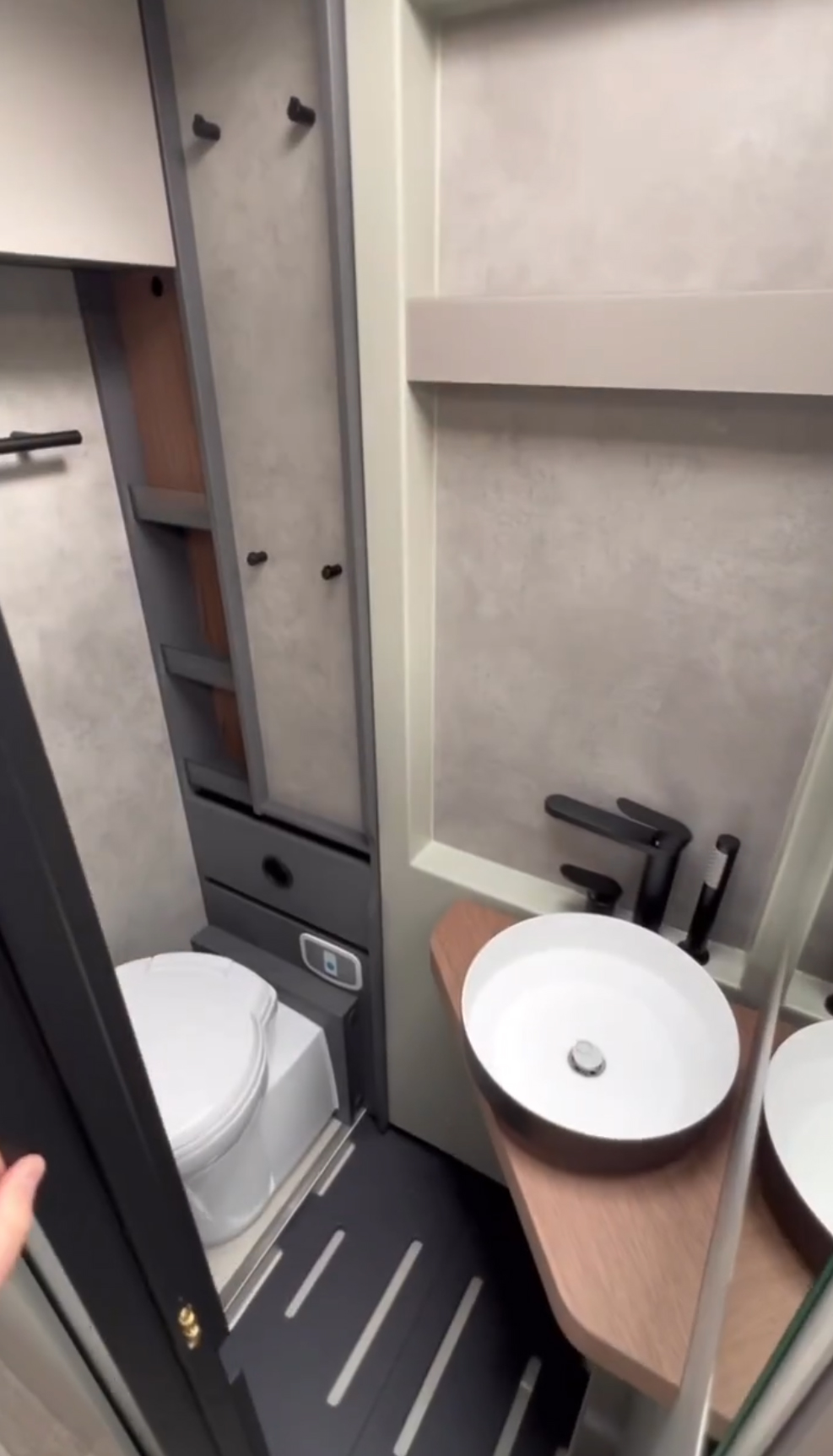 ---
Purchasing a Portable Toilet
As well as setting up a shower stall, you will need to purchase a portable toilet. As its name suggests, a portable toilet can be moved and does not rely on plumbing to function. Instead, it stores waste to be disposed of. 
Most of the portable toilets you'll find in campervans and RVs are chemical. They typically consist of a bowl or seat, a water tank, a waste tank, and a chemical solution. The chemical solution is added to the waste tank to help break down the waste and control odors.
More info about how portable toilet work here.
Here are some of the best portable toilets for a camper van: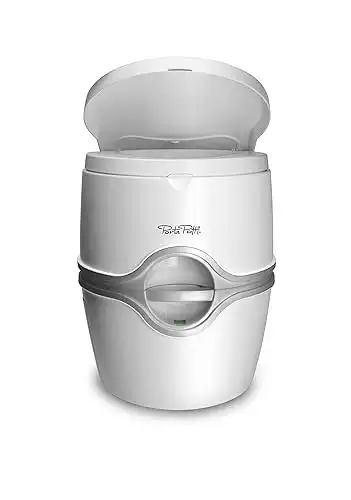 If you make a purchase, you support Hi-van.com by allowing us to earn an affiliate commission (no added cost for you).
The Thetford Corp Porta Potti (available on Amazon.com) is lightweight and has an optional hold-down kit, making it easy to secure it to the floor. It has a battery-powered flush and a rotating, easy-to-use spout that allows you to eliminate waste with minimum contact.
SereneLife Portable Toilet
Whether heading off for an unforgettable backwoods camping trip or traveling with the family, this portable toilet kit by Serene Life lets you go wherever and whenever nature calls!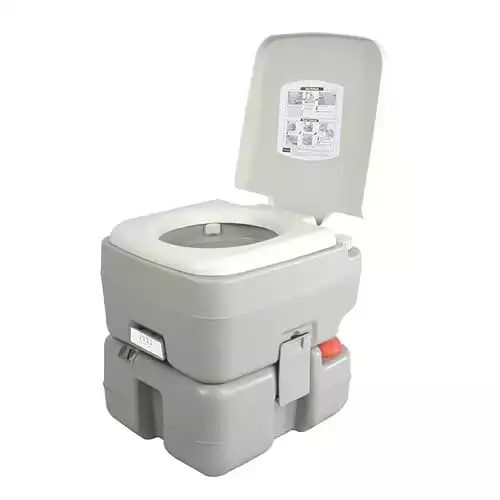 If you make a purchase, you support Hi-van.com by allowing us to earn an affiliate commission (no added cost for you).
Another popular portable toilet, the SereneLife Portable Toilet (available on Amazon.com) has a rotating spout, making waste easy to dispose of. It also features a waste level indication which will alert you when waste levels are getting too high.
---
---
How To Install a Wet Bath in a Camper Van
If you own a camper van that doesn't already have a wet bathroom installed, you can install one yourself with some mild construction work. Though, if you aren't very skilled with tools, you may want to consult with a builder or camper van expert.
Here are some general steps to installing a wet bath:
Measure the size of your wet bath and build a frame. Ensure that you account for all the space you will need, including the toilet, the shower area, and the sink. 
Install waterproof walls in the bathroom. In addition, ensure the flooring is waterproof. This allows for all areas in the wet bath to become damp with no permanent damage. 
Install the showerhead along with the shower pan. 
Install the toilet system. Most wet baths have a cassette toilet installed. Cassette toilets are fixed toilets with a portable tank allowing you to dispose of waste quickly. The Thetford 32812 Cassette Toilet (on Amazon.com) has an electric flush and a waste meter making it easy to use. 
Ensure that your wet bath has a waterproof door. This will protect the rest of your camper van from getting wet. 
Thetford Cassette Toilet
Bench style cassette toilet
LED level indicator that can be installed on the left or the right
Electric push-button for adding water to the bowl
Waste holding tank comes with wheels and retractable handle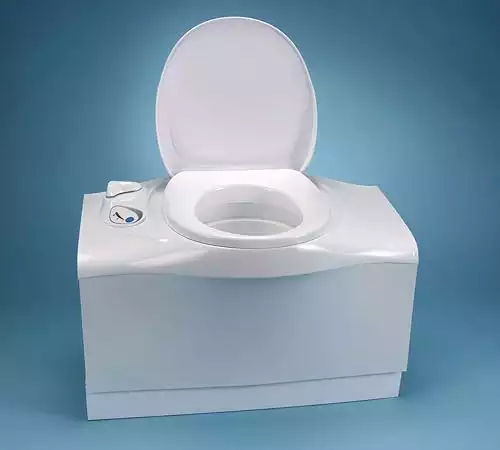 If you make a purchase, you support Hi-van.com by allowing us to earn an affiliate commission (no added cost for you).
---
---
How To Set Up a Shower Stall To Accomodate a Portable Toilet
If you think you would like a shower with a portable toilet in it, you need space to set up a shower stall. You also need to select the proper portable toilet and ensure that it will fit in the shower stall. 
Some camper vans come with a pre-installed shower stall. If yours doesn't have one, here are the steps to installing a shower stall:
Create a frame for your shower. Measure the amount of space you have available, and create a frame for the shower using wood planks. You might consult a camper van builder or expert for this project.
Include a light. When building the frame, ensure that you have some space to include a light source for your shower. 
Add shower walls. Use waterproof panels to build your shower walls, layering them over the wood. Seal any gaps with silicone – this will ensure that water does not escape and ruin the foundations of your shower frame. 
Add a shower pan to the floor of your shower. The shower pan is essential because it collects water from the shower and directs it towards the drain. In addition, it protects the shower floor and the foundation of the van. I recommend the Lippert Components 210369 White Shower Pan (available on Amazon.com) because it is made with thermoformed ABS, which reduces the overall weight of your vehicle. 
Install the plumbing. The shower pan can then be connected to the plumbing of your camper van, which will carry away drained water. If you've been able to do Steps 1-4 yourself, you may still want to seek expert help for the plumbing.
Add a showerhead. While you are connecting the plumbing, you will also want to install a showerhead. Try the Awelife RV Showerhead on Amazon.com; it has a variety of settings and has a one-year guarantee. 
Install a shower door or a curtain. While shower doors offer greater privacy and water protection, a shower curtain will allow you to use the shower as an extended space to store wet items.
Putting a full bathroom and shower inside a van is possible as Steven shows us in this video. He used a pre-fabricated shower enclosures and 3M special sealant:
3M Marine Adhesive Sealant 5200
Extremely strong adhesive sealant retains strength above or below the waterline
BONDS PERMANENTLY – Ideal for sealing, bonding, and attaching on the interiors of boats and RVs, or on exteriors below the waterline and where shielded from the sun

If you make a purchase, you support Hi-van.com by allowing me to earn an affiliate commission (no added cost for you).
---
---
How To Manage With No Toilet and Shower in your Campervan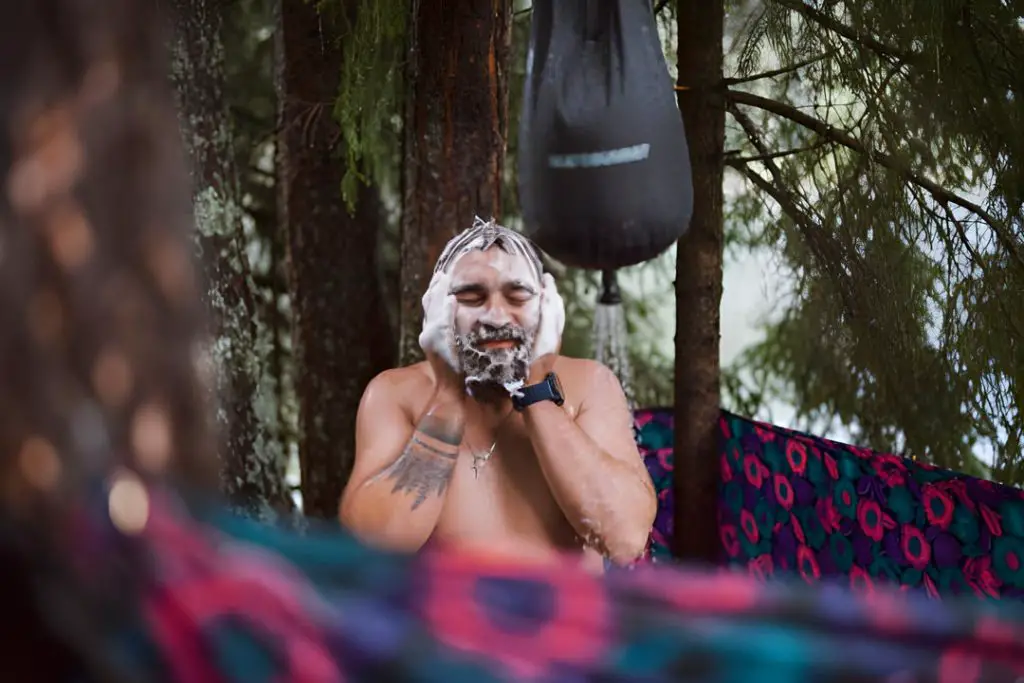 Living in a van can be a great way to travel and explore new places, but it can also present some challenges when it comes to basic necessities like using the bathroom and showering.
For those who choose to live in a campervan without any toilets or showering facilities inside, it's also about learning to adapt to a more minimalist lifestyle.
Here are some tips for managing it:
Use public restrooms:
When you're on the road, you'll likely come across plenty of public restrooms at gas stations, rest stops, and parks. Take advantage of these facilities whenever you can to relieve yourself.
Invest in a portable toilet:
If you plan to spend a lot of time off the beaten path, you may want to invest in a portable toilet. These come in a variety of sizes and styles, from basic bucket-style toilets to more advanced models with built-in waste tanks and flushing mechanisms.
Bucket Toilet Seat Set
DURABLE, STURDY & COMFORTABLE: This portable toilet for camping and emergencies has an ergonomic design so you can feel almost right in your home bathroom.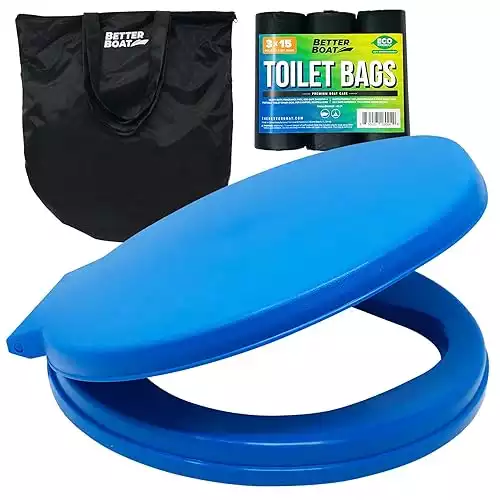 If you make a purchase, you support Hi-van.com by allowing us to earn an affiliate commission (no added cost for you).
Use a privacy tent:
If you're using a portable toilet, you'll need some privacy to do your business. A privacy tent can provide a discreet and comfortable space for you to use your toilet.
WolfWise Pop-up Shower Tent Green
Spacious Space: The tent is 47.2" L x 47.2" W x 74.8" H providing a spacious interior shelter that comfortably fits a tall man without touching your head, which is much higher and roomier than our old version.
If you make a purchase, you support Hi-van.com by allowing us to earn an affiliate commission (no added cost for you).
Use a camping shower:
If you don't have access to a shower, a camping shower can be a good alternative. These portable showers typically consist of a bag that you fill with water and hang from a tree or other sturdy object. You can then use a hose or spout to shower off.
Colapz 12V Portable Shower
Portable Outdoor Shower - High pressure, easy to use the portable outdoor shower! Simple charge up the battery via USB to get 45 - 60 minutes of water flow, whilst traveling or not near utility power or water. The perfect addition to your outdoor gear and van life essentials.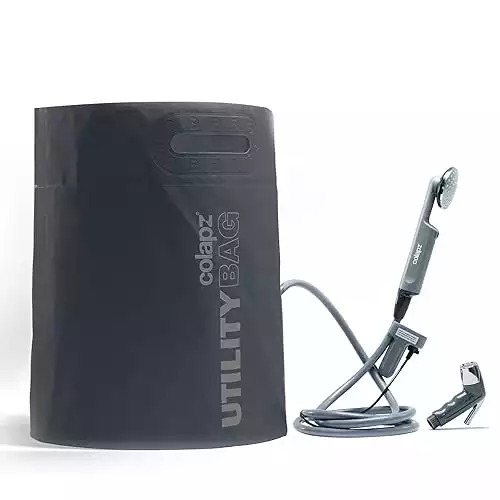 If you make a purchase, you support Hi-van.com by allowing us to earn an affiliate commission (no added cost for you).
Use baby wipes:
When you don't have access to a shower, baby wipes can be a lifesaver. They're a quick and easy way to freshen up and clean yourself off.
Clean Conscious Wipes
Now compostable! Compostable plant-based wipes disintegrate in 8 weeks
Gentle and safe for Baby but great for the whole family; Made with over 99% Water; Only 7 transparent ingredients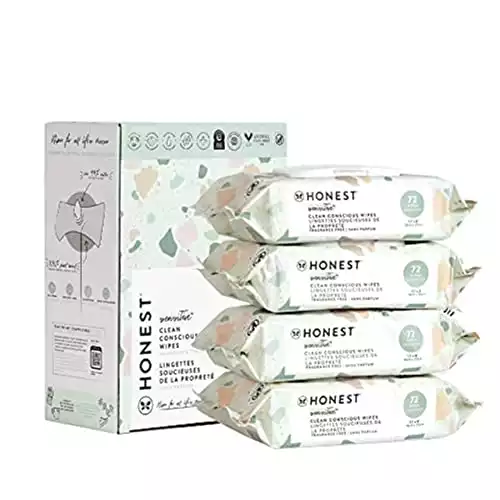 If you make a purchase, you support Hi-van.com by allowing me to earn an affiliate commission (no added cost for you).
Practice good hygiene:
When you don't have access to a shower, it's important to practice good hygiene to keep yourself clean and healthy. This means washing your hands regularly, using hand sanitizer, and changing your clothes and bedding frequently.
In my opinion, one of the best inventions for outdoor enthusiasts, particularly those who like to be off-grid, is the portable shower kit.
These are outdoor shower kits that include showerheads and a water storage tank that you can charge and use to have outdoor showers.
There are situations where you may have to use the toilet outdoors but don't want to do your business directly on the ground. Instead, you can use a bucket and attach a portable toilet seat.
Showering on the road can be tricky, that's why we made a complete guide about it. You can check it out here: Showering on the Road
---
---
Best Camper Vans With Pre-Installed Wet Baths
There are two ways to get a wet bath in your camper van: you can build the wet bath in your camper van or buy a camper van that already has a wet bath installed in it.
The Winnebago Era 70A has a 23 by 43-inch (10.58 by 1.09 m) wet bath, including a toilet with foot flush, showerhead, a stainless steel sink, and a tissue holder. It also has bifold entry doors and a shower curtain. 
Other features of the Winnebago Era 70A are that it has: 
A complete kitchen 
A built-in heating and cooling systems 
A convertible sofa bed
This model's wet bath has a hand-held showerhead, a stainless steel sink, under sink storage, a countertop, and a medicine cabinet. Here are some of the other standout features of this camper van model: 
It has a built-in full-size wardrobe 
It has two memory foam build in cushions 
It has room for a television and microwave
---
---
Conclusion
There are many different types of campervan shower toilet combo units available, ranging from basic bucket-style toilets to more advanced models with built-in tanks and flushing mechanisms.
When choosing a campervan shower toilet combo unit, it's important to consider factors like size, weight, and ease of use. Each of these units has its own unique features and benefits, so it's important to do your research and choose the one that best fits your needs and budget.
Overall, campervan shower toilet combo units can be a great addition to any van or RV, providing a convenient and hygienic way to use the bathroom while on the road.
I would definitely get advise to get one if you have enough space available in your campervan.