Hi-van is supported by its audience. When you purchase using our links, we may earn an affiliate commission (no added cost to you). Learn more
Getting a cassette toilet for your campervan will let you hold waste and toss it whenever you find a dump station. Rather than relying on gas station bathrooms or messy built-in, permanent waste tanks, these portable tote tanks are much more efficient. Many of them can be used as an inserted tote or to remove waste from a permanent black water tank.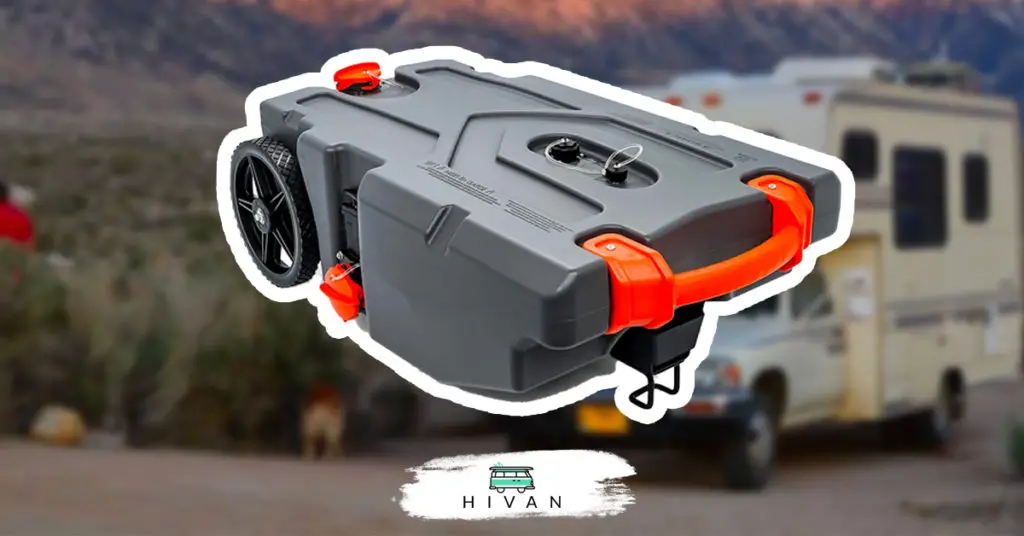 The best cassette toilet is the Camco Rhino Tote Tank because it has a 36-gallon capacity, rugged wheels for tough terrain, a telescoping handle, and airtight seals to prevent odor leaks. The 4-in-1 adapter fits most RV waste tanks, but it can be installed under a toilet seat as a full-time tote.
You might also like these cassette toilets:
The Hike Crew Tote is great for its quick-draining spout at dump stations
A Thetford Left Cassette Tote is ideal for camper's without much space
Those seeking a single-day solution should try the Thetford Holding Tank
The VINGLI Cassette Toilet is the best for budget-conscious campers
In this post, we'll dive into everything you need to know before getting a cassette toilet. We'll also show you our five favorite toilets for campervan conversions, RVs, and trailers.
What to Look For When Buying a Cassette Toilet
Cassette toilets, also known as portable toilet tanks, are becoming more popular each year. People living the van life or looking for convenient RV waste tank solutions are reaching for these easy totes, but how should you know what to look for?
Here's a list of three things to consider when getting a cassette toilet:
How big is the holding tank? You should know how many gallons you'll need before investing in one. Epic Outdoor Club estimates one RV toilet flush is about half of a gallon. If you have a 10-gallon tank, that's about twenty flushes.
How will you transport the waste tank? Some of them double as a separate holding tank, while others have a removable handle and wheels. It's important to know how you'll empty the cassette toilet when the time inevitably comes.
How does it function? Does your cassette toilet work as a portable storage tank, or is it multipurpose? If you have a portable cassette toilet that can also empty a permanent RV waste tank, you can use it in multiple vehicles.
Let's analyze these factors in detail below.
Gallon Capacity
Your cassette toilet needs to be big enough to hold waste for several days, especially if you're living or traveling for a long time. A two-gallon tank won't cut it, but many people find four gallons to be enough for solo campers.
On the other hand, you could choose a large tank of up to 40 gallons if you don't want to empty it too often. Many of them have sealed edges to prevent odor leaks and other gross issues.
If you're worried about not having enough gallon capacity in your cassette toilet, review this table of all five tanks on the list:
| | | |
| --- | --- | --- |
| Cassette Toilet | Capacity | Score |
| Camco Rhino Tank | 36 gallons | 10/10 |
| Hike Crew Tote | 19.8 gallons | 8/10 |
| Thetford Cassette Tote | 4.5 gallons | 3/10 |
| Thetford Holding Tank | 5.1 gallons | 4/10 |
| VINGLI Tote Tank | 20 gallons | 8/10 |
Winners: Camco Rhino Tank & VINGLI Tote Tank
Keep in mind that a 4.2-gallon tank might have a low score for some campers, but it could be the perfect solution for those with limited space. These ranks are based on longevity and overall size, but a large tank could be too much for a compact van. It's up to you to decide which is the best choice for your camping setup!
Transportation
According to We're the Russos, a cassette toilet can weigh as little as 20% of a traditional RV waste tank. These toilets are built for convenience and offer lightweight designs, but the best part is they have wheels.
Inspect the toilet's wheels to see if they're made for rugged terrain or asphalt. This step will give you a good idea of where you can remove it and how well it'll handle movements. Also, ensure the tank has a handle so you don't have to lug it around in your arms.
Functionality
Your cartridge toilet's functionality is an integral part of how you'll use it. Does it connect to an RV tank and under a compatible toilet lid, or can it only be used as a standard cassette toilet? The majority of modern cassette toilets can be connected to a permanent RV tank with a hose but primarily work to slide under a toilet seat.
If you have a camper with a cassette toilet seat and don't care about using it as a portable waste tank, the Camco Rhino is perfect. That being said, the VINGLI Tote can be used for both purposes.
Without further ado, let's review the top cassette toilets on the market below.
Find this content useful 🙂 ?
Subscribe to our Newsletter and get a free Solar Electric Diagram + shopping list.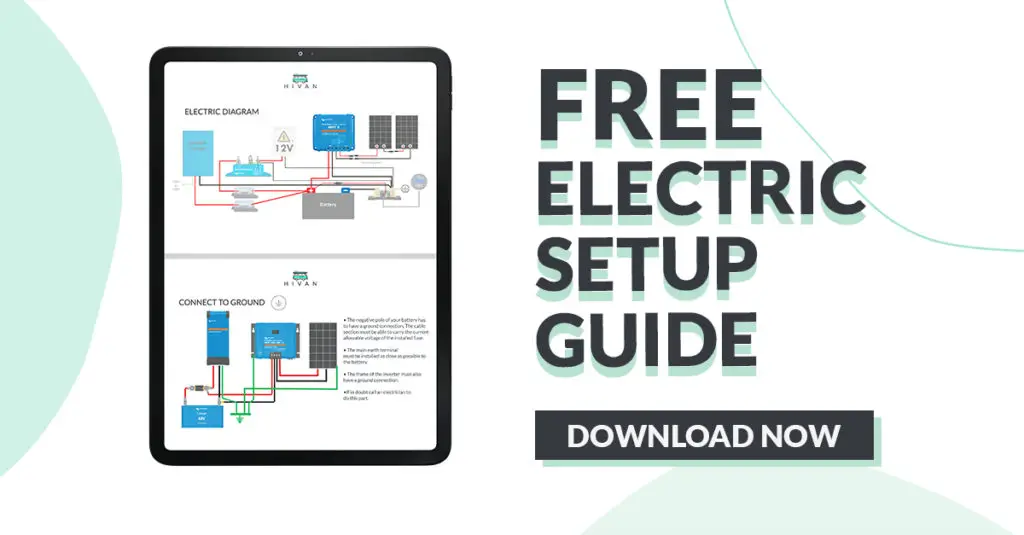 Our Top Picks
Best Overall: Camco Rhino Tote Tank
Best for Convenience: Hike Crew Waste Holding Tank
Best for Small Campervans: Thetford Left Cassette Tote
Best for Single-Day Use: Thetford Holding Tank
Best Budget-Friendly Cassette: VINGLI Tote Tank
---
Camco is a well-known name in the camping industry, so it's no surprise that the Camco Rhino Tote Tank is among the best cassette toilets available. This 36-gallon tank comes in multiple sizes, including a compact 15-gallon variant. Regardless of the size, you'll receive several adapters and hoses to ensure it fits your toilet setup.
Another top-notch trait is this cartridge toilet's heavy-duty wheels. They can roll over rocks, grass, dirt, asphalt, and more. Nothing's worse than being stuck in the mud with 36 gallons of waste and no way out! Fortunately, the tank is easy to move, thanks to its telescoping handle and durable rims.
Bottom Line: It's hard to find anything that comes close to the Camco Rhino. This cassette toilet is tough enough to last a long time, but it won't break the bank. It can be removed in seconds via a cutout side slot in your van or RV, or you could pull it from under the toilet inside of the camper if you don't want to renovate the vehicle.
Pros
Comes in multiple sizes and with more than enough adapters for every scenario.
The handle and wheels fold flush with the tank for low-profile storage.
It's made by a reliable brand with a one-year manufacturer warranty.
Airtight seals prevent odor leaks.
Cons
The large versions measure up to 46 inches long, so they take up quite a bit of space.
---
Hike Crew might not be as known as Camco, but their Hike Crew Waste Holding Tank is quite impressive. This 19.8-gallon tank is mounted on wheels with thick, long-lasting plastic to prevent cracks and leaks for many years to come. Furthermore, it uses wide openings for easy cleaning whenever you need it.
The rotating spout on the front of this cartridge toilet lets you drain it without awkward angles. This feature might seem insignificant, but it makes everything much easier when there's a line of people behind you waiting to empty their tanks.
Bottom Line: The Hike Crew Waste Holding Tank is built for convenience. From the rotating drainage spout to the 360-degree front wheel, it's one of the top options for people who want to spend as little time emptying their waste tanks as possible.
Pros
This tank is much more affordable than most others with the same quality.
The front wheel lets you slide it in and out of the camper with ease.
There's a rotating space and wide openings for quick, simple cleaning and maintenance.
Cons
The wheels are fairly small and built with plastic.
The tank's handle doesn't expand, so you'll have to bend down to grab it.
---
Thetford is often seen as the best cassette toilet brand. It's hard to decide between their two top models, so we've included both of them on the list. The Thetford Left Cassette Tote is a great selection for people who don't want to use too much space in their van or RV. It holds 4.2 gallons, which is ideal for a solo traveler.
If you have two people using the toilet, you'll have to empty it once every couple of days. However, the convenience of the compact 25-inch design makes it almost half the size of other toilets on the list. You can store it almost anywhere without wasting space.
Bottom Line: The Thetford Left Cassette Tote is a classic choice that favors spaciousness and minimalist designs over week-long camping. You can empty it relatively quickly, and you don't have to worry about it being too heavy.
Pros
It's ultra-compact, making it perfect for people who want to take up less space.
Two built-in handles let you pick up the lightweight toilet quickly.
This brand is as trustworthy as you'll find.
Cons
It's far too small for three or more people.
You'll have to empty it much more often than the other tanks on the list.
This tank doesn't have an extending handle or wheels.
---
The next Thetford cassette toilet on the list is the 5.1-gallon Thetford Holding Tank. It's very similar to the previous design, but there are a few notable differences. For starters, it holds almost one gallon of waste more than the Left variant. That's enough for one or two more bathroom sessions!
You also might prefer this tank setup because it's slightly taller, making it less long. Instead of being 25 inches long, it's only 13.88 inches. However, it's a bit over one foot tall, making it a little bit higher than the previous contender. This difference could make it easier to store under toilet seats.
Bottom Line: The Thetford Left Holding Tank is compact and ideal for one or two days of use. Whether you're a solo traveler or bringing a friend along for the journey, this tank is easy to install, carry, and empty.
Pros
It's a bit shorter in length but taller in height than the original Thetford model.
This cassette toilet has durable wheels.
The extending handle makes it easier to empty at a dump station.
Cons
You'll have to empty it every couple of days since it only holds 5.1 gallons.
---
Many of us want to do whatever we can to get on the road without spending too much money. If you're on a tight budget, the VINGLI Tote Tank lets you enjoy the portability and convenience of a cassette toilet without spending too much. It's a fraction of the cost of most others, but you'll be impressed with its capabilities.
For example, the VINGLI Tote can hold up to 20 gallons of waste. Furthermore, you can use it as a cassette toilet or portable RV waste holder. The level indicator shows when it's time to empty the tank, and the spinning front wheel prevents jams.
Bottom Line: The VINGLI Toilet boasts multiple handles, high-grade wheels, and a large storage capacity for a multi-day camping trip. The wide spout is easy to clean, and the price is more than worth it.
Pros
Air release valves prevent gross splashing and leaks.
There are several ways to move this tank, including adjustable handles and an extending one.
It holds up to 20 gallons (some models can hold up to 25 gallons, though).
Cons
It's 41 inches long and over one foot wide.
This toilet is almost 16 pounds without waste in it; You'll definitely need to use the handles!
Conclusion
The Camco Rhino Cassette Toilet is an excellent choice for most campers, but we're sure you'll find something perfect for your setup on this list. Whether you're using a cassette toilet as a full-time toilet tank or moving your waste from the installed tank to a dump station, they're built for convenience from end to end!