Hi-van is supported by its audience. When you purchase through links on my site, I may earn an affiliate commission. Learn more
Ford is one of the best brands for choosing a van. Whether you're looking for a converted campervan or want to DIY the conversion, their E-Series is as good as it gets. They offer the E-150, E-250, and E-350. Each van gets progressively more powerful, but how are they different from each other?
The difference between the Ford E150, E250, and E350 is the towing capacity, payload, and price increase by the model. The E150 has a payload of 3,300 pounds, the E250 goes to 3,600 pounds, and the E350 goes to 4,100 pounds. The bigger the vehicle's payload, the bigger the engine size and the more expensive it is as well.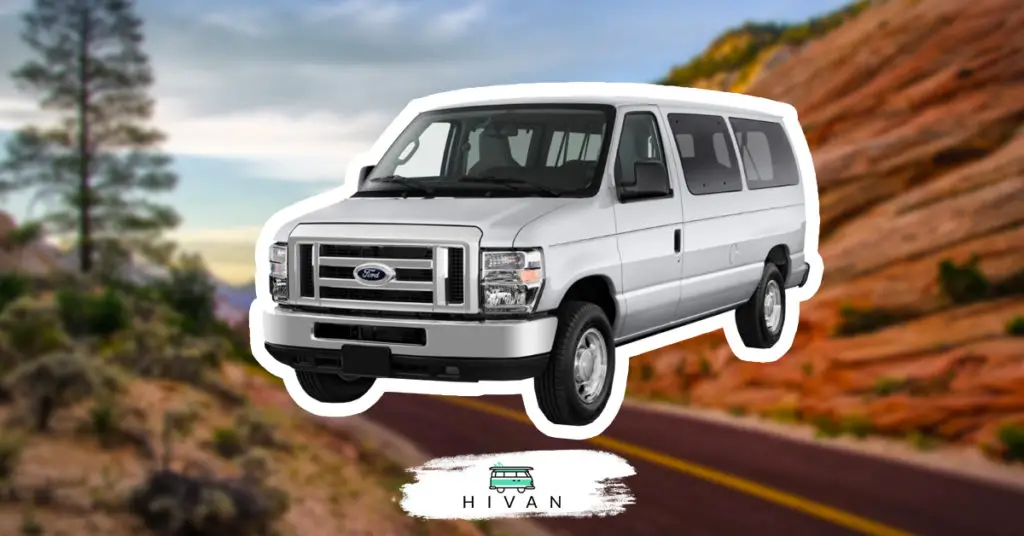 In this post, we'll discuss several comparisons between the Ford E150, E250, and E350, including their payload, weight, towing capacity, and more. We'll also talk about maintenance, prices, and spaciousness.
---
What Are the Ford E-150, E-250, and E-350's Payloads?
Perhaps the biggest difference between these three Ford models is their payloads. The E150 has the lowest payload, but it offers much better fuel efficiency, and many drivers believe they're easier to handle. Having a higher payload lets you store more items in your van, which is crucial for those traveling on the road.
So, how do their payloads compare?
The Ford E150 has a payload of 3,300, making it ideal for most lightweight van life setups. If you want to have a bed frame, portable fridge, and a bit of cabinetry for storage, the E150 can handle the job. It's important to remember that exceeding the payload can drastically slow your vehicle and wear its suspension.
According to Two Roaming Souls, the Ford E250's payload is 3,600, which isn't much more than the E150. However, having the extra 300-pound cushion could provide the peace of mind you need never to exceed its capacity. Stacking a few hundred more pounds of equipment will lower its MPG, though.
Finally, the Ford E350 has a 4,100-pound payload capacity. If you want all of the bells and whistles in your van (water pumps, full-size fridges, sinks, solid wood counters, etc.), an E350 is an excellent choice. Keep in mind that they cost quite a bit more and have a worse fuel economy than the E150.
The best way to know which payload suits your van's needs is to add all of the weight you'll throw into it and add a few hundred extra pounds for good measure. For example, if all of your items weigh 3,200 pounds, you might want to get the E250 since adding foo, water, and other supplies along the way could tip the scales.
Some people love towing their cars or trailers behind their van for extra camping space or commuting purposes. If you want to tow something with your Ford E-Series van, head to the next section.
---
What Are the Ford E-Series Towing Capacities?
Having a high towing capacity isn't always necessary for campervans, but it could make things much easier if you want to bring a trailer along for the ride. The E350 has the best towing capacity, but the E150's towing capabilities are quite impressive compared to most vans from other companies.
– Ford E150 Towing Capacity
Auto Trader estimates the Ford E150 can tow between 6,000 to 7,500 pounds. You could bring most compact cars, teardrop trailers, and many other attachments with your van. The more you tow, the slower you'll go. Since the E150 has a 4.6L to 5.4L V8 engine, you'll have plenty of power to go up steep inclines.
– Ford E250 Towing Capacity
Much like the E150, the Ford E250 tows between 6,000 to 7,500 pounds, but it can carry up to 9,000 pounds in total. This number includes the payload capacity, so it's crucial that you don't overload the vehicle with 3,600 pounds inside and 7,500 pounds outside. Ensure the total weight doesn't excess 9,000 pounds on this model.
– Ford E350 Towing Capacity
The Ford E350 has a towing capacity between 7,400 to a whopping 10,000 pounds. This limit is ideal for people attaching a camper trailer for extra storage or sleeping space when they park their van. Many campers do this method because it lets them have a big living area at a campground while also being able to detach the van and drive into local towns.
Towing is always convenient for countless campers and workers, but it's not a deciding factor for everyone. If you don't intend to tow anything, the lightweight E150 will do. However, those looking to bring a trailer or car along for the journey should try the E250 or E350.
---
Which One Has the Most Spacious Interior?
Contrary to popular belief, these three Ford vans don't have different interior or exterior dimensions. In fact, the base models are exactly the same. However, the E250 and E350 come with extended variants that add additional length for those who prefer more space.
Let's break the dimensions down below.
Interior Dimensions
Wheelbase: 138 inches
Length: 216.7 inches (236.4 inches for the extended models)
Height: 82.4 – 85 inches
Width: 106 inches
Front Track: 69.4 inches
Rear Track: 66.6 inches
Front overhang: 34.9 inches
Rear overhang: 43.8 inches
Exterior Dimensions
Cargo length at the floor: 122.4 inches (142.4 for the extended models)
Cargo width between wheelhouse: 52.5 inches
Cargo height: 55.3 Inches
Econoline Vans shows the passenger models are slightly different because they're made with seats and carpeting. However, each dimension is within a few inches less of the cargo model.
---
Price and Maintenance of the E150, E250, and E350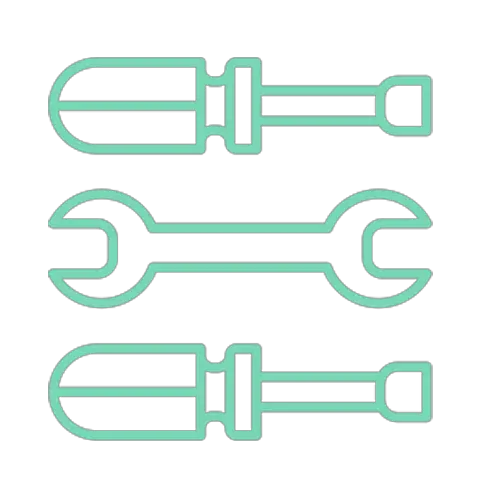 We all know budget is an unfortunate part of buying a new vehicle. Setting your financial limits can make it much easier to choose an E-Series van, especially if you're buying a brand-new model. Used vans aren't too pricey, but you'll have to deal with maintenance costs.
To paint a clear picture of what you can expect with initial costs and maintenance, review these points:
The Ford E250 typically costs between $30,000 to $32,000.
The Ford E350 usually costs $34,000 to $54,000.
The Ford E150 was replaced with the Ford Transit after 2015, which costs about $25,000 or more, depending on additions.
(Sources: Auto Trader E250, Auto Trader E350)
Maintaining each model costs relatively the same amount for most parts, including the radiator, hoses, fuel intake valves, and so on. It's best to talk to a local mechanic to get exact prices. However, the E350's engine costs much more to replace than an E250 or E150/Transit engine replacement because it's much bigger.
You can expect to spend over $1,000 more on an E350's engine, whereas the transmission price depends on whether you chose the V8 or V10. V10 engines are costly and drastically reduce the fuel economy.
Speaking of which, let's do an MPG breakdown for each van:
The Ford E150 gets between 13 to 16 miles per gallon, and the updated Transit gets 24 to 28 miles per gallon.
The Ford E250 gets between 13 to 16 MPG, much like the E150.
Finally, the Ford E350 gets anywhere from 12 to 16 miles per gallon for the V8 engine and 9 to 12 miles per gallon for the V10 model.
Fuel economy is crucial for campers on a budget. The heavier your payload, the more money you'll have to spend on fuel. If you're maximizing your E350, you'll get as little as 9 miles per gallon, making it less than 1/3 as efficient as a Ford Transit's peak MPG or almost half of the E150 and E250's fuel efficiency.
Gasoline should be one of the top lines on your monthly budget, but you should also have money set aside for your E-Series in case something goes wrong. Minor repairs on any of these three models can cost up to $300, whereas major engine repairs can cost thousands of dollars.
Note: It's impossible to provide exact prices, but it's safe to say everything costs close to the same across these models, aside from anything related to the engine. The E350's maintenance costs are the highest, whereas the E150's repairs are typically the cheapest.
---
Should You Get a Passenger or Cargo E-Series Van?

While the rest are on the same chassis, a passenger E150, E250, and E350 aren't the same. In fact, each model's passenger variant is slightly narrower and shorter than its cargo variant. Cargo vans are almost always the best choice unless you prefer a carpeted interior. However, the carpet can invite moisture, mildew, and mold.
If you get a passenger E-Series van, you'll have to remove the seats and seat-mounting hardware. Furthermore, you won't have as much space for your items. That being said, many passenger models come with high-tops, allowing you to stand and walk around the vehicle, much like a high-top cargo van.
While the carpet is very soft in a passenger van, it's not worth the trade-off. The passenger models also have seatbelts and other attachments that have to be removed, adding much more time to the conversion process. We highly recommend sticking with a cargo van version of the E150, E250, and E350.
The final option is to get a converted van or Class B RV that sits on an E150, E250, or E350 chassis. These are fairly common, comfortable, and come with everything you need to go camping.
---
Which Ford E-Series Van Should You Choose for Van Life?
Are you thinking about getting an E-Series van, but you're not sure which one? If so, this is the perfect section for you. There are many factors to consider, as you've likely read throughout this post. They include the payload, dimensions, engine size, fuel economy, and more. Below, we'll make a case for each E-Series model to help you choose the right one.
– The Case for the Ford E150
The Ford E150 is best for people who want the best fuel economy and don't mind the reduced payload and towing capacity. It's easier to drive and won't have a bumpy ride, unlike the E350. Furthermore, the E150 is spacious enough as the rest of the base model lineup, so you won't have to sacrifice its interior dimensions.
– The Case for the Ford E250
The Ford E250 is the best van for people who want a higher payload and don't mind a slightly worse fuel economy. You won't get the same high price as the E350, but you'll have more power at your hands than you would if you drove the E150. It's the best of both worlds for many drivers, and it comes in an optional extended model.
– The Case for the Ford E350
The Ford E350 is a beast of a van, packing up to 305 horsepower on a 5.4L V8 or 6.8L V10 engine. Keep in mind you'll spend a lot more on gas, but it's more than worth it for those who want up to 4,100 pounds of payload capacity and 10,000 pounds of towing capacity. Much like the E250, you can get an extended E350.
As you can see, all three E-Series vans are worth their price tag. They have multiple engine sizes, significant payloads, optimal spaciousness, and more. Thanks to their narrow turning radius, you can get out of tight spaces and make U-turns easily, even with the monstrous extended E350.
Between Ford, Dodge, and Chevy, you're guaranteed to find a top-notch van for van life. However, Ford boasts impressive longevity and handling you might not find in other brands.
For this reason (among others), Ford has found itself to be one of the best van life companies worldwide. You can convert their E-Series or find a campervan with an E-Series chassis!
---
Conclusion
Now that you know the primary differences between these three popular models, you can choose which one is best for your van conversion. All three vans are at the top of their game, providing excellent payloads with manageable maintenance costs and fuel economies. It's up to you to decide if you prefer power, speed, cost-effectiveness, and so on.
Here are some of my favorite van build tools:
Thank you for reading this article. I hope you found it helpful as you build your own campervan. Here are some tools that I use daily while living on the road that made my life easier. I hope you'll also find them as useful as me. These are affiliate links, so if you do decide to purchase any of them, I'll earn a commission.
But in all honesty, these are the exact tools that I use and recommend to everyone, even my closest friends and family.

Electricity: When I first started my van life journey, I was using the Renogy 200W RV Kit, and I've recently upgraded my setup to the Renogy 400W RV Kit. I'm fully autonomous regarding power now, thanks to this upgrade. I don't know why I didn't choose this option from the beginning.
Quick Fixes: Whenever I need to fix something inside my van, I use my multitool from Victorinox. It's compact and comes with a leather pouch that lets you store it wherever you want. Whenever I need more tools, I get my Cartmann toolset out.
Power tools: If you're converting a van, you'll need some serious tools for the building process. I can assure you, good power tools can make a huge difference. You'll save time and avoid a lot of frustration while having some professional-looking final results. I personally went big with the full combo set from Dewalt.
To see all of my most up-to-date recommendations about van build, check out this resource that I made for you!