Hi-van is supported by its audience. When you purchase using our links, we may earn an affiliate commission (no added cost to you). Learn more
Hiking is an extremely popular outdoor activity because it can be a good workout, a meditative experience in nature, or simply something you do just for fun. While immensely enjoyable, hiking is not without its risks. Nature isn't always kind, which is why gear and clothing centered around hiking occupies its own space on the market.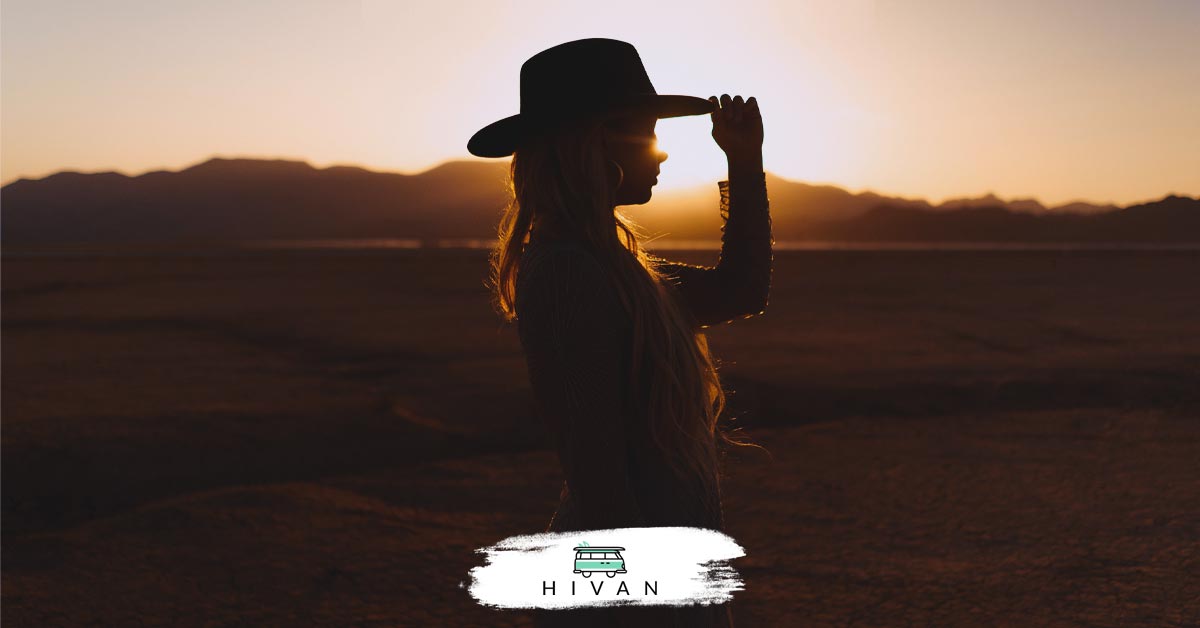 You should wear a hat while hiking. Wearing a hat gives you added protection from the elements when you're out and about in nature. From keeping you warm during the colder months to keeping the sun off your face in the warmer ones, wearing a hat is practically a must for those looking to hike.
This article will not only explore the various ways in which wearing a hat while hiking can improve your hiking experience, but it will also explain how specific hats work to protect you during your hike.
---
How Do You Choose the Right Hat for Hiking?
There are so many hiking hats available to purchase on the internet, so shopping for the right one may feel overwhelming.
Select your hiking hat based on the purpose you need it to serve. For example, hiking can expose you to many weather conditions, such as rain, intense and direct sunlight, or even snow, so choosing the right hat to protect you from these elements is necessary. 
Once you know the conditions you will be exposed to on your hike; you can assess which hat will be right for you. Let's explore which weather conditions will call for which hat on your hike.
Best Hiking Hats To Combat the Cold
Hiking in the winter is a beautiful experience, but it is not without its harsh weather conditions. With cold weather comes low temperatures, which in turn can make your hike uncomfortable and even put you at risk for hypothermia.
A popular myth claims we lose most of our heat through our heads, and while it's not exactly true, we can hold onto more heat by keeping our heads warm with a hat.
When looking for a hat for a wintery hike, it is vital to prioritize warmth and coverage. As suggested by Paul Ronto, a devoted hiker who creates hiking content for RunRepeat, an insulated hat that covers the entire head and ears, like a beanie, is a good option.
The material of your hat should be not only insulating but also moisture-wicking. Merino wool is the ideal material for this task. As explained by SmartWool, merino wool helps regulate body temperature while keeping you completely sweat-free. A merino wool beanie can even keep your head warm if it's wet, which can be helpful if snowfall is present.
Minus33 Merino Wool Ridge Cuff Wool Beanie
QUALITY LIGHTWEIGHT PACKABLE BEANIE: 100% Merino Wool is super soft and extremely comfortable. The best in easy care technology means your merino wool is machine washable and dryable. Comfort, warmth, and breathability make this hat an essential part of your outdoor gear.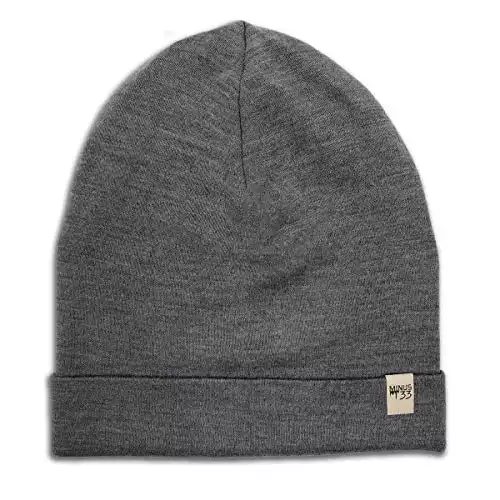 If you make a purchase, you support Hi-van.com by allowing us to earn an affiliate commission (no added cost for you).
I recommend the Minus33 Merino Wool Ridge Cuff Beanie from Amazon.com. This beanie is 100% Merino Wool and prioritizes comfort while offering a variety of colors to choose from for individual preference.
Synthetic materials, such as polyester and fleece, can deliver the effects of Merino Wool at a much lower cost. A great option here would be the TSLA Thermal Fleece Skull Cap from Amazon.com. It's a polyester and spandex blend with a thermal fleece lining on the inside designed to keep you warm and wick away moisture.
Best Hiking Hats To Combat the Sun
If you're planning to go hiking during the hotter months of the year, you need to protect yourself against the sun. Too much sun exposes you to harmful UV rays, so it's crucial to pick a hiking hat designed to protect you. It is also essential to look for a hat to keep you cool and dry as temperatures rise.
Intense sunlight accompanied by high temperatures is likely to cause sweat, so opt for moisture-wicking materials, like polyester and nylon.
A fabric you should altogether avoid is cotton. As explained by Hike It Baby, cotton retains water, which in turn will keep you sweaty throughout your hike.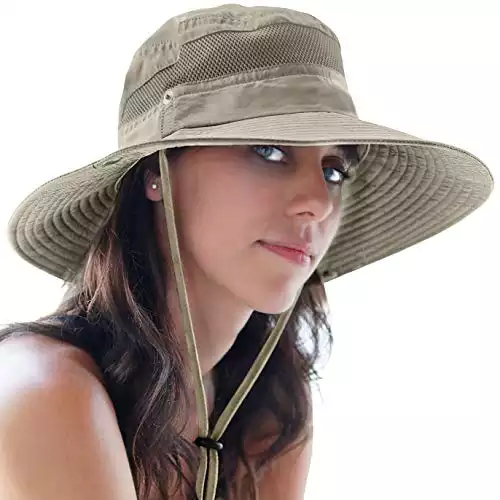 If you make a purchase, you support Hi-van.com by allowing us to earn an affiliate commission (no added cost for you).
It's best to opt for a wide brim hat, as the brim delivers shade from the sun. I recommend the GearTOP UPF 50+ Wide Brim Sun Hat from Amazon.com. It offers UPF protection which will protect you from dangerous UVA and UVB rays. This hat is also 100% polyester, so it'll effectively wick sweat away during your hike.
For extra neck coverage from the sun, I recommend this Camptrace Sun Hat from Amazon.com. It's UPF 50+ and features a neck flap that keeps the entire back of your neck protected from the sun.
Best Hiking Hats To Combat Rain
If the forecast predicts rain during your hike, you're going to need a hat to keep your head dry and your eyes rain-free.
The best kind of rain hat comes with a protective membrane like Gore-Tex. As explained by the company Winfield Outdoors, Gore-Tex is a unique fabric that blocks out water while simultaneously allowing sweat to escape. This means that not only is it completely waterproof, it is also breathable and keeps you sweat-free. Gore-Tex hats are often made with nylon and polyester, which aid in their quick-drying abilities. 
I recommend the Outdoor Research Seattle Sombrero from Amazon.com. It is made with Gore-Tex technology, and its wide brim keeps the rain from getting into your eyes. This hat also comes in a range of sizes, so you can find your optimal fit.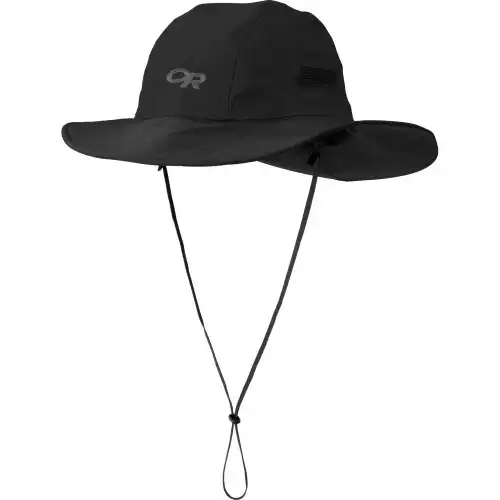 If you make a purchase, you support Hi-van.com by allowing us to earn an affiliate commission (no added cost for you).
If you don't like the wide brim style, you can also opt for a cap. I would suggest the Zero Restriction Gore-Tex Cap from Amazon.com. It's made with Gore-Tex, and the brim of the cap offers protection, as well.
---
Final Thoughts
Wearing a hat while hiking is vital to protecting you from any weather conditions that may come your way. It is a practical choice that will make your hike that much more comfortable and enjoyable.
When considering what hat to wear for your next hike, make sure to pick one that is designed to combat the elements you will be exposed to on your hike. Choosing the right material and style can make all the difference.
Find this content useful 🙂 ?
Subscribe to our Newsletter and get a free Solar Electric Diagram + shopping list.