Hi-van is supported by its audience. When you purchase using our links, we may earn an affiliate commission (no added cost to you). Learn more
A lot of people, particularly those new to camping, assume that there's no way to dry their hair away from the conveniences of modern living. Fortunately, this isn't true, and there are actually a ton of great ways to do it.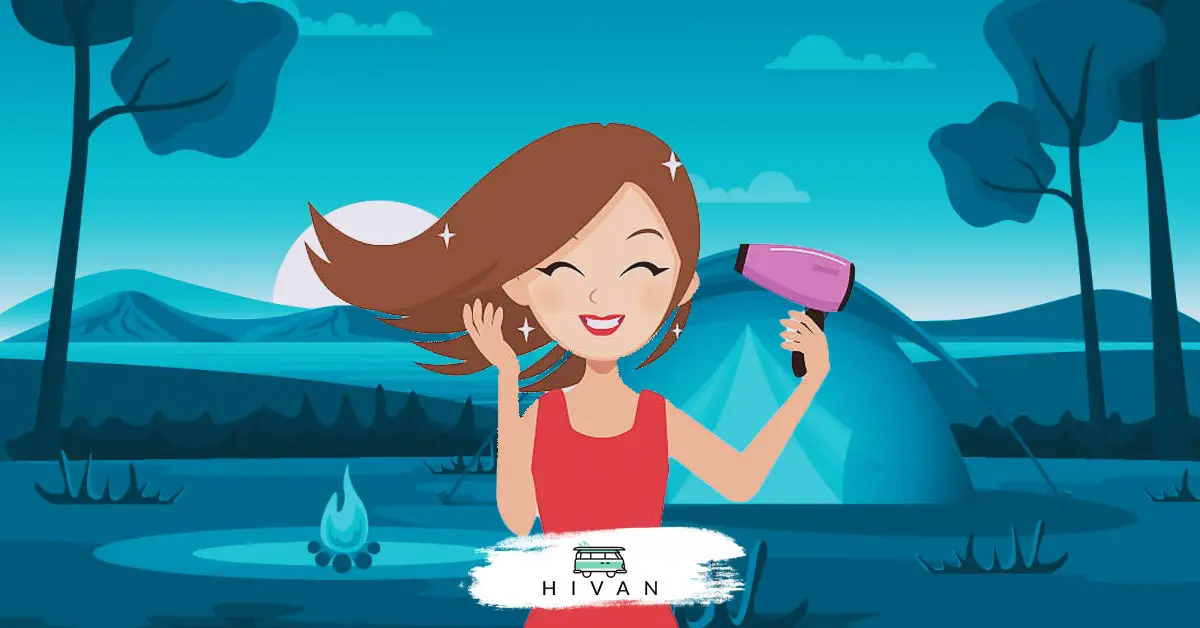 Here are seven easy ways to dry your hair while camping: 
Let your hair air dry.
Use your car's vents.
Dry your hair off with a towel wrap.
Use a hair wrap.
Use a hair dryer. 
Shake your hair out.
Stick your head out the window.
All of these tips will make sure you are well on your way to keeping dry hair while out in the great wide yonder!
---
1. Let Your Hair Air Dry
The simplest method is to let your hair air dry while you're outside. This is the least stressful way and requires you to do absolutely nothing. Natural wind and moving about should have your hair dry in a little bit of time.
However, you'll have to be comfortable with your hair staying wet for longer. This method is also great for preventing frizz and can help set styles.
For example, if you want to keep your waves, you should braid your hair while still wet and let it air dry. These waves will stay and give your hair plenty of bounce. 
---
2. Use Your Car's Vents
Another easy way to dry your hair, especially in winter environments, is to use your car's vents. Crank that heat up and run the fan at the top speed. This way, you can get all kinds of airflow and dry while the rest of the world might be freezing or otherwise not optimal for wet hair.
Not only that, but this method can also take the chill off on snowy days. Of course, you need a car to do this method, but if you have one, this can be a great way to simulate a hairdryer experience. You can even do this while moving from one location to another for more camping and exploring.
Additionally, you can keep this tip in mind on days when you're running late to work, as well. 
---
3. Dry Your Hair Off With a Towel Wrap
You could use a simple towel wrap to suck the water out of your hair. These are the types of wraps that people put over their heads after the shower.
Microfiber towels are perfect for this. These towels can pull so much water out that they can dehydrate your hair, so don't leave them on for too long. 
You should be extra careful when using this method if you have very curly hair (such as level four hair). Towels (especially cotton blends) can cause other issues like frizziness and breakdowns of your curl pattern. Keep your hair moisturized, or use the following tip on our list: hair wraps.
---
4. Use a Hair Wrap
These simple wraps can be very effective in keeping your hair clean and helping it dry out safely. This is also a better method for anyone with curly hair and/or who needs protective styles. 
These are typically made of one long piece of fabric and carefully bind the hair to dry without losing moisture. They are also commonly made of satin or silk and other materials that won't pull on your hair or catch.
Some, like the Turbie Twist Hair Towel Wrap from Amazon.com, come as built-in caps (like bonnets) or are already shaped, so all you have to do is fasten them. These can also be specially designed for different hair textures and needs. 
---
5. Use a Hair Dryer
As silly as it may sound, you can keep a hairdryer with you to make the process easy as pie. There are a couple of ways you can use a hairdryer while camping, and each has its pros and cons.
Normal Hair Dryers
You can use standard hair dryers in a variety of environments. You could use them on campsites and in other areas where there are power outlets. Some grounds might even offer them to guests!
The biggest con to using a normal hairdryer is that you can't go anywhere that doesn't have some electricity. You have to run your dryer on a wired charge, and those plugs may not even work as intended. 
Some campsites have electrical hookups and will allow tent campers to use them, but those hookups are primarily for RVs and trailers that need to charge. Check with the campsite manager to make sure you can use them for hiking or tent camping. 
Cordless Dryers
Cordless dryers are perfect if you're going to an area where there aren't going to be any facilities. These are dryers you can charge before you leave, and you can take them with you anywhere. They are typically lighter and easier to carry around than your traditional hairdryers. 
However, one big drawback is that you can't use these dryers after you've used up the charge. You could also have batteries that you need to replace. It would be best if you considered this before you invest in a cordless hair dryer. 
---
6. Shake Your Hair Out
Sometimes, all you need to do to dry your hair is shake your head and get your hair moving!
Whip your head around and shake the water out. This is an excellent method, especially if you are in a dry and hot environment. The air should, at the very least, fluff out your hair and give you extra lift in moments. 
Shaking your head out raises the amount of air to which each strand is exposed. This makes it dry faster. 
---
7. Stick Your Head Out the Window
While it might sound silly, you could always roll down the windows of your car and let the breeze going by dry your hair. This is an energy-efficient way to dry your hair, and you can do it while you are going from one place to another.
Like the other car-related options, you need to have a vehicle with you to do this hack.
---
Final Thoughts
You don't have to sit with wet hair while camping, whether you're in the furthest reaches of the wilderness or your backyard. There are plenty of great options to dry your hair and make your trip even more fun.
Find this content useful 🙂 ?
Subscribe to our Newsletter and get a free electric diagram + shopping list.