Hi-van is supported by its audience. When you purchase using our links, we may earn an affiliate commission (no added cost to you). Learn more
Going camping can be an emotionally cleaning experience. You're getting back in touch with nature and taking a break from the rush of city life. But for some of us, hair care is critical even while roughing it, and we don't want to leave our curls unattended to deal with later.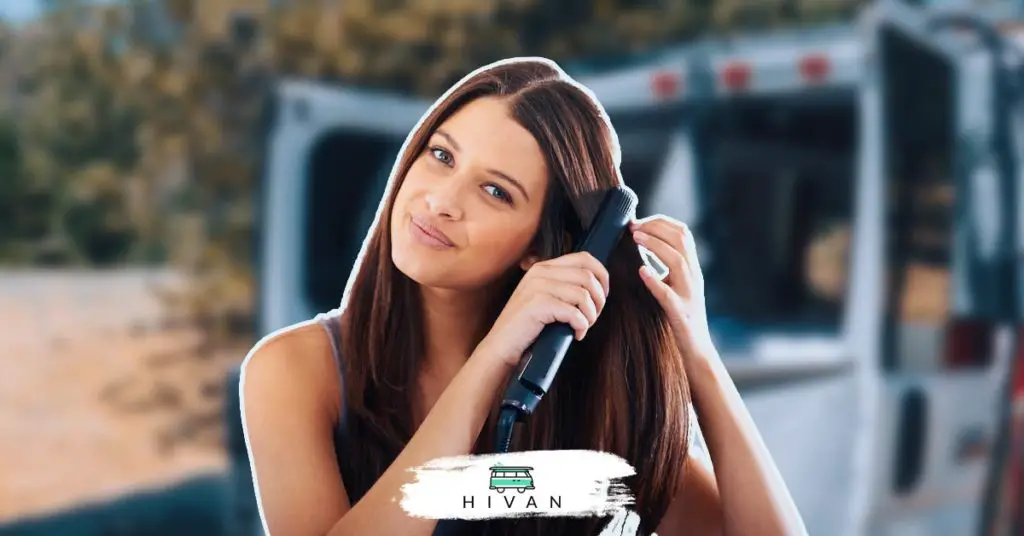 Here are some ways you can straighten your hair while camping (easy guide): 
Plait your hair while wet and leave overnight.
Use plastic jumbo rollers.
Wrap your head.
Buy a rechargeable straightener.
Use straightening products.
Do a permanent straightening. 
If you're one of those people who suffer from ratty hair that requires daily care, having a plan is critical. This article will show you how to straighten your hair no matter how far you are from civilization.
---
1. Plait Your Hair While Wet and Leave Overnight
Plaiting your hair is a great way to keep it pulled taut and in place. If you do it while wet and let it dry that way overnight (or even through the day), you'll end up with straighter hair once all the moisture has evaporated from the strands. Adding an oil treatment for sleeker hair at the same time will make it even more effective. 
---
2. Use Plastic Jumbo Rollers
Plastic jumbo rollers are an excellent alternative to heat treatments, especially when you're away from reliable electricity. Here are the steps:
Wet your hair, add in a bit of leave-in conditioner, and separate your hair into large sections. 
Wrap each coil tightly and leave them overnight. You'll wake up with slightly wavy but otherwise beautifully sleek, straight hair. 
This is also a great method for avoiding heat that can cause further splitting and drying for anyone with damaged hair.
---
3. Wrap Your Head
Hair wrapping has long since been a proud tradition among women who want a low-maintenance way to keep their hair silky, smooth, and straight. It can seem complicated when you're first learning the method, but once you have it down, you'll wrap your head in minutes. 
Here's a YouTube video to learn more about hair wrapping:
---
4. Buy a Rechargeable Straightener
You don't have to give up your straightener when camping. They have small, rechargeable units that can fit easily in your pack and work away from electricity. You have the option of flat irons or straightening brushes, depending on the power your particular hair needs. They come with covers to keep them safe while put away, so you don't have to worry about fire hazards.
---
5. Use Straightening Products
Products designed to weigh down and smooth out hair follicles can be valuable things. Balms that work independently from other chemicals make it easier to take what you need without taking up too much packing space. 
Products with natural oils like jojoba, coconut, and almond are fortifying, repairing damage as you use them. You can even make your own. 
---
6. Do a Permanent Straightening
While somewhat harsher on the hair, permanent straightening is a treatment using chemicals that keep your chosen style for several months at a time. You can do this in a salon or at home with the right product line. 
Over the years, the treatment has become less harmful to hair follicles, though using it too often may lead to dry or brittle hair if proper care isn't done between straightenings.  
Find this content useful 🙂 ?
Subscribe to our Newsletter and get a free Solar Electric Diagram + shopping list.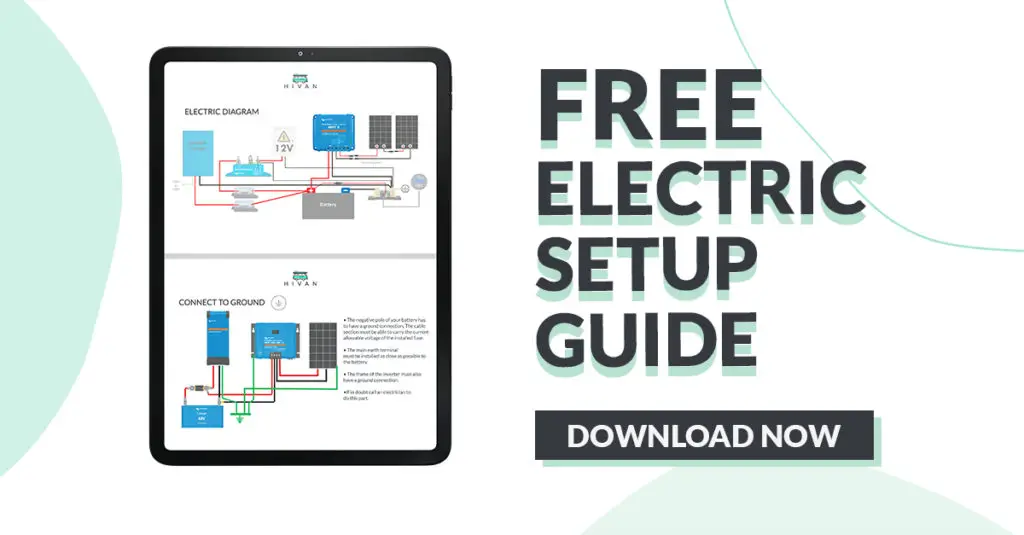 Best Products for Hair Straightening While Camping
Having the right tools makes straightening hair while camping much easier. Here are some products available on Amazon.com that can make a big difference in your routine and are equally good to have at home when you are just on the go. You can keep these in a gym or travel bag just as easily as a hiking pack. 
Mini-sized and cordless, this cute little straightener has just enough power for the curliest and thickest of hair. It's quick heating and cooling for quick use and will fit in nearly any sized pocket large enough to hold a hairbrush.
Flat irons can be a bit much for some hair types, which is where this straightener brush comes in. Using less heat, it straightens nicely without going overboard. It's rechargeable and small, ceramic for quick heating while avoiding scalding, and has an auto-off feature. 
Unlike other straightening products, this balm by L'ANZA doesn't require you to apply heat, though it's safe to do so if you choose. Just massage it into the hair, and it sinks into the strands. The effect is lightweight, non-greasy, and straight. 
Sometimes it's better to straighten your hair before camping and then keep it dry and combed out until you get back. This styling gel is made for taming frizz and straightening with a flat iron, then holding until the next wash. It isn't as lightweight, but if used on damp hair and dried, it won't become hard or crunchy, and it'll maintain your style for a few days while you're out in the wilderness. 
Permanent straightening has to be done in a salon, but this is the next best thing. It's a home kit for a Brazilian blowout, which straightens the hair for a longer period of time. The length seems to vary, with some reporting as much as several weeks and others only seeing the effects for a few washes. But you won't have any trouble during your time away. 
A solid set of jumbo plastic rollers give you a non-heat method for straight hair holding a few nice waves for texture. These are simple and the perfect size for that effect. Just separate the hair into pieces, roll them up and let them dry overnight. They're soft and comfortable to sleep on, flexibly shifting without screwing with the coils. 
---
Final Thoughts
Straightening your hair while campings isn't a sign of vanity. Many of us have difficult hair at the best of times, and keeping it smooth and managed is crucial if we don't want to come home to a bird's nest on our heads. Luckily, it's easy to maintain while away.