Hi-van is supported by its audience. When you purchase through links on my site, I may earn an affiliate commission. Learn more
Traveling the US in a van is a dream for many. But it can be hard to get away from life's commitments and responsibilities and drive around the country for a week, month, or permanently. Plus, it might cost more money than you have.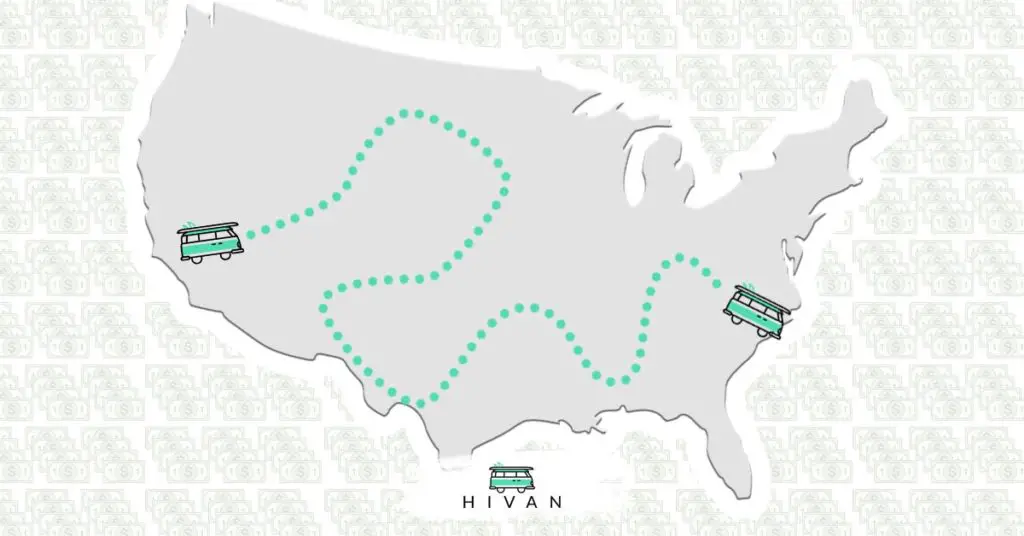 Traveling the US in a van can cost as little as $50 per day or as much as $75-$100 per day. The factors that make the difference might be where you shower, what entertainment you enjoy, or if you pay for your internet access. Gas and van maintenance costs figure into this cost as well.
We'll look at all the various costs of traveling in a van, as well as many ways to both save money and stretch your purchasing power as much as possible. We'll also look at ways to take advantage of the many great locations and features the US offers for the best van trip.
---
Travel Costs
Certain states are going to be more expensive than others. 
If you have to pay to use toll roads or go to popular locations, your costs will increase. 
If you travel during the peak season or significant holiday periods, expect inflated prices and crowded areas. This may also impact your plans as you cannot get into all areas due to their capacity. 
To find out all the best local tips and tricks, search terms like "California on a budget" and similar to research where free food, entertainment, and other goodies are. You'll quickly find other bloggers writing about the subject and giving you valuable tips for your trip.
We'll look at some common needs that should be included in your budget if you plan on traveling across the United States in your van.
Groceries vs. Restaurants
Cooking your food will, of course, be much cheaper than going to restaurants three times per day.
General calculations for groceries show that the average person consumes at least $150 a month on groceries. These figures won't differ significantly when you're on the road.
Some must-have items for your kitchen include a variety of spices, seasoning, and sauces. Cooking in big batches and then having resealable containers to store the leftovers will go a long way to keeping up your interest in home cooking.
This is one of the areas where a loyalty card can bring great dividends. Stores will give incredible discounts on their loyalty cards, as well as notable local deals. Count the number of locations of a particular store along your road trip route to work out which card is best to have.
For a cooking device, you can't go wrong with a camping stove.
The Coleman Portable Butane Stove on Amazon.com goes through one standard 8.8 oz (249.47 g) gas cylinder for one and a quarter hours of use on high, as well as taking a 10" (25.4 cm) pan.
The tanks are easy to find at almost any store, but you can always stock up on a few in your van. If you're trying to eat your cooked meals most of the time, look at getting the Coleman Gas Camping Stove on Amazon.com option. 
It makes it easier to cook more involved dishes requiring pots and pans.
You will get a lot of use out of the gas cylinders, with reports from other van life enthusiasts that you won't go through more than $1 a day of butane or propane. Consider that a larger tank would be more efficient but requires space and refilling when the opportunity arises.
If you have a kitchen, this may include a cooler or power refrigerator, which will quickly drain your battery or using campsite power. Either way, you will be paying increased costs to run these.
Ice is a relatively cheap purchase equating to about $1 a day.
To avoid increasing your food costs too much, have some easy-to-prepare meals as well. These might be from a meal kit or just easy to put together, like tacos. If you have these food options ready to hand, it avoids buying meals when you arrive at camp too late to cook.
This may add somewhere between $10 to $20 a day if you want to drink, depending on your alcohol consumption.
In terms of water, bottled water is cheap but can add up over time, so a better option is to grab a large water jug and keep it refilled from gas stations, parks, and campgrounds. CAMPMAX Water Container on Amazon.com makes a 5-gallon (22.73 L) jug with a spigot that would be great for a van or camper. 
Incidentals
Be prepared for many common incidentals. 
Look at your lifestyle and consider whether these are essential routines and purchases you'll still need on the road. This may be bringing your favorite coffee maker along or another must-have item.
A great way to save money, especially around big cities, is to park somewhere outside the town and use public transport to get in. Not only does this free you up from having to worry about the hassle of finding city parking, but it is much cheaper.
You can cover most of these with about $5 a day in your budget.
Entertainment
Look at getting an America the Beautiful entrance pass which will give you access to more than 2000 federal parks, recreation sites, and more. This means you don't have to pay the entry fees, which can pile up if you visit many parks and locations.
Considering the average cost of most of these sites, the $80 pass will be worth it if you plan to visit at least three places a year. Otherwise, visits to state parks, private tours, and other leisure activities should be budgeted at $5 per person per day. 
There are options for passes for all state parks as well.
This means you can save on entertainment expenses by only doing genuine bucket list items, for example, seeing certain geographical features like the Great Lakes rather than doing a hot lap at a racetrack. 
Do an activity based on how unique an opportunity it is rather than just it being fun.
Internet
If you work remotely, you will need reliable access to the internet. While you can get by on your phone acting as a hotspot, if you need a proper workstation, then you're looking at renting time at an internet cafe or using a coffee shop.
If you make a purchase, you support Hi-van.com by allowing me to earn an affiliate commission (no added cost for you).
Another great option is to buy a Verizon MiFi 6620L on Amazon.com and pay for a data plan. These will give powerful local WiFi signals so you can share an internet connection between several people.
Otherwise, consider the coverage for your current cell phone, think about where your road trip will take you, and get the best plan for your usage.
Use this map from Free Roam to compare network coverage. If you need a fast, high-capacity internet connection through your cell phone, make sure you're getting reliable access to 4G to all the locations you'll be traveling to.
One fascinating option in this place that has only come about relatively recently is Google Fi, which gives you data and a cell number without activation fees or contracts.
Showering
Showering can vary in price and availability quite dramatically depending on where you are in the country. Showering at truck stops and highway rest areas is excellent as you'll often get a hot shower for free in a relatively clean facility.
Otherwise, campsites may have coin-operated showers, or you could drop by facilities that are likely to have batteries, like public swimming pools or hotels.
Another option is to get a nationwide gym membership that has 24-hour access and a wide variety of locations. This can be as little as $5 a week but opens up a vast network of showers and changing facilities, as well as a place to work out so you can stay fit while on the road.
Amazon sells a range of portable camp showers that will hold nearly 7 gallons (31.82 L) of water.
Our Pick
Advanced Elements Summer Solar Shower
Camping shower; ideal for hiking, hunting, fishing, and other outdoor adventures.
3-gallon capacity; designed to heat water fast in the warm sun; has a water temperature gauge.
If you make a purchase, you support Hi-van.com by allowing me to earn an affiliate commission (no added cost for you).
This is more than enough for a good scrubbing, and the Advanced Elements Summer Solar Shower on Amazon.com is made using a black PVC bag so that the sun can warm it up to give a hot shower.
Miscellaneous Other Costs
Other costs to be aware of are going towards things like gifts, clothes, replacements, clothes washing expenses, and other various items, including emergency funds. 
You can budget approximately $5 a day for these.
Clothes need to be adequate for the conditions you're facing. Consider the time you'll be traveling and research the daily minimum and maximum average temperatures of those locations.
On top of that, go further and also research weather conditions. 
For example, take note of snowfall, rainfall, hours of sunlight, and other factors to pack the most appropriate clothes. Having to buy clothes on the road can be challenging at times.
Consider also that you may want to go camping or other leisure activities, so bring those items with you if you already own them. Purchasing items before your trip allows you to do proper research, get discounted seasonal prices, and end up with precisely what you want.
Find this content useful 🙂 ?
Subscribe to our Newsletter and get a free electric diagram + shopping list.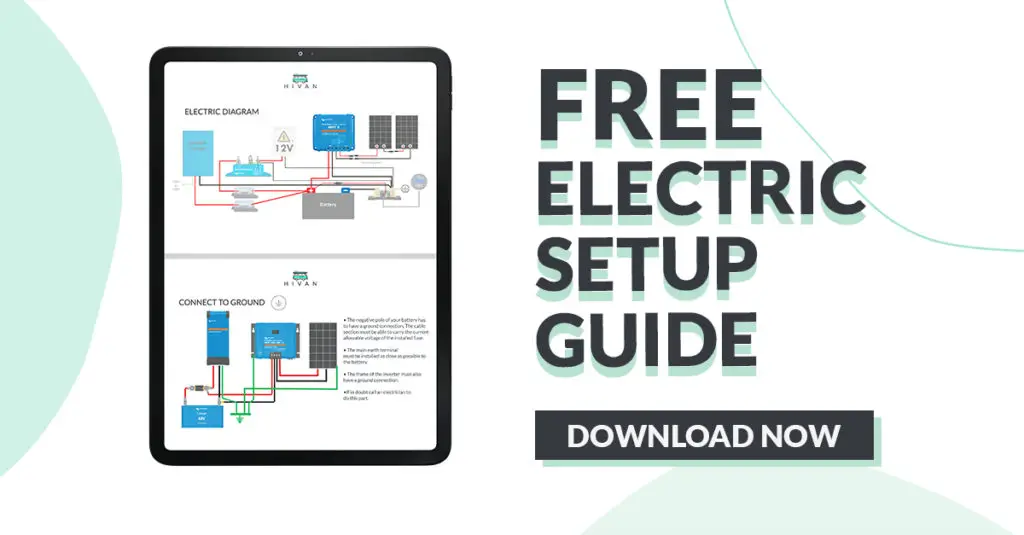 Van Costs
Getting the right van is going to make your trip so much better. There are plenty of excellent guides online for making your own or what to look for from previous van enthusiasts. Consider also that you can rent a campervan at very affordable rates. This will not only be easier than building your own but will come equipped with everything you need.
Rentals have different levels of fit-out and equipment, so there is a great range to choose from. Generally, you can expect to pay somewhere around $30 per day up to $150 for those vehicles at the top end of features and size.
Otherwise, there are specific campervan listing websites you can browse to find a used campervan. Websites like Vancamper have thousands of great options to choose from.
Gas Mileage
Used campervans tend to be built in older vehicles with worse mileage than modern equivalents. Generally, you'd be looking at somewhere between 15 to 30 miles (24.14-48.28 km) per gallon (4.54 L).
Google Maps has a default search for nearby gas stations that will show you their location and price per gallon (4.54 L) to find the best gas prices. There is also a multitude of apps that will compare prices, such as GasBuddy.
Maintenance
You'll also want to make sure the vehicle's tires have enough tread, the air filter is clean, and overall it is in good condition. If your vehicle has certain defects that can draw the attention of the police, this can also bring fines, and you will see an increase in your van travels that you don't need.
You can almost guarantee you'll come across at least a few mechanical issues. Learn some basic maintenance skills and find someone you can contact for advice.
Roadside assistance or insurance can help but is not strictly necessary. Six-month policies through Geico Insurance will set you back $85 for a campervan.
---
Staying in Accommodation
If you don't want to live and sleep in the van full time, there are many options available for accommodation. Campsites vary wildly, with some offering many features at zero cost to you, while others are a little more than a patch of land that still costs $30 a night.
Campsites
Campsite fees are standard, but there are plenty of free spots. 
Try looking up official lists of campsites via government pages or compendium sites that list them all, with filters to choose between what features you want.
Paid Accommodation
While the standard options like hotels, motels, and similar are always an option, there are many other services worth keeping in mind. Hotels will cost somewhere around $110 per night, which is why traveling in a van can be such a great way to save costs.
Airbnb has one of the largest networks of short-term rentals that you can book months in advance. They can come with a kitchen, bathroom, and washing facilities but check the listing to determine what amenities you're getting.
The occasional stay in accommodation like this can help you recharge and stay fresh.
The hotel market has become highly competitive, and this can be a great option to get deals. Loyalty programs may reward you with significant discounts or even an entire free night, so look into chain hotels or networks that can cover accommodation for your road trip for cheap.
---
Final Thoughts
Traveling in a van is a great way to save on hotels, but other costs need to be budgeted. Careful planning daily spending limits can bring this cost to under $100 per person/day.
Become skilled at cooking with few ingredients, and plan activities around their unique characteristics to get the most out of your time and money.
Think about what is necessary and what is not, and reflect upon how you will survive on the road with what you can carry. By finding appropriate places to organize your purchases, you can live a van life without breaking the bank.