Hi-van is supported by its audience. When you purchase using our links, we may earn an affiliate commission (no added cost to you). Learn more
Sleeping in a minivan together with your family can be very exciting. However, if you're new to the van-life, you may be having some concerns about how to sleep in such a small space, what you need to have to sleep in a minivan, and whether or not it's safe.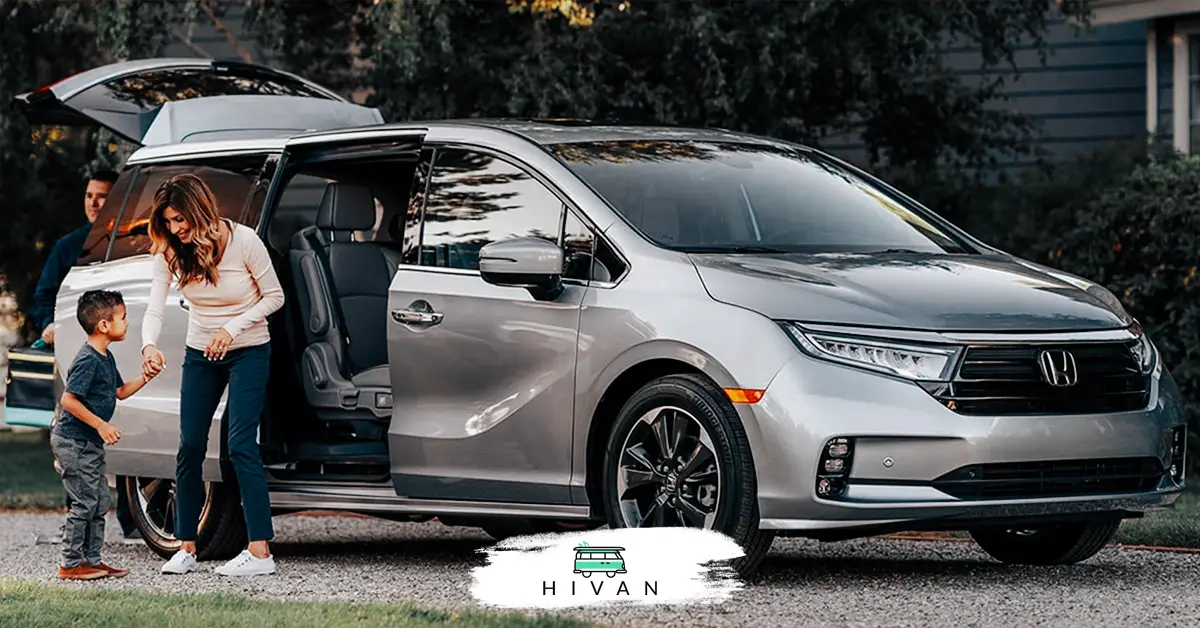 Here are 4 tips on how to sleep a small family in a minivan:
Find a good place to park the minivan.
Have a flat and comfortable bed setup.
Regulate the temperatures.
Ensure you are safe.
Read on to get more details on how to sleep a small family in a minivan.
---
1. Find a Good Place To Park the Minivan
Perhaps this is the biggest concern people have when they think of sleeping in a minivan. It's no doubt that sometimes, it can be hard to get a place to sleep, but it's not impossible. 
If you're going for a long trip, get ready to sleep even in the weirdest locations. 
If you're lucky, you can get a spot in a Walmart store, but while that's a convenient option, you'll have some limitations. For example, you can't set up a fire. However, it's often a good option, especially if you can't get another place to spend the night.
You can also find a parking spot online, such as land management websites, as they have several campsites, some that cost, others for free. One good thing about these spots is that you can spend several nights in a single spot without feeling like a bother.
Some hotel chains can also allow you to park your minivan. Just make sure you ask before parking to avoid problems.
---
2. Have a Flat and Comfortable Bed Setup
Sleeping in a minivan can be very frustrating if you don't know how to make a good sleeping setup or don't have the necessary gear. Sleeping upright isn't advisable, as it's not comfortable and can even cause muscle strain, but there are some things you can do to make sleeping comfortable in a minivan.
If the rear seats of your minivan fold flat completely, then things will be a bit easier. You can fold the seats and create a massive sleeping space where everyone will sleep comfortably.
You can use an air mattress, sleeping pad, camping cot, or even a bed frame. Depending on the size of the minivan, you can even use up to three camping cots for your family.
Here are a couple of the best camping cots you can check out on Amazon.com:
REDCAMP Folding Camping Cots for Adults
【HEAVY DUTY】 Constructed with dual layer fabric, added extra 2 pairs of leg supports on each side. This folding sleeping cots for adults hold up to 500 to 600 pounds. Suitable for tall people.
If you make a purchase, you support Hi-van.com by allowing us to earn an affiliate commission (no added cost for you).
REDCAMP Folding Camping Cots: The REDCAMP Folding Camping Cot can hold up to 600 lbs (272.15 kg). It's easy to use since it does not require any assembly. Additionally, you can use it for other purposes apart from sleeping, including sitting and reclining. When folded, it only weighs 18 lbs (8.62 kg), which makes it easily portable.
ATORPOK Camping Cot: The ATORPOK Camping Cot can support up to 450 lbs (204.11 kg). It's made of a very strong fabric which makes it durable and easy to clean, and it comes with a large side pocket where you can store some of your items. It weighs 15.57 lbs (7.06 kg) and is easy to use, as it doesn't require installation.
Build Your Bed Frame
Building a bed frame takes a lot of time and requires a lot of materials. You should only think of building one if you plan to spend several more nights in your minivan with your family.
You can learn how to build a minivan bed from the video below:
If the above options aren't suitable for you, you can still buy the normal mattresses. Just make sure you get the right size that will fit in your vehicle. Some minivans have the capability of fitting a full-size mattress when the third-row seats are removed.
However, using an air mattress will provide more sleeping area. Don't forget to carry pillows for head support and more comfort.
---
3. Regulate the Temperatures
Regulating the temperatures of your minivan ensures that you're comfortable. If it's too hot, you'll sweat and feel sickly, but if it's too cold, you'll start shivering and find it hard to fall asleep.
To regulate the temperatures when it's too hot, open the windows a bit to allow proper airflow, and use breathable pillows and sheets when sleeping. You can also use some battery-powered fans if it's too hot.
Oaskys Camping Sleeping Bag
USED FOR 3 SEASONS:Our Sleeping Bags can be used for 3 seasons.They are designed for 10~20 Degrees Celsius. Moreover, these bags also have a weather-resistant design to keep you warm even in extreme conditions and prevent you from any dampness
If you make a purchase, you support Hi-van.com by allowing us to earn an affiliate commission (no added cost for you).
If the temperatures are very low, consider using a sleeping bag. You can get the Oaskys Camping Sleeping Bag (available on Amazon.com), which is suitable for use in all seasons. It's also breathable and waterproof.
You can get a kid sleeping bag for the kids such as the Idea Nuova Jojo SiwaSleeping Bag (available on Amazon.com). It has adorable graphics that kids love and is very lightweight compared to adults sleeping bags.
Wear warm clothes such as gloves and socks if you still feel cold when sleeping and covering yourself. If you plan to be sleeping in your minivan frequently, consider insulating its walls. You also might consider getting a few battery-powered heaters that use rechargeable batteries, especially if you're going to be in a very cold climate.
Or, if you can't find those, you could get a portable generator and a small electric heater to use in your minivan.
---
4. Ensure That You Are Safe
Whether you're spending the night in a park or a store parking lot, you have to make sure that you and your family are safe. Always ensure all the doors are locked, and let the minivan face the exit just in case a need to leave quickly arises.
Covering the windows also keeps intruders away and gives you privacy. To cover them, you can use a window covering that has suction cups.
The DREAM ART Portable Blackout Curtain (available on Amazon.com) is one of the best window coverings you can get, as it's easy to install and comes in different sizes, where you can choose a suitable size according to your needs.
---
Extra Tips for Sleeping in a Minivan
Don't leave the engine running and windows closed as you sleep. This could lead to you inhaling carbon monoxide, which can cause death, through carbon monoxide poisoning. Leaving the car running can also cause other problems such as the battery car dying and running out of gas.
Park your minivan near a bathroom and head there before sleeping. You don't want to wake up in the middle of the night to look for a bathroom.
It's always good to text someone and tell them where you've parked your car.
Know what time people living near where you park your van normally wake up. This prevents inconveniences when you are trying to catch some sleep and people are moving around.
Related Articles:
How Cold is Too Cold to Sleep in a Van?
Is It Safe to Sleep in a Car With the Engine Off?
Should You Turn Your Car Off While Sleeping?
---
Conclusion
Sleeping in a minivan with your family can be fun and challenging at the same time. To make sure nothing goes wrong and that everyone sleeps comfortably, get a safe place to park, have the necessary beddings, and regulate the temperatures in your van. 
You might love the experience and want to enjoy it more times in the future when everything runs smoothly the first time.