Hi-van is supported by its audience. When you purchase using our links, we may earn an affiliate commission (no added cost to you). Learn more
If you're getting ready to set out on the road in your brand new, decked-out camper van, insurance policies are probably the last thing on your mind. There's a whole world of excitement and adventure just waiting to be explored, but there's also a lot of risks. Picking the right insurance provider and policy can help you live stress-free whenever you're on the road.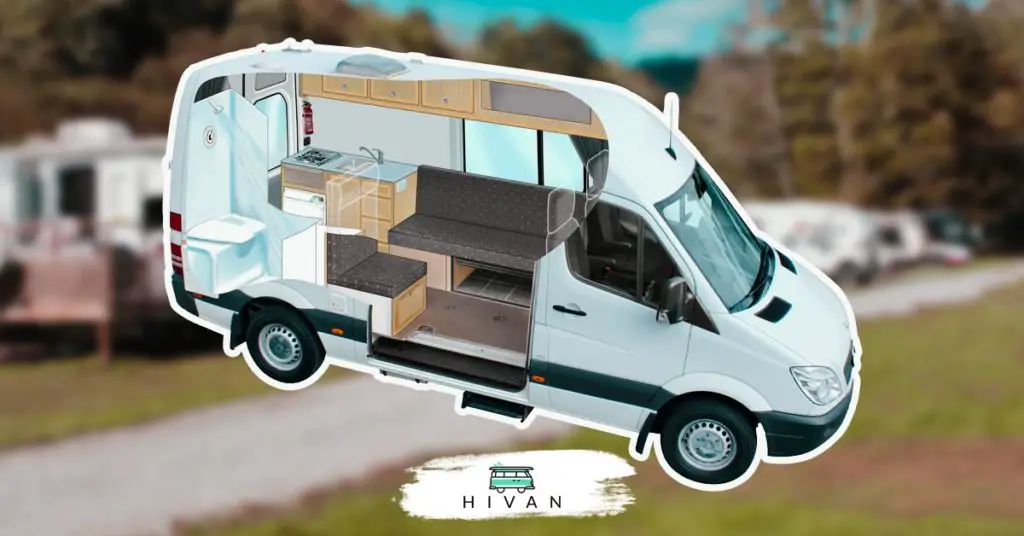 Insurance coverage for a van conversion can range from as low as $125 up to $1,000 per year, depending on a number of factors. The state or locale of registration, type of insurance plan, vehicle mileage, and many other factors are all taken into price consideration. 
Insurance is notoriously tricky, so it's important to learn the language and details of the policies before you choose. This will help you to get on the road with the confidence you need to have a great trip. Read on for more information about the different kinds of insurance policies available for camper vans.
---
What Is a Camper Van?
A class B residential vehicle, also known as a camper van or converted van, consists of a cargo van that has been converted into compact living quarters. Camper vans can range in price from a $10,000 DIY project to a $120,000 luxurious suite on wheels, according to GoDownSize. 
The downside of driving around the world in a camper van is the risk of living on the road. 
Van lifers are exposed to a variety of risks by nature of their mobility. Aside from car wrecks, van living puts you at a greater risk of being robbed, exposes you to more natural dangers such as weather and temperature. 
Keeping up with all the risks associated with van living is mentally exhausting and can ruin your vacation. In order to establish peace of mind on the road, it is important for van lifers to choose an insurance coverage 
---
The Types Of Insurance Policies That Cover Van Living
Given the complexity of liability insurance, it might be necessary to purchase multiple insurance plans. Given the complexity of the outdoors, no insurance plan can ever cover everything. Therefore, some van lifers choose to purchase additional plans, eating the cost of the overlap in exchange for better coverage. 
Here are a few types of insurance plans which can help you, your loved ones, and your possessions safely be covered while you travel, as presented by Progressive:
Umbrella insurance policies: These are generally wide covering insurance policies, designed to protect against the most common accidents and inevitabilities on the road. This will usually cover comprehensive collision insurance. 
Collision insurance: Accidents will happen on the road, and the risk of living freely in your van life is that other drivers may collide with your camper. Collision insurance can help mitigate the cost of getting you either back home or back on the road in the unfortunate case of a totaled van. 
Theft and damages insurance: Living in a campsite or RV park means you're at a higher risk of being robbed. 
Pet injury insurance: If you're traveling with a furry companion, pet insurance allows you to prepare financially for an emergency trip to the vet. Life on the road can be dangerous for animals. 
Is Insurance Necessary for Van Life?
Hitting the road uninsured may seem to fit with the Bohemian lifestyle, but it can bring a sudden end to the trip. Police evictions are a relatively typical occurrence in life on the road, according to The Wayward Home. 
Insurance is necessary for van life, as it is required to legally drive a class B camper van. Some van lifers choose to cover their camper using only standard auto insurance, which costs roughly $50 per month.
Additional insurance plans or packages can be added by working with your insurance agent to make sure you've covered your vitals and valuables.
Find this content useful 🙂 ?
Subscribe to our Newsletter and get a free electric diagram + shopping list.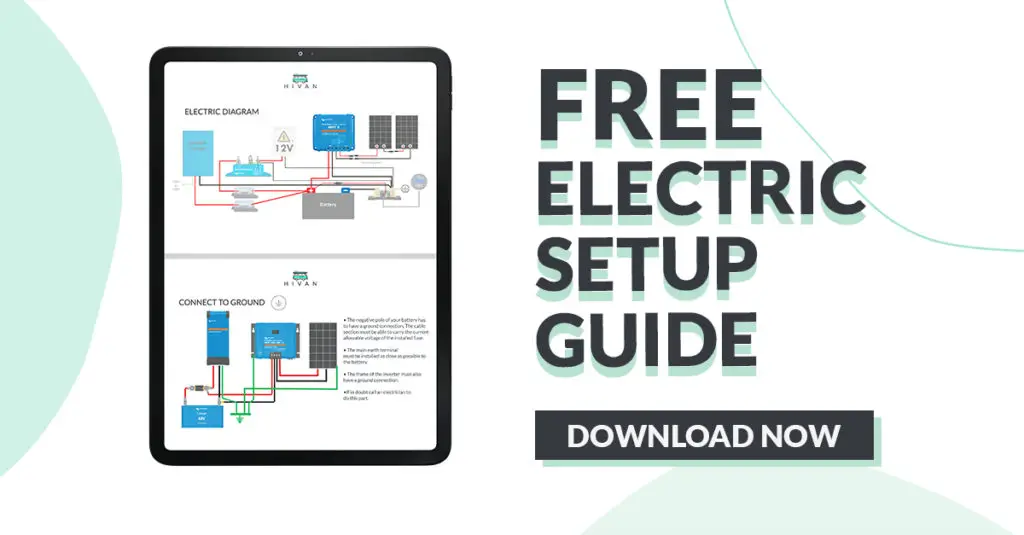 Camper Vans Can Be Covered Under Standard Auto Insurance
Depending on the size of the specific vehicle, some camper vans can be insured with standard automobile insurance. This puts the cost at roughly $600 per year, depending on the other factors besides the vehicle. 
A camper van is usually a cargo van that has been converted into a residential space, which makes it a class B vehicle. Depending on the size and specifications of the vehicle, van lifers may be able to cover their camper van needs with traditional auto insurance. 
If the vehicle is between 17-19' (5.18-5.79 m), it is considered a Class B RV. If the camper has been converted from a smaller vehicle, it can be driven with standard auto insurance. 
What Is Liability Insurance?
Liability insurance, different from auto insurance, protects against damage caused while on the road. This covers against damage caused by hitting another vehicle, causing bodily injury to others. Liability insurance is also defensive against lawsuits and liability claims from visitors.
In essence, liability insurance financially prepares van lifers to take responsibility for accidents and mistakes on the road. While liability insurance can be helpful in case of an emergency, it's not unlimited. 
Liability Premium Limits
Most insurance carriers will have a preset liability insurance limit. This number is decided between the customer and agent when the insurance policy is bought. 
Premium limits are typically formatted in an x/x/x structure. 
Using an example provided by Trusted Choice, a liability policy with a set limit of 30/60/15, the insurance provider will provide up to $30k for an individual's bodily injury, $60k for bodily damage done to multiple people, and $15k for damage done to any property. 
---
Find a Reputable Insurance Provider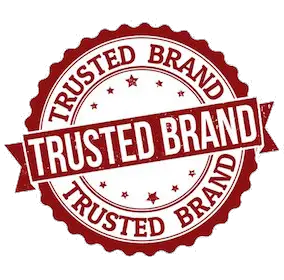 Finding a reliable and well-reviewed insurance provider is essential to your peace of mind on the road. Check out what others have to say about any insurance provider, agent or plan prior to making a decision.  
Resources such as this list from Trusted Choice can help to provide more information and reliable resources to help put you in touch with the right insurance provider for your camper van. 
How To Quote Van Insurance Policies Online
It's important to understand and use the right vocabulary when you're working with an insurance agent to pick an insurance plan. If you're getting an insurance quote online, there are a few key topics that will help your insurance agent to find the right plan for you.
Make sure your new insurance provider is aware of your previous/current insurance policy. Some providers, such as Progressive, offer reduced rates for multiple policy insurance plans. 
Know the value of your camper van. The cost of insurance will naturally vary depending on the age, quality, and condition of the vehicle. 
Choose a plan based on the specifics of your needs, plans, and belongings. 
---
The Cost Of Cargo Van Insurance
If your van is utilized for your business in order to transfer freight or equipment, the insurance will look a little different than that for camper vans. Given the difference in nature and frequency of usage, insurance companies may have different policies for cargo versus camper vans. 
As a general rule, cargo vans are cheaper to insure than camper vans. This is partially due to the fact that cargo vans are more commonly purchased and insured in fleets, allowing for "bulk price" discounts to apply to both the vans and their insurance. 
Why Cargo Vans Need Insurance
Cargo vans, like any other vehicle, are always at risk on the road. 
Unlike other vehicles, which will typically only transport people and carry-on luggage, cargo vans are responsible for transporting products and equipment. 
The presence of cargo not only increases the at-risk value of the vehicle but also makes it a target for theft. As personal defense cannot be cited as an insurance policy, outside protection from a reliable insurance provider becomes even more crucial. 
---
Non-Policy Ways To Protect Your Van and Van Life
The rules of the road do a lot to keep travelers safe, and insurance can help to cover your bases when the unexpected arises. However, there are a few other things you can do on a regular basis to keep your van running smoothly, as well as your job or vacation. 
Regular Maintenance of Your Van
Keeping the van in good running shape, whether it's for cargo or camping, requires regular maintenance. Taking your van in for regular tune-ups, or doing it yourself if the right tools and skillset, can be a way to avoid paying high premiums for vehicle repairs on the road.
While regular maintenance won't do anything to protect your liability, it will decrease the likelihood of having a mechanical malfunction while you're on the road. 
Drive Safely
It's always important to be aware of the road. 
If you're used to driving a passenger car, the additional size and berth of a camper van may require some adjustment. The long driving hours, either tooling a cargo van around or facing down long stretches of highway in your camper, can make it easy to lose focus. 
If you're behind the wheel of a large van, it's important to familiarize yourself with the vehicle's blind spots, mirrors, and turn radius. Fortunately, many modern campers come equipped with backup cameras or sensors to help drivers navigate a larger vehicle. 
Don't Let Your Teenagers Drive the Family Van
If you're on a family road trip or vacation, it may be tempting for both parents and kids to allow children the chance to drive the van. Whether it is to keep on schedule or just around the campsite to amuse the children, the presence of teenage drivers will undoubtedly increase the insurance rate. 
Be Theft-Aware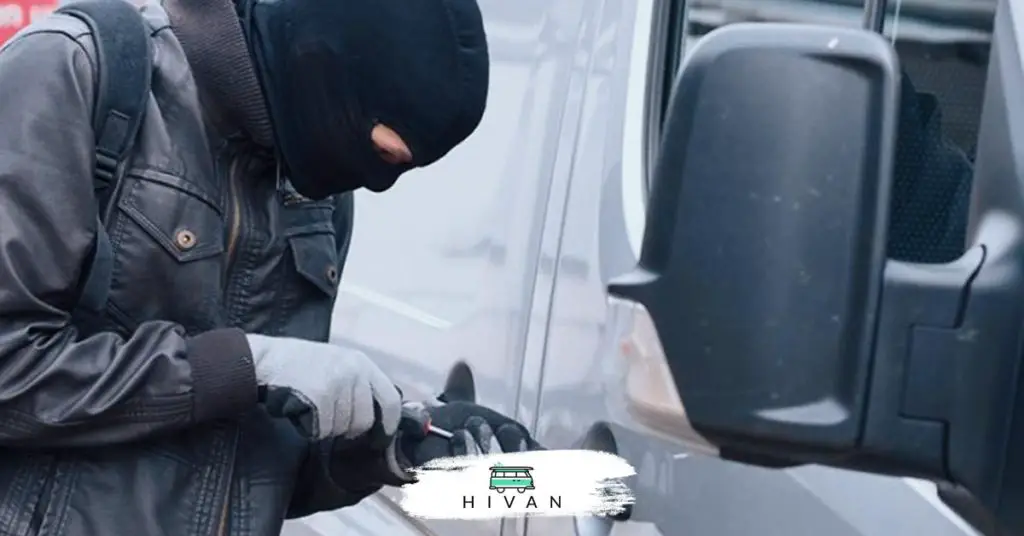 People steal from people. Wildlife also steals from people. Knowing this shouldn't stop you from setting out on your adventure, but there are a few things you can do to protect yourself and your belongings. 
Never leave the doors of your camper open if you're not immediately present. 
Avoid leaving bags, medkits, food, or valuables in visible places. This means outside your camper at the site as well as inside the cab. 
Avoid parking in isolated areas for long periods of time.
Related Article:
– Are Pop-Up Campers Easy to Break Into?
Know the Risks
If you're living on the road, or if your work requires you to drive a van on a regular basis, there's no accounting for what may happen. If you're living and traveling in a converted van, here are some of the risks that are more common:
Breakdowns: Just like any vehicle, camper vans are liable to break down, especially if they're used frequently. Camper vans are built to withstand the elements and highways, but breakdowns still can and will happen. 
Gas and water freeze: If you're camping outdoors in sub-zero climates, the water and gas can freeze, which can cause serious damage to the van if not kept in check.  
Police eviction: If you're living in your van full time, you may have some encounters with police, according to The Wayward Home. 
Power loss: If you're running on solar energy, it is possible to get caught without power. Make sure your campsite has plenty of natural light and keep an eye on your energy levels. 
Having an awareness of what can happen to you while you're on the road is important to know which insurance policies you'll need. 
If you're insuring your van before a big trip, be sure to speak with your insurance agent about what kind of plans you have for the van. This will help your agent find the right policy or package for your needs. 
---
Conclusion
Insuring your van is an essential step to the safety of yourself and your passengers. Choosing the right insurance or combination of insurance plans will set you up to drive worry-free, or as worry-free as possible on the road.
While no amount of insurance can protect you or the van from the unexpected, finding an insurance plan based on the specifics of your van will prepare you against the worst. 
Outside of insurance plans, it's crucial to keep your mind and eyes on the road.