Hi-van is supported by its audience. When you purchase using our links, we may earn an affiliate commission (no added cost to you). Learn more
Although social media tends to highlight the pros of living on the road, there are certainly less glamorous parts of van life you won't see on Instagram. While you can still catch plenty of beautiful sunsets from your home on wheels, you will need to be prepared for the less exciting day-to-day tasks as well. 
Before beginning your life on the road, consider these 6 important realities of van life: 
Emergency repairs
How much dirt your van accumulates.
Storage challenges
Waste, water, and dumping
It can get boring
Vanlife can get expensive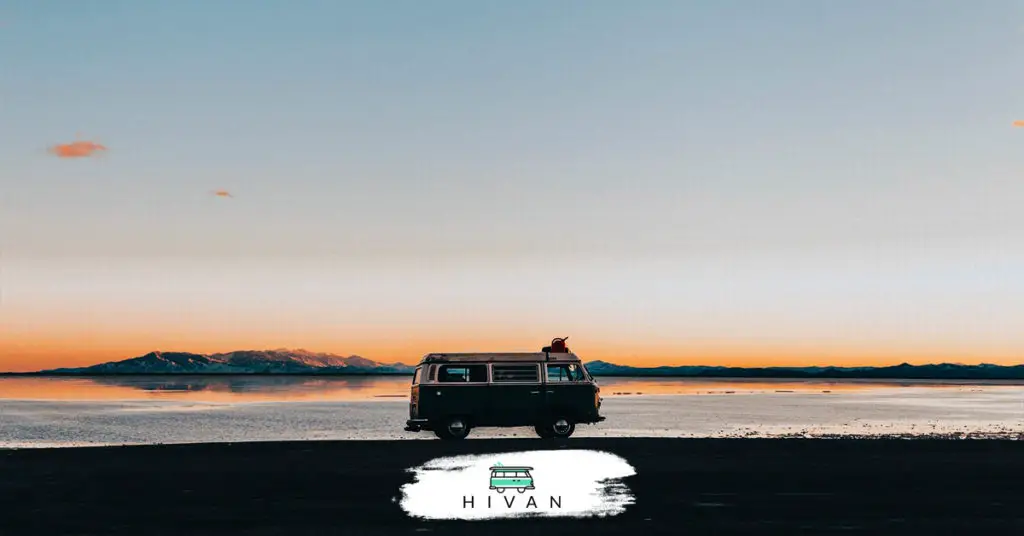 In the rest of this article, we will take a closer look at these four realities of van life. We will see some solutions and suggestions from experienced van lifers in order to be as prepared as possible for the ups and downs of life on the road. 
---
1. Emergency Repairs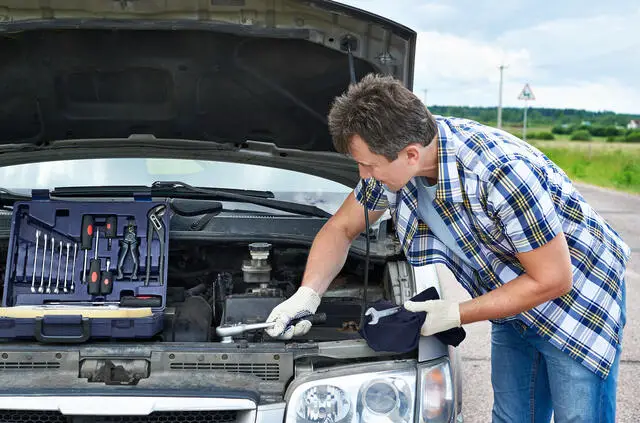 It's certainly inconvenient enough when your van requires emergency repairs. However, one thing that may not have occurred to new van lifers is that not every mechanic can work on your particular vehicle. 
Vans tend to be taller and need a higher clearance. 
Some mechanics can accommodate these larger vehicles in their repair shops, but not all. This can make unexpectedly finding a mechanic for an emergency repair a bit of a challenge. You may also end up without much choice in payment if there are no other options in the area. 
It can also be a challenge if your van needs to stay in the shop longer than expected. 
If you're on the road and the mechanic needs to wait days for a part to arrive, you may be stuck in a less than glamorous situation with your home stuck in the shop. It may require you to find another accommodation, which adds some unexpected expenses to your usual budget.
Here's a good article from Vanlifecustoms that explains everything you need to know to correctly insure your vehicle.
Find this content useful 🙂 ?
Subscribe to our Newsletter and get a free Solar Electric Diagram + shopping list.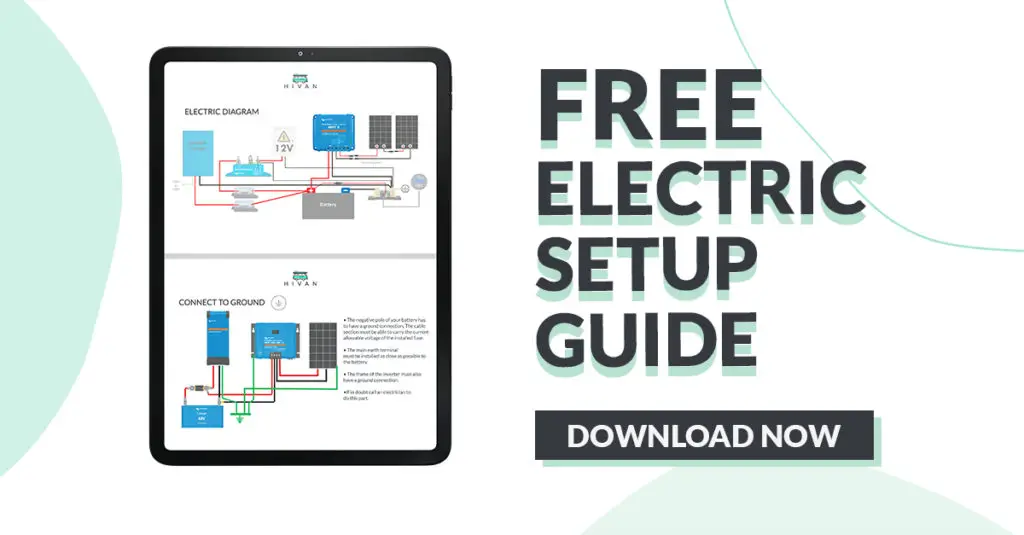 2. How Much Dirt Your Van Accumulates
Social media will show vans parked in picturesque nature scenes with the perfect sunset in the background. What these posts don't tend to show is the amount of dirt that gets tracked back into the van after being out in nature. 
Whether it be an all-day hike or just stepping outside of the van for a moment, it is easy to bring a bit of dirt back in the van accidentally.
Dogs are another popular part of van life, but these companions can also make it more challenging to keep the van clean. Usually, the more fun your dog is having, the more dirt and grime they might be bringing back inside the van.  
Depending on your tolerance for dirt and mess, you might find yourself having to clean your van daily or every other day. Even if you're parked on the pavement and not walking through dirt during the day, food from cooking or other bits of dust and dirt can easily make its way onto the floor or other surfaces. 
One way to keep your van tidy and free from dirt is to carry a Dyson Vacuum Cleaner with you in your van. Available on Amazon.com, it is cordless and can fit in small spaces, so storage is not a problem. It's an expensive investment but you'll save hours of cleaning and Dyson is a reputable brand. I owned several different vacuum cleaners before buying one from Dyson, and I can tell you they don't come even close to Dyson's quality and power.
Dyson V11 Torque Drive Cordless
Twice the suction of any cordless vacuum.

Scientifically proven to capture particles as small as allergens and bacteria.

Up to 60 minutes of run time.
If you make a purchase, you support Hi-van.com by allowing us to earn an affiliate commission (no added cost for you).
Because your van is a small space, all of this debris can add up more quickly than it seems to in a house or apartment. 
The same is true for dirty dishes or trash and recycling to take out. Because your space is smaller, you won't be able to put off these tasks the way you could in an apartment with a large sink or a house with large trash bins. 
---
3. Storage Challenges
While it's not a surprise that storage can be a challenge in a van, this can apply in some more unexpected ways. One of these ways is in terms of food storage. 
Many people who convert a van opt for a mini-fridge to save on space. 
While a mini-fridge is a handy appliance, it is probably smaller than most people are used to if they are transitioning to van life from a traditional living situation. This can make grocery shopping a bit more tricky since there is not much space to store refrigerated goods.
This lack of fridge space may mean visiting the grocery store more often than you're used to. 
While this can be great for finding fresh produce and eating healthy, it can be an inconvenience if you're looking to get out into nature and far away from supermarkets and more developed areas. 
If you want to include a mini-fridge in your van kitchen, I recommend the Techomey Mini-fridge with Lock from Amazon.com. The silent running fridge will be a welcome addition to your van, especially at night when you're trying to sleep.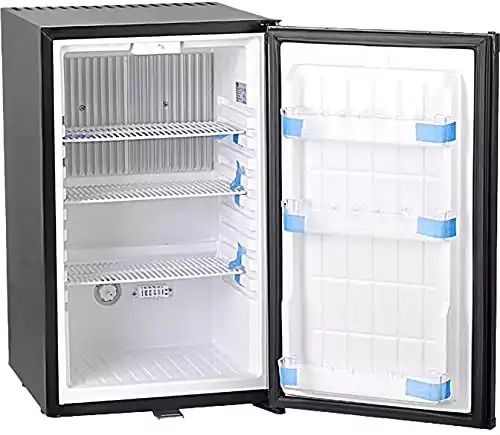 If you make a purchase, you support Hi-van.com by allowing us to earn an affiliate commission (no added cost for you).
To see a pair of van lifers describing their storage challenges and possible solutions, you can check out this video on Youtube by Nomadic Millennials:
---
4. Waste, Water, and Dumping
If you have a toilet in your van, you're going to have to deal with the contents inside. This is certainly not something that makes it onto Instagram posts but is an absolute necessity of life on the road.
There are a few different kinds of toilets that van lifers can choose from. 
Some choose not to have a toilet at all, preferring to use public bathrooms or to go outside when appropriate. For those who want their own toilet, the two top choices are composting toilets or campervan toilets.
Composting toilets separate the two main types of bathroom waste, and you dump each of them separately. Because composting materials are used alongside the two types of waste, this kind of toilet is not quite as difficult or disgusting to dump as a campervan toilet.
If you're interested in a quality composting toilet, you can check out this Self Contained Composting Toilet by Nature's Head on Amazon. It comes with a five-year warranty and is guaranteed to emit no odors. 
A campervan toilet is essentially a porta-potty, and you will need to find an appropriate dump site when it gets full. This can certainly be a gross, challenging but essential part of van life. 
If you're looking for a good porta-potty that won't require a large upfront investment, consider the Thetford 92860 Porta Potty on Amazon. 
Additionally, you will need to refill your water tank as well as safely dump out your used water. If you have a shower in your van, this task will need to be done more frequently than if not.
---
5. It Can Get Boring
Van life can sometimes feel like sitting around in a waiting room, with days in between adventures that can get dull.
Depending on where you're parked, there may not be much to do in the surrounding area. Small towns or rural areas may not have many attractions or activities, leaving you with little to do.
To stave off boredom during van life include taking up a new hobby like painting, playing an instrument, or learning a new language. Exploring nearby towns or hiking trails, trying new recipes, or even just taking a nap can also be a good way to pass the time.
You could also start a side hustle like creating a blog, podcast, or Youtube channel. And if these creative activities don't match for you, you can also engage with other van lifers on social media or Facebook groups.

Bad weather can also make van life challenging, with precipitation sometimes forcing van dwellers to stay inside.
Activities like board games, crossword puzzles, or even just watching a movie can help make the day more enjoyable. Additionally, investing in a portable generator or solar panels can provide power for electronics like laptops or tablets, allowing for more entertainment options during rainy days.
Renogy 200 Watt 12 Volt Solar Premium Kit
The Renogy 200W 12V Premium Kit uses our most efficient products to boost your off-grid system to its highest potential. This kit includes the new 100W Mono Solar Panel x2 which is not only sleek in size, weight, and color but are made of the highest efficiency solar cells that Renogy has to offer.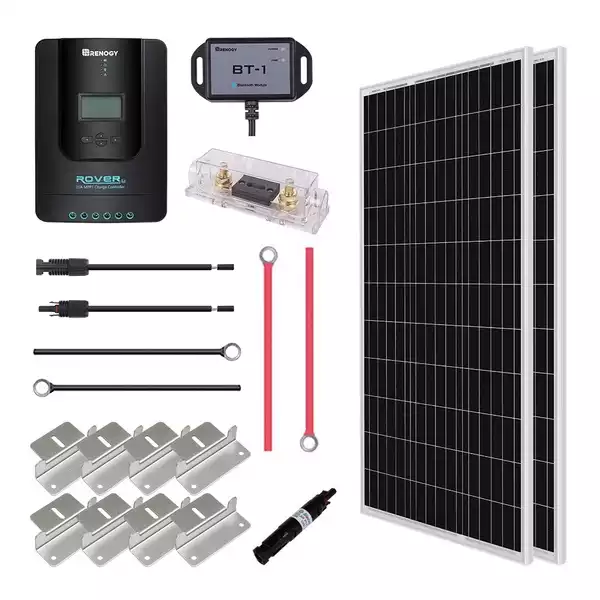 If you make a purchase, you support Hi-van.com by allowing us to earn an affiliate commission (no added cost for you).
---
6. Vanlife Can Be Expensive
Related Guides:
– How Much Does Van Life Cost Per Month? Full Breakdown
– How Much Does It Cost to Travel the US in a Van?
– How Much Does Insurance Cost for a Van Conversion?
Vanlife can be expensive for a number of reasons. Here are a few:
The cost of the van: The first expense is the van itself. Depending on the size, age, and condition of the van, it can cost anywhere from a few thousand dollars to tens of thousands of dollars.
Conversion costs: Converting a van into a livable space can also be expensive. This includes costs for insulation, flooring, electrical and plumbing systems, and furniture.
Maintenance and repairs: Vans require regular maintenance and repairs, just like any other vehicle. This can include oil changes, tire rotations, and other routine maintenance tasks, as well as unexpected repairs that can be costly.
Gas and other travel expenses: Since van life involves a lot of travel, gas and other travel expenses can add up quickly. This includes costs for food, lodging, and entertainment while on the road.
Insurance: Van life requires specialized insurance, which can be more expensive than traditional car insurance.
Upgrades and customization: Many van dwellers choose to upgrade and customize their vans over time, which can be an additional expense.
Personal tips: A water filtration system like the LifeStraw Personal Water Filter and a portable shower like can both help you save money on the road. These products can help you save money on water and hygiene expenses while living the van life.
Lastly, as Jake shares in his YouTube video, it is important to stay smart and vigilant while living on the road as you never know what could happen.