Hi-van is supported by its audience. When you purchase using our links, we may earn an affiliate commission (no added cost to you). Learn more
Many people now opt for frequent camping trips or living full-time from their van, which they revamp to be a portable household with all their needs. One of the most important parts of customizing your van-home is including a kitchen so that you can nourish yourself on the go. With limited space inside your van, it might be more beneficial to your tiny living space to have an outside kitchen.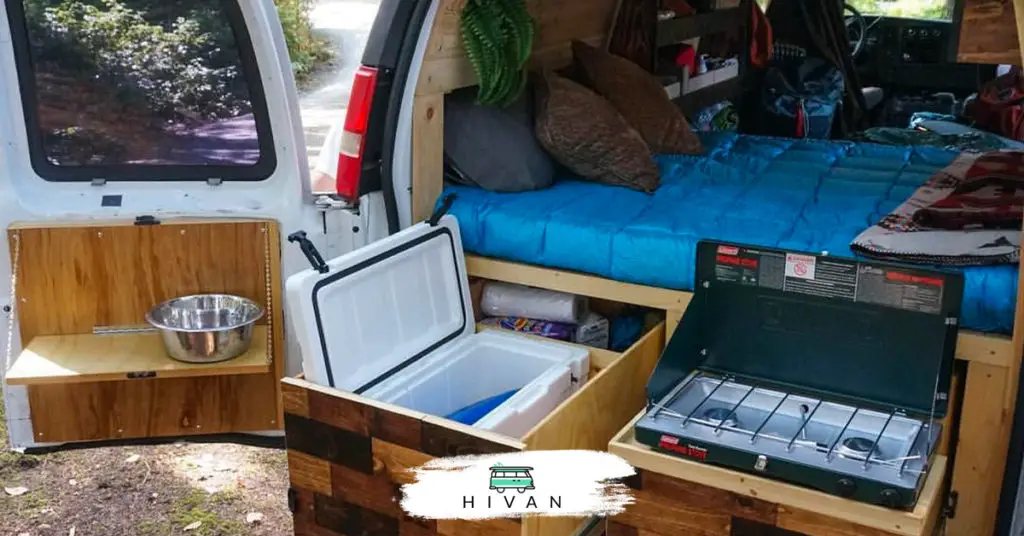 Here are the best camper van outside kitchen ideas:
Slide-out side door kitchen
Slide-out trunk kitchen
Portable stovetop and grills
Trunk kitchen
Side door kitchen
Each option is fun and easy to cook outdoors with. They'll take your outside kitchen to the next level. So let's take a look at how these different kitchen ideas will save you ample room in your camper van and prepare you for Van Life. 
1. Slide-Out Side Door Kitchen
A slide-out side door kitchen is perfect for saving room in your camper van. It's built on the sidewalls of your camper but on tracks that allow it to slide out so you can cook outdoors without hitting your head or running into things.
The slide-out model can be both horizontal or vertical. 
However, if it slides out horizontally, it may allow more room for storage and other things in your camper and will traditionally slide out of your side doors. You can also include storage options like drawers and cabinets to ensure the kitchen is personalized to you and your needs.
Your slide-out kitchen can hold all the necessities of a standard kitchen, making van life easier for everyone. You can include a microwave, stovetop, storage, and more, as it can be completely customized to your needs. 
Since it slides out, you are able to cook outside, which makes it safer as far as fire hazards go. 
However, if the weather is bad, you can also leave it slid into your van. Just make sure there are plenty of open windows and doors for proper ventilation. 
How To Build a Slide-Out Kitchen
The most important part of a slide-out kitchen is the tracks. Make sure you invest in sturdy, heavy-duty tracks so your kitchen can slide in and out of your van seamlessly, as well as support the heavy cabinets and kitchen supplies. 
These tracks or drawer runners can be purchased at hardware stores or Amazon.com, such as the SHUHANG Heavy Duty Drawer Slides. These drawer slides are made from high-quality cold-rolled steel which can hold a maximum capacity of 150 lb (68.04 kg). 
It's also necessary to get drawer runners for any cabinets and drawers you may install. 
You also need to invest in quality materials, like wood and a kitchen counter. Both the cabinets and counter can be custom cut from materials like birch plywood since everyone's kitchen will be different. 
Birch Plywood, such as the Woodpeckers Birch Plywood, is available on Amazon.com, or you can check on your nearest hardware stores for availability. 
This product is perfect for wood burning, laser, and CNC cutting. Be sure to get enough for your project and something to cut it with as well. You might want to enlist the help of a professional for this part, as well as installation. 
These slide-out kitchens may also have additional features such as a sink or additional counter space that collapses when it's not in use. This allows more room in the van while on the move and more freedom to cook while stationary. 
For this feature, you'll want to invest in quality hinges that won't rust or break such as the Amazon Basics Door Hinges (available on Amazon.com). These hinges have durable steel construction with detailed instructions included for easy installation. 
2. Slide-Out Trunk Kitchen
The slide-out trunk kitchen is very similar to the slide-out side door kitchen, except it slides out of your trunk rather than your side doors. 
This model might be more efficient for saving space since you can section off the width of the back of your van solely for this model. This means you won't have a giant wooden fixture taking up room in the middle of your van. 
With that being said, this fixture is built across the back of the van and pulls out parallel to the trunk.  
This model is also very customizable and can have additional features built on, such as collapsible counters and a sink. Like the slide-out side door kitchen, you'll want to include plenty of cabinets for storage and make sure it's on heavy-duty tracks or drawer runners.
This model is great because you can cook outside and have plenty of open space while doing so. However, unlike the side model, if the weather isn't good, you don't really have the option to stay inside to cook. 
How To Build a Slide-Out Trunk Kitchen
The steps to build this kitchen are almost identical to the process to create the slide-out side door kitchen, which is listed above. 
You'll want to invest in quality and heavy-duty materials like hinges, drawer slides, and sturdy wood to build the fixture.
Since kitchens are so important and can be potentially dangerous, it may be ideal to enlist the help of a professional for building and doing any wiring or plumbing. The last thing you'd want is for something to break or malfunction while cooking on the go. 
3. Portable Stovetop and Grills
The easiest way to cook from anywhere, especially outside in your camper van, is by investing in a portable stovetop. These can be used on top of a slide-out kitchen or any other flat surface. 
It's perfect for homestyle cooking on the go, without needed sticks and fire.
You can cook almost anything on a portable stove, making it the most space-friendly option for your camper van. As long as you have pans and utensils, a portable stovetop can cook eggs, meats, veggies, pasta, and more to ensure you're eating balanced home-cooked meals during your camping trip. 
You can get portable stovetops with gas or electric options, or you can buy those with one or two stovetops, depending on your needs. If you have more people on your camping adventures, it might be helpful to have two stovetops. 
Also along the lines of portable stoves are portable grills, which allow you to cook outdoors and prepare meals for your adventures. If you're going to use a portable grill or stove, make sure you have proper ventilation. 
The use of portable stoves and grills shows how advanced the camping world has become.
The Best Portable Stove Tops and Grills
If you're going to opt for a portable stove instead of, or alongside, your camper van kitchen, you want to make sure you're picking a reliable option. 
Here are some of the best portable stoves and grills available on Amazon.com: 
GIVENEU Electric Burner: This is an ideal double plate option for cooking out of your camper van. It's electric, so you'll need to have sufficient power coming with you solar system. There are two separate plates, and both can cook with iron, ceramic, aluminum, and more. With over 100 nearly 5-star reviews, it's a good investment for your outdoor kitchen.
Elite Gourmet Electric Hot Burner: This is a great option for a single stovetop option. It's small and compact, meaning you can easily store it away after it has cooled down. It has 1000 watts of power so it can cook quickly and efficiently. At less than $20 and nearly 5-stars, it's an excellent purchase for cooking on the go and on a budget.
Cuisinart Propane Tabletop Grill: Thi is a fair investment if you opt for a portable grill. It can fit on a pull-out kitchen counter, at a picnic table, or any other surface you may decide to cook outside on. It features fast assembly, two stainless steel burners, and heat control options. It's also available at different price points. Make sure to use this in an open area outside where there's no risk for a fire to spread. 
4. Trunk Kitchen
The trunk kitchen model is similar to the slide-out trunk model, except it doesn't slide out. 
The counter and all cooking attachments are built alongside the back of the camper van facing the trunk door. When you open the trunk, your kitchen is there and ready to be used. 
Trunk-style kitchens are very popular in camper vans because it's efficient in space and convenience. Once you open the back doors, there's room to stand outside, cook your meals, wash dishes, and prepare food. 
The trunk kitchen is also preferable for smaller camper vans as it takes up very little room. If the weather is poor, you're limited to outside-only use. However, it's easy to attach cabinets, an oven, and more since there's more room to open doors and drawers.
Similar to other outdoor kitchen models we discussed, you can also build attachments that pull out and collapse to optimize counter space for preparing meals. 
How To Build a Trunk Kitchen
Building a trunk kitchen is easy when you have suitable materials. You'll want hinges, good plywood, knobs, and any other accessories you desire to customize your kitchen. Again, it may be useful to enlist the help of a professional if you're not used to building or hardware. 
The most important thing to do is to invest in quality wood so you can build the base of your project.
You can get good wood such as the Woodpecker's Birch Plywood, available on Amazon.com. This wood has good reviews at a reasonable price, and it's about 13 lbs (5.90 kg) with an average rating of 4.6 stars. 
You can even use a wood stain such as the Minwax PolyShades Stain, found on Amazon.com, to customize the wood color for your design preference. This stain comes in various colors and finishes, so you can order what fits your design ideas. 
It comes in different sizes as well, so you can get different amounts depending on your kitchen size.
You'll also want a sink, cabinets, an oven, or a portable stovetop so you can cook complete meals in your outdoor kitchen. These supplies can be bought at hardware stores or inserted by professionals. 
5. Side Door Kitchen
This may be the most unique option of outdoor kitchens for your camper van. The side door model is built attached to your side doors, so when you open your doors, you have a double-sided kitchen with a fixture on each entry. 
This setup allows more counter space and room to move around. It also utilizes space the most efficiently since it's built attached to the side doors. 
It's essential to keep in mind that this model will only work on a van that has opening side doors, as a camper van with sliding doors won't be able to use this model. The side door kitchen also needs to be secured properly so that your supplies don't slide and fall when the doors close. 
A good idea for this issue would be to attach child safety locks to any cabinets and drawers so they won't open or slide while the camper van is moving. 
This model is so appealing due to its uniqueness and the amount of personalization that can be done. You can insert more features, more cabinets, collapsible counter space, and ultimately have the most room for an outdoor kitchen. 
You get two separate counters to work with, making cooking on the road even more effortless. 
How To Build a Side Door Kitchen
For this model, I would recommend enlisting the help of a professional since this isn't a standard build. You'll need to make sure your cabinet fixtures are entirely secured to the side doors and make sure the fixtures aren't too heavy for the doors.
Besides securing the fixtures, building this model is similar to the other models we discussed. You'll need wood, hinges, drawer runners, a sink, a stove, and anything else you desire to make the kitchen work for you and your on-the-go lifestyle. 
All of these supplies and more kitchen accessories can be found in hardware stores or sites like Amazon.com. In no time, you'll have your dream camper van outdoor kitchen!