Hi-van is supported by its audience. When you purchase using our links, we may earn an affiliate commission (no added cost to you). Learn more
Living in a car can provide shelter and warmth, but things get tricky when preparing food. The good news is that there are several cooking methods to choose from if you live in your car, and you can pick one that is most suited to you.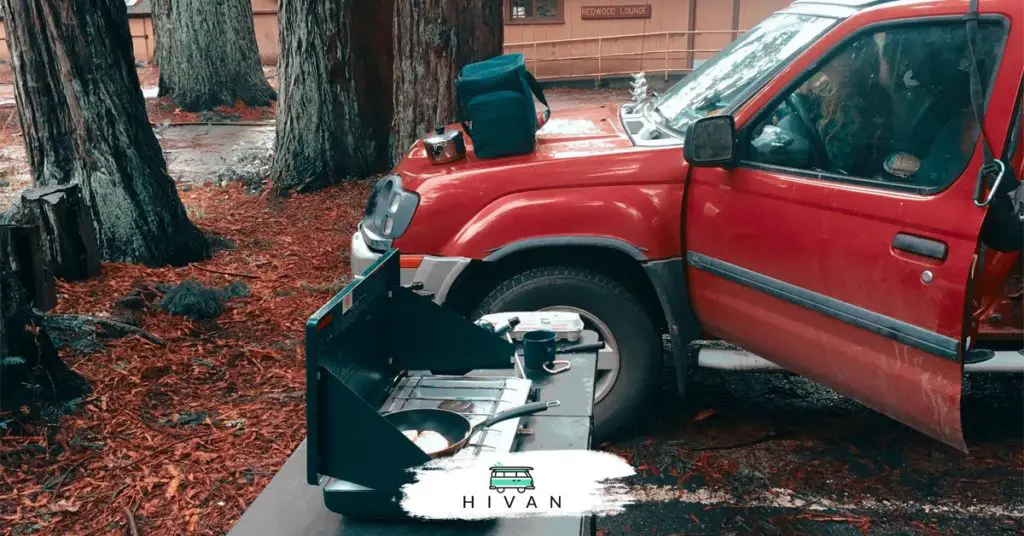 Below are seven effective ways to cook while living in a car:
Try the engine heat method.
Use the car's exterior surface if parking in a hot location.
Try slow cooking inside your car.
Buy plug-in cooking appliances for cars.
Invest in stand-alone cooking appliances.
Try the no-heat cooking method.
Use a gas station's microwave.
To learn more about how to cook while living in a car, read on.
---
1. Try the Engine Heat Method
You have a built-in oven right in your car's engine after driving around for ten minutes or more. 
Car engines generate a significant amount of heat during and after driving, making them excellent cooking devices. 
It is best to use the engine heat method while driving, and most engine-made dishes take around half an hour to cook. This, therefore, requires you to spend a little money on gas, as well as food. 
If you can afford this, you can enjoy a delicious meal by wrapping your food of choice in heavy-duty aluminum foil. 
You should always turn your engine off before placing food inside or removing food, as there are hidden, moving parts that could injure your hands.
Ensure that your food is well-sealed in the foil as any spillages could damage your engine. 
You need to be sure that your food won't fall out of the engine while driving around. Select a snug place where your foil food package won't shift around while driving. For added peace of mind, loosely secure your food with some metal wire. 
Placing your food against the hottest part of the engine will ensure optimal cooking. Plastic components typically do not get as hot as metal parts, so quickly tap the metallic areas in your engine briefly with your fingers to find the hottest place.
If you don't want to risk getting your fingers burned, place small amounts of water on each metal part and check which areas sizzle the most. 
Avoid placing your food close to moving engine parts, and do not strain hoses or pipes to accommodate your food as it could tear the foil open. 
When removing your food package from the engine, remember that it will be very hot, so be sure to use tongs or cover your hands with a rag. 
Cooking with the heat from your engine gets better the more you practice. After a few attempts, you will have a good understanding of how long you should cook certain foods. 
---
2. Use the Car's Exterior Surface if Parking in a Hot Location
If you are located in an area with sunny weather, or it is summer, you can quickly cook using one of your car's exterior surfaces, such as the hood or car roof. 
This method is even more effective if your car is a dark color as this absorbs more heat from the sun. 
Cooking using an exterior surface is best done after your car has been parked in direct sunlight for several hours. The hotter the external temperature, the easier and more effective this method is. 
Meguiar's Garage conducted a recent study to measure cars' exterior paint temperature when out in the sun on a typical hot summer's day. 
With an outside air temperature of 85°F (29.44° C), a black car's exterior paint temperature can reach 168°F (75.55°C) after only one hour in the sun.
After the same time, a white car's exterior temperature can reach 110°F (43.33°C), while silver metallic cars can have external temperatures of 154°F (67.77°C). Green vehicles can reach external paint temperatures of 165°F (73.88°C). 
A typical frying pan at low heat has an average temperature of 275°F (135°C). So, if your car is in direct sunlight for a few hours, the hood can easily reach this temperature. 
Using your car's hood or roof for cooking works well for foods that are not too dense, such as eggs, thinly sliced meats, or vegetables. 
The essential items needed to cook on your car's exterior surface are:
Cleaning materials, including a rag, anti-bacterial cleaner, or disinfecting wipes
Cooking grease
A plastic spatula or egg lifter
A knife to thinly slice your food
Eating utensils
After removing any surface dirt from the area you want to cook on, it is best to clean and sanitize the area to prevent bacteria, fungi, or virus particles from entering your food. 
Your car's exterior is continuously exposed to rain, dust, and other dirt, so it's essential to ensure that the cooking surface is clean and sanitary. 
Cars typically have a smooth and slightly slippery exterior, so you need only use minimal cooking oil to prevent your food from sticking. 
How long you cook your food will depend on how hot the surface is. Once the food is cooked through, simply remove it with a plastic spatula or egg lifter.
---
3. Try Slow Cooking Inside Your Car
Slow cooking food inside your car is another excellent method involving very little preparation work and effort. 
It is ideal during the summer when you can park your car in direct sunlight and allow your food to slow cook while you leave your car for a few hours. 
This method will only work effectively if the temperature inside your car is relatively high for at least six hours.
Conventional slow cooking requires food to be cooked at a low to medium temperature for many hours. 
A study was conducted by Action News 5, which evaluated a car's interior temperature on a sunny, 70°F (21.11°C) day. It revealed that the inside of a vehicle would reach 104°F (40°C) after only about half an hour. After this, the temperature will continue to climb gradually. 
If the outside temperature is 80 to 100°F (26.66 to 37.77°C), your car's internal temperature can reach 130 to 172°F(54.44 to 77.77°C), which is more than enough to slow cook food. 
This method involves wrapping your food in heavy-duty aluminum foil and placing it in the area that receives the most direct sunlight. Make sure that you wrap the food well, because when it heats up, juices are produced, which can easily seep into your car's interior and cause a mess. 
Examples of foods you can slow cook in your car include:
Chicken fillets in a marinade of your choice
Fish seasoned with herbs and red peppers
Vegetarian cutlets and finely chopped vegetables
Hamburgers or sausages with onions
Chocolate chip cookies
Seasoned scrambled eggs
Chocolate chip cookies are a surprising food item that can be made in a car. You can purchase raw cookie dough inexpensively from most grocery stores. All you need to do is slice it thinly and place it on a sheet of aluminum foil in direct sunlight for a couple of hours.
Find this content useful 🙂 ?
Subscribe to our Newsletter and get a free Solar Electric Diagram + shopping list.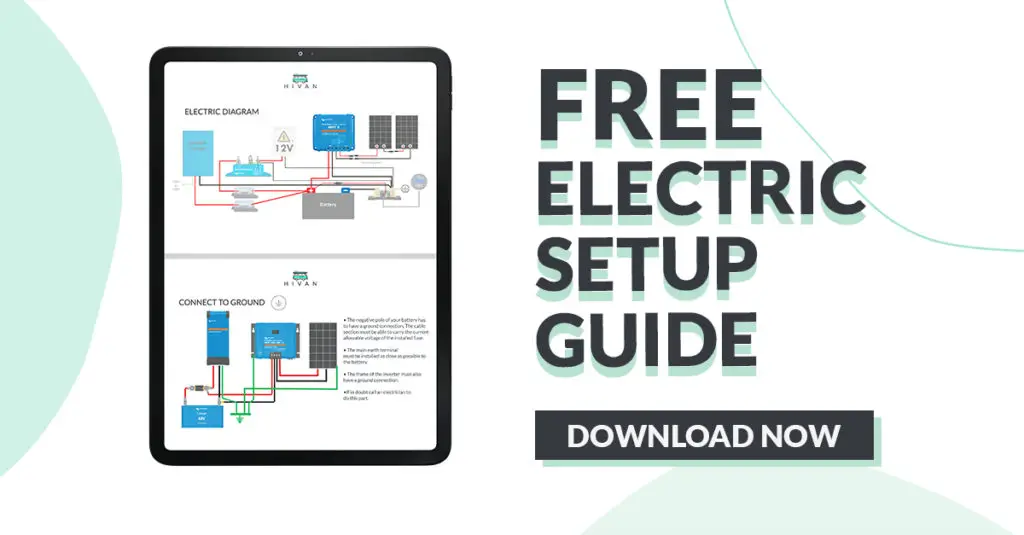 4. Buy Plug-In Cooking Appliances for Cars
Cooking appliances designed for cars work by plugging into your vehicle's 12V cigarette lighter. 
Your ignition needs to be on for the cooking appliance to work, so this may not be the best method if you are trying to save fuel. 
However, if you are happy for your car's ignition to be turned on for about half an hour a day (or you will be driving, anyway), this cooking method could work well for you. 
Many people spend a lot of time on the road, and there is now a wide range of cooking appliances available. 
Popular plug-in cooking appliances for cars include:
Lunch box stove: It is similar in appearance to a cooler box, this appliance warm and reheat food.
Slow cooker: Using a slow cooker in a car is only effective if you plan on driving or having your ignition on for several hours at a time.
Portable stove: It can cook food from scratch or heat up food.
Kettle: Kettles are used mainly to boil water, but a car kettle can also cook instant noodles and rice.
You don't need to buy the above appliances brand new, and many are sold in used goods stores or yard sales at meager prices. You might also want to check out the Freecycle website in your local area to verify if anyone is giving one away for free.
---
5. Invest in Stand-Alone Cooking Appliances
If you don't like the idea of cooking inside or on top of your car, you could always buy a portable cooking appliance that doesn't work on electricity. You can use these appliances outside without messing up the interiors of your car.
You can find these appliances for sale at yard sales, used goods stores, or even for free if someone is giving one away.
Examples of standalone cooking appliances include: 
Pocket Stove 
Pocket stoves are inexpensive and compact, making them ideal if you are living in your car. 
They can cook food items in small pots, pans or mugs, and run on cost-effective, smokeless fuel tablets. 
If you don't have a pot to use with your pocket stove, you could buy an inexpensive tin or porcelain mug from a used goods store or yard sale. 
Gas Camping Stove
You can cook a wide array of food items with a gas stove and pan. This type of stove is affordable and works similarly to a traditional gas stovetop. 
These kinds of stoves run on butane gas, which is a relatively inexpensive stove fuel. Although they can be bulky, you can easily store your gas stove in your car's trunk.
A great option for a gas camping stove is the Coleman Portable Butane Stove, available on Amazon.com. It's an affordable stove that's easy to operate and even comes with a carrying case for quick and secure storage. 
DIY Stove
If you cannot find or afford a standalone cooking appliance, you can make your own stove. 
You will need to invest in a can of tuna (or other foodstuff) in oil, some matches, and a roll of toilet paper. 
Open your can, take three sheets of toilet paper and place them on top of the tuna. Once they have absorbed the oil, they will form an airtight seal over the can.
Light the toilet paper with a match or lighter, and you have a DIY stove that will burn for up to 25 minutes.
Not only can this DIY stove cook your food, but it will also cook the tuna in the can. 
---
6. Try the No-Heat Cooking Method
Living in your car during winter restricts the number of cooking methods available to you. 
If you don't have a plug-in or standalone cooking device, you could always use a no-heat method.
Cathay Spring Roll Rice Paper Wrappers
22cm Round (app. 30 sheets)
NON-GMO, Gluten-Free
imply wet with water and wrap
Use to make delicious fresh rolls with meats, vegetables, or whatever you wish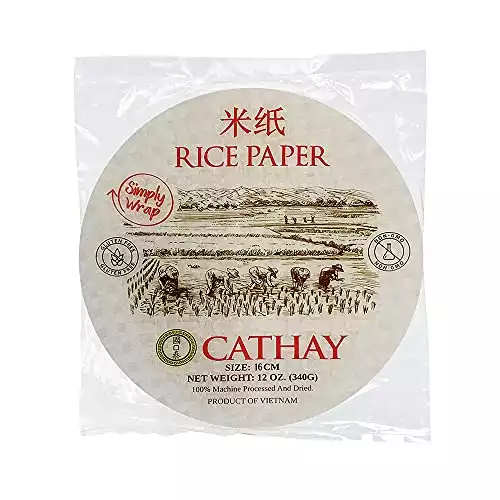 If you make a purchase, you support Hi-van.com by allowing us to earn an affiliate commission (no added cost for you).
All you need is a plastic container, cold water, and some rice paper rolls. I recommend the Cathay Spring Roll Paper Wrappers from Amazon.com. They're cheap and decently sized, so you'll be able to make big wraps without spending a fortune. 
Soak the sheets in cold water for a few minutes, stuff them with vegetables, canned meat, or deli meat, and you have a tasty wrap. 
---
7. Use a Gas Station's Microwave
No matter where you are located, you probably have a gas station near you. 
Most gas stations have a microwave for customers to warm up store-bought food. If you buy your food at the gas station, you would be eligible to use the microwave. 
Gas station sandwiches and pre-prepared foods can be costly, but most sell a limited range of inexpensive foods, such as canned meat and clearance items. 
Once you have purchased your food, decant it into a plastic, microwave-safe container and heat it up. 
---
Conclusion
Cooking while living in a car is easier than it seems. Although it takes a bit of foresight, if planned well, you can enjoy delicious meals that taste no different than if they were cooked in a real kitchen. 
If you're in a hot climate, it's easy to cook on your car's exterior or slow cook foods inside your vehicle with plug-in cooking devices. 
Other cooking methods include using the heat from your car's engine, using portable stoves, or using a gas station's microwave. Alternatively, you could use the no-heat cooking method involving rice paper sheets.