Hi-van is supported by its audience. When you purchase using our links, we may earn an affiliate commission (no added cost to you). Learn more
RV toilets don't function in the same way as they would in a brick-and-mortar home. For this reason, a toilet sprayer is an essential tool to install in your RV bathroom. Toilet sprayers come in handy when you need to scrub tough stains in the toilet bowl and for spraying off clothes or cloth diapers while on the road.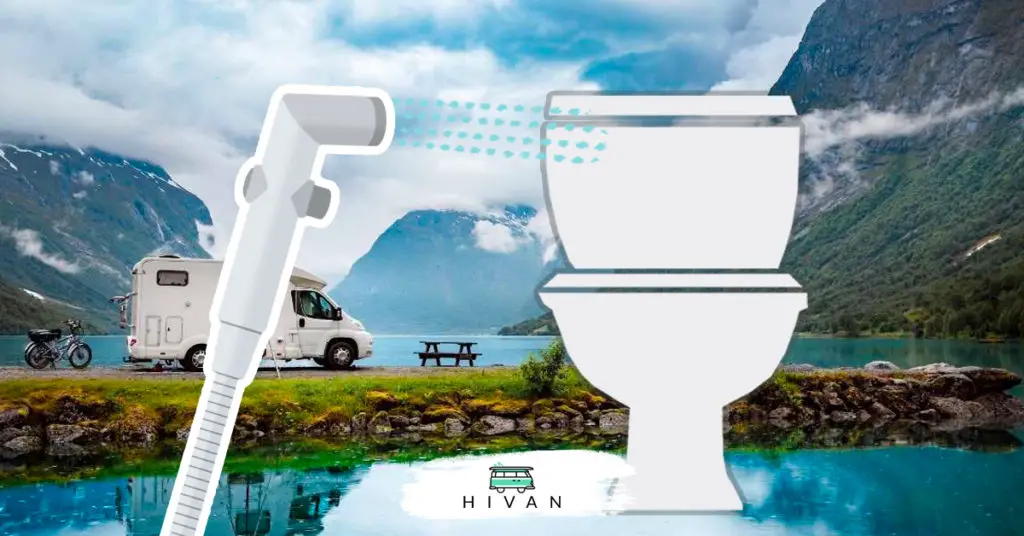 Follow this step-by-step guide to hook up a sprayer to your RV toilet: 
Buy the right sprayer kit.
Turn off your water pressure.
Remove the flexible water pipe.
Connect each part to the correct area.
Turn on water pressure and check for leaks.
Install a clip for sprayer storage.
In this article, we'll go into more detail about each of the steps necessary for installing a toilet sprayer in your RV bathroom.
1. Buy the Right Sprayer Kit
Although you can buy specific sprayer kits, you can achieve the same results using a spray nozzle and a flexible hose. 
Sprayer kits can sometimes be challenging to find, so many people opt to create one themselves with the two parts mentioned above. If you choose to go the route of buying separate parts, make sure to buy a sink spray rinser.
Sink spray rinsers are the closest alternative to what you'll find in a ready-made kit. 
With these tools, make sure you have a T-fitting if there isn't one already installed in your plumbing. It's also important to note that the toilet sprayer is meant to clean the toilet bowl, which means that you shouldn't use it as a bidet.
Ready-Made Sprayer Kits
If you prefer to go the ready-made kit route, let's take a look at a few products from Amazon.com with high ratings that we recommend.
DANCO Vinyl Faucet Spray Hose
The design is very sturdy, and the cost of the hose won't break the bank either. 
Although this product is technically for kitchen sinks, it's still compatible with your RV bathroom plumbing.
Camco Flexible Swivel Stik
Part of the Swivel Stik is solid., which serves as a handle for you, as well as a flexible section that works well if the holding tank is separate from the toilet.
Valterra Master Blaster Cleaning Wand
Similar to the Swivel Stik, the Master Blaster comes equipped with a long handle for you to grip easily.
The tapered nozzle and 360-degree cleaning action make it easy to dislodge any waste stuck on the toilet or in your tank. You can also control the amount of water pressure you need with a designated valve on the equipment.
2. Turn Off Your Water Pressure
Unless you want a gigantic mess during installation, you'll have to turn off your water pressure before completing the installation. Make sure the 12-volt water pump is switched to the off position to turn off your water pressure. 
After that, you'll need to disconnect the shore connection hose.
If the water line to your toilet has an isolation tap, you don't need to worry about the steps mentioned in the previous paragraph. Also known as isolation valves, an isolation tap works to control liquid flow without contaminating any media. 
In this case, all you need to do is turn the tap clockwise as far as it will go.
3. Remove the Flexible Water Pipe
Once you've turned off your water pressure, the next thing you'll need to do is take off the flexible water pipe. 
You can locate this pipe behind the toilet and remove it by turning the nut at the end counterclockwise. The easiest way to do this is to use a crescent wrench.
If your pipe is directly attached to a vacuum breaker, you'll need to be extra cautious. Hold the pipe steady with a separate pair of grips while you break the seal. 
If you're too rough, you risk damaging the vacuum breaker as it's very fragile.
4. Connect Each Part to the Correct Area
Now that you've prepped your workspace, it's time to connect all of your pieces. 
The first step is to attach one opening of your T-fitting to the back of your toilet or the upstream inlet of your vacuum breaker. On the other opening of the T-fitting, connect the flexible water pipe. 
Next, attach the open end of your sprayer nozzle's hose to the right-angle opening of your T-fitting.
After doing this, make sure to thread all components together clockwise until it feels tight in your hand. You can use tools for this, but you risk over-threading and damaging the parts. If you have a vacuum breaker, remember to provide extra support there to prevent it from breaking.
5. Turn On Water Pressure and Check for Leaks with your new Bidet Sprayer
Once you've installed each piece, it's time to turn your water pressure back on and check for leaks. You'll know everything is tight enough if you don't see any water spraying or beading around any joint spots of the equipment. 
If you come across some beading, you'll likely be able to fix the problem by turning the nut clockwise a little bit with a wrench.
6. Install a Clip for Sprayer Storage
Unless you want the sprayer to hang on the floor and risk getting damaged, you'll need to finish the process by installing a wall mount. Retaining clips are widely available at any hardware or home improvement store and will typically come with an attaching screw. If that's the case, all you'll need to have yourself is a drill to put the screw into place.
Find this content useful 🙂 ?
Subscribe to our Newsletter and get a free electric diagram + shopping list.
Conclusion
RV toilet sprayers are an essential part of RV life. Without a sprayer, you'll have a much harder time trying to properly clean your toilet bowl. Thankfully, they're not difficult to install. 
By following the steps outlined in this article, you'll be fully equipped to hook up your sprayer system.
The most important thing to remember here is to buy the right kits. Don't go for a bidet sprayer because that isn't the purpose of a sprayer in an RV. Get one that will thoroughly clean the area and eradicate any potentially harmful bacteria too.