It may be challenging to find an RV that can comfortably handle all 4 seasons. But once you know what to look for, it'll be a breeze. How can you tell if an RV was built to withstand everything from the freezing blizzards of January to the scorching hot days of mid-July?
The characteristics of the underbody matter, but insulation, windows, HVAC, and the types of appliances also included in your RV. They all play significant roles in determining whether an RV has been built for 4 seasons. In the sections below, I explain the main components an RV should have to be 4 seasons. You then be able to tell if an RV is 4 seasons or not.
Equipment That Keeps Water From Freezing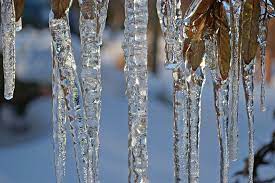 For an RV to be able to withstand freezing temperatures, it must be equipped with elements that keep the water lines from freezing up. Pipe bursts can damage the interior of your RV and can amount to costly repairs.
Protected Water Tanks
For an RV to be considered "cold-weather ready," it'll typically need to have its water tanks located inside a compartment that receives consistent, forced-air heating. When you are buying an RV, be sure to ask about this.
For example, the Forest River Arctic Wolf comes with the option to add an armored underbelly tank enclosure with forced air heat. These are the types of features that you should be looking for in a 4 season RV.
Skirting May Also Be Necessary
You can also protect the underbelly of the RV by purchasing RV skirting. These wrap around the bottom of the RV and cut off the flow of cool air underneath. Not only does this help prevent water system freezes, but it also makes your heating more efficient by reducing one of the major competing forces that the system has.
Water Heaters Are A Must
At some point, you're going to want to take a refreshing shower. Water heaters in RVs can be limited in size, meaning that owners have to conserve warm water use; otherwise, they may unexpectedly run out of it in the middle of a shower. Below you'll learn about which RV water heaters work best in all seasons. 
If you need one, consider springing for a tankless water heater, like the Furrion 2.6 GPM Tankless RV Gas Water Heater. If you find an RV that already has a tankless water heater installed, then that's all the better. The Furrion can continuously deliver hot water on-demand, even if the temperature outside is below 32 degrees F.
A Good Fridge
Having a quality refrigerator can make a big difference. Imagine being able to grab a frozen drink on a hot midsummer day without having to worry about whether your cooler was able to do its job. Your cooler will also perform a lot better if you can transfer already-cooled items to it rather than room-temperature items.
One of the top-of-the-line all-season RVs is the Keystone Montana High Country. It comes with an 18.6-cubic feet GE refrigerator or a 13-cubic feet Dometic refrigerator in its select premium models. So this gives you a good point-of-comparison when it comes to finding enough fridge space for an RV that can be lived out of during all 4 seasons.
A Quality HVAC System
The HVAC system is not very advanced in many campers and RVs since these are often catered to a crowd that does weekend trips during the more comfortable months. An advanced HVAC system is an essential component of a four-season RV.
How Many BTUs Do I Need To Keep An RV Hot Or Cool?
A BTU (British Thermal Unit) is a measure of heat that'll tell you how strong your HVAC system is. The higher the number of BTUs, then the more powerful the heating or cooling system is. Proper sizing of HVAC systems is critical since improper sizing will make the RV uncomfortable and a challenge to run other appliances on the same circuit.
The standard air conditioner in RVs is a 13,500 BTU air conditioner. If you spend a lot of time in hotter weather, then you may need as much as 18,000 BTUs to keep your RV cooled consistently. As far as heating goes, you may expect to see 35,000 BTU furnaces, such as is seen in this 35 ft. Keystone Montana Fifth Wheel.
No More Propane: Heat Pumps
Usually, RVs use built-in furnaces that run off propane tanks. Then the air conditioner is mounted on the rooftop. Some HVAC units run off heat pumps, which are powered by electricity rather than propane. 
In a heat pump, heat is absorbed from outside the RV and pushed inside through the ventilation system.
The main advantage of heat pumps is the fact that you won't have to rely on propane tanks. It can be costly to have to constantly re-up your propane supply, especially if you routinely take long trips extending beyond a week. Look for heat pump systems such as the Penguin Dometic II.
Electric Fireplaces
Some RVs even have fireplaces, which should have no trouble keeping things nice and toasty. The Forest River Arctic Wolf, for example, has an electric fireplace that includes multiple fan settings and operates at a max of 5,200 BTUs. 
Ducted Heating/Cooling
A ducted heating/cooling system is a hallmark of any all-season RV.  A ducted network pushes out comforting air through vents located in every room of the trailer, not unlike what you have in the home.
Here are the advantages of ducted HVAC systems:
Less Noise
Consistent Cooling
Good for larger RVs
If you are looking for a 4 season RV, you are encouraged to shop around for one that already has ducted air conditioning. It's hard to make a change from non-ducted AC to ducted AC, although certainly not impossible.
Ceiling Fans
If your RV doesn't come with a ceiling fan, you might consider having one installed. You can't use the same fans you have at home since RV fans run off the 12V power source. This will likely also require you to have a working knowledge of the circuit system so that you don't blow any fuses.
As such, don't be afraid to contact either the dealership or a local RV service company about the possibility of adding a ceiling fan to your RV. If you are shopping for an all-season RV, be sure to add this item to your wish list.
Here is what RV ceiling fans look like:
RV Insulation
Insulation makes a big difference when it comes to being able to withstand extreme temperatures, whether it is hot or cold outside. A poorly insulated RV will drive up your energy costs. In the section below, you'll learn more about which types of insulation are used in RVs and which one is the best when they are 4 seasons.
What Type Of Insulation Do Most RVs Have?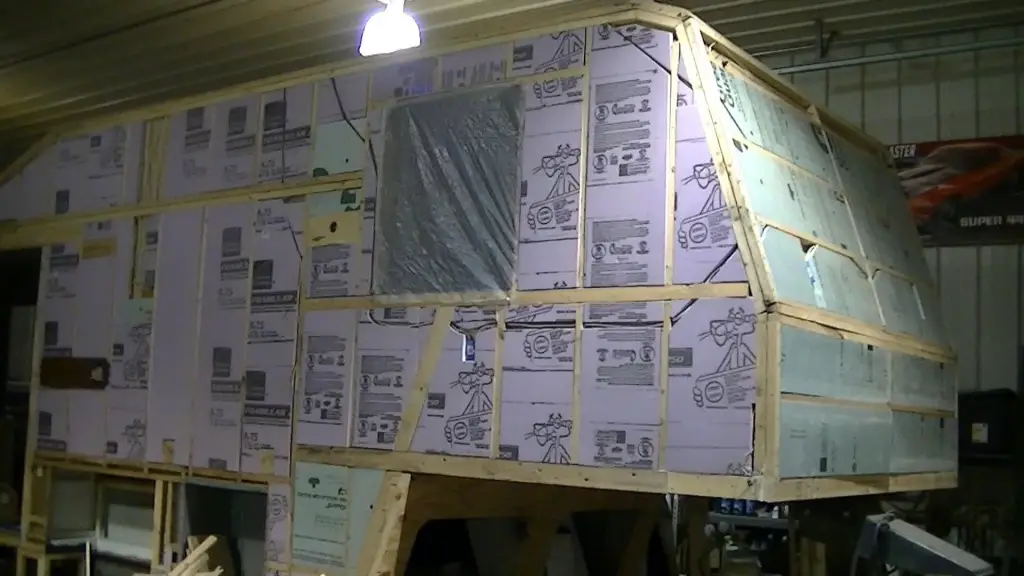 Most RVs are insulated with either fiberglass or foam. Fiberglass is affordable and comes with a high R-value, which means that it is good at keeping heated or cooled air inside the RV. Fiberglass insulation is widely popular because it is economical and practical for most RV owners.
The major drawback of fiberglass installation is its durability. If you have or are purchasing a used RV, be forewarned: fiberglass wears out more rapidly than many alternatives, mainly because moisture causes the fiberglass to expand.
Rigid Foam Insulation
Unlike fiberglass, the rigid foam does not collect moisture and is not susceptible to mold. Its high R-value makes it well-suited for the wide variety of climates that a 4 season camper will encounter throughout its lifespan. 
These can be found as panels, with a range of R-values available. They are slightly more challenging to install than fiberglass. You need to cut out pieces that fit the dimensions of your RV. Ideally, the RV you have will already come with either rigid foam insulation or spray foam insulation installed. 
Spray Foam Insulation 
Spray foam insulation offers an advantage over rigid foam in that it is easier to mold it to the contours of your RV. If you have an RV with spray foam insulation, then you should take this as a sign that the vehicle is ready for four seasons of camping. 
The primary drawback of spray foam insulation is the R-value, which is slightly lower than fiberglass and rigid foam insulation. A quality installation can help make up for these shortcomings since it offers the potential to elongate any gaps leading to air and moisture leaks.
Nylon Rug Floors
Many 4 seasons RVs come with nylon rug floors. These are ideal for 4 season RVs because they are improved insulators compared to the floors and ceilings found standard in most RVs, and they are much more comfortable for bare feet.
Rugs may also help deaden sounds within the RV itself, in addition to soundproofing you from what's going on outside. So you shouldn't have to worry as much about being awoken by loud noises outside at night.
Heat Reflectivity On The Roof
If you take a look at the spec sheet for RVs like the Forest River Arctic Wolf, you may notice the addition of heat reflectivity for the roof. This is a feature common to all-season RVs, which are built to resist the heating effects of direct sunlight.
Roofs can be made reflective using solutions such as Liquid Rubber RV Coating, which is a solar reflective seating that can be applied to the roof of the RV. If there any reflective material at the top of the RV, you may consider speaking with the dealership to see if they could include it in the package. 
Plenty Of Ventilation 
It can get stuffy inside RVs during the summertime. This is why it is crucial to have good ventilation in a 4 season RV. Below are the ventilation features that you should be looking for in a 4 season RV.
Insulated Roof Vents 
When it comes to roof vents, it's all about finding a balance between improved airflow in summer and the prevention of heated air escape during winter. If you have too many vents in your RV, then you'll have trouble keeping heated or cooled air inside.
The key is to have plenty of insulation around vents so that you won't regret having the vents later on when it's cold outside. The gaps around the vent should be covered with a vent insulator, which is simple to install.
Windows That Open Up
If you are shopping around for RVs, make sure that you can open the windows and get a feel for airflow quality through the RV. One of the better features is two windows directly across from each other, which can be opened to introduce a cross-breeze into the RV.
Some windows may just be picture windows, which means that they can't be opened up at all. The standard is to have several sliding windows. These are a more affordable option than frameless windows.
Frameless windows are a premium feature because they look sleeker from the outside, and they promote better ventilation because of how they open outwards. Top-of-the-line 4 seasons RVs like this one often have double-pane frameless windows, as well as tinted windows.
Dual Pane Windows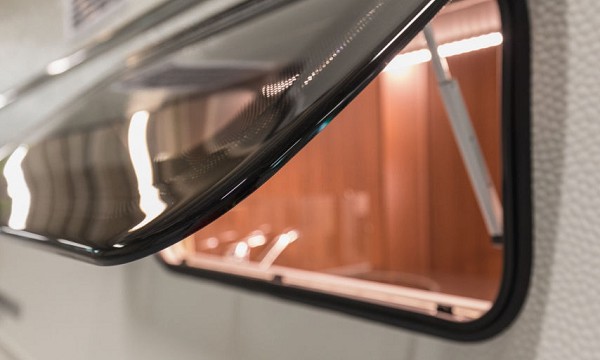 The standard windows in most RVs and campers are single-pane sliding windows. While these offer plenty of ventilation in summer, they won't hold up as well in sub-freezing temperatures or extreme heat.
This is where dual-pane windows come in. These have been constructed to keep heated and cooled air inside your RV, no matter the conditions outdoors. This is all thanks to the placement of two panes of glass within a single frame. 
You can go one step further and even get triple-pane windows. If you only have single-pane windows, you can replicate the double-pane advantage to some degree by installing thick plastic film on the exterior of the window or heat-shrink films on the inside of the window.
A Power Awning For Shade
It would be a shame if you had to spend most of your vacation pent up inside the RV because you don't have an awning. Yes, you can always buy a screen house, but it can be a pain to set up and tear down every trip. Power awnings can be opened up and then retracted with the simple push of a button.
These are standard features in RVs, but not all are created equally. The Dometic 815 WeatherPro Power Awning comes with a built-in sensor that automatically closes the awning when damaging wind conditions are detected. 
Look for an RV awning that has a metal framework that provides added protection from the elements. Some also have automatic spring mechanisms that release accumulating rainwater. Awnings with these features are more well-suited for adverse weather conditions, such as moderate rainfall.
A Washer & Dryer
You may not realize how valuable a washer and dryer can be in an RV until you have one of these. This can certainly come in handy in a 4 season RV since you can always expect to encounter a muddy mess at some point. If you're interested in powering your laundry machine with your solar system, we made an article discussing what you need to know here.
In the summer, you can hang all your clothes out to dry and let the summer breeze work its magic. But during the colder months of the year, this is not an option. In this case, you'll need to take your clothes to a communal laundromat if you don't have a washer and dryer of your own.
RVs that do have washers and dryers have them set up as stackable units in the interest of saving space. You may also see a washer/dryer combo or portable units, such as this Portable Compact Washing Machine. These use up fewer resources and save even more space, meaning that they can be added to a wide range of RVs.
Entertainment Options
If you're traveling in an RV during every season, then prepare for the possibility of rainy (or snowy) days where you may be confined to the inside of your RV for a long time. This is where entertainment options, such as the 50″ LCD TV found in this RV, come in handy. I made an article about installing a TV in your RV.
If you are someone who likes to entertain a large crowd, then an RV with a comfortable lounge area is likely to be enticing. This motor home comes with the option for owners to request theater seating, offering a great hangout space when the weather outside is less-than-ideal. An electric fireplace can add even further to the allure.
Final Thoughts
A 4 season RV needs to withstand extreme temperatures, offering maximum comfort in both freezing and hot climates alike. One of the most critical elements is a heated undercarriage that won't allow water lines to become frozen.
Next, check the insulation inside the RV and take a peek at the HVAC system. You might consider a heat pump, which as discussed above, will cut down on your need for propane tanks.