Who says van life should mean old smelling socks and live like a hobo on the road? That's not what it is!
Washing your clothes is one of the van life essentials that everyone does differently, but it is something worth working out sooner rather than later, or you might run out of clean underwear, and you'll start to smell bad!
Nowadays, it is more than easy to wash your clothes while being on the road. Furthermore, if you have a good solar installation, you can hit the backroads worry-free with a solar-powered energy-efficient washing machine.
We'll discuss in this article the most important points to keep in mind if you're looking to hook a washing machine up to your solar installation.
To summarize, energy and water consumption will be your most significant worries. You'll prioritize washing machines that have a mechanical timer. Forget the dryer option as it's damaging your clothes and uses a lot of electricity (check this video to know more about how useless dryers are). Prioritize washing machines that don't need to boil water (boiling water needs a considerable amount of energy) to function and have manual buttons instead of digital ones.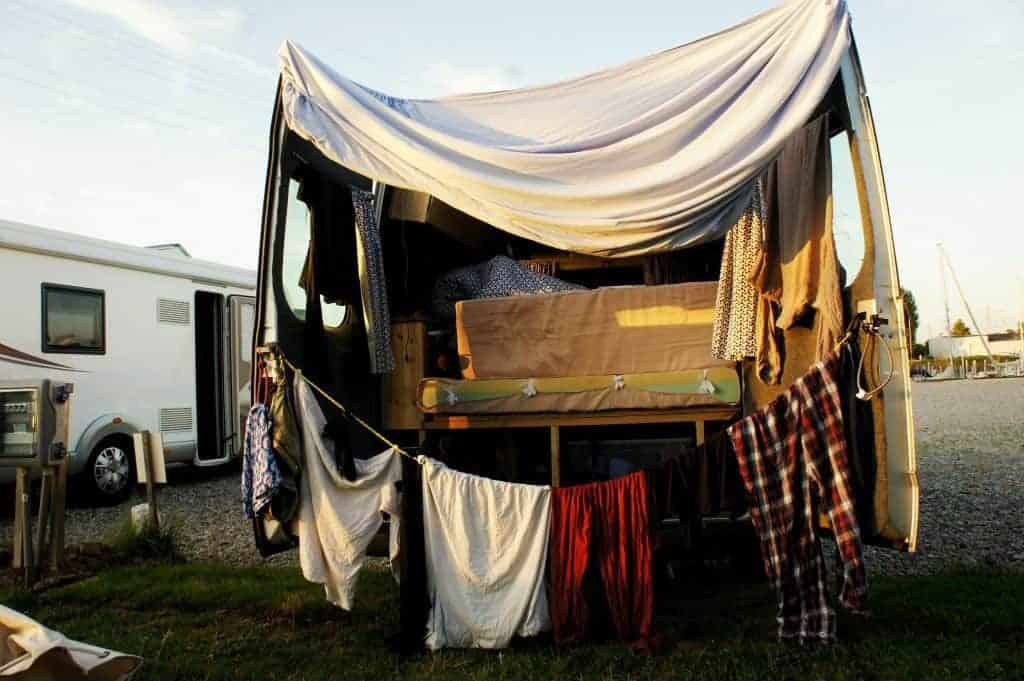 Power consumption with solar
Unless you have more than 1000 watts of solar panels, you'll want to have a washing machine that doesn't need more than 300 or 400 watts to function. Indeed, if you're going to have your laundry machine, it's because you want to save money and be more independent and not to search for electricity or open laundry. 
Note down what's the capacity of your inverter and battery. I recommend having at least double the minimum quantity required to be safe.
Water consumption
It's the same as with electricity. When you're living on the road, you want to save as much water as possible. Therefore, look out for machines that will use as little water as possible. 6-7 gallons of water per cycle is perfect compared to an average of 15 gallons for your standard washing machine.
Size and portability for RVs
Living in a van or an RV, you know how precious your space is as it's minimal. Therefore, you don't want to have a washing machine taking half of your cabinet or storage compartment. Weight is also an essential factor to take into account. If your device is too heavy, it will be a pain to set up, move around, and put back in place. Furthermore, it will save you on fuel consumption and allow you to have a heavier and more important tool like a complimentary battery.
Choose a spinning option rather than a dryer.
Dryers use a ton of energy and tend to damage your clothes. Connecting a dryer to your solar setup will quickly drain out all the precious energy stored in your batteries. A lot of portable washing machines have a spinning compartment that will fast forward the drying time needed. Afterward, you'll need to hang your laundry on a clothes airer.
Now that you have a better idea about what you should look out for when purchasing a washing machine, here are my recommendations for the best portable washing machines: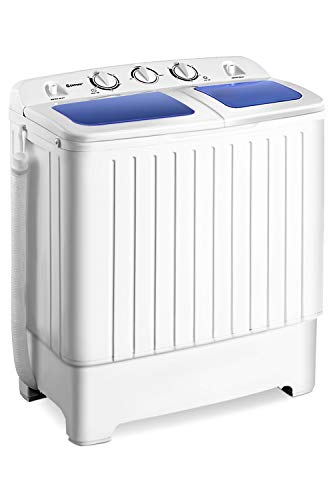 It is compact and versatile and uses mechanical buttons and timer. It's really easy to setup. Furthermore, it handles delicate clothes nicely and you have a separate compartment for spinning. It uses not more than 300W to wash and 110W to spin.
My only drawback would be its load capacity that is a bit small.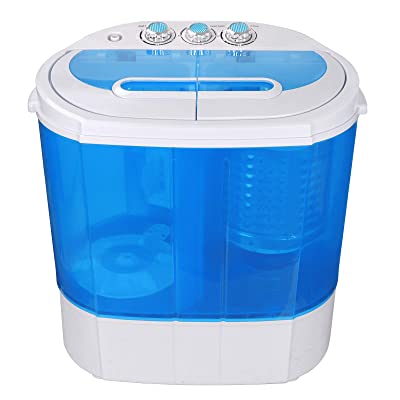 It requires less energy than the Giantex portable machine. Indeed, you'll only need 240 watts to use the wash cycle. A great feature if you want to power it up with your solar installation. On the other hand, the spinning cycle will need 120 watts of power, 10 watts more than the Giantex.
I like that most of the machine's weight is in its base, preventing it from moving while in use.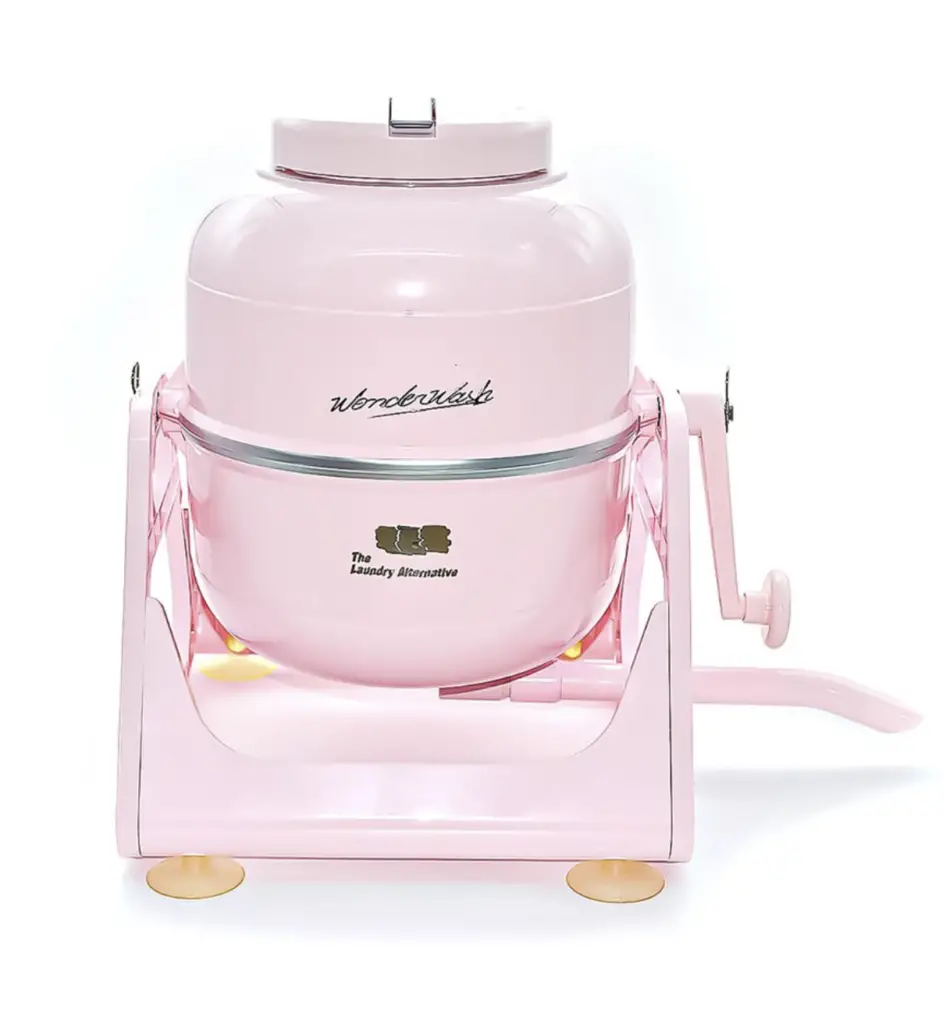 If your solar setup is too small to install an electric washing machine, this non-electric, hand-crank unit by The Laundry Alternative can wash up to 5-lb. Of course, you'll need to put in the energy, but that doesn't hurt, and from what I heard, it's pretty efficient. An excellent way to do some sport while washing your clothes.
Conclusion
Lastly, keep in mind that you should use a natural detergent if you plan to wash your clothes in the middle of a natural environment. Never flash out your dirty water if you've used some messy chemicals. The best is always to leave the place as you found it (or even cleaner). I'm not counting the times I found some traces of dirty water in a natural spot. It always makes me so angry. Respect our planet, wash your clothes but do it properly.