Hi-van is supported by its audience. When you purchase through links on my site, I may earn an affiliate commission. Learn more
National Parks are some of America's greatest treasures and are a favorite camping destination for those who want to experience splendid vistas and unspoiled nature. As colder temperatures approach, you might wonder whether the winter is a viable time to plan a camping trip to your favorite park.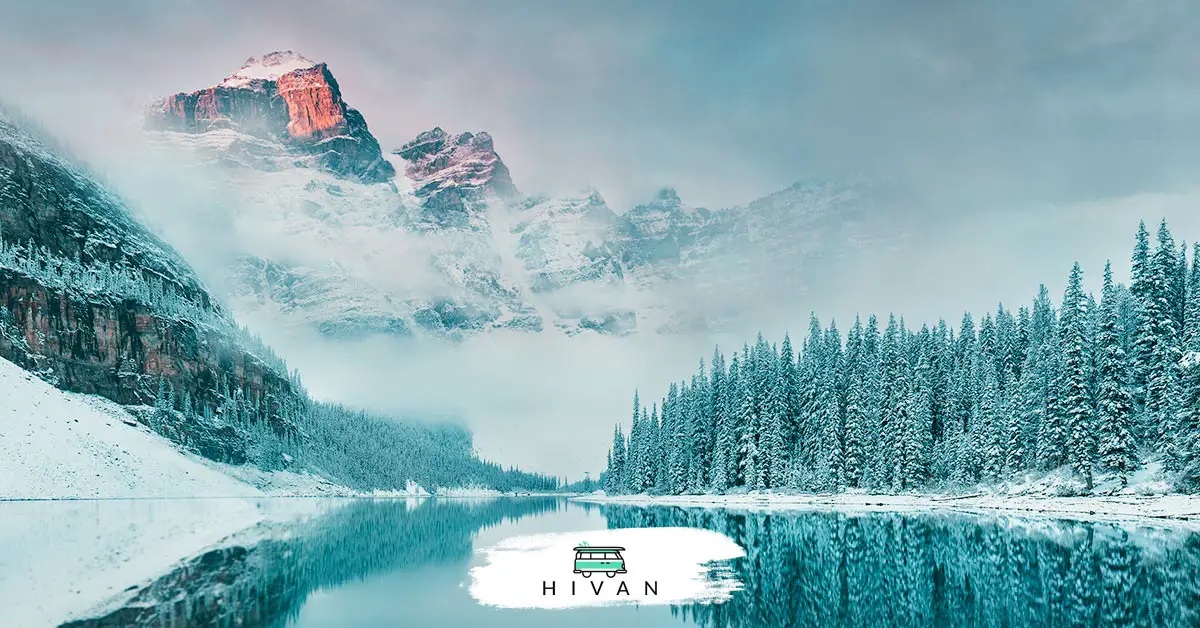 You can camp in National Parks during the winter as long as the park campground stays open for the season. Some parks are ideal for visiting during the winter due to fewer crowds and peaceful landscapes. However, some parks close certain roads and facilities where heavy snow regularly occurs. 
You'll want to do your research in advance to figure out what your options are. This article will discuss some factors to consider when deciding which National Parks you'd like to experience during the winter. We'll also go over some winter camping basics to help you plan for a safe and unforgettable trip, so let's get started. 
Where To Find Out Which Parks Are Open
The first step is to figure out which parks have campgrounds that stay open year-round. There is only one National Park that fully closes down during the winter, and that's Isle Royale in Michigan. However, other parks may experience road closures that make higher elevation campgrounds and hiking trails inaccessible. 
For example, Tioga Road in Yosemite often closes in the winter due to heavy snowfall, but the exact timing of the closure varies year by year. 
Visit the National Park Service website to get more information on the park you would like to visit. Keep an eye on the weather during the time leading up to your visit and regularly check for road and campground closures. The NPS website regularly updates its "alerts" section for each park with closures and weather notices. 
You can also call individual ranger stations for the most up-to-date conditions at the park where you're planning your visit. You also might want to check the weather reports for the area you want to camp.
Related Article: Can You Sleep in Your Car in National Parks?
Northern Parks
Parks in the Northern United States such as Yellowstone and Glacier are likely to experience significant snowfall and require more planning and flexibility to visit during the winter. 
Your reward for tackling the snow will be: 
Fewer crowds 
Quiet trails 
The peace of a snowy landscape.
Visiting these parks in the winter is a unique feat that not many people take on but requires careful planning and gear preparation. If you enjoy snow sports such as backcountry skiing or snowshoeing, winter is the perfect time for you.
Southern Parks
Parks in the southern United States, such as Joshua Tree and Big Bend, are wonderful to visit in the winter and rarely see snow events. Temperatures are mild and much more ideal than the soaring temperatures of the summer season. 
Keep in mind that winter tends to be the busier time of year at the southern parks, so make your reservations well in advance. While temperatures are usually pleasant, these regions can still experience cold snaps, so bring winter weather gear no matter the predicted forecast. 
Preparing for Winter Weather
If you are visiting a park that regularly experiences snowfall, it is important to be prepared for cold weather and wet conditions. Check the average winter temperatures of the park you want to visit and make sure that your gear is rated at least ten degrees lower than the average low temperatures. 
Related Articles:
Complete Guide to Drying Clothes While Winter Camping
Car Vs Tent: Which is the Warmer Option?
Sleep System
Your sleep system is crucial to your comfort and safety. Make sure that your sleeping bag is rated for the temperatures in which you'll be camping. Equally important is the R-value of your sleeping pad. If you are camping in one of the northern parks in potentially snowy conditions, you'll need a sleeping pad with an R-value of at least 5. 
Ultralight 17oz Camping Sleeping pad
𝐖𝐚𝐭𝐞𝐫 𝐑𝐞𝐬𝐢𝐬𝐭𝐚𝐧𝐭 𝐔𝐥𝐭𝐫𝐚𝐥𝐢𝐠𝐡𝐭 𝐘𝐞𝐭 𝐔𝐥𝐭𝐫𝐚 𝐬𝐭𝐫𝐨𝐧𝐠: Our Water-Resistant Hexagon Shield 40D Nylon Fabric With E-LAST coating Makes ApolloAir Camping Mattress 2.5 x times stronger than the current market standards without sacrificing the Weight Which makes it perfect for any outdoor environment.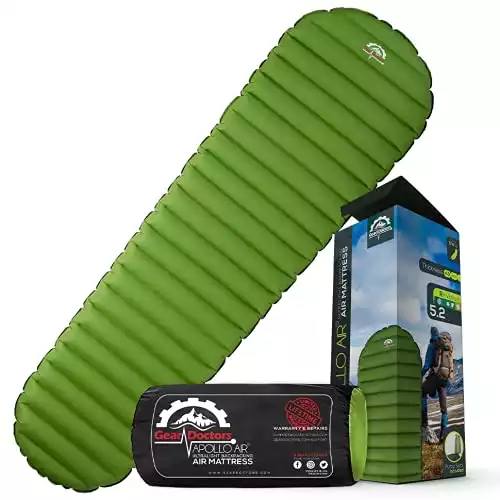 If you make a purchase, you support Hi-van.com by allowing me to earn an affiliate commission (no added cost for you).
The Gear Doctors ApolloAir Compact Air Mattress from Amazon.com is a good option at a reasonable price for its warmth and weight. 
Many common tent models are 3-season tents, meaning that they aren't built to withstand heavy snowfall and high winds. If you only have a 3-season tent and don't want to buy a brand new one solely for winter camping, a high-quality 3-season tent can work as long as you're camping below treeline and in a place that's sheltered from the wind. 
If you are planning to backpack in snow conditions, it is best to invest in a 4-season tent that will protect you from the elements. 
Clothing
Warm clothing is another essential item to consider for your winter camping gear list. Especially if you're car camping, it never hurts to bring some extras for those cold winter nights. 
Below is a list of must-bring items for winter camping: 
Mid or heavyweight base layers 
Fleece top and bottom 
Puffy coat 
Waterproof jacket and pants for protection from rain/snow. These also help keep you warm if it's very windy. 
Thick wool socks 
Gloves and a warm hat 
Sturdy hiking boots. Look for waterproof boots without any vents.
Kahtoola MICROspikes Footwear Traction
BEST FOR: Winter hiking, backpacking, ice-trekking, ice fishing and trail-running. The MICROspikes are designed for all-around use and your backcountry winter adventures! Ideal for hiking shoes and boots and to be used on mountain trails.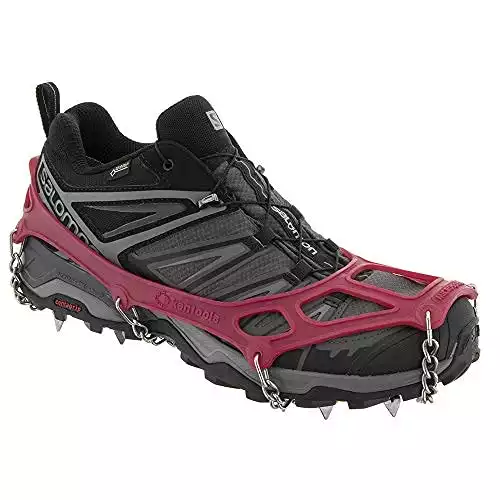 If you make a purchase, you support Hi-van.com by allowing me to earn an affiliate commission (no added cost for you).
If you'll be hiking in snowy conditions, it's a good idea to bring microspikes like the Kahtoola MICROspikes Footwear Traction (also from Amazon), in case you encounter ice on the trail. 
In parks in the high desert such as Arches and Zion, sections of trail through canyons can remain icy long after a snowstorm, and good traction is essential for safe winter travel. Trekking poles are also helpful for stability when traveling through icy or snowy conditions. 
Final Thoughts
National Parks are great winter camping destinations as long as you are prepared. The conditions you experience depend on the park you want to visit, so research in advance and decide what's best for you. 
The parks span a variety of climates, and you'll find a place that appeals to your desired activities and temperatures. 
If you don't want to camp in snowy conditions, visiting the southern desert parks is perfect. Make a campground reservation in advance. If you've got the determination to winter camp in the northern parks, you'll have peace and quiet among the park's landscape and wildlife.
---
Find this content useful 🙂 ?
Subscribe to our Newsletter and get a free electric diagram + shopping list.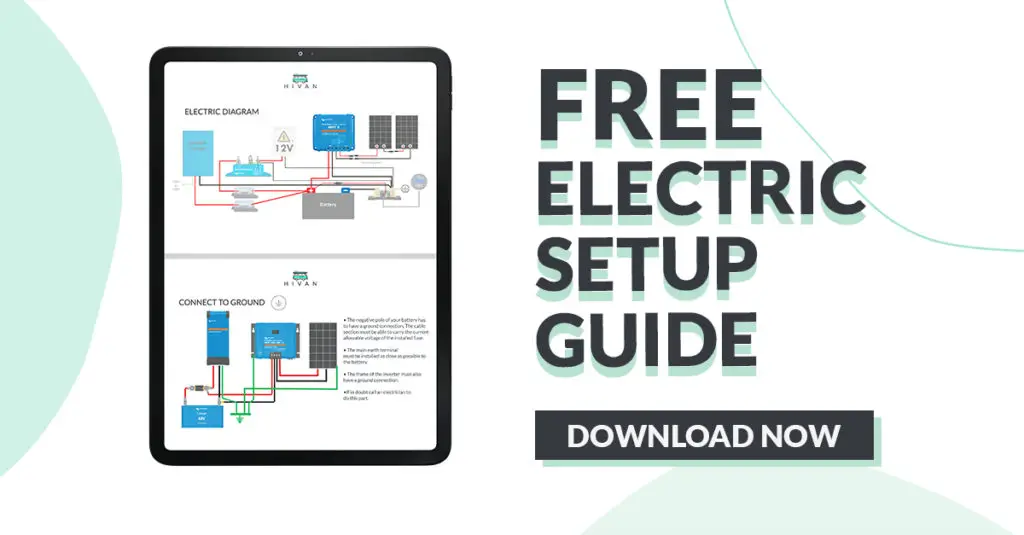 ---