Hi-van is supported by its audience. When you purchase using our links, we may earn an affiliate commission (no added cost to you). Learn more
Staying warm is essential for making any camping trip enjoyable, especially in colder environments and seasons. On particularly frigid nights, you might be wondering whether your car is warmer than your tent or vice versa.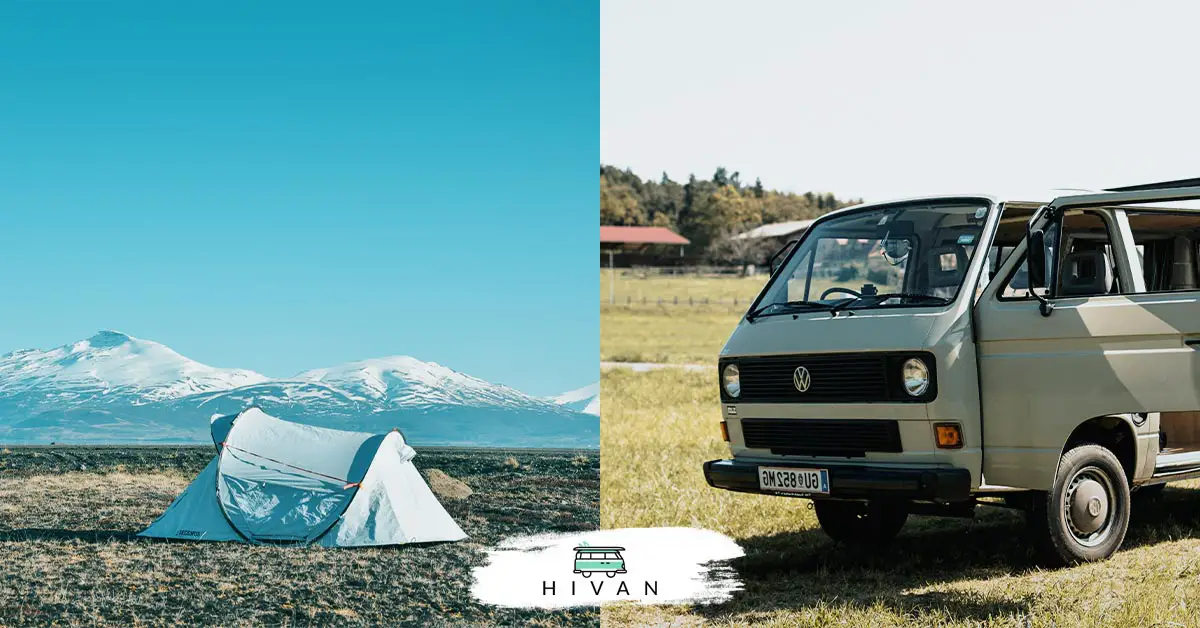 A well-insulated tent with suitable materials inside of it is warmer than a car. However, there are certain cases where sleeping in a car's interior will keep you warmer, particularly when your tent is made of the wrong material, or you don't have adequate equipment with you. 
In this article, I'll discuss the pros and cons of sleeping in a tent versus a car, what equipment can help keep you warm while camping, and tips to keep in mind to avoid a poor camping experience. 
---
How Does a Tent Keep You Warm?
A tent keeps you warm by trapping heat inside its walls from your body's heat or the sun's rays. Some tents are specifically made out of insulating materials for extremely cold environments. In cold weather, sleeping inside of a tent is always preferable to sleeping exposed outdoors in the open. 
Without a tent, your body is susceptible to chill from: 
Being inside of a tent will protect you from these elements.
Related Articles:
Are Black Tents Hotter Than Other Colors?
How To Choose a Warm Tent
Some tents are better than others when it comes to keeping you warm.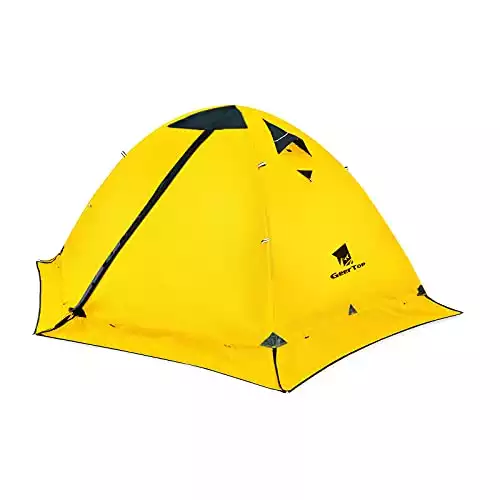 If you make a purchase, you support Hi-van.com by allowing us to earn an affiliate commission (no added cost for you).
A double-layer tent, like the GEERTOP 2 Person Tent from Amazon, is water-resistant and includes a tent floor sheet for extra insulation while not sacrificing air circulation. It is perfect for surviving unexpected snowstorms while camping in the winter. 
An insulated tent will always keep you warmer than a thin tent, so it's crucial to keep that in mind when planning a camping trip in the cold. 
Tents that are best at keeping you warm in colder environments have: 
Waterproof exteriors 
Insulation 
Double walls 
Condensation vents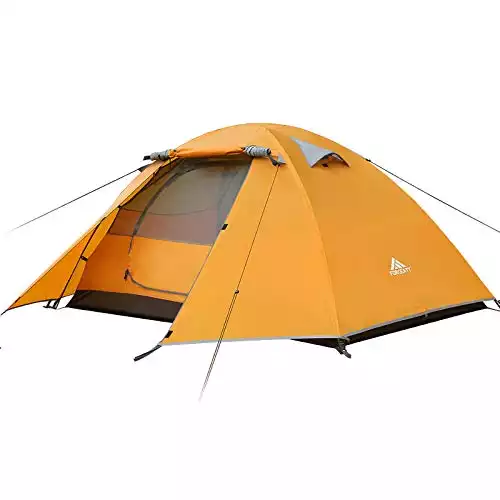 If you make a purchase, you support Hi-van.com by allowing us to earn an affiliate commission (no added cost for you).
A waterproof tent like the Forceatt Camping Tent from Amazon will not only keep you warm but will also help you stay entirely dry during rainstorms. This tent also includes various vents that help reduce condensation, ensuring that any water from inside the tent won't stay there. 
Cooking inside a tent can be dangerous because most stoves release harmful carbon monoxide. 
However, a tent with built-in ventilation and a stove jack like the UNISTRENGH Waterproof Bell Tent (also on Amazon) will keep you warm, allow you to cook without going outside, and is spacious enough for a large camping party. 
---
Tent Equipment To Help Keep You Warm
Having a tent manufactured with the correct material is critical in helping you stay warm, but without the proper equipment, sleeping inside of a tent can be colder than sleeping inside of your car. 
Sleeping Bags
A well-made sleeping bag can keep you warm even inside a thin tent. While you sleep, your sleeping bag traps your body heat inside of it, helping your body temperature stay at a healthy and safe level.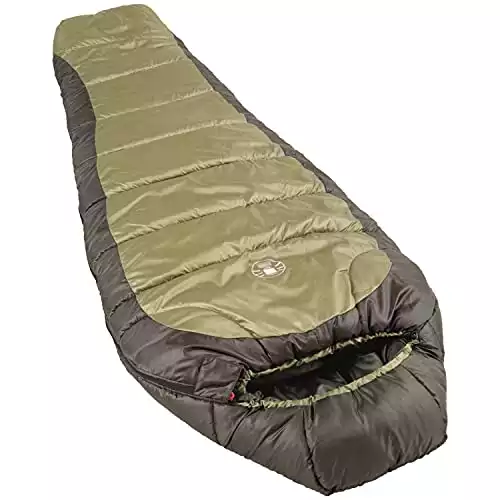 If you make a purchase, you support Hi-van.com by allowing us to earn an affiliate commission (no added cost for you).
Sleeping bags specifically made for 20℉ to 30°F (-6℃ to -1°C) weather, like the Coleman Mummy Sleeping Bag from Amazon, are made of polyester. Polyester is a fabric that keeps you warm even when it's wet, making it perfect for cold camping trips. 
If you are camping with someone else, using a TETON Double Sleeping Bag (also from Amazon) will keep both of you warm with its fiber filling designed to trap heat. 
Sleeping Pads
One of the most significant ways a tent loses heat is through the ground. When you sleep directly on the tent floor without a sleeping pad, you will lose your body heat to the cold ground beneath you. 
INVOKER Camping Sleeping pad – 3inch UltraThick
SUPER TOUGH FABRIC 3.15-inch thickness FlexFoam and outdoor-grade tear-resistant fabric provide your body with the most comfortable and stable sleep, no longer worry about the stones and branches underground will damage the air cushion.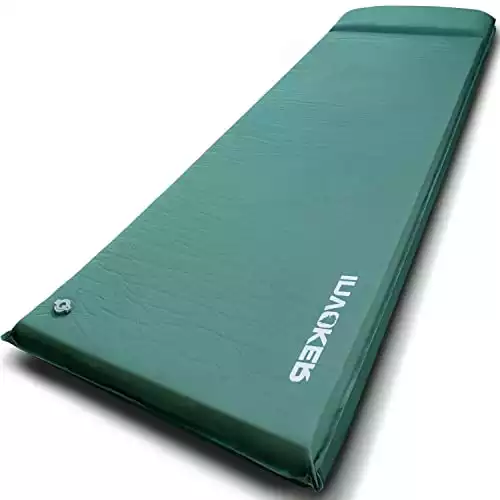 If you make a purchase, you support Hi-van.com by allowing us to earn an affiliate commission (no added cost for you).
An INVOKER Sleeping Pad from Amazon is self-inflating and keeps you off the ground and warm. 
---
How Does a Car Keep You Warm?
A car can keep you warm by being far more insulating than a tent, as it produces heat and traps it. You can use a car's heater and defroster to keep the interior warm and reduce condensation build-up, respectively. 
While inside of a car, you are also entirely protected from: 
Harsh winds 
Snowstorms 
Hail storms 
Heavy rains 
While the windows are closed, nothing will get inside, including bugs or unwanted small wildlife. 
However, a car's interior can be cramped and uncomfortable, with little room to lay down completely. For those camping with more than two people, a tent is almost always preferable to a car, simply because there will not be enough room for everyone to sleep comfortably. 
Using a car's heater is a great way to build up heat inside of the vehicle. 
Make sure to keep an eye on your fuel tank and take care not to drain your battery by using your car's electricity. Draining your battery could leave you stranded in harsh weather. 
Car Equipment To Keep You Warm
Arcturus Heavy Duty Survival Blanket
MANY USES: Can be used as a ground tarp, shelter, tent or emergency blanket when camping, hunting, backpacking or boating. Keep one in the trunk of your car for the unexpected!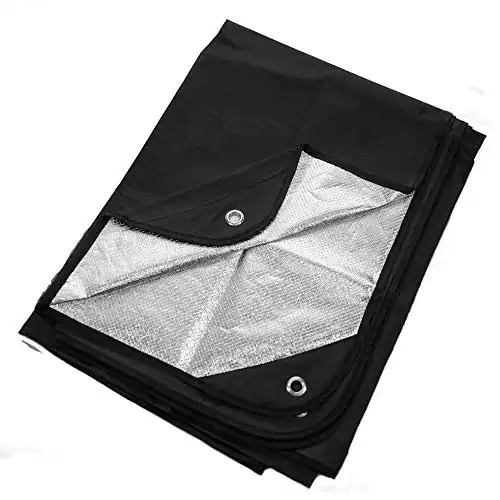 If you make a purchase, you support Hi-van.com by allowing us to earn an affiliate commission (no added cost for you).
Because a car is mostly metal, it can be far colder than the insulating fabric in tents. Having a sleeping bag inside or an Arcturus Survival Blanket from Amazon can ensure that you stay warm even if your car becomes cold. 
Humidity can be a problem while sleeping inside of a car. It might be tempting to crack a window open when they start fogging up from condensation, but doing so can allow cold air to seep inside. 
The wisedry Silica Gel Car Dehumidifiers from Amazon will remove excess moisture from the air within your car. 
If you still find yourself getting cold while in your car and you don't want to use the heater, bring some HotHands Hand Warmers (also on Amazon) with you to increase the temperature. Once the inside of your vehicle is warm, it will keep the heat inside unless you open a door or a window. 
Related Articles:
How Cold is Too Cold to Sleep in a Van?
Is It Safe to Sleep in Your Car in the Winter?
---
Car vs. Tent: Which Is Warmer?
A tent is warmer than a car. You can stay warm inside of a car, but a well-equipped tent with an insulating sleeping bag and a warm sleeping pad will keep you far warmer than being inside of a car will. 
You can stay warm inside a car using wool or emergency blankets, your car's heater, or hand warmers. 
A tent will also give you more freedom in where you want to camp, as they are lightweight and you can bring them into more remote areas. It is easy to set up and take down, and you can build a fire near it for extra warmth. 
On the other hand, you can use a car to camp easily and affordably since you won't need to bring as much equipment with you. It can also keep out unwanted pests and is far more secure than a tent because you can lock your doors and windows. 
If you find yourself needing additional warmth, cover your car with your tent for extra insulation in freezing situations. However, If you do this, be sure not to run your car at all as you can cause carbon monoxide poisoning in the enclosed space. 
---
Conclusion
Whether you are camping inside of a tent or your car, you can make sure you stay safe and warm by bringing along equipment like: 
Blankets 
Sleeping bags 
Heaters 
Hand warmers 
Dehumidifiers 
In the end, either a tent or a car will keep you warm. You will simply have to decide what kind of camping experience you enjoy more.
Find this content useful 🙂 ?
Subscribe to our Newsletter and get a free Solar Electric Diagram + shopping list.