Hi-van is supported by its audience. When you purchase using our links, we may earn an affiliate commission (no added cost to you). Learn more
Winter camping gives you the opportunity to take in the picturesque snow-draped landscape and feel the tranquil chill you can only experience in winter. However, the magnificent experience is often punctuated by routines that make us human such as the need for a shower. How can you do it?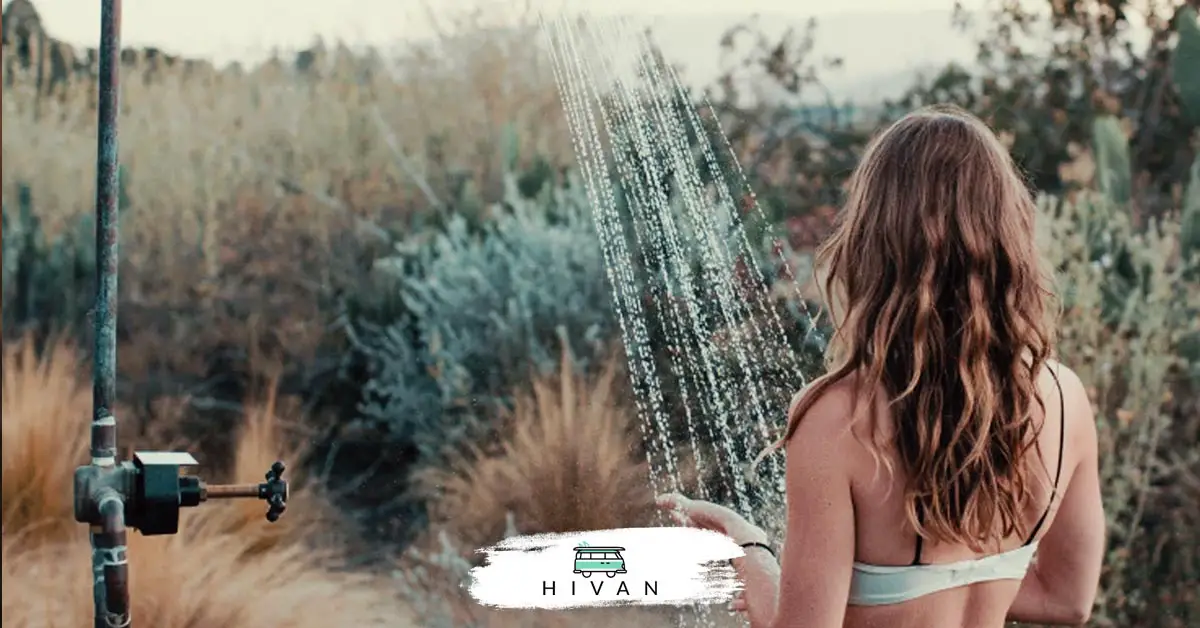 Here's how to shower while winter camping:
Go camping with the right supplies.
Use shower heaters.
Shower with collected snow.
Use portable showers.
Shower in water bodies.
Ask to use other people's showers. 
You can stay fresh and clean while winter camping. The rest of the article will cover all the approaches above in more detail to help you understand how to navigate the problem. Watch out for product recommendations (all from Amazon.com). 
---
1. Go Camping With the Right Supplies
You need to go with the right supplies to shower while winter camping. Without them, you're likely going to struggle. 
Some of the recommended equipment you'll need includes: 
Instant Portable Outdoor Shower Tent
The Gigatent 6 foot instant privacy tent offers you instant private space for camping bathroom & potty use, outdoor showers, changing clothes, for use as a soft rain shelter, and more. And without any hassles of tedious installation – a must-have travel accessory for your next adventure!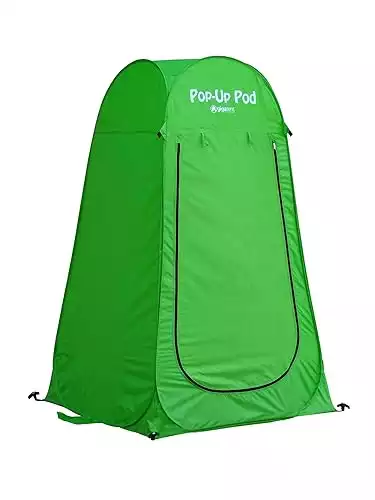 If you make a purchase, you support Hi-van.com by allowing us to earn an affiliate commission (no added cost for you).
A shower tent: Unless you're camping in an area where you're sure to be alone, you'll need some privacy as you shower. A shower tent provides privacy as well as other functional features to simplify the process. For example, the GigaTent Pop Up Pod has a hanging rod for your water bag.
Biodegradable soap: Your standard bathing soap and shampoo won't work in winter camping as you're unlikely to have enough water to wash the residue off. Biodegradable soap gets the job done and won't lather as generously as your standard options. 
A bucket or bowl: You'll likely need a bucket or bowl to collect water. A steel bucket is preferable to a plastic one.
A sponge: You need a sponge or washcloth to properly get rid of dead skin.
Water heaters: You'll need at least one to heat some water quickly. 
If you've gathered your supplies, you can explore the shower options we'll cover in the remaining steps. 
---
2. Use Shower Heaters
The chilly winter air makes showering more difficult than it should be. However, if you have a water heater, you've solved the bulk of your problem. 
Propane water heaters are some of the more common options.
You'll need to find a stand for the heater in your shower tent. You can put together a makeshift stand with some sticks if necessary. Connect the heater to the water source. You should have usable warm water in 5-10 minutes. 
Some propane heaters come with shower pipes which do a good job at mimicking what you've got at home.
Apart from propane heaters, you will also find solar-powered and battery-powered shower heaters. You might be surprised, but solar shower heaters can do a decent job in the winter. You can use one to increase the temperature of your collected water by up to 130°F (54°C), which is warm enough for a bath. 
You only need to avoid placing the heater where shadows will interfere, and it'll work well.
Battery-powered options are also good at heating water. However, the battery backup on these units can only realistically heat water for two sessions before they run out.
With heating sorted, you can proceed to find a water source.
---
3. Shower With Collected Snow
Snow is a perfect water source for winter camping showers. 
You can collect some to produce water you can use. Go outside your tent and collect as much snow as you can carry in your steel bucket. But you'll want to go at least 100 m (328.08 ft) away from your tent and ensure the area is clean.
After collecting the snow, put the bucket on your stove to melt it. 
You may have to go back a second time because, as you'd quickly find out, one bucket of snow doesn't translate to one bucket of water. After you've gathered enough bathwater, you can transfer it into the shower bag. 
Hang the shower bag in your shower tent, and you're ready for a bath. 
---
4. Use Portable Showers
Portable showers streamline the bathing process. 
All you need to do is fill one with water, and you're ready for a bath, but again, you'll need somewhere to hang the bag. If the water flow isn't enough, you can adjust the pressure or pump valves.
Our Pick
Advanced Elements Summer Solar Shower
Camping shower; ideal for hiking, hunting, fishing, and other outdoor adventures.
3-gallon capacity; designed to heat water fast in the warm sun; has a water temperature gauge.
If you make a purchase, you support Hi-van.com by allowing us to earn an affiliate commission (no added cost for you).
The 3-gallon Advanced Elements Solar Shower is a good option here, as it's easy to refill and use. You can fill one of these from home to ensure you won't need to hunt for a water source while out in the camp.
Related Articles:
Showering on the road - full guide
​​How to Easily Hang a Camp Shower (Tips and Tricks)
---
5. Shower in Water Bodies
If you're camped near a river, you can take a quick shower in the cold if the weather isn't too cold. 
Winter doesn't always bring subzero temperatures with it, so if the weather allows, you can quickly strip, shower, and slip back into your warm clothes. This option is best for people without breathing-related issues to avoid complications.
---
6. Ask To Use Other People's Showers
If you're in a commercial campground, it's likely that you're only a few meters away from other campers. 
Politely ask them to use their shower if they seem more prepared than you. If they only have heating, you can provide water and use it. If they don't have a shower tent, you can find a covered place or rig a DIY cover with rags and some branches, and then shower.
---
Other Tips to Keep in Mind
Keep your clothes dry as you shower. They won't dry quickly in the winter, and you can't wear wet clothes without running the risk of falling sick.
Decide on your water sources before going out to a camp. If there's no access to water in the camp, you can bring extra for drinking and bathing.
Don't stay outdoors after your shower. Dry your body quickly, wear your clothes, and slip back into the warmth of your tent.
Don't take a shower near your tent. The run-off water may flow towards it and soak your belongings.
Related Article:
How Much Water Do You Need for a Camp Shower?
Complete Guide to Drying Clothes While Winter Camping
---
Final Words
Taking a shower in winter camp sounds very uncomfortable, but it doesn't have to be. You only need to find a water source and a way to heat the water quickly. With both sorted, you can take the water, either in a bucket or a portable shower, to a secluded area far from your tent to bathe.
Remember to protect yourself after the shower. You'll feel a lot colder immediately after a shower so don't stay exposed for long.