Having a minivan kitchen to prepare fresh meals is a great way to eat healthy while you are on the road. Downsizing from a regular kitchen can seem like an impossible task, but once you get used to a streamlined minivan kitchen, you will be cooking fresh meals in no time. But what are some interesting minivan kitchen ideas? 
The best minivan kitchen ideas should help you cook and eat while on the road. Since the cooking area and storage is limited in a minivan, it is best to purchase multi-functional and space-saving items for your kitchen, such as a breakfast station, portable stovetop oven, and paper plate dispenser.
Let's take a look at some of the items you need for your kitchen, and continue reading for some storage tips to maximize the space in your minivan!
[sherpa id="6ff0f167″]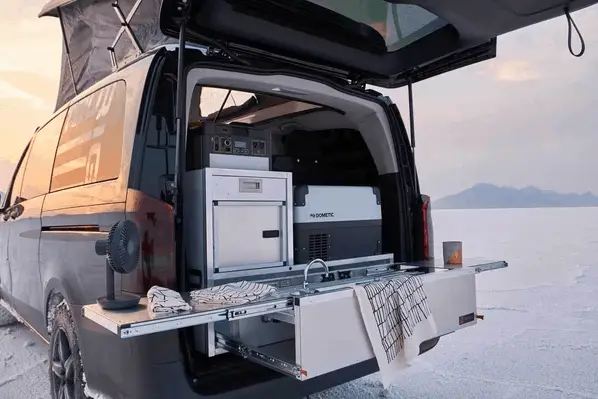 Convert part of your minivan into a high-performance kitchen with Trail Kitchens' Minivan Camper Kitchen. It is a slide-out kitchen that fits into the rear cargo area of minivans. Rather than installing separate appliances, this is an all-in-one unit that makes converting your minivan incredibly easy.
You can cook and clean with this unit as it includes a burner propane stove and stainless steel sink. It has a freshwater reservoir and pump with an optional water heater/shower available as an add on. The cabinet and drawer also offer space to store all your cooking utensils and equipment with expanding tables for countertop space.
The disadvantage of this unit is the expensive price tag. However, reviewers note the high-quality appliances and functional build makes them want to go camping more! Having a kitchen unit that mounts in your minivan's rear cargo area might be more convenient for you rather than a full installation.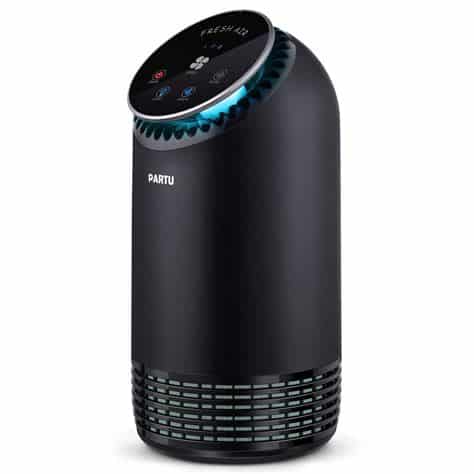 The PARTU HEPA Air Purifier features a three-stage filtration system with a HEPA filter, pre-filter, and an activated carbon filter that can capture pollen, dust, odor, smoke, air pollution, and pet dander. This air purifier also has a fragrance sponge where you can add a drop of essential oil, which will flow with the air purifier's air movements.
It is compact with a sleek design, which is perfect to tuck away in the corner of your minivan kitchen since space is a valuable commodity. With an air purifier, your minivan will have continuous fresh air and not smell of food you cooked.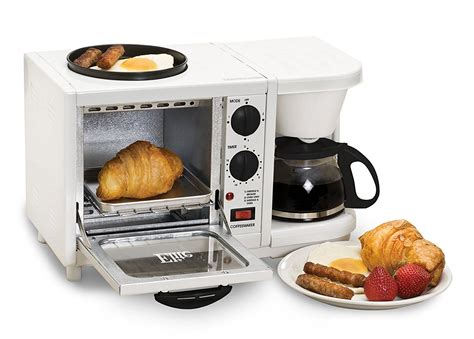 The Elite Gourmet Maxi-Matic 3-in-1 Breakfast Center Station has a coffee maker, multi-function toaster oven, and a non-stick griddle. The set has the ability to make a complete breakfast with a single appliance, maximizing your minivan countertop space with one unit.
The toaster oven comes with a roasting pan and a crumb tray that is perfect for one slice of bread. The oven-top griddle can be used to fry eggs, bacon, sausage, and other breakfast items. If you're a coffee addict, the coffee maker has a reusable filter, can brew up to four cups of coffee, and includes an anti-drip function for fresh coffee every morning. All removable parts and accessories are dishwasher safe, so clean up is a cinch!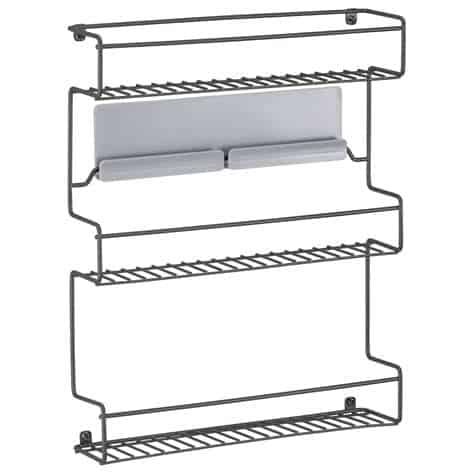 Spices are essential when cooking delicious food. Rather than taking up valuable cabinet space, you can use a door mount spice rack to hold spices. A door mount spice rack keeps your items well organized and tidy, which is crucial for a small space. Gone are the days of knocking over spice bottles to reach the one in the back!
The compact tiered design is self-adhesive, so just peel and stick to clean to dry, and smooth surfaces with no hardware or drilling required. Readers note that smaller sized specialty spice containers can tip a little on the shelves.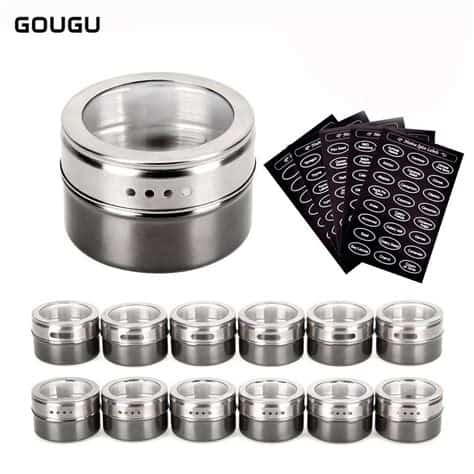 Don't have a door to mount a spice rack? No sweat, attach this stainless steel base to a smooth surface (your minivan wall). Then simply fill the magnetic jars with spices and place them onto the magnetic steel surface without taking up valuable counter or shelf space! The spice tins can stick to any magnetic surface, so you don't need to use the included stainless steel magnetic base.
The transparent lids on the containers have a rotating design with sift or pour holes to adjust for your cooking needs. You can store herbs or other seasonings in this multi-purpose container as it is rust free and dust-proof.
Some reviewers mention that extra fine ground spices such as cinnamon can get in between the container and lid if you try to use the sifting hole. But most reviewers note the space-saving capabilities and ease to mount onto a wall.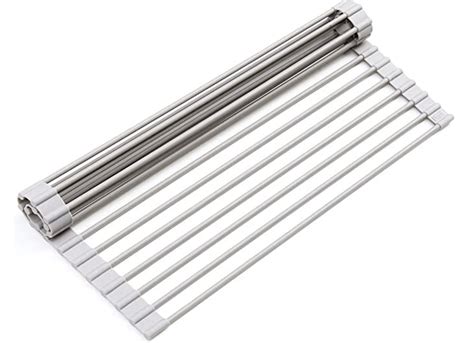 This multi-purpose roll-up dish drying rack is made of FDA food-safe grade silicone wrapped stiff metal rods that are collapsible and rolls up for easy storage. This multi-function kitchen gadget tool can also be used to hang wet cloths or sponges over the sink to dry. It's perfect to use when drying out wet dishes since it is resistant to rust and made of non-slip materials.
Not only can it be used to dry dishes, but it also is heat resistant up to 400 °F (204 °C) and can be used to cool off freshly baked bread or hot pans. It is a practical and functional kitchen tool to maximize your limited counter space.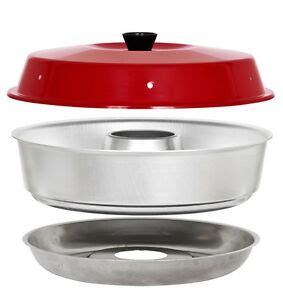 The Omnia Oven is a portable stovetop oven designed to bake on any type of burners such as gas, electric, or a camp stove. It acts as an oven right on your stovetop so you can bake pizza, cakes, bread, and more. It holds as much as an 8″ square baking pan, and there are steam vents in the lid to ensure that your food does not come out soggy.
Reviewers note that getting the flame temperature is difficult in the beginning and requires quite a bit of experimentation. However, it gets easier to figure out and becomes straightforward to use with some practice.
Minivan kitchen space tends to be lean, so you may only have a few dishes. But if you plan on having some friends over, you don't want to run out of utensils or plates before a meal is served. In this situation, it's important to have some disposable plates on hand. Your friends will be able to reach for plates easily while not taking up crucial counter space.
This paper plate dispenser can be installed easily under shelves or cabinets while keeping the paper plates clean and accessible. It is recommended to fill this dispenser with paper plates that are biodegradable, compostable, and eco friendly as it means less plastic is being hauled to the landfill.
Tips for Organizing Minivan Kitchens
Here are some additional minivan kitchen storage and organization ideas to use every bit of space efficiently:
Use an empty wall to attach magnet strips for knives or magnetic spice jars.
If you have a fridge installed in your minivan, use magnets to store kitchen supplies like bottle openers or magnetic spice jars on the fridge door.
Use the empty storage space in your microwave to keep food items.
Hang items under cabinets.
Use tension rods to hold items in place while on the road.
Add extra shelving, especially inside cabinets, if there is extra space.
Conclusion
There never seems to be enough space in a minivan, and with a kitchen, it can feel even smaller. But you don't need to worry about downsizing to a kitchen with limited space. Armed with multi-functional kitchen appliances and storage tips to organize your minivan kitchen, you will be on the road and maximizing all your available space in no time!