Hi-van is supported by its audience. When you purchase through links on my site, I may earn an affiliate commission. Learn more
Getting your vehicle serviced for both habitation and mechanics is a standard part of owning a campervan. It allows you to keep your RV in good shape and makes sure it continues to work optimally.
But what does a campervan habitation check actually mean? A campervan habitation check is an in-depth inspection of the living area of a motorhome, campervan, or caravan. It is a series of checks that tests all the systems in the van and makes sure they are working well and safe to be used.
The checks include things like inspecting the gas appliances, system, pipes, and associated appliances. A habitation check is typically performed by a licensed mechanic or camper van professional and can cost anywhere from £50 for a gas leak check to over £200 for a full mobile check. It is essential to keep the manufacturer's warranty valid.
In this article, I'll discuss everything you need to know about this topic in detail to help you understand what a campervan habitation check is and why it is important.
What Does a Campervan Habitation Check Mean?
In a nutshell, a habitation check is a process that includes an in-depth inspection of your motorhome's living area. Basically, it's a series of multiple checks, specially designed to inspect and test all the systems of your motorhome in real-time to ensure they're working optimally.
A habitation check must be carried out by a qualified and licensed campervan professional or mechanic. They test everything in your RV to look for signs of hazards, damage, and other potential safety issues.
The purpose of a campervan habitation check is to make sure that your vehicle isn't going to break down or fail to ensure the safety of everyone inside.
What Does a Campervan Habitation Check Include?
The inspection tests that a habitation check includes can vary from model to model and service to service. However, the following are some tests that are typically included in a habitation check.
Checking for weakening plumber's glue or leaking pipes
Testing the entire van for fire hazards
Inspecting the van for body deterioration
Looking at water system and pump repairs for problems
Checking clogs in water pipes
Looking for gas pipe leaks
Testing ventilation to find out if there are any issues
Inspecting the entire electrical system for exposed wires and shortages
Testing detectors and alarms, such as carbon monoxide detectors and smoke alarms
---
Why Is a Campervan Habitation Check Important?
The campervan habitation check is important because it's the best way to guarantee that your RV is completely safe for your and your travel crew. A professional and licensed mechanic will inspect and certify your RV.
Many people ignore the importance of this test but it's not a good practice to follow. Unfortunately, these checks aren't very common in most parts of the world. In fact, there are only a handful of countries that offer specialized services against habitation checks and encourage RV owners to use them and get their certificates.
Keep in mind that you'll need to take your campervan to a specialized RV workshop, not a traditional vehicle service center, to get a habitation check certificate.
Related Articles:
– How to: Transform a pop up camper into a tiny house
– 14 Worst States for Off-Grid Living
That's because motorhomes aren't like traditional vehicles as they have electrical, gas, and plumbing components that other vehicles don't have.
If you don't have such services in your area, you can simply take your motorhome to any local RV workshop or dealership to get your vehicle inspected thoroughly. The only thing that you'll be missing, in this case, is that you won't get a certificate.
Additionally, you should consider getting your RV serviced by a professional for habitation checks even if you're knowledgeable and know everything about your motorhome. Not only will it take the guesswork out of the equation but it'll also remove personal liability should anything go wrong.
---
Benefits of a Habitation Check
The habitation check is the way to go if you want a certificate for peace of mind and want to ensure the safety of your loved ones and yourself. Here's a list of benefits that a habitation check offers.
Helps When Selling the RV
Other than giving your peace of mind, a habitation check certification also comes in handy if you're planning to sell your motorhome. It works as a guarantee that your recreational vehicle isn't riddled with problems, wasting away, or being torn to shreds.
It's important to note that there are many RV dealerships, selling and buying used RVs, that require the owner to provide them with a habitation check certificate. So, if you're planning to sell your campervan, it might be a good time to get your vehicle serviced for the habitation check.
Detects Early Warning Signs
Another benefit of a habitation check is that it can improve the longevity of the components of your campervan. It'll allow a professional to spot warning signs timely that you may not be able to detect on your own.
Not only does it allow you to solve minor problems before they get worse but it can also save you a whole lot of money. That's because it's almost impossible to find issues that you're not looking for.
Can Keep Warranties Intact
If your motorhome is under warranty, you must get a habitation check regularly. That's because many campervan warranty contracts are void if you fail to get your RV serviced for a habitation check as often as mentioned in the contract.
---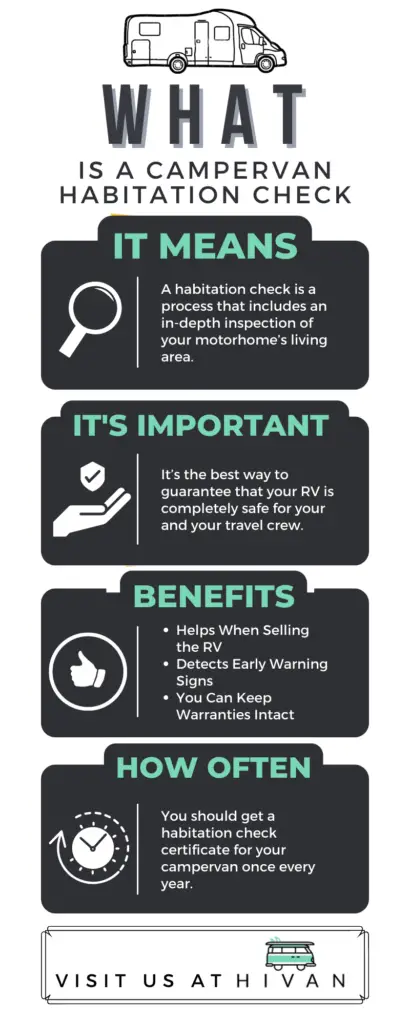 FAQs
Is the RV Habitation Check Required by Law?
No, an RV habitation check isn't required by law. You can buy a campervan and drive it around for as many years as you want without getting a habitation check certification. However, getting a habitation certification gives you peace of mind that your RV is in good condition.
How Often Should You Get a Habitation Check Certificate?
Ideally, you should get a habitation check certificate for your campervan once every year. It's especially true if your motorhome is still under warranty and you want to keep it intact. It's one of the best ways to protect your long-term investment, avoid unwanted scenarios, and ensure the safety of your loved ones and yourself.
---
Final Words
A campervan habitation check is an excellent way to get your recreational vehicle inspected and make sure that everything is working optimally. It allows you to keep your motorhome in tip-top condition and keep yourself and your loved ones safe.
I hope this guide has helped you understand what a campervan habitation check is and why it's important to get it every once in a while.