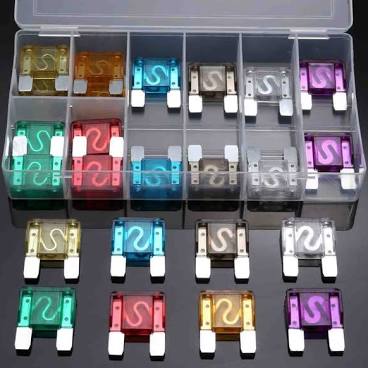 Both RVs and cars have fuses to protect their electrical systems, but there are several differences between these two types of fuses.
| | | |
| --- | --- | --- |
| Category | RVs | Cars |
| Electrical Systems | 12V DC Battery, 120V AC Power | 12V DC Battery |
| Fuses or Breakers? | Fuses and Circuit Breakers (For AC) | Fuses |
| Fuse Box Location | Under fridge, in the kitchen, or under bed | Under the hood on the driver's side |
| Fuse Types | Blade, Cartridge, Slow Blow | Blades, Cartridge(in some cars), Bolt-Down Fuses |
As you'll see in the table above, several key differences exist between the fuses seen in RVs and those found in cars. This will make a difference when it comes to which types of fuses you'll need to buy. You are invited to continue below to learn more about the differences between car fuses and RV fuses.
Are RV Fuses the Same As Car Fuses?
As is the case with all fuses, RV fuses serve the purpose of protecting the electrical components from damage, just like in a car. The difference with RVs is the number of appliances (and, therefore, the number of fuses) and the heating and cooling system wired into the electrical system. For instance, in a car, you have radio and heating/cooling, but you certainly do not have fridges or stoves.
RVs Have 3 Power Sources/Hidden Fuse Boxes
The first primary difference is the electrical system, which impacts which fuses you'll need to have on hand.
In a car, everything is wired into a circuit attached to the 12-volt battery that you have probably had to replace at some point in your life. The fuse box is found under the hood, typically on the driver's side.
With RVs, things get a little more complicated. There are three different types of power sources in RVs, which may be operating individually or in unison. These are identified in the table below.
Power TypeUsePower SourceAC Electrical SystemOften 120V is used to run air conditioning and electronics such as smaller appliances, TVs, etc.
Generators or shore power stations at campgrounds
DC Electrical System
12V used to run lights, switches, slides, thermostats
12V batteries that are recharged by converter drawing AC power
Propane
Some larger appliances run on propane fuel as well
Propane fuel
Where Is The Fuse Box In An RV?
Fuse location is not always so straightforward and intuitive in RVs. It is essential to familiarize yourself with the locations of the fuses since blown fuses are a common occurrence in RVs.
12V fuses are typically located in an electric compartment of the RV, right next to the 110V circuit breakers. These electrical compartments can be located either under a refrigerator, a bed, a pantry/cabinet, or elsewhere depending on the manufacturer. Your friend's camper and your camper certainly can differ in this regard.
Cars Have Fuses But Not Circuit Breakers
RVs have both circuit breakers and fuses, but cars only have fuses. This is because circuit breakers cost more than fuses, and they take up more space. Under the hood of a car, you don't have much room to work with. You also are less likely to have faults that would lead to a circuit overload.
There is greater potential to have faults in RVs since you have so many different appliances and electrical components wired into their respective systems, whether you're talking about the 12V DC electrical system or the 120V AC electrical system. Fuses are used for the DC circuits, and circuit breakers are used for the AC circuits.
What Kind Of Fuses Do RVs Have? Cars?
There are many types of fuses in RVs that may be hard to find a replacement for, especially if you are in a remote location. The smallest items use glass cartridge fuses, while most items use blade-type fuses, like those found in your car.
| | |
| --- | --- |
| Type Of Fuse | Common Uses |
| Glass Cartridge Fuse | Remote mirrors, backup monitors |
| Blade Fuses | Most items on a 12-volt circuit (Such as lights and outlets) |
| Slow Blow Fuses | Motors (such as air conditioners) |
| Circuit Breakers | Items on 120 AC power (such as refrigerators, air conditioners, and microwaves) |
Courtesy: Dometic RV Air Conditioner Owner's Manual, Greyhawk Class C Motorhome Owner's Manual
You may have noticed the reference to "slow-blow fuses," as the one found here, in the table above. These are fuses that take longer to blow than a standard blade fuse. They become useful when you are using an item with a motor, such as an air conditioner, because there is a higher current running through the circuit during the starting of the motor.
Related Article:
Do RV Furnaces Have a Fuse?
Fuses In Cars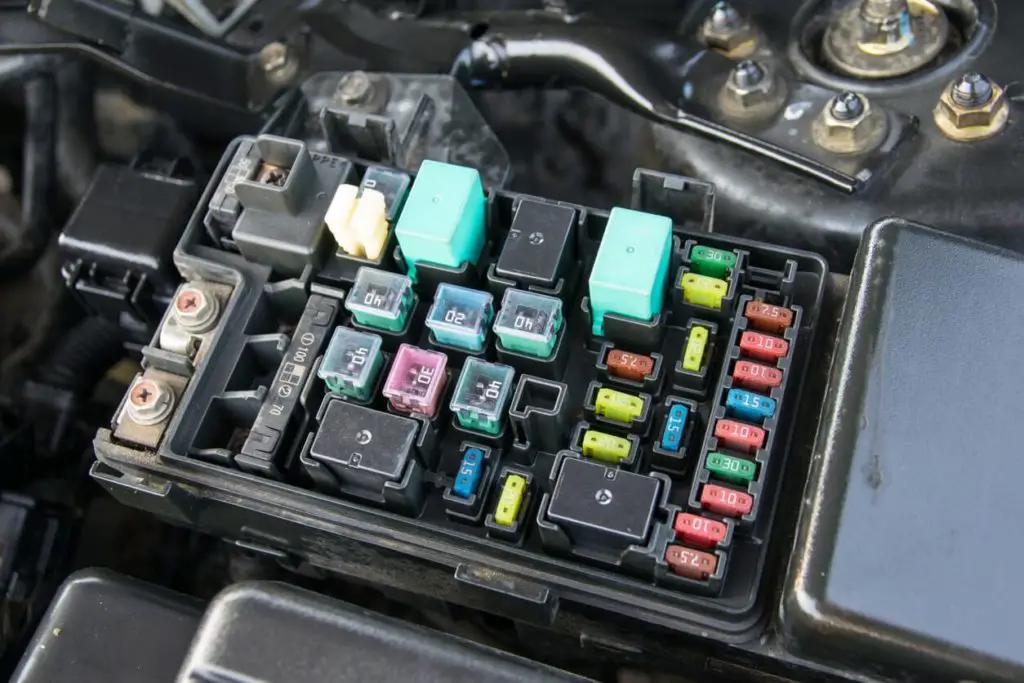 In cars, the vast majority of fuses are blade-type fuses since you don't have many accessories that require fuses with high current carrying capabilities. In the automotive industry, bolt-down fuses are used for battery and alternator circuit protection.
Maxi Cartridge-type fuses, such as FMM fuses, aren't unheard of in cars either since some manufacturers are trying to use these to save space. The FMM fuses are suitable for high current circuits, unlike the blade type fuses, which are limited to the bottom end of the current range.
What Sizes of Fuses Are Needed For RVs? 
You need a wide range of fuses in RVs, from a 3 A fuse for the fan in a refrigerator to a 7.5 A for the water heater and a 30 amp fuse for a tank heater. This is why it's convenient for RV owners to purchase an automotive/RV fuse kit, such as the one seen here. You should also have a glass cartridge fuse kit on hand for all those random items that need it, such as remote mirrors or thermostats.
In the table below, you'll see an example of some of the fuse sizes pulled directly from the owner's manual for an RV. You are encouraged to look up the same information for your RV, as this will tell you a lot about which fuses you need to buy. Take note that these are the fuse requirements for items that come with the RV. Any add-ons (such as water heaters) will have their fuses.
| | |
| --- | --- |
| Item | Fuse Size (Amps) |
| Remote Mirrors | 1 |
| Water Pump | 15 |
| 12-volt outlets | 15 |
| Tank Heater | 30 |
Courtesy: Greyhawk Class C Motorhome Owner's Manual
What Sizes Of Fuses Are Needed For Cars?
You'll notice right away that cars have many different fuse size requirements than RVs, but there are some similarities, such as the use of 15-amp and 30-amp fuses for some items. The big difference is that there are not many items requiring fuses under 5-amps (at least in the Ford F-150). 
| | |
| --- | --- |
| Item | Fuse Size (Amps) |
| Trailer Brake Switch | 5 |
| Wireless Charger | 7.5 |
| Driver Power Window Switch | 10 |
| Driver Door Control Module | 30 |
Courtesy: 2021 Ford F-150 Owner's Manual
Final Thoughts
Although cars and RVs use similar fuses, there are some critical differences in the types of fuses used in RVs and the fuses used in cars. Cars generally will only have fuses and no circuit breakers. Most of the fuses used in cars are blade-type fuses unless the manufacturer used FMM cartridge fuses to save space. Bolt-down fuses are also used for high-current items such as alternators.
In RVs, you'll generally notice blade fuses being used for items on 12-volt DC circuits, while circuit breakers are used for items on the 120-volt AC circuits. Slow-blow, or time-delay fuses, are sometimes used for appliances with motors such as air conditioners. Glass cartridge fuses are used for random smaller items, like remote mirrors. There are also some differences in fuse sizing between cars and RVs, as seen in the above sections.