In the world of car models, the minivan is not necessarily the most flashy vehicle, but it is certainly convenient for soccer moms (and dads, no sexism here) or if you need to transport more than five people at a time. What you may not know is if a minivan has the towing capacity to pull a popup camper behind it.
Minivans can tow popup campers with specific modifications. The gross vehicle weight rating requirements (GVWR) for minivans are from 3500lbs to 3600lbs. You will also need access to either a weight distributing hitch or a regular hitch and a connected wire harness.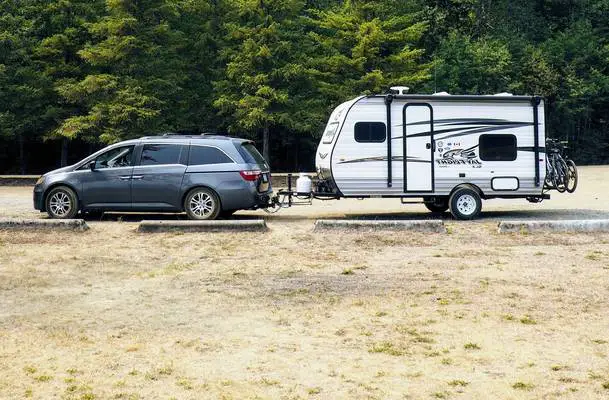 So can a minivan tow a camper? It may sound almost impossible as you probably associate towing power with a beefy truck or a handy jeep. However, this guide can teach you what you need to know to get the best towing power out of your minivan, so read on!
Can A Minivan Pull A Popup Camper?
First things first, you need to get the obvious out of the way. You should never judge a book by its cover. When supplied with the proper equipment, tools, and knowledge, you can get a minivan to do just about anything. It can sound trite, but the process can be complicated as you will need to know a fair bit about your minivan and popup camper.
Think of it this way, your minivan and camper need to be compatible before it can tow anything. For example, if your car runs on unleaded fuel and you fill it with diesel, not only will you not get very far, but you will end up clogging your fuel filter and your fuel injectors. Lack of information on your part will ruin your car and you never want that.
So when looking at whether your minivan and popup will work together, you will need to know a bit of information about your trailer. Understanding your camper's weight will help determine if the minivan will have the proper power to safely haul everything around. You will also need to consider the type of hitch your minivan and camper have.
Provided your popup camper does not weigh more than your GVWR, and you have the proper tow package, there is no reason why you should not be able to tow everything you need with your minivan. Paying special attention to the make and model of your minivan will also help you to make sure your camping trip is safe and fun.
What Kinds of Popup Campers are Towable?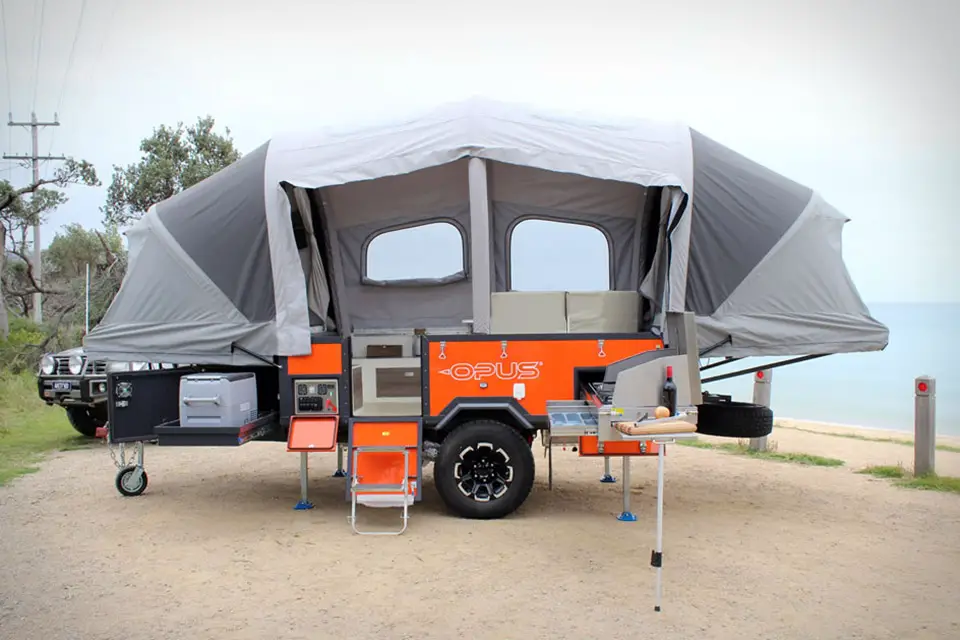 A popup trailer is a type of recreational vehicle, only it is much smaller than a typical camper. These RVs are ideal for camping and traveling. To ensure that your minivan has all the tools required to tow a popup camper, you will need to know what type of trailer you have. Brands do not necessarily matter here, just do not go over weight.
Remember, not all minivans are the same; you can apply the concept for popup campers. Some popup campers may be too big or heavy to be pulled by your particular type of minivan, so understanding what kind of minivan and what kind of popup trailer you have is crucial. There are four types of pop up campers you can choose from:
The smaller size of trailer you decide to go with, the more likely it is that you will be able to tow it behind your minivan without any problems. For this reason, the Tent Trailer or Teardrop Campers will probably be your best bet. Then again, take a look at your GVWR in your minivan, which should be located in your front door frame on a sticker.
If the trailer you are trying to tow is within the GVWR limits of your minivan, things should work out, regardless of the style of camper you land on. Plus, then your main worries will be about what brand you are going to buy, how much money it is going to run you, and what colors are in stock!
Size and Weight Matter
It is surprising to think that a sports car has more horsepower than a minivan, but trying to tow anything behind your fancy Lamborghini would only cause problems for you and your vehicle. Instead of spending your camping trip in the great outdoors, you might end up spending your vacation overpaying a mechanic, which is a less than ideal situation.
Once you can conclude what kind of camper you have, you will have to take a few measurements. Knowing the size of your popup camper and minivan will tell you if they are compatible. If the camper is too tall or wide, you could be facing some serious wind resistance, which can take its toll on your vehicle. Here are some things to check:
The average starting length of a popup trailer is 8ft and can get up to 16ft. Keep in mind the more prominent the camper, the more extensive the vehicle will need to be to pull it. Additionally, it is worth mentioning that the larger your camper, the more torque your vehicle will need to use to successfully and safely tow your whole setup.
You will also have to keep in mind the weight of the amount of people that will be riding in the minivan, and whether or not your camper will be fully loaded. If a minivan, on average, can tow around 3500 pounds, you have to take into account the people that will be in the car, the weight of the trailer, as well as the camper setup.
Crucial Factors to Keep in Mind
The last thing you want is to lose your camper halfway to your destination, or to cause permanent damage to your vehicle. The qualities to successfully tow with a minivan are dependent on a few crucial factors. For example, the trailer's weight will matter when checking the:
GVWR= The gross vehicle weight rating of the vehicle
Tongue weight- weight bearing on the tow ball
Hitch weight – tow ball accepting the weight
Camper weight – advises how much the trailer weighs
A weight distributing hitch – specialized hitch that distributes trailer weight to the vehicle's chassis to avoid putting too much pressure on any one section
A technical hitch is not always necessary. However, if the popup camper weighs up to 50% or more than the towing vehicle, this is a good indication that a weight distributing hitch is needed. Smaller campers should not be a problem if you do not have or do not want to use a technical hitch.
Check Your GVWR, Payload, And Popup Campers Weight
In most vehicles, this information is located on the inside drivers' door panel. Be sure to keep in mind that the weight restrictions do not mean that the trailer can weigh up to that much. If your GVWR is 3500 pounds, and your popup camper weighs up to 3200 pounds, you may not have any wiggle room for other passengers in the car!
The payload of your vehicle measures the amount of weight you can carry. Keeping this in mind, subtracting the most important factors first, such as the passenger weights, luggage and supply weights, and trailer and trailer hitch weights, will help you to know approximately how much your camper can weigh. Then, do not go over that number!
Tips To Successfully Tow A Popup Camper With A Minivan
Getting to know your minivan can be confusing. It can be like Goldilocks and the Three Bears, finding the camper and system that is just right. Towing anything is a process, so if you get the measurements and do the math first, the rest will go smoothly. The order in which you follow this process is essential.
Going out of order could lead you to accidentally buying a camper that is far too large for your GVWR. The reasoning behind getting to know your minivan and trailer first is to help you better understand the order and why it works. Here are some valuable insights to ensure that you can safely tow your trailer utilizing a minivan.
Confirming Hitch And Wire Harness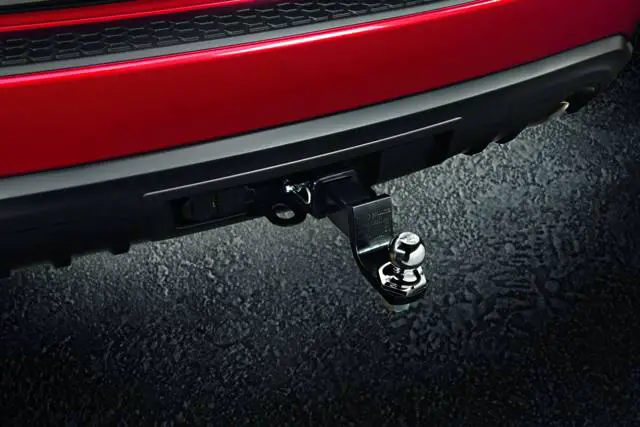 To verify whether or not the van already has a hitch installed, you will want to check the vehicle's rear. You will most likely need a weight-distributing hitch to connect to your camper. To identify if one is required, you will again need to check the campers' weight rating label. If it does not recognize a specialized hitch, then a standard hitch is enough.
A wire harness will allow you to connect the lights on your trailer with the wires in your minivan. For example, if you need to merge on the highway, a small toggle is able to be activated by the driver to indicate their intention to move. If you do not hook up the wire harness, you may think other drivers know your intentions, when the lights are not on.
Check Your Tongue/Hitch Weight
The difference between tongue and hitch is that one bears the weight while the other supports it. Imagine having an elephant sit on your back; that is how your vehicle feels when there is more weight than it can move. Do not put your vehicle through this, it will not thank you!
To put things as simply as possible, the hitch weight will be on the camper, and the tongue weight will be on the minivan. The tongue weight will be down on the tow ball. Some vehicles can only support up to 165lbs of downward force, so make sure you double and triple check all factors.
Tow Brakes and Tail Light Connection
Tow brakes are not your usual type of braking system. Remember, when you are pulling something behind you and stop too quickly, the camper will crash right into the van. Tow brakes use electrical currents to help ensure that when you break your minivan, the trailer behind you also breaks.
Taillights for your trailer are similar to what you have on your van. They will look like an electrical harness kit that you would use to install a car radio. It is recommended to have an experienced friend or mechanic install this for you, but if you are really gung ho, a quick Google search will be your best friend in figuring that out.
Conclusion
Minivans will be able to tow popup campers and more when you have the right tools—adhering to all safety regulations set by the trailer and minivan. Following these tips will ensure your success. Always check the weight limits on your minivan and the camper to prevent causing damage to either or both.
Getting your minivan ready to pull a camper is not necessarily easy. There is a lot of information and steps involved. These tips will help ensure that you are not only safe but will also save you money in the long run in repair costs. With the proper knowledge and tools, a minivan can tow anything, and you can be king of the road.