Hi-van is supported by its audience. When you purchase through links on my site, I may earn an affiliate commission. Learn more
Whether it's a simple personal preference or a necessity due to unfortunate circumstances, living in a van has become a trend among many people. But does this make van-dwellers homeless? There are many factors to consider before calling someone homeless.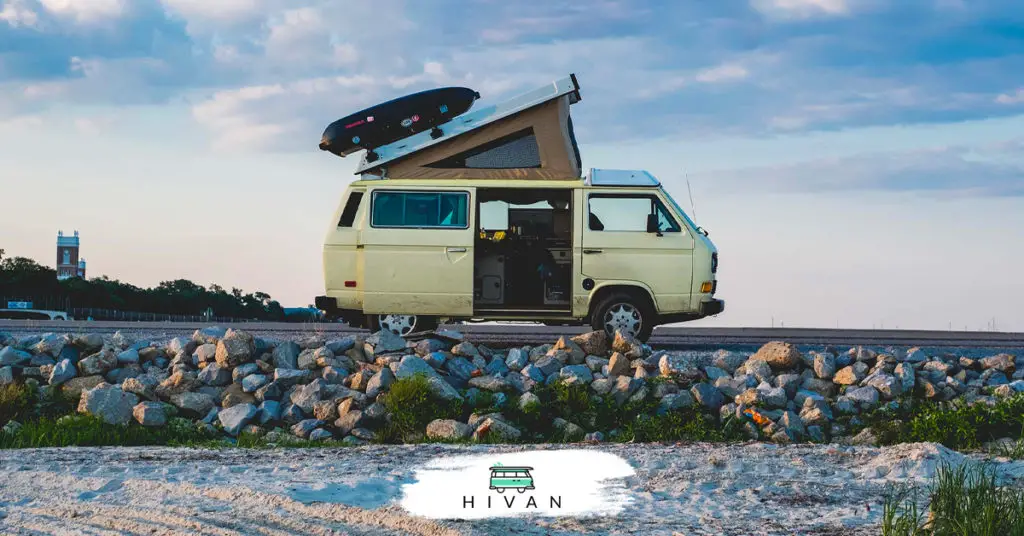 Living in a van is considered homeless in general. However, one must consider if the van has a working engine that allows the van dweller to change location or if the van dweller can legally occupy a parking space and if the vehicle offers essential utilities for good human living.
This article will discuss what homelessness means. It'll also tackle what essential living utilities must be present in a van for the vehicle to be considered a home.
Why Van Dwelling is Considered Homeless
Home is where the heart is. This cliché line might speak volumes, but it isn't admissible in court in arguments on whether or not to consider someone homeless.
Movies and other mainstream media have made people think that living in a customized van or recreational vehicle (RV) is attractive or cool. However, they fail to provide the real struggle of such a lifestyle. 
Living in a van makes you homeless for many reasons. I'll explain why.
Title 42 of the US Code, Section 11302, lists key definitions of homelessness. It defines a homeless person in the following ways: 
"An individual or family who lacks a fixed, regular, and adequate nighttime residence."
"An individual or family with a primary nighttime residence that is a public or private place not designed for or ordinarily used as a regular sleeping accommodation for human beings, including a car, park, abandoned building, bus or train station, airport, or camping ground."
Lack of a Fixed, Regular, and Adequate Nighttime Residence
When you break this down, you can see that living in a van meets the criteria. Is the van in a fixed location? Can it be considered your regular residence? Is it adequate for a living? 
A van is a mobile vehicle that can be relocated anytime, anywhere. That said, people living in vans usually don't have a regular, permanent address. Or even if they do, it might be miles away from the vehicle's current location as it moves frequently. There's also an issue about whether it's legal to park a vehicle in the space where one intends to spend the night. 
Living in a customized van may seem comfortable, but it may lack adequate utilities like: 
A stable water supply 
Electricity 
Internet  
Sewer system 
You may have imagined a few times how cool it would be to live in an RV and go wherever, whenever you want. That may also be what brought you to read this article. 
However, the more you think about it, you may realize that living in a van is as inconvenient as unsafe. At night, if you park your car in the middle of nowhere because of the adventure it brings, you'll most likely have difficulty getting access to essential utilities. There are also many natural risks, such as unpredictable weather or wild animals. 
Campgrounds or mobile home parking spots seem like a fun place to meet fellow van dwellers, but the cost of staying at such sites isn't that cheap. Every state has different rules and rates. 
Some state governments provide a list of utilities and facilities for van dwellers with corresponding prices. For instance, you have to pay for dumping black sewer water at dumpsites.
The availability of these utilities and facilities, however, is limited. People living in vans aren't allowed to stay at rental parks and campgrounds over long periods. That leads you back to the fact that people living in vans don't have a permanent, regular, and proper nighttime residence.
Find this content useful 🙂 ?
Subscribe to our Newsletter and get a free electric diagram + shopping list.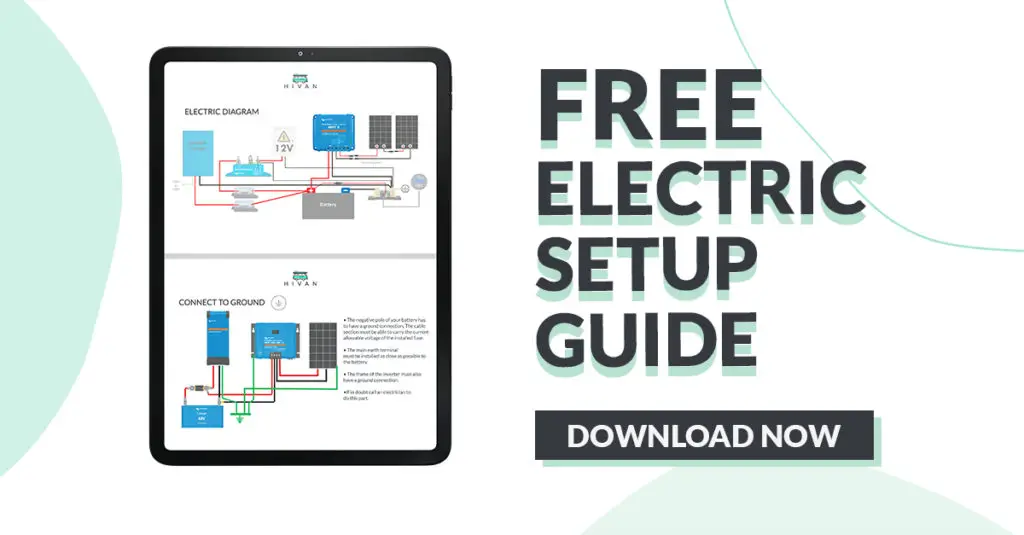 Nighttime Residence Not Designed for Regular Sleeping Accommodation
This definition indicates that a person living in a car is considered homeless. A van is designed for transport, not for accommodation. 
People who have a permanent house or apartment but decide to use an RV as a temporary residence for vacations and recreation aren't considered homeless.
However, if you choose to live full-time in your van, you'll need to check local rules and regulations as they vary widely across different states and towns in the US.
---
How To Make a Van in a Fixed Location Adequate for Sleeping
Even if you own the property where the van is located, you need to confirm with your local government and Home Owners Association whether or not they allow this kind of setup.
As discussed, the law doesn't precisely consider cars as a "regular sleeping accommodation for humans."
However, suppose your local government allows it. Then, let's check out some things you need to make the van an adequate residence.
Ensure That Your Van Has Access to Running Water
Water is one of the essential utilities for living. Having running water isn't only necessary but also convenient. It helps ensure residents stay hydrated and hygienic.
Laundry services at campgrounds usually cost a lot. Having your water supply at home is pretty reasonable, even if you're living in a van.
Get a Stable Source of Electricity
Electricity is important for people to survive in modern society. Whether you're a digital nomad or a van dweller in your backyard, you'll need electricity for essential home appliances and lighting. You can hook up to your local community's power line or be more self-sufficient and eco-friendly.
Renogy 200 Watt 12 Volt Solar Premium Kit
The Renogy 200W 12V Premium Kit uses our most efficient products to boost your off-grid system to its highest potential. This kit includes the new 100W Mono Solar Panel x2 which is not only sleek in size, weight, and color but are made of the highest efficiency solar cells that Renogy has to offer.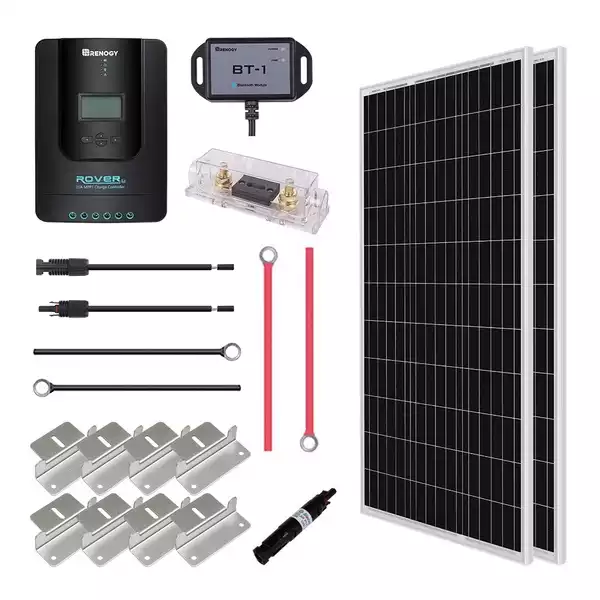 If you make a purchase, you support Hi-van.com by allowing me to earn an affiliate commission (no added cost for you).
Check out the 200W premium solar kit by Renogy, which is ideal for boats or RVs. 
Make Sure That You Have a Reliable Sewer System
Many local governments take wastewater management seriously. Living in a community in a fixed residence requires residents to follow local rules. This ensures that the community can maintain and enjoy order and cleanliness.
Ensure You Have Proper Heating System
All across the US, winter months vary from mild to extremely cold. Even sunny Texas had a freezing winter in early 2021.
If you're thinking of living in your van full-time, you might as well consider a heating system. It doesn't have to be big. The GiveBest Programmable Space Heater (also available on Amazon.com) is ideal for a small space such as your van.
---
Final Thoughts
There's no going around the fact that a person living in a mobile RV is considered homeless. However, those living in a van in a fixed location may avoid being considered homeless if they meet the legal requirements mandated by their local government.
Here are some of my favorite van life essentials:
Thank you for reading this article. I hope you found it helpful as you're experiencing your life on the road. Here are some tools and gadgets I use on a daily basis that made my van life a lot easier. I hope you'll also find them as useful as me. These are affiliate links, so if you do decide to purchase any of them, I'll earn a commission.
But in all honesty, these are the exact tools that I use and recommend to everyone, even my closest friends and family.
Kitchen: I'm cooking a lot and I've finally found my perfect cookware set: The Magma Cookware 10 Pcs that you can nests and store in less than 1/2 cubic foot of cabinet space is really handy. Since I'm also spending a lot of time working at my desk, I use my favorite coffee mug from Yeti. For more, check my list of kitchen accessories I can't live without.
Outdoor: Even though I'm spending a lot of time in my van working, I do enjoy getting out and explore my ever-changing neighborhood. This sometimes requires me to take my portable solar battery with me. And when I just want to chill outside and take a nap, I use the Winner Outfitters Hammock.
Clean/Tidy: Space is precious and therefore I used these heavy-duty storage bins from Homs to store my material. They're robust and you can stack them together. Regarding showering, I like to use this portable solar shower from Advanced Elements when it's hot outside.
To see all of my most up-to-date recommendations about van life, check out this resource that I made for you!