Van life is full of adventures, but there's no doubt that finding food and water can be a bit more challenging than most of us are used to. You'll have to use water for cleaning, drinking, flushing, and more, so it's crucial to know where to find cheap or free water wherever you go. The good news is there are quite a few reliable spots to find it.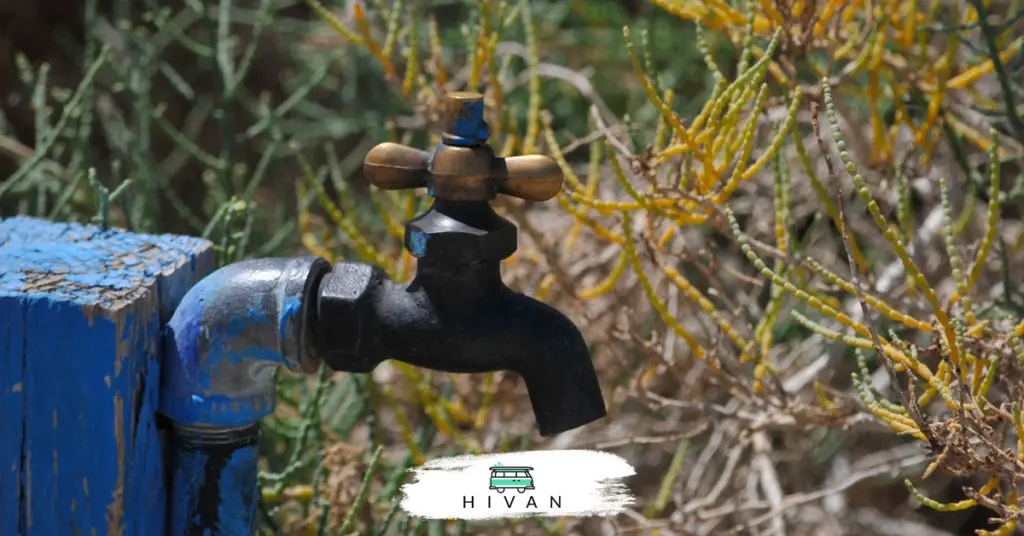 The best places to get water for van life are Glacier Water refill stations, rest stop drinking fountains, water hookups at paid and free campgrounds, dump station hookups, gas stations, and state parks. You might also be able to find drinking fountains to fill your water tanks at local city parks.
Throughout this post, we'll dive into several places for you to fill your van's water tanks, buckets, and other containers. We'll also show you where you can get a quick drink of water without spending a lot of time, letting you plan your route without worrying about running out of precious H2O. Enjoy!
---
Try Glacier Water Refill Stations
Glacier Water refill stations can be found all over the place. These machines are owned by Glacier, one of the United States' most well-known water brands. You can use five-gallon jugs, buckets, and many other containers to refill the water every time you find one. All you have to do is Google "Glacier Water refill station near me" to find the closest one.
You can also find Primo water stations. Primo and Glacier often share water locations, but they use the same standards. Many of these water refill stations cost a fraction of bottled water cases, so you'll save a lot of money while protecting the environment from excess plastic usage. These stations are ideal for people going on long van life trips without stopping for water.
---
Look for Water at Rest Stops
According to Simply Van Life, rest stops are some of the best locations for drinking water fountains. You can fill small containers, too. Many rest stops have water refill stations and vending machines, but you should rely on them for one-time drinking water stops. This method will extend the time between visiting refill stations if the rest stop doesn't have one.
If nobody's waiting in line at a rest stop, you could fill washing water jugs for dishes, laundry, showers, and more. We wouldn't recommend storing fountain water for longer than a week or so since some of them are known for containing sediment.
---
Use Potable Water Hookups When You're Camping
Camping hookups are some of the best water sources you'll find while living in a van. Every time you visit a campground, ask around until you find potable water. You can use this water for dishes, drinking, and everything in between. Potable water is crucial, but it's not too difficult to find if you camp in high-quality places.
Note: Always make sure the water is drinkable. Some campgrounds have water hookups designed for washing clothes or cleaning black tanks, but not for drinking. If you're unsure, look for signs that say potable or drinkable. It's better to be safe than sorry!
---
Many Dump Stations Have Drinking Water
Far Out Ride suggests using various apps to find local dump stations. These stations are designed for motorhomes and trailers, but there's no reason you can't bring your van, too. Dump stations often have everything long-distance campers, and road trippers need to enjoy their adventure, including water, a place to rest, and potentially food.
RV Dump Stations is an excellent example of an app that finds dump stations with various amenities. Check if the closest station has drinking water, and you'll never run out of it. You can also use Sanidumps, a website that works the same way as the app, but you don't have to download it.
---
Gas Stations Almost Always Have Cheap Water
Gas stations sometimes have drinking fountains, but many of them have Glacier or Primo water refill stations and bottled water inside. Water is almost always cheaper when it's sold in large quantities, such as in a five-gallon or one-gallon container. Opt for these jugs rather than buying a 24-pack of 16-ounce bottles.
It's important to note that finding water at a gas station is usually the most expensive solution. While it's much cheaper than many other locations, it's likely the priciest option on the list. Nevertheless, drinking fountains are free, and there's a chance you'll find a shower if your van doesn't have one.
---
Find Local, National, and State Parks for Drinking Water
Parks have water fountains, refill stations, and many other water sources. Hip Hikers list parks as some of their favorite locations for finding water since it's so easy to come by. You don't need to buy water if you're traveling throughout national forests or state parks. Many city parks have water fountains for the locals, too.
By planning your trip around gas stations, rest stops, dump stations, and parks, you'll never run out of water, adventure, gasoline, and snacks!
Bonus: Bring a Portable Water Purifier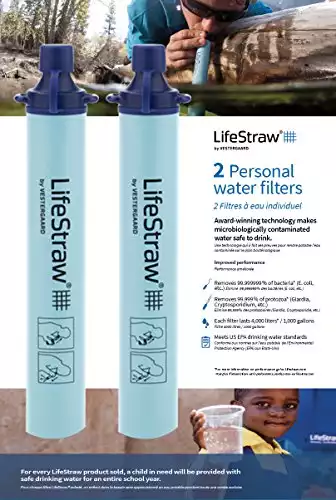 If you make a purchase, you support Hi-van.com by allowing us to earn an affiliate commission (no added cost for you).
The LifeStraw is debatably the most popular portable water purifier worldwide. You can attach it to a water bottle or drink water straight through the straw. Having a LifeStraw handy lets you venture deep into the woods or mountains without needing a constant supply of water. It's also very useful for emergencies, so we highly recommend every van lifer keeps one on hand.
Whether you get a LifeStraw or another water purifier, these tools let you find water almost anywhere you drive your van. They might not be a place to find cheap water, but they're a tool to drink free H2O on the go.
---
Conclusion
As you can see, there are more than enough places to get a drink of water or fill up your van's tanks. Water is extremely important for van life, but most campgrounds and dump stations want to keep you coming back. They'll offer water as an amenity, saving you time and money. Remember to look for smartphone apps to find the best water sources near you.