Hi-van is supported by its audience. When you purchase using our links, we may earn an affiliate commission (no added cost to you). Learn more
Van life is as popular as it's ever been, leading thousands of people to search for like-minded travelers. The lifestyle encompasses those traveling daily, while others live within city limits. Van-dwelling communities are fun, educational, and an excellent way to learn the ways of the road. So, what can you learn about these groups?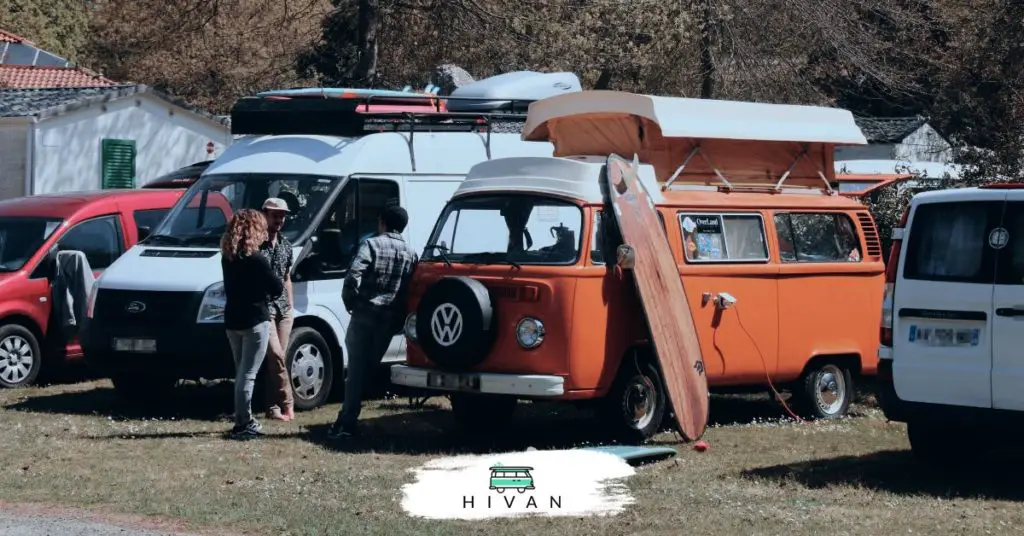 Six things to know about van dwelling communities include:
You can find communities online.
Most events are hosted in wide-open areas.
Van lifers come from all around.
These events teach you tricks for the road.
Some communities don't accept outsiders.
Many van lifers travel in packs for safety and fun.
In this post, you'll discover plenty of reasons to get involved with van-dwelling communities. You'll also learn how, when, and where to meet them, as well as whether or not they're right for you and your van.
---
There Are Dozens of Online Van Dwelling Groups Online
You don't have to drive aimlessly to find a van life community, nor do you have to hope you'll find someone living the lifestyle at a local campground. The internet is home to countless van life communities with blogs, forums, and contact details.
Here's a list of opportunities:
Project Van Life has a forum that's worth looking through if you have questions or want to meet people living the van life.
You can always look through Facebook's group sections to find a local van life group.
Cheap RV Living's Forum section is a perfect place to meet new van life communities to meet in person or maintain online friendships.
Bearfoot Theory breaks down how and where you can find van life communities. They also dive into the details about how you can create your own van dwelling group or online meetup.
Instagram typically has various helpful hashtags that let you find nearby van life events. Search for hashtags used by your favorite van dwelling YouTubers to know where you should go. Here are few exemples: #vanlife, #vanliferstyle, #homeiswhereyouparkit, #camperlife, #vandwelling.
---
Most Communities Gather in the Desert
While it might seem scenic and beautiful to find hundreds of customized conversion vans in the forest, it's not as practical as the desert. Bob Wells, one of the most popular RV living experts, hosts a mobile dwelling community gathering quite often. You can visit these gatherings to meet new people in the desert near the California and Nevada Border.
Go Van wonderfully explains the excitement involved in this event, which is known as Rubber Tramp Rendezvous. Shortened to RTR, this van-dwelling community gathers with the intention to meet friends, check out unique van life or RV living builds, and trade supplies.
Desert locations typically have quite a bit of free-camping land, which is another reason these communities flock to the open areas. Once you're done visiting the RTR or other communities, you can review the list of free camping locations at the BLM (Bureau of Land Management).
---
Van Lifers Come From All Walks of Life
People come from all over the world and from different backgrounds, career choices, ages, and other defining characteristics to live this wonderful lifestyle. Not only will it be a breakthrough experience for most people visiting the community, but it'll also match you with people you might not have ever had the chance to meet.
Some people only stay for a few hours, while others spend the weekend participating in various group meetings, supply trading activities, and other fun events. It's a great way to find out who comes from where and how far the van life movement has stretched its adventurous reach.
Perhaps the most exciting part about meeting people from different places and life experiences is sharing stories. You might not realize how entertaining your van life moments will be for other people to hear. Other people could inspire you to travel to different places, who knows?
---
You Can Learn a Lot About the Lifestyle at the Gatherings
It's easy to think you know all of the ins and outs of living in a van. After all, it only takes a few weeks to get into a habit of your morning and nighttime routine or establish a way to find new spots to sleep.
If you keep an open mind, you'll be surprised by how many different methods you could learn for approaching the van living experience. Small life hacks and safety tips can make your life on the road much easier and more enjoyable!
---
Not All Van Dwelling Communities Accept Newcomers
While the vast majority of van life groups let outsiders join their events, some of them are exclusive and require invitations. Always check ahead of time to know if you need to RSVP or request an invite before heading to a meeting you hear about online.
The good news is that a lot of them want to meet new people and listen to their van living experiences. The biggest and most popular groups (RTR, for example) are open to the public. As long as you live in a van, RV, trailer, car, or fifth-wheel, you can drive to the meeting without a problem.
---
Some Groups Travel Together; Others Meet at Designated Spots
After you meet a bunch of people, you might be inclined to travel for a few days or weeks with them. Pack traveling provides safety in numbers, but it also lets you exchange phone numbers and meet each other in other states down the road.
The greatest part of living in a van is the freedom it provides. You can find new spots to camp, meet strangers and build friendships, and more. Don't shy away from traveling with new van lifers, but make sure you feel comfortable and trust them beforehand.
---
Conclusion
As you can see, van-dwelling communities have a lot to offer almost anyone living this unique, freeing lifestyle. Whether you want to meet new friends to travel with or you simply want to see other customized vans, motorhomes, and minivans, van life events and group meetings should be at the top of your list!
Find this content useful 🙂 ?
Subscribe to our Newsletter and get a free Solar Electric Diagram + shopping list.