Vans are a great way to get out on the road and see new things, all while retaining some of your creature comforts. For some people, one of the most important comforts is making a fresh pot of coffee. But what is the best type of coffee maker for life on the road, and which brands make the best models? 
The best coffee maker for van life depends on your needs. If you plan to take it with you for a hike, you need something smaller and less energy-intensive than if you want it to be in your van permanently. The key things to consider are the size, energy source/intensity, and how easy it is to clean. 
There are many factors to take into account when looking for a coffee maker that you can take out with you on the road. In this article, we will be going through some of the best coffee makers to keep in your van as well as the things you should consider when finally deciding on the coffee maker that is right for your van life needs. Let us dive in!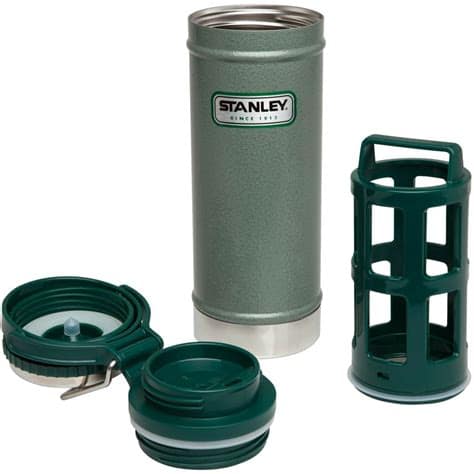 If you are looking for a coffee maker that is portable and something that you can take with you when you are going hiking or camping, then this is the ideal choice for you. This French press doubles as a travel mug, making it the most suitable for your such specific needs.
This also means that you only have one thing to clean at the end of the day rather than two as the press itself is straightforward to remove and clean. Also, it has great seals to keep it watertight.
Overall, the innovative design makes this perfect for both camping and home use.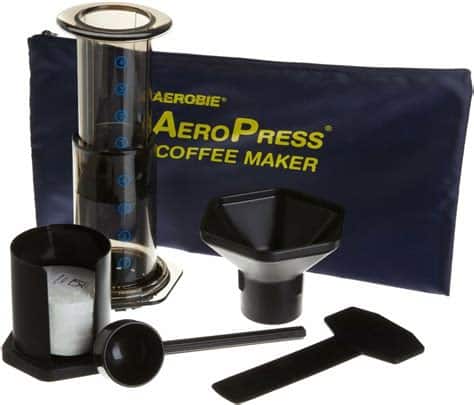 Unlike the French press, this Aeropress, which is available on Amazon, can also make espresso-style coffee. That means you can make a latte while you camp. It also comes with a tote bag, making transporting it that much easier. 
The Best Pod Coffee Makers
Despite coming under fire for creating unnecessary amounts of waste, the popularity of these simple and user-friendly machines is still on the rise. In case you are worried about the environmental impact, by the way, you can now buy reusable pods on Amazon like this Cafe Fill Value Pack by Perfect Pod. One big plus of a pod machine is that they are swift and easy to clean. 
Many of them are also very energy efficient, making them a perfect fit for van life. They also have the added benefit that you can choose different pods for different coffee strengths, which means they can be adapted to the taste of the person making the brew.
Since pod machines are some of the best to take in a van, here are two of the best models on the market: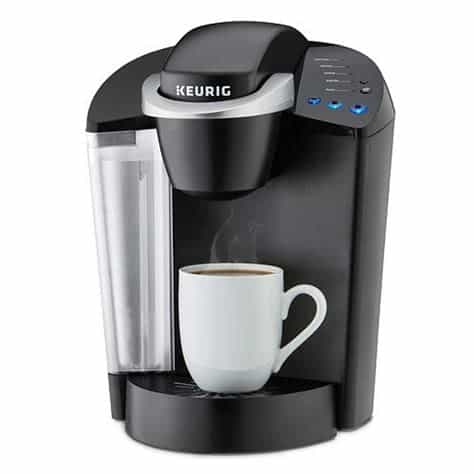 This single-serve pod coffee maker is one of the highest-rated coffee makers out there, and the brand itself is probably one every coffee lover has most likely heard of. Not only can you change the pods to determine the strength of the coffee with this machine, but it also has an energy-saving function, which makes it turn itself off when you are not using it.
It also has a large water reservoir, which means less pesky refilling.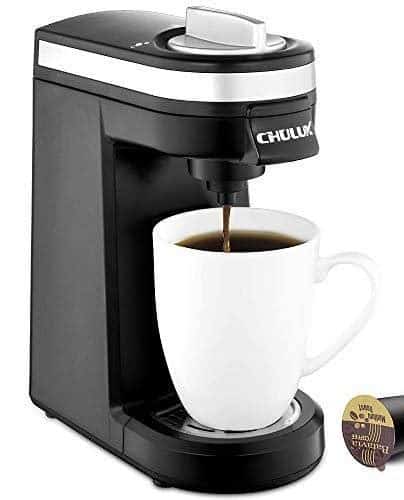 While this pod brewer does not have as big a reservoir as the Keurig, it still makes a great cup of joe. Plus, with this coffee maker, you can choose to either use k-cups or grounds.
It has a compact and lightweight design and shuts off when the brewing is done. This machine also comes with a 2-year warranty, so you have nothing to lose by trying it out.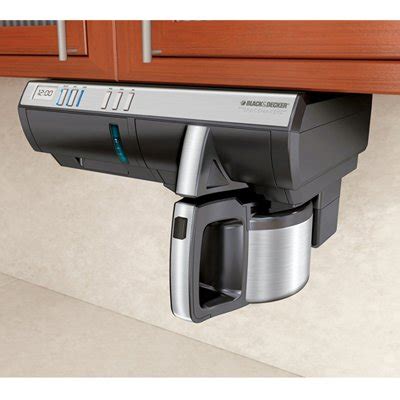 No list of coffee makers for van life would be complete without this futuristic and innovative brewer. Space is at a premium in a van, and although it needs to be installed, this machine takes up no counter space at all! However, some customers have complained about leakage, so that is something to watch out for with this machine.
With something that looks that good, though, it may be hard to resist. 
The Best Coffee Makers for Van Life: Buyer's Guide
Size and Weight
Size and weight are two of the most important things to think about when buying a coffee maker for your van. Space is always at a premium on the road, and a very heavy machine will also impact your vehicle's fuel efficiency. Most lightweight coffee makers are manual, which means they can work even without a source of electricity.
Here are two of the most compact and lightweight types of coffee maker for your van:
French Press
Size and weight aside, many people think that the French press is the best way to make coffee anyway. It allows the granules to soak in the water, which extracts more flavor from the beans than many other methods. Make sure, however, to get one made of stainless steel rather than glass if you plan on taking it camping. 
Aeropress
These nifty little coffee makers have exploded in popularity in recent years, largely due to how convenient they are for camping. They are super lightweight, durable, and easy to clean. This last point is particularly salient: to clean the Aeropress, you can simply remove the filter cap at the end and push the used grounds out using the plunger. 
Price
As always, it is important to think about how much you are willing to spend. Manual coffee makers like the french press and aeropress will invariably be the cheapest you can find, but you can also get some great deals on powered coffee makers. 
Ease of Cleaning
Some coffee makers make a much bigger mess than others, and that can be a problem if you are out on the road. Generally, French presses will be the hardest to clean, while pod coffee makers will make almost no mess. Aeropresses are easier to clean than the French press but will still make more of a mess than the pods. 
Uses
Do you just need the coffee maker to brew coffee inside your van, or do you plan on taking it out with you on hiking trips? If you just need coffee inside your van, a powered machine like the pod coffee makers will be ideal. If you want to take the coffee maker out in the wilderness, however, a manual coffee maker like the french press or aeropress will be far more lightweight and portable. 
Summary
There are plenty of options out there when it comes to van coffee makers. Aside from choosing between manual and automatic, you still have a few more decisions left to make, including the size and weight, price, how easy it is to clean, and how it suits your needs. 
Hopefully, this article will help clear up the differences between some of the types of coffee makers in the market right now and give you an idea of the best brands out there. 
Which coffee maker you need will ultimately depend on where you plan on bringing the machine and what you need it to do. Happy brewing!