Hi-van is supported by its audience. When you purchase through links on my site, I may earn an affiliate commission. Learn more
The camper van is making a big comeback, with #vanlife popping up all over social media. Also known as a caravanette or motorhome, it serves as both a mode of transportation and a place to sleep. But are they as easy to drive and live in as they seem?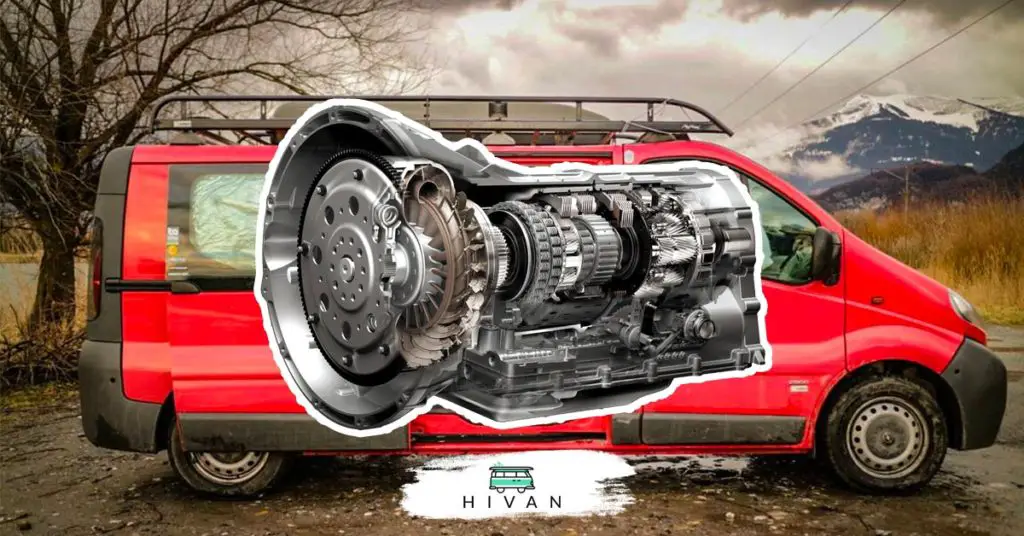 Camper vans are not all automatic as they come in other transmission modes, such as manual and semi-automatic. However, as we progress with new technology, automatic transmission campervans are growing increasingly popular because of their unique features and upgraded comforts. 
The remainder of this article will go into great detail about camper vans, the differences between manual and automatic, the modes of operation, and discuss a few camper models you might want to consider. 
---
Automatic Campervans Explained
The type of transmission on your vehicle has a significant impact on a van's movement. To effectively discern the difference between automatic and manual transmissions, we must first understand the meaning of both transmissions:
An automatic transmission does not involve any input from the driver to change gears under usual driving conditions. You just slip it into gear and press the gas with your foot.
A manual transmission is a multi-speed motor vehicle transmission system. The driver must pick the ratios manually using a gear stick and clutch (usually a foot pedal for cars or a hand lever for motorcycles).
The most notable difference between the two is that a manual transmission requires changing gears. In contrast, an automatic transmission changes the gears for you based on engine speed.
How Does an Automatic Campervan Operate?
To drive a camper van with an automatic transmission, you just need to switch it into "drive" to engage the system. 
An automatic campervan operates by seamlessly changing gears without the driver exerting any effort. Instead, the driver presses down on the accelerator pedal, and the engine's crankshaft begins to rotate faster, putting more significant pressure on the torque converter. 
The gearbox's hydraulics and electronics detect the car's speed in proportion to engine speed as it goes forward, and the transmission automatically switches gears in response.
In general, this is an effortless way to drive and allows the driver to focus more on the road than changing gears. And that's not the only perk of driving an automatic camper van. 
Let's take a look at some other pros below. 
Perks of Driving an Automatic Camper Van
Automatic camper vans have been compared to their manual counterparts in terms of style and convenience in recent years. But the automatic camper van takes the lead because of its beneficial features, such as:
Better fuel efficiency
Smoother gear changes
It requires little maintenance
It is easier to drive, making it ideal for older drivers or those with leg strength issues
Since the automatic van requires less "hands-on" attention, it is more fun to drive
Safer to drive on hills
Drawbacks of an Automatic Camper Van
The automatic camper van is more expensive
It may require some adjustment to your driving style
You cannot push-start an automatic camper van which could be an issue if it's older and prone to breaking down
Despite its cons, the excellent performance of the automatic camper van makes it all worthwhile.
---
Things to Know About Automatic Camper Vans
If you're in the market for a camper van and aren't sure if you should go for an automatic or a manual, you're in luck. Here are a couple of critical things to consider that should help you decide between the two.
1. Having an Automatic Van Means You'll Spend More Money on Gas
According to official fuel consumption data, an automatic transmission isn't as efficient as a manual transmission. 
Of course, your MPG will vary depending on how you drive and how much you load, but if you compare a manual to an automatic on the same route, the manual will almost certainly be more efficient. 
It's up to you to consider whether the added convenience of an automatic transmission warrants the additional costs.
2. Gearboxes Aren't the Only Automated Parts of the Auto Van
Automatic vans are loaded with features that make life easier, giving them an edge over their manual counterparts. Though not always available, these include:
Automatic Bluetooth connection: All you need to do is place your phone in the center console's storage area, and it will link to the multimedia and Bluetooth hands-free systems automatically.
Electronic driver and passenger seats: With the press of a button, you may adjust the ergonomically built seats.
Automatic climate control: Control the van's temperature and the airflow and distribution with the touch screen, ensuring that the environment is as cool as you want it.
Traffic sign and lane assists: Traffic sign assist is available with the navigation system and notifies you to change speed limits, no passing zones, and other changes in driving circumstances. If you deviate from your lane, the steering wheel vibrates to warn you. If necessary, the technology can use the brakes to return the car to its lane safely.
360° camera for parking: Some vans boast a parking package that includes a 360° camera that assists you in entering and exiting even the most challenging parking spaces and laneways.
No keys needed to start: The keyless start system now comes standard on many newer models, allowing the engine to be activated by pressing the start/stop button and pressing the clutch or brake pedal.
Emergency braking is automatic: Most automatic vans have a breaking feature that helps you avoid accidents when driving. A collision warning is activated whenever there is a risk of a collision. Additional braking pressure can be applied if necessary. And in some cases, Active Brake Assist may be used automatically if the driver does not respond.
Note: these automated features will vary depending on the make and model of the campervan.
---
The Cost of Automatic Camper Vans
In terms of price, automatic campervans are more expensive than manual campervans. If you choose the DIY route and buy a used van, you could spend as little as $17,000. But for something new with all the best features, it could cost as much as $200,000.
Here are some available camper vans in the market and what their prices look like: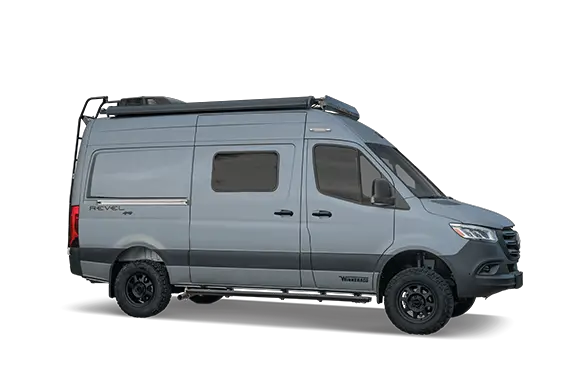 Winnebago is a huge name in the world of camping and RV's, which is why this comes with a colossal price tag. It might be small, but it costs just under $200,000 for the base model. 
That said, the base model has an automatic transmission and does come with some pretty great features. Such as:
On-demand four-wheel drive
Freshwater tank
Pantry and refrigerator
Hydronic Heating System with LED touchscreen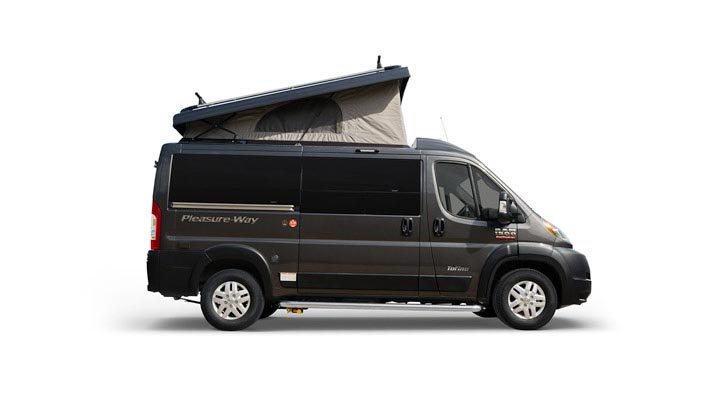 Though a little shorter than the Revel, this Tofino campervan is less than half the price. But at just over $70,000, it doesn't skimp on automated features. 
The features include:
Dimmable LED lighting
Touchscreen control panel
Tire pressure monitoring
Cruise control
Telescopic steering wheel
---
Conclusion
To sum it up, not every camper van is automatic. Some campervans have manual transmissions instead. You get to choose your preferred transmission type based on your driving style and the nature of the journey. 
Though keep in mind that an automatic transmission and automated features will likely make the van more expensive.
Find this content useful 🙂 ?
Subscribe to our Newsletter and get a free electric diagram + shopping list.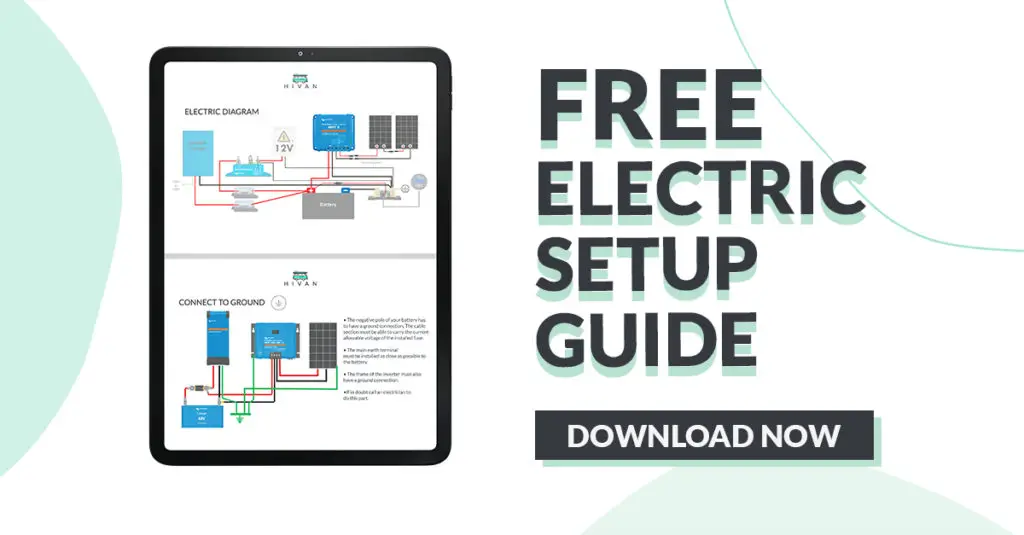 Here are some of my favorite van build tools:
Thank you for reading this article. I hope you found it helpful as you build your own campervan. Here are some tools that I use daily while living on the road that made my life easier. I hope you'll also find them as useful as me. These are affiliate links, so if you do decide to purchase any of them, I'll earn a commission.
But in all honesty, these are the exact tools that I use and recommend to everyone, even my closest friends and family.

Electricity: When I first started my van life journey, I was using the Renogy 200W RV Kit, and I've recently upgraded my setup to the Renogy 400W RV Kit. I'm fully autonomous regarding power now, thanks to this upgrade. I don't know why I didn't choose this option from the beginning.
Quick Fixes: Whenever I need to fix something inside my van, I use my multitool from Victorinox. It's compact and comes with a leather pouch that lets you store it wherever you want. Whenever I need more tools, I get my Cartmann toolset out.
Power tools: If you're converting a van, you'll need some serious tools for the building process. I can assure you, good power tools can make a huge difference. You'll save time and avoid a lot of frustration while having some professional-looking final results. I personally went big with the full combo set from Dewalt.
To see all of my most up-to-date recommendations about van build, check out this resource that I made for you!