Hi-van is supported by its audience. When you purchase using our links, we may earn an affiliate commission (no added cost to you). Learn more
Camping chairs are traditionally not designed for comfort. Instead, they're designed to be lightweight and take up as little space as possible for easy transportation. But can camping chairs be made more comfortable?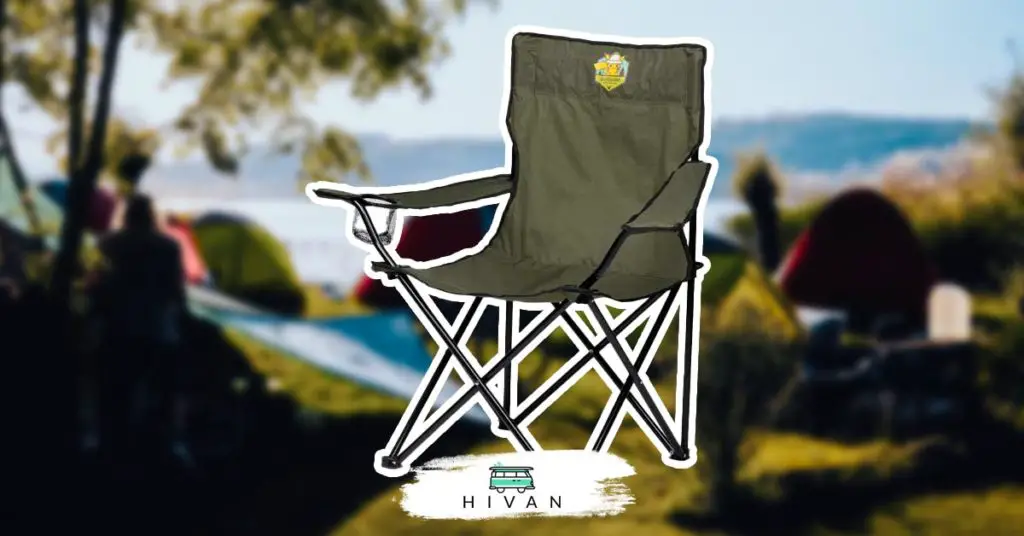 Here's how to make a camping chair more comfortable:
Use cushions for extra padding.
Footrests can straighten out your hips.
Cupholders keep you seated longer.
Blankets make cooler days more comfortable.
Umbrellas keep the sun and rain off you during hot or wet days.
Disk feet keep your chair from sinking.
Buy a better camping chair.
This article will explore ways to make a camping chair more comfortable. But first I'll address the issue of comfortable camping.
---
1. Use Cushions For Extra Padding
Most camping chairs have either very little or no added padding. 
They're designed to occupy as little space as possible when stored, and padding occupies a lot of space. So if you're not satisfied with the padding or lack thereof of your camping chair, add a cushion.
A wide variety of portable cushions are available for you, such as the C Cushion Lab Seat Cushion (available on Amazon.com) that's suitable for camping. They can range from basic foam or gel pads to combination butt and backrests with electric heating elements. 
And they aren't strictly for camping either, as many homes have uncomfortable chairs.
---
2. Footrests Can Straighten Out Your Hips
After a long day of hiking or driving to a campsite with a car full of screaming children who wanted to go to the waterpark, putting your feet up is more of a necessity than a luxury. But what if there isn't a tree stump or a flat rock available? 
You can bring your own footrest. A footstool can straighten out your hips and calm any back spasms that might have resulted from driving your kids around all day.
Camping stools can be used as either chairs or ottomans. Most of them are built like a normal collapsable campaign chair, such as the Coleman Rambler Stool (available on Amazon.com) with a compact and folding design. 
Other footrests such as the ALEVMOOM Telescopic Stool (available on Amazon.com) are more cleverly designed with a unique folding design.
3. Cupholders Keep You Seated Longer
So you have something comfy under your butt and your feet up off the dirt, but where do you put your drink? 
This is a family-friendly website, so we're going to assume you're just drinking water. If you have a camping chair that doesn't have built-in cup holders, you can buy portable cup holders to add to your basic chair.
Cup holder attachments range between basic universal clip-on models such as the Accmor Cup Holder (available on Amazon.com) or built into trays that mount on your chair's support struts such as the Keten Zero Gravity Chair Tray (available on Amazon.com). At either end of the spectrum, they are inexpensive. 
But you could spend more if you look hard enough.
---
4. Blankets Make Cooler Days More Comfortable
One problem with sitting out at night to look at the stars is that the deep woods and open desert tend to be cold at night. It doesn't matter how comfortable a chair is if you're proverbially freezing to death. 
So why not add a good blanket to your camping chair?
Adding a blanket to your camping chair should be essentially free since you probably have at least half a dozen blankets in your home. But if you want to buy a special blanket specifically for camping, you'll be spoilt for choice. 
Camping blankets range in price from $10 to over $100. Try not to spend more than you need to.
---
5. Umbrellas Keep the Sun and Rain Off You During Hot Or Wet Days
Just because it's raining doesn't mean you have to go back into your tent. These days you can buy an umbrella that mounts right on your camping chair.
Umbrella attachments for camping chairs are a fairly new innovation, and there are not a lot of models on the market. 
A good example is the Sport-Brella Adjustable Umbrella (available on Amazon.com) which uses a universal clamp to mount on your chair's support struts. Or you could buy the much larger Ammsun Chair Umbrella (available on Amazon.com) that comes with a 360-degree swivel.
---
6. Disk Feet Keep Your Chair From Sinking 
Some camping chair accessories don't fit into the above categories. 
One problem camping chairs often have is that their feet aren't wide enough and tend to sink into the ground. You can attach disk feet such as the TravelChair Anti-Sink Disk Feet from Amazon.com to fix that problem. They're snowshoes for your camping chair.
---
7. Buy a Better Camping Chair
Everything covered above costs money, has weight, and occupies space. When you accessorize a camping chair, you may reach a point where it is both more cost-effective and practical to buy a better camping chair. 
Camping chairs with thick, often inflatable cushions, built-in cup holders and footrests, and even mounting points for umbrellas/parasols or personal awnings are commercially available, for not much more than a basic folding camping chair. 
If you already have a basic camping chair but want a more comfortable chair, try selling it to someone who wants a basic chair. Use the proceeds to pay for part of a new, more luxurious camping chair. 
Or embrace Richard Hammond's camping philosophy and enjoy the discomfort.
What Does Comfort Have To Do With Camping?
According to many camping enthusiasts, comfort isn't the point of camping. These hobbyists prefer to travel as lightly as possible and make do with the minimum possible equipment and technology. 
Being uncomfortable is half the point.
Then there are casual campers who want all the comforts of home without paying for a hotel room. These often include parents with small children. Casual campers want the experience of living in "the Great Outdoors" without sacrificing creature comforts. 
This dichotomy of camping styles is demonstrated in the Amazon original series "The Grand Tour" episode "The Beach (Buggy) Boys, Part 2". 
One presenter, Richard Hammond, is a camping enthusiast and equips himself with basic bare minimum camping equipment, including a folding camping chair that can fit in a pants pocket. Hammond's co-presenters, James May and Jeremy Clarkson rent luxury tents and the services of a butler.
---
Conclusion
Most campers fall somewhere in between these extremes. They want a reasonable minimum comfort level but are willing to go without showers or Wi-Fi for the weekend. This article is primarily aimed at campers looking for that golden mean.
Find this content useful 🙂 ?
Subscribe to our Newsletter and get a free electric diagram + shopping list.