Hi-van is supported by its audience. When you purchase using our links, we may earn an affiliate commission (no added cost to you). Learn more
You're at the campground enjoying a book under the sun, and then it starts to drizzle. You don't need to go back into the van just because it rains — as long as your campervan has an awning, you'll be just fine. So, does that mean a campervan needs an awning?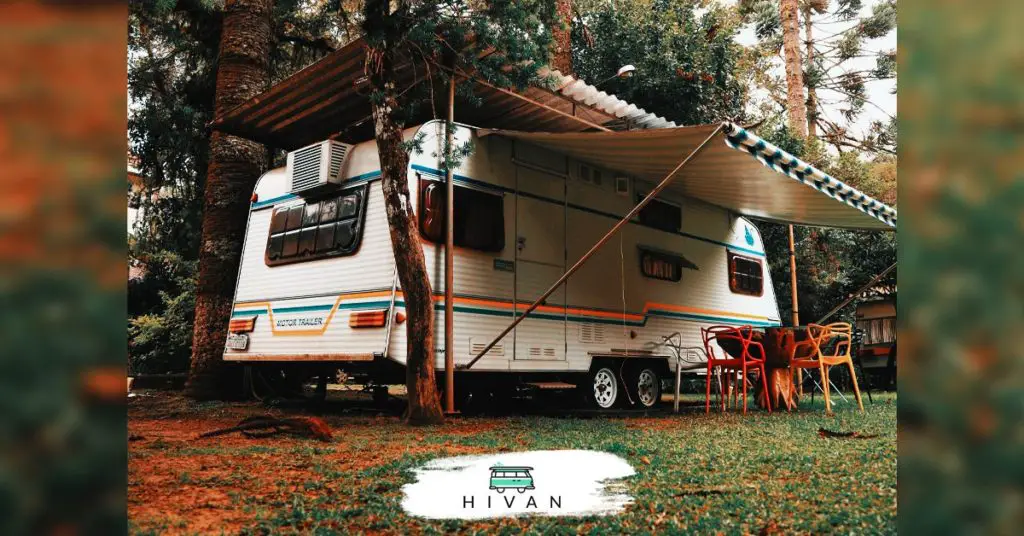 A campervan doesn't necessarily need an awning, but having one can add more value to the vehicle. The driveaway and tailgate awnings are commonly used for campervans. When choosing a campervan awning, it's essential to consider its size, purpose, price, and van storage.
To learn more about campervan awning, keep reading as I discuss the topic further. I'll also share some tips on what to look for when choosing the right awning for your campervan. Let's go!
---
Is an Awning Necessary for a Campervan?
An awning isn't necessary for a campervan, but there's no harm in adding one to the vehicle. It's especially handy for those traveling to places with frequent rain, but it's generally useful year-round. A good-quality awning may also add more value to a campervan.
You may want to consider an awning for your campervan if you like relaxing outside your campervan. Generally, awnings are acceptable at campgrounds as long they don't get in the way. Awnings come in various kinds, each best suited for different situations. 4 common types of awnings are as follow:
Driveaway awnings
Traditional motorhome awnings
Canopy awnings
Tailgate awnings
All of these awnings are excellent, but you'll want to choose the one that's best for your vehicle type and size. Look at the drive-away or tailgate awnings. They're the most common ones for campervans. But for the sake of this article, I'll discuss all 4 awnings. 
To help you decide, you must understand what they are and how they compare.
Driveaway Awnings Look Like Small Tents
What's great about driveaway awnings is that they look like small tents. That means they don't just protect you from the elements but can also offer you the option to sit comfortably on the ground if you don't have camping chairs. Plus, the coverage they offer also gives you more privacy.
The cowl of the driveaway awning can be separated from the vehicle, meaning you can easily tuck it away when not in use.
Driveaway awnings are available in different sizes, shapes, and features. Whether you own a Honda Odyssey, Toyota Estima, or a larger van like the Sprinter, there's always a size to suit your van's needs.
These tent-like awnings come with frames made of steel, glass, or air fiber that hold them in place.
Traditional Motorhome Awnings Are Bulky
These awnings are commonly used for motorhomes, meaning they're typically big and bulky. So, you don't want to use these awnings if you're driving a Toyota Estima! Also, since they're not very convenient to set up, they're not very suitable for solo travelers.
Campervans are smaller than motorhomes, meaning finding a place to store a traditional motorhome awning will be challenging.
And since campervans typically have smaller and simpler designs than motorhomes, these vans may not go well with traditional motorhome awnings that typically have more complex configurations than driveway awnings. 
Canopy Awnings Are a Hybrid of Canopies and Awnings
Motorhomes commonly use sun/wind canopies, but today you can see many of these canopies convertible into a canopy awning. As the name suggests, canopy awnings (also known as sun/wind awnings) provide travelers shelter from the sun or wind.
Typically, motorhomes use permanent canopies, meaning owners can easily roll them away back into a cassette when not in use. Even though they can be space-effective, they may add some weight to the vehicle. The canopies must be fixed properly, so a professional installation is always recommended.
These canopies have extendable supporting legs. You can find such canopies from brands like Thule, Fiamma, and Dometic.
Typically, campervans don't use regular sun canopies; they usually go for canopy awnings. That means the canopy awning features packable sides. When the sides are combined with a sun/wind canopy, they become a canopy awning.
To get an idea of how a canopy/wind awning looks, check out the Vango Hex Sun Canopy. 
Tailgate Awnings Have Longer Cowls Than Driveaway Awnings
Like a driveaway awning, a tailgate awning looks like a tent. Both of these awnings are similar. The only difference between them is their cowls; the one of a tailgate awning is longer than that of a driveaway awning.
So, whether you want to go for a driveaway or tailgate awning is entirely up to your preference. If you prefer a longer cowl that connects the awning to the rear door of your campervan, go on and get a tailgate awning.
But do take note of your van type. As the name suggests, tailgate awnings are awnings for vans with tailgates. The Reimo Update Cabin Tailgate Tent, for example, isn't suitable for vans with barn doors, so a tailgate is necessary for supporting the tent.
Find this content useful 🙂 ?
Subscribe to our Newsletter and get a free Solar Electric Diagram + shopping list.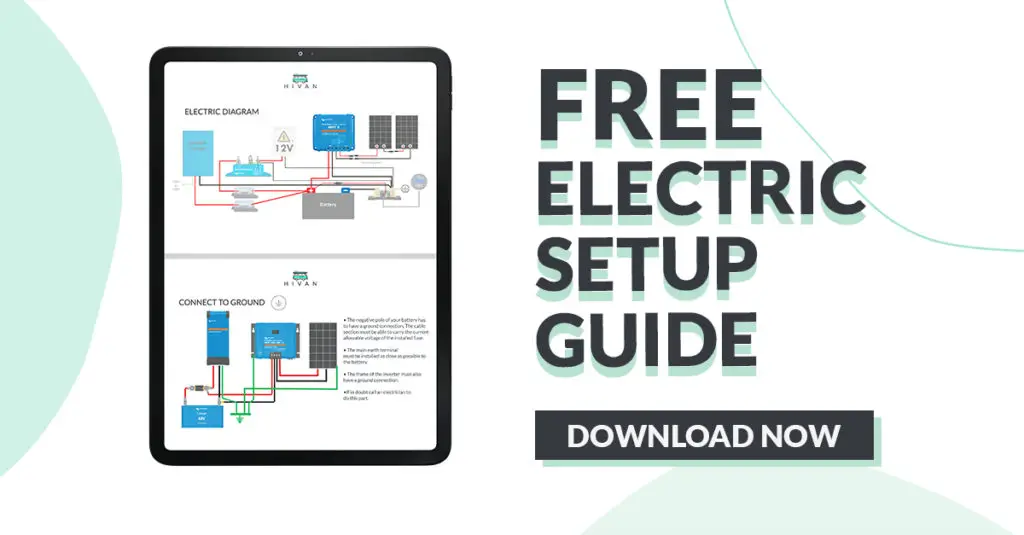 Tips on Choosing a Campervan Awning
Now that you understand the different kinds of awnings available for travel vehicles, you'll want to consider the right awning for your campervan next. There are so many great awnings out there, available in various shapes, colors, and sizes.
So, here are tips on what you should do when considering your campervan awning:
Determine Your Van Size and Type
What van are you driving? Any van can be converted into a campervan, meaning you can find different awnings to suit different van sizes and types. I've traveled in different campervans before, such as:
A small minivan like the Honda Odyssey.
A medium-sized van like the Toyota Estima.
Large vans like the Toyota Hiace and Nissan Caravans (high roof, non-high roof, short, and long wheelbases).
All these vans can go with campervan awnings as long as the awnings are at the right sizes. If you have large vans like the Winnebago Revel, Mercedez Sprinter, or Knauss Boxstar 600, you may want to consider getting a canopy awning.
Also, pay attention to your van's rear door. As discussed earlier, you may not be able to use a tailgate awning if your van's rear door doesn't have a tailgate.
Choose the Color You Like
While awning colors don't always matter to some people, they might matter to you, especially if you care about aesthetics. Some people like their awnings to be in bright colors, some like theirs darker. Maybe you want your awning to match the color of your campervan! 
If you like awnings with a rugged look and feel, you might want to consider the DANCHEL OUTDOOR Overlanding Camper Van Awning (available on Amazon.com). It comes in a khaki color and is available in various sizes. 
This easy-to-install awning isn't just compatible with campervans but also vehicles like 4WD cars. Plus, they're multipurpose, allowing you to use them as change rooms as well.
Consider Your Budget
What is your budget like? Are you willing to spend on an awning that can cost you hundreds, even thousands of dollars? You can find lower-end campervan awnings, but they may not last as long as the more expensive ones. Therefore, choose your awning carefully.
Suppose you don't want to pay full price for your awning. You can always look around for second-hand awnings on eBay. You may be able to find used high-end awnings there. Note that they may not be in the best condition — the poles may not be sturdy enough, the awning fabric may not be waterproof, etc. 
But if you'll be traveling short-term and only need an awning good enough for the job, and if the price justifies the purchase, by all means, go ahead and buy a second-hand awning.
Consider Storage Space and Pitching Time
For many, an awning — like the driveaway awning — can add more room to their current living space. 
But ask any van lifer, and they'll tell you that space is a luxury. Depending on your campervan's size, you want to determine how much space an awning can take up in your vehicle when not in use. Don't get a bulky awning if you have a small campervan. 
Also, you want to choose a campervan awning that's convenient to set up. Generally, pitching up a driveaway awning can take between 10 and 20 minutes.
---
Final Thoughts
While a campervan will do just fine without an awning, adding an awning to your campervan can add more value to the vehicle. A campervan awning allows you to make more room for your living space, so you can enjoy the outdoor breeze anytime, especially when traveling with friends and families.