Hi-van is supported by its audience. When you purchase using our links, we may earn an affiliate commission (no added cost to you). Learn more
Overlanding can be a ton of fun for exploration enthusiasts. While it's thrilling and adventurous, it also has quite a few risks, and one of the most common ones is getting stuck in the middle. A winch can be your best friend in such situations, but do you really need one?
You need a winch for your overlanding adventures unless the conditions aren't going to be too rough. Generally, overlanding includes driving over challenging terrain like snow, deep mud, sand, and hard-packed surfaces. You can get stuck in such off-road trails, and a winch will come in handy.
Getting stuck in the mud without a winch can quickly put a complete stop to your overlanding plans — and it leaves you with minimal rescue options. Read on to learn more about why you should get a winch for your next overlanding trip. 
---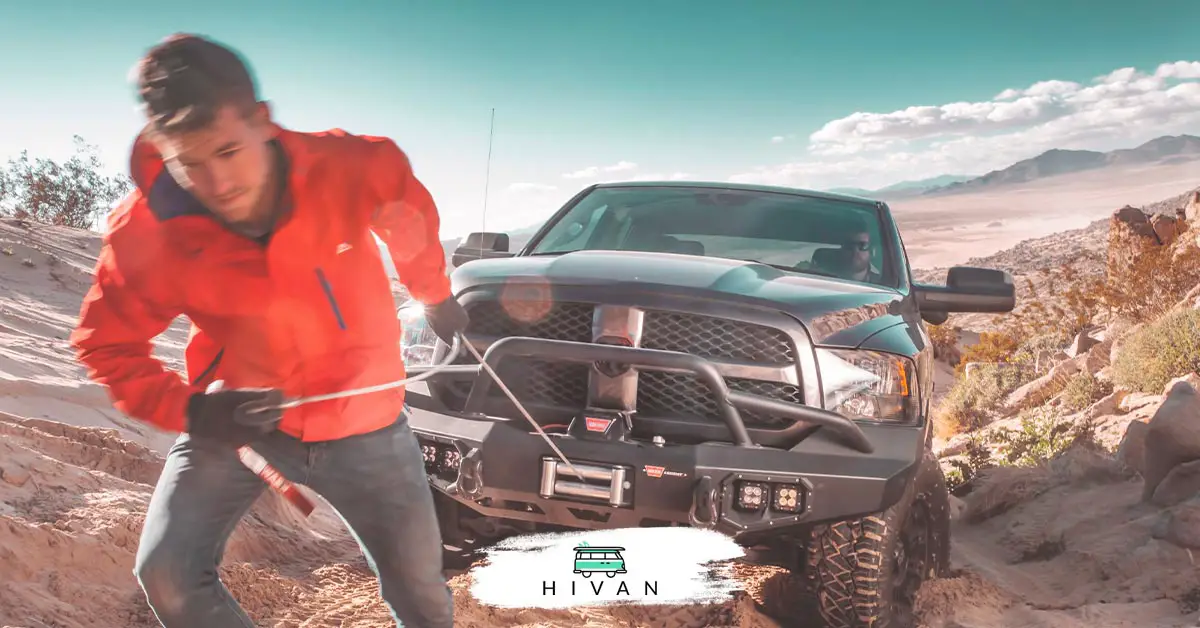 Reasons You Need a Winch for Overlanding
Winches can be life-savers for overlanding enthusiasts. Once you get stuck in the middle of nowhere without one of these tools in the car, you either have to ask passing vehicles for help or call a tow truck to get you out. Unfortunately, not all tow trucks will go into deep mud to get your car out — so you don't want to be in that situation.
Winches can help you get out of a sticky situation pretty quickly without needing any additional assistance. If you like going solo on rugged terrain, most overlanding experts would never suggest you go out there without a winch at hand.   
Here are some reasons you should get a winch:
Many options for anchoring a winch are available, such as using a boulder to secure it in place or hooking it up to a tree trunk. If your overlanding destination has such anchor points to get creative with, you should carry one.
Many overlanders who like going solo carry tools like a shovel in case they get stuck, but winches provide a whole different level of ease. Winches are quick and require way less effort than digging with a shovel with hopes of getting your tires out.
Shovels can sometimes fail to dig deep enough to do the job — winches are way more likely to help in such situations. As a solo overlanding enthusiast, keeping both tools handy is a pretty good idea.
Even if you go overlanding with large groups of people with several trucks, winches can still be incredibly helpful in a pickle. For instance, you can hook it up between their truck and yours and pull it out using theirs as an anchor point.
If you're stuck in the middle of nowhere with a friend and can't find any anchor point around the truck, you can use a winch and your friend's vehicle to help you. Put your friend's anchor vehicle in park, and you're set!
You'll need to carry a winch with you if you plan on going into areas where you'll be significantly far from people or civilization. That's because you might not be able to get help if you get stuck in those conditions, and immobility could lead to death as a worst-case scenario. It's best to be self-dependent on such overlanding plans because you never know what you might run into, and the risks are massive.
Pushing your vehicle in neutral might not be the best idea if you get it stuck in dangerous spots like the edge of a cliff or treacherous soft mud. Your best bet would be to winch the vehicle out rather than get physically involved in hazardous conditions to ensure complete safety for your car and yourself.
If you don't know what winch you should get, I'd suggest looking at this Champion Power Equipment Winch Kit from Amazon.com. It has a comfortably large 50 feet (15.24 m) radius range to help you find anchor points in the trickiest circumstances. 
---
Off-Roading Conditions Where Winches Come in Handy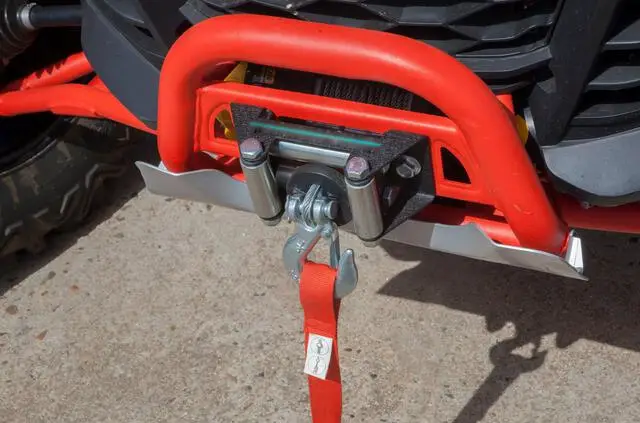 Off-roading is a pretty diverse activity and involves different types of terrain, patterns, and trails. You can also run into all sorts of challenges and emergencies. Winches are a popular tool for off-roading as well as overlanding. There are many specific off-road situations where you'd find a winch super helpful, as discussed in the following:
You're on off-roading tracks with many steep declines and inclines. There's always a risk of getting stuck even while driving up or going down the hills. Having a winch in the trunk, you'll always know you'll be fine no matter where you get stuck.
You're traveling in sandy, snowy, or icy conditions. In those challenging conditions, you could even get stuck with a great 4×4 vehicle and some of the best winter tires. When that happens, all you need is a winch to anchor to a nearby tree trunk, and you're out. You'd save quite a bit of money on having to call for tow trucks — not to mention the hours of waiting in the snow!
Whenever you're off paved surfaces, you run the risk of running into mud pits or getting stuck in soft sand. In any condition, winches are one of the best tools you can use to pull your car out in spots with little to no traction.
Remember, thrill and the craving for adventure should never come before safety. Winches are primary safety tools for anyone planning on going on a risky overlanding or off-roading trip. 
If you get your vehicle stuck in dangerous places like the jungle or super far from civilization, it can genuinely save your life. So, no matter what you think about this topic — most of the experienced overlanding community and I suggest you get a winch!
Related Article:
How-to: Overlanding without a Winch
If you're in the process of picking a winch for your rig, you might be overwhelmed with information and it can be confusing to know how to choose the correct option.
I recommend checking this video by Overland Engineer. They made an in-depth guide to help you choose the best winch for you.
---
Conclusion
You might get away with not having a winch if your overlanding plans aren't highly risky. However, emergencies can catch you off-guard, so you can never go wrong with keeping a winch on board.
While many alternative tools are available for you to use as a safety net in sticky overlanding situations, I'd say nothing works quite as well as a winch. You can use hand winches or shovels to pull or dig your vehicle out in a pinch, but having a winch as an extra safety measure is highly recommended.