Cargo vans are seemingly indestructible vehicles used for travel and transport, but their windows are just like any other vehicle. You'll have to replace the windows on your cargo van in due time, so it's a good idea to have a budget set aside to get it done. You can choose to DIY the project or hire a professional.
Cargo van windows cost between $200 to $800 or more. If you want a brand-new window in a spot that didn't already have one, it'll cost more than $2,000 to have it installed by a professional.
You can save a lot of money by DIYing the installation process, but you won't get the same warranties that you would by hiring a team of experts.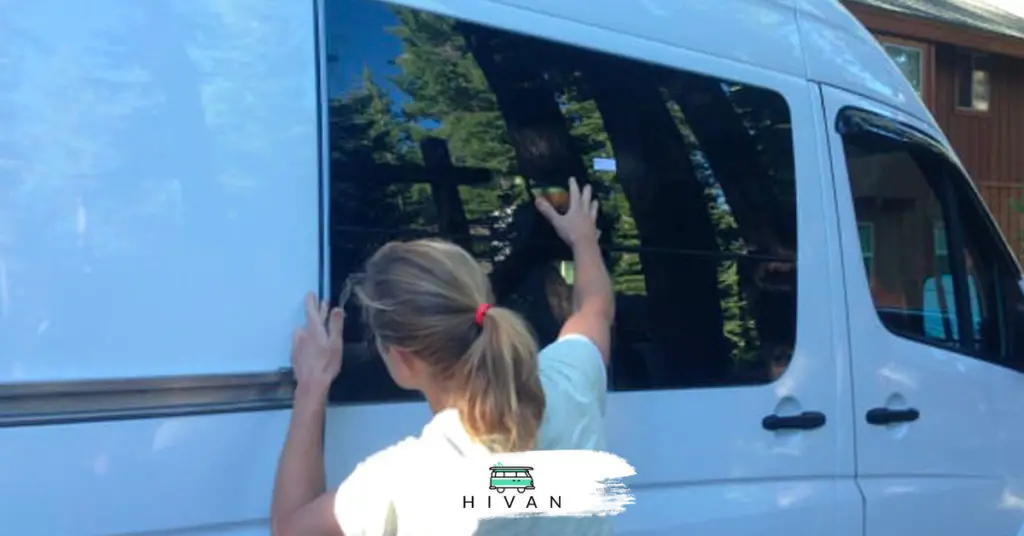 Throughout this article, you'll also learn the following information about cargo van window installation costs:
How to determine how much you'll have to spend on the windows
Tips to DIY the installation and save money
Signs that it might be time to get new windows on your cargo van
---
How Much Does It Cost to Get New Cargo Van Windows?
Getting new windows on a cargo van might seem like a big, expensive challenge, but it's not as bad as you might think. You'll be able to save money if you find deals and purchase them during the right time of the year, but we'll stick with the basics.
Motion Windows states that most cargo van windows cost about $200 to $500, while many customers of different companies have claimed to spend up to $800. The truth is that the price will vary depending on quite a few factors. Let's explore some of them below.
Is there already a window in the van? If you're replacing a pre-existing window, then you'll be able to stick to the aforementioned prices. However, if you're having a new windowframe cut out and filled, then you'll have to spend much more. In fact, a lot of estimates place it around $2,000+ per window.
Do you want double-pane or tinted windows? Double-pane windows aren't too common in vehicles, and you won't be able to roll them open or closed. Getting them tinted before you install them will also cost a bit more money. Both of these modifications can improve the interior insulation of the vehicle.
How big do you want the windows to be? Bigger windows cost more money, especially if you want them to be cut out and installed. Van traveling and living is are all about the views, so it might be worth the additional expenses. Tall, long windows can cost about $1,000 or more.
Do you want to be able to open and close the windows? Standstill windows are cheaper than sliding windows. If you want to be able to raise and lower them with a mechanical switch, then you'll have to pay more money for the electrical wiring. This expense doesn't apply to pre-existing windows.
Should there be screens on the windows? Some people get screens on their windows if they can manually open and close them. The screens keep out bugs, dust, and pollen. You'll be able to get a good view of the world without them getting a good view of what's going on inside of the van.
As you can see, there are too many factors to pinpoint an exact price. Fortunately, you now know everything you need to know about the cost of hiring pros to install your cargo van windows. To find out how you can DIY the job and save money, proceed to the next section.
Related Articles:
– How to add a window to your RV
– Framed vs. Frameless RV windows: What is better?
– Windows Vs No Windows: Which is Better for a Camper Van?
---
Is It Cheaper to DIY?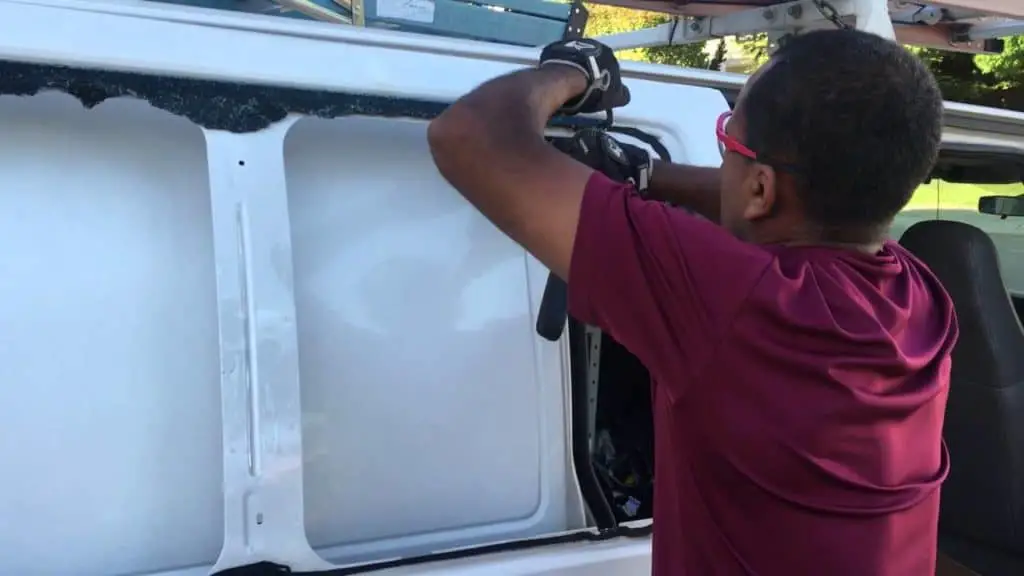 After seeing the prices listed above, you might be tempted to install the window(s) by yourself. It's not too bad if you're experienced in the industry, but beginners might find it a bit challenging.
Nevertheless, you'll save hundreds of dollars on labor by doing it yourself and if you're planning to build your own van from zero here are some tips.
Below, you'll find five helpful tips and steps to get your windows installed to save money.
DIY is always cheaper, but you don't get the warranty. Some experts offer limited warranties that you can use to save money on future repairs. Sadly, you won't get the warranties if you do the installation for yourself. That being said, you can have a custom window built and install it yourself for less than $200.
Measure twice, cut once. This old saying points to the fact that you should always measure multiple times rather than cutting right away. Take the time to measure how big of a window your cargo van will need. There's no point in spending extra money on replacements or getting too big of a window.
Unscrew the windows and measure them again. RV Windows shows us that most cargo van windows have between 12 to 20 screws. Take your time to make sure that you got all of them before you move to the next step. Also, remove the sealing tape from around the windowframe.
Apply the sealing tape inside of the windowframe. Before you install the new window, you'll need to clean the surface and apply a new layer of window sealing tape. This tape allows the window to set smoothly without getting scratched, but it also prevents moisture and air from leaking.
Install the new window(s) and insert the screws. Carefully wrap a towel around the window and slide it into place. Have someone hold the window while you insert each of the old screws. Drill them into the windowframe about halfway until you've gotten through all of them, then tighten them completely.
DIYing the project can save you a lot of time and money. If you're good with working on vehicles, then this installation will be a piece of cake. On the other hand, if you've never done it before, take it slow and steady. Saving money is only worth it if you don't break the window!
Tools to do it yourself
DEWALT 20V MAX XR Jig Saw
The brushless motor of the cordless jigsaw delivers efficient performance for longer runtime (vs. DCS331 Jig Saw).
Compact size for easy grip and maximum control of the jigsaw.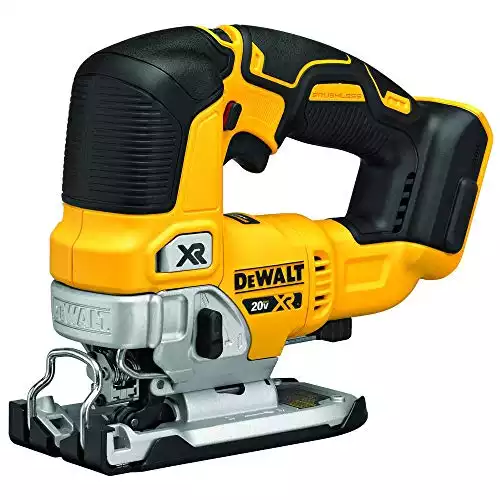 If you make a purchase, you support Hi-van.com by allowing us to earn an affiliate commission (no added cost for you).
Rust-Oleum Professional Primer Spray Paint
Ideal for use on ferrous, non-ferrous metal, wood, concrete, masonry and other such surfaces to prepare surfaces for painting, provide rust protection and a tough finish that withstands weathering.

If you make a purchase, you support Hi-van.com by allowing us to earn an affiliate commission (no added cost for you).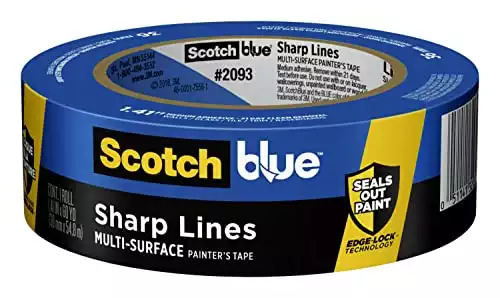 If you make a purchase, you support Hi-van.com by allowing us to earn an affiliate commission (no added cost for you).
Find this content useful 🙂 ?
Subscribe to our Newsletter and get a free Solar Electric Diagram + shopping list.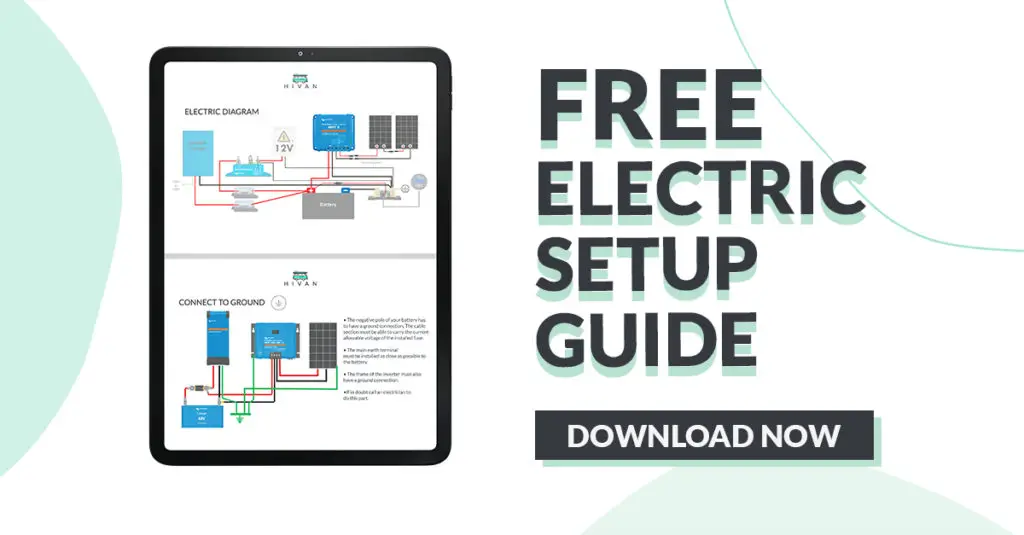 When Is It Time to Get New Windows?
If there are cracks in the window, you don't always have to replace them
You can use resin to fill most windows cracks unless it's filling the entire window. Many people make the mistake of replacing their windows when they find a small crack. Use resin to fill the crack, buff it out, and hit the road again.
Are you looking for a better view?
You'll need a bigger window if you want a better view of your surroundings. Unfortunately, that means you'll have to spend more money on getting cutouts and installations. However, most people find that the view is worth the investment.
Do you feel a cold breeze inside of the vehicle?
If your window is leaking air or moisture, then there's a high chance that the seal is broken. You can choose to replace the tape or replace the window with it. Either way, you'll have to remove the screws and put in new tape along the edges of the window frame.
---
Conclusion
Cargo van windows aren't too expensive to install compared to the price of under-the-hood repairs. Whether you're doing it for the views, to upgrade the vehicle, or to fix a few cracks, expect to spend about $200 to $2,000.
Here's a rundown of everything this post should've taught you:
You'll save a lot of money if you DIY the project.
Make sure you know the exact measurements of the window before you remove the old one.
Always replace the sealing tape on any window that you replace, even if it's new.
Getting a new window cutout and installed costs significantly more than a traditional window replacement.
Finally, check this Youtube video where you can see a step-by-step window installation for a Ram ProMaster. She shares some mistakes to avoid along with tips & tricks to make your installation quick and easy.