Hi-van is supported by its audience. When you purchase using our links, we may earn an affiliate commission (no added cost to you). Learn more
If you own a pop-up camper, you may be wondering if you can drive it while it's open. It may seem tedious or an unnecessary step to put it down, but is it worth it to save time and effort?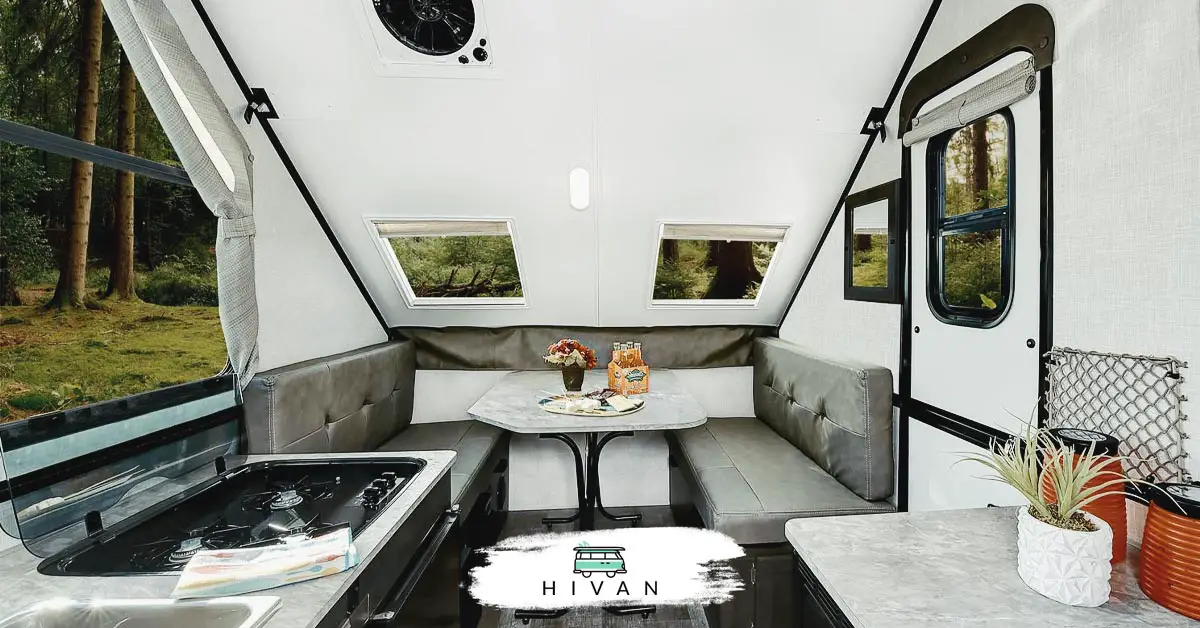 You cannot drive with a pop-up camper open. Pop-up campers aren't designed to withstand the high winds and speed while fully opened. The supports that keep your camper open are too weak to withstand high speeds and wind, and they will break.
This article will discuss pop-up campers, also called fold-out campers, and how to tow them safely. It'll detail how long you can expect your pop-up to last, and how it compares to the RV. Let's get started.
---
Why You Shouldn't Drive With Your Pop Up Camper Open
While pop-up campers are a popular choice because they're easy to tow, precautions must be taken while operating them. One of the most crucial aspects is safely putting the pop-up down before moving. They extend either front to back or out to both sides, and cables support the expentions. 
The support system isn't designed for the strain accompanied by movement. 
Driving while the pop-up camper is open can cause permanent damage. Coupled with the heavy roofs of pop-up campers, slight movement places tremendous stress on the support system. 
---
How To Safely Tow a Pop-Up Camper
Pop-up campers can be towed by a wide range of vehicles, including small SUVs, large cars, and minivans. 
The average weight of a pop-up camper is 2,400 lbs (1,088.62 kg), though they can weigh as little as 1,200 lbs (544.31 kg) or as much as 4,500 lbs (2,041.17 kg) for a large model. 
Small SUVs and minivans typically have a tow rating of 2,300 to 3,500 lbs (1,043.26 to 1,587.57 kg). You should reference your GVWR or gross vehicle weight rating to determine the maximum amount of weight that your vehicle can safely carry. 
Hitch Weight
Hitch weight, also referred to as tongue weight, is another crucial part of safely towing a pop-up camper. 
A trailer hitch connects your pop-up camper to the towing vehicle. The hitch weight is the amount of downward force that a hitch can take from a trailer. Hitches come in a wide array of weight classes, so it's imperative that you use the correct weight class.
Not only are there different weight classes of hitches, but also different types. The most common types are listed below:
Bumper hitch: This hitch is ideal for pop-up campers as they're a good option for lighter vehicles. The bumper hitch is distinguishable as it's secured over the bumper of the towing vehicle. 
Gooseneck hitch: The gooseneck hitch may be your choice if your tow vehicle is a truck. This hitch can tow up to 30,000 lbs (13,607.77 kg), more than enough for a pop-up camper.
Rear receiver hitch: The rear receiver hitch is another solid choice to tow a pop-up camper. This type of hitch has five different weight classes, and the pop-up camper will likely fall into one of the first two classes. 
---
Lifespan of a Pop Up Camper
With proper care, including appropriate towing practices, you can expect your pop-up camper to last anywhere from 10 to 15 years. 
As with all vehicles, regular maintenance plays a critical role, as well as winterization. Even with these steps, you can expect certain parts to need replacement, so it's best to take care of these replacements sooner rather than later to prevent further damage. 
Pop-up camper owners need to consider several potential issues that can develop. Corrosion or rust can appear over time and should be addressed immediately. Poor ventilation can occur over time but shouldn't be taken lightly as it promotes mold and mildew growth. 
Many pop-up campers are constructed with canvas, which can tear, causing leaks. These leaks can quickly cause significant damage. Finally, if your pop-up suffers repeated electrical failure, it's likely that it has reached the end of its life cycle. 
---
Pop Up Campers vs RVs
Recreational vehicles, commonly called RVs, may seem like a better choice because there's no need to put up or put down a pop-up. 
Despite this minor inconvenience, the pop-up camper still has its advantages over the RV. 
One of the first considerations is cost. An RV price can range between $10,000 and $300,000. Pop-up campers, on the other hand, could cost as low as $1,000 and upwards of $7,500. 
Besides initial costs, there are other expenses to consider. Gas is another aspect that factors into the overall cost, as RVs get only 10 to 20 mpg (4.25 to 8.50 kpL). Depending on gas prices, you could pay up to $600 to fill up your RV. 
Pulling a pop-up camper causes a loss of approximately 7 mpg (2.98 kpL). It's also considerably cheaper to insure a pop-up camper. Pop-up campers generally require less maintenance than RVs. 
Storage is another consideration. 
RVs can get damaged during harsh winter seasons, and unless you have an oversized garage, you'll likely rely on an RV storage company. A pop-up camper obviously requires less space. Many find they can store their pop-up in the garage or outdoors under a breathable cover. 
Driving a tow vehicle with a pop-up camper is more manageable than driving an RV. 
Pop-up campers are lightweight and low to the ground, which gives them more maneuverability. The driver also has a better range of vision. Parking a towed pop-up is also easier than parking an RV.
This last point may be debatable. 
Some find that a pop-up camper gives a true sense of the camping experience, as they have minimal space. Further, not all pop-ups have air conditioning, so the inside can be hot, and many find this a motivator to get out, explore, and adventure. 
It also has more of a tent camping feel, which some prefer. 
---
Conclusion
Pop-up campers are a popular choice for people who enjoy camping but don't want or have an RV. While it may be tempting to drive with the pop-up open, it's not recommended at all. It can cause significant structural damage. 
However, when operated and maintained correctly, your pop-up camper can bring you years of camping enjoyment.