Hi-van is supported by its audience. When you purchase through links on my site, I may earn an affiliate commission. Learn more
Stainless steel water tanks are growing in popularity in industrial, home, and recreational use, so it's no surprise that stainless steel water tanks are available to use in recreational vehicles as well. Stainless steel is more durable than plastic and easy to clean and maintain, making it a popular water storage choice. Although they are heavier than traditional plastic tanks, stainless steel water tanks tend to store clean drinking water.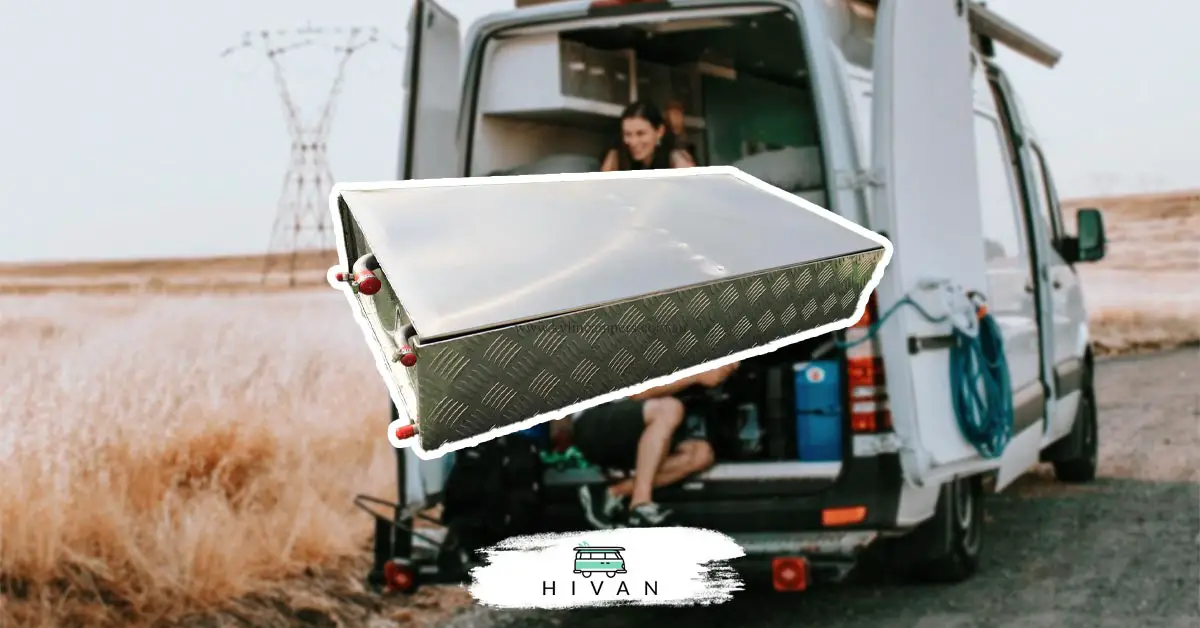 You can use stainless steel recreational vehicle water tanks, although most RV water tanks are plastic. Stainless steel is ideal for freshwater use to avoid a plastic residue in drinking water. It is also less susceptible to rust and corrosion than other water tanks.
If you want to learn more about whether or not a stainless steel RV water tank is right for you, keep reading! I've got all the details.
---
Underslung Stainless Steel Water Tanks
There are three types of RV water tanks:
Freshwater
Black water
Gray water
If you are primarily concerned with your drinking water, you'll want a freshwater tank. Stainless steel is an excellent choice for freshwater storage. When purchasing a stainless steel water tank for your RV, opt for 304-grade stainless steel or higher. Stainless steel tanks are often pricier than their plastic counterparts, but they usually last much longer and are more durable. 
An underslung RV water tank is a water tank that is stored underneath or installed inside the recreational vehicle. Stainless steel water tanks like this can be difficult to source, but a skilled welder can handcraft them. When done so, Top Wire Traveler reported that these water tanks usually last a lifetime and might be a good investment if you spend a lot of time on the road. 
---
Portable Stainless Steel Tanks 
One of the downsides to unslung stainless steel water tanks is that they can harden, split, or crack due to the strain of traveling on the road. A solution to mitigate this problem is to purchase a portable water tank. Portable stainless steel water tanks are popular for campers because you don't have to worry about them shifting around while traveling in your RV. 
Portable stainless steel water tanks can be mounted to the side of your vehicle or stored in your camper for easy access. They are also the most cost-effective option and are an excellent solution for those on a budget. Because they don't require installation, they can be easily rearranged and taken out to refill. 
Stainless Steel Water Can 5 Gallon 20 L Portable
HOLDING WATER (including hot water) AND RELATED LIQUID. Come with one spout with filter. (Note: The water can is made by welding. May have some smell but not toxic. Please follow the 'Instruction Manual' enclosed and use soda water to clean it before use.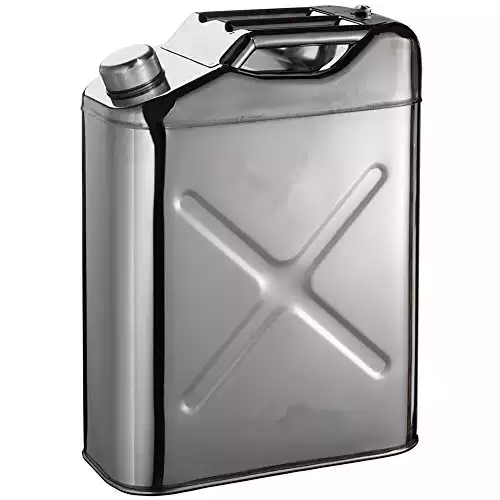 If you make a purchase, you support Hi-van.com by allowing me to earn an affiliate commission (no added cost for you).
This allentian Stainless Steel Water Can from Amazon.com is an ideal water tank for camping and recreational vehicles. It has the following features: 
Made of 304-grade stainless steel 
Has a handle for convenient transport 
Can store five gallons (18.9 L) of water 
Has a choice of aluminum or stainless steel cap for timely refills
---
Leading Materials: Aluminum, Plastic, or Stainless Steel
Aluminum, plastic, and stainless steel are the leading materials to make water tanks for recreational vehicles and campers. All three are generally safe to use and don't pose any significant threats in and of themselves. 
However, aluminum water tanks can eventually dissolve if they repeatedly hold water with chlorine in it. All three materials are safe to drink from, yet they differ widely in quality and durability. 
Food-grade, BPA-free plastic like polyethylene is the most popular and cost-effective option, yet it often leaves water tasting like plastic. To offset this, many people opt for stainless steel water tanks, which provide clean drinking water but are more expensive and generally harder to obtain. Aluminum tanks tend to rust more quickly and are even more challenging to get than stainless steel options. 
Here's a chart that compares all three materials: 
| | | |
| --- | --- | --- |
| Stainless Steel | Plastic | Aluminum |
| Heavy and durable | Lightweight and durable | Lightweight but not durable |
| Corrosion resistant | Generally corrosion resistant | Not corrosion resistant |
| Can be difficult to source | Widely available | Extremely difficult to source |
| Does not leave a taste in drinking water | Leaves taste in drinking water | Does not leave a taste in drinking water |
| Long lifespan | Mid lifespan | Low lifespan |
| Expensive | Cost effective | Expensive |
Pros
Stainless steel RV water tanks are great for maintaining clean and sterilized drinking water. They eliminate the plastic taste that RV campers often report in their drinking water and dramatically reduce the growth of bacteria, algae, or mold in the water supply. 
Because of its chemical makeup, stainless steel is more resistant to rust and corrosion, which eliminates the need for an anode rod in your water tank. Stainless steel water tanks require very little maintenance and are often more durable and longer-lasting than plastic RV water tanks.
The Dairy Shoppe Stainless Steel Milk Can from Amazon.com is a top-rated stainless steel water tank for campers by WOW Travel. It's seamless and made from 304-grade stainless steel. It's available in five sizes, ranging from 1.5 gallons (5.7 L) to 13 gallons (49 L). The spigot is optional and is a great tool that makes dispensing water easy. 
Cons
Stainless steel RV water tanks tend to be much heavier than plastic or aluminum tanks and are sometimes not as smooth. They can have sharp edges and may leak, split, or crack if not appropriately assembled. 
Additionally, stainless steel water tanks are harder to obtain and are usually more expensive than plastic ones, making them impractical for those with lower budgets. 
---
Safety Concerns
While some may be concerned with the potentially rigid and sharp edges of a stainless steel water tank, drinking from a stainless steel water tank is one of the healthiest and safest options for RV campers. 
It doesn't contain harmful bacteria or chemicals, and it's easy to sanitize and disinfect. According to Outbound Living, you can easily use sterilizers, vinegar, bleach, or other cleaning solutions to clean a stainless steel water tank.
---
Final Thoughts
You can use stainless steel for an RV water tank. However, it might be challenging to find it as an underslung tank. A skilled welder could craft a stainless steel tank that you can store underneath your RV. However, it will probably be an expensive task. 
BPA-free plastic tanks are the most common and cost-effective for underslung tanks and are generally lightweight and durable. Portable stainless steel water tanks are an excellent option for those who prefer metal water tanks and don't want their drinking water to taste like plastic, although they tend to be heavier than plastic tanks.