Hi-van is supported by its audience. When you purchase using our links, we may earn an affiliate commission (no added cost to you). Learn more
Emergency blankets are must-haves for survival kits. However, once you open the packaging, it may seem like you need to use the blanket immediately and dispose of it shortly after. But can emergency blankets be reused?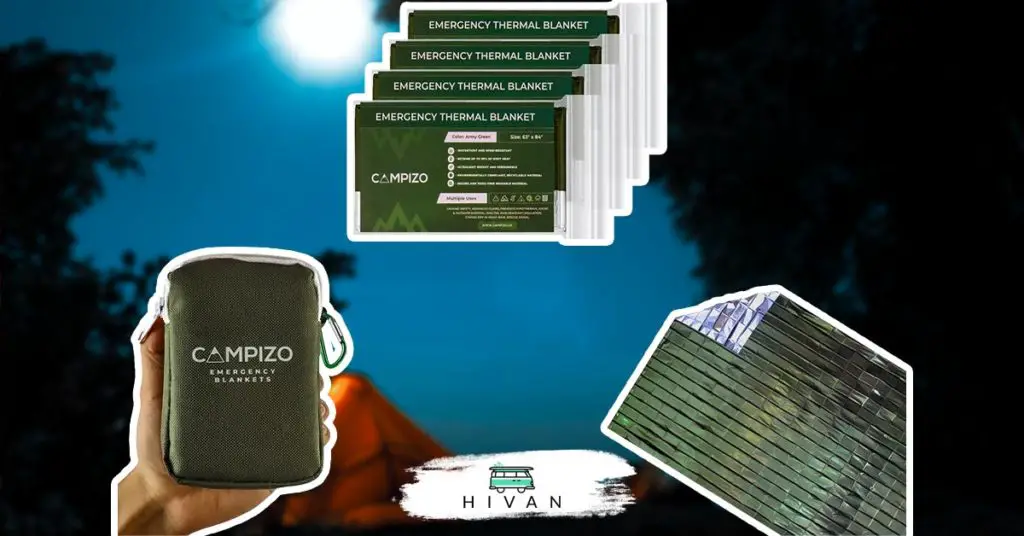 Emergency blankets can be reused if they don't have much wear and are stored properly after each use. You can prolong an emergency blanket's lifespan by using it gently. Keeping it in a protective case will also prevent it from acquiring any damages that could render it inefficient. 
To learn more about reusing emergency blankets, what you can do to preserve them for longer, and how to use them for other purposes, read on.
---
How Many Times Can You Use an Emergency Blanket?
Emergency blankets are made of a thin aluminum material designed to reflect body heat and help keep you warm. While this material is ideal for deterring water, wind, and can make cold temperatures more tolerable, it's still very fragile. So, how many times can you expect to use the blanket before you dispose of it?
You can use an emergency blanket at least 1 – 2 times or until it begins to show signs of wear. If the blanket rips or its reflective material starts to peel, it may not be as effective for subsequent uses.
It's possible to use emergency blankets more than once, but most are constructed for temporary use, and can gradually deteriorate the longer you use them. Constant exposure to the outdoor elements can also cause the material to flake or chip.
For these reasons, it's recommended to have several spare blankets on hand.
---
How To Preserve an Emergency Blanket for Multiple Uses
Although emergency blankets will eventually wear down, that doesn't mean you can't still get the most use out of them. Many people dispose of their blankets after a single-use, but that can be wasteful and inefficient, especially if you're on an extended camping trip or in an emergency situation. 
Instead, follow these steps to preserving an emergency blanket for multiple uses:
Invest in a Protective Storage Case 
Since emergency blankets are delicate, you should refrain from storing them near sharp edges that could rip the material or in a location where moisture could build up on the blanket. 
Purchasing a protective storage case can ensure the blanket isn't damaged while it's not in use.
Some emergency blankets are available in flimsy plastic packaging, which can't be resealed after opening. These are cheaper options, but they won't offer the same level of protection as an actual cover or case.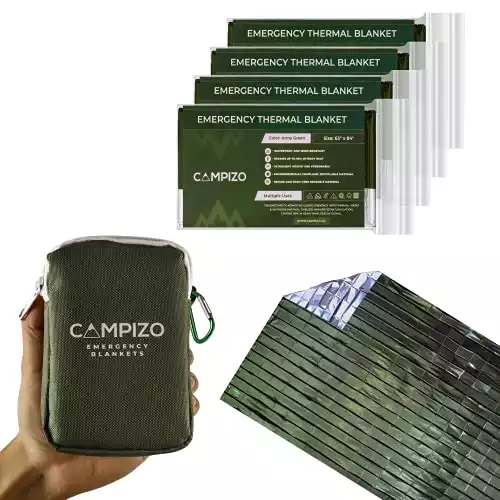 If you make a purchase, you support Hi-van.com by allowing us to earn an affiliate commission (no added cost for you).
For safer storage, I recommend emergency blankets that come with convenient carrying cases, like the Campizo 4Pack Emergency Blankets from Amazon.com. These affordable blankets are a top-rated choice and made with supreme quality. They come with a durable nylon carrying case to deter moisture and protect your blankets from exterior damage. The case also has a clip so you can easily attach it to your travel bag.
Let the Blanket Dry Completely Before Packing It Away
Before tucking your emergency blanket away, it's recommended to let it dry out thoroughly first. This is to remove any moisture build-up on the blanket's surface. Although the aluminum coating on emergency blankets is waterproof, moisture can cause the aluminum film to peel when folded back together. 
Allowing the blanket to dry will also prevent excess water from seeping into its storage case, onto other blankets, or into the rest of your bag.
Fold It Tightly 
After opening and using a new emergency blanket, you may be tempted to shove it into the nearest closet or bag. However, doing this will only wear it down more. Instead, you should fold the blanket tightly before carefully inserting it into a storage case. 
Folding the blanket will help protect its aluminum coating and prevent it from chipping.
For more information on the best ways to refold and roll an emergency blanket, check out this YouTube video:
---
Other Ways To Reuse an Emergency Blanket
Suppose you purchased an emergency blanket to keep you or your shelter warm. And even though you've taken care of it in between uses, it's still beginning to wear down. While the blanket may no longer be suitable for protecting you or your shelter, it has several other uses. 
Surprisingly, the aluminum material that emergency blankets are made from is incredibly versatile, which means there are many creative ways to reuse these blankets.
Here are some other ways you can get another use out of your emergency blanket: 
Crumble it up and start a fire. The material is highly flammable and can safely create a fire for cooking or keeping warm. 
Cut it into pieces and put them inside of your shoes. Since emergency blankets are designed to reflect heat and make you feel warm, they can be used to keep your feet toasty inside of your shoes. 
Wrap it around food for cooking. The aluminum coating is similar to the cooking foil you'd find in any kitchen and can be used to prepare a variety of foods. When using an emergency blanket for cooking purposes, be sure to cut off a section that hasn't begun to peel yet, so you don't get any foil flakes in your dinner.
Drape it over your gear to deter water. Think of smaller items you need to waterproof, such as your shoes or travel bag. A deteriorating blanket may not be in good enough condition to keep you dry, but it could help protect your other items, even temporarily. 
Check out this YouTube video for more ideas on how to reuse your emergency blanket:
---
Conclusion
Emergency blankets can be reused as long as they're maintained well and stored correctly. To preserve them, it's best to dry them out, fold them up, and keep them in a protective case. 
While they're known for providing adequate body warmth, emergency blankets can also be reused in other instances, such as starting a fire or cooking food.
Find this content useful 🙂 ?
Subscribe to our Newsletter and get a free electric diagram + shopping list.